Smart Home
The Best Amazon Echo Smart Speakers
"Alexa, which is the right Echo for me?"
Credit: Amazon
Amazon Alexa, the company's smart voice assistant, can be found in all kinds of products. From microwaves to makeup mirrors to printers to vehicles, you'd be hard-pressed to find a category of devices that doesn't have some connection to Alexa.
But did you know that not every Alexa device has the same range of capabilities? While they're all great for listening to music, some more sophisticated functions only work on Amazon's Echo line of smart speakers, cameras, and displays to control your smart home, so if you want to take full advantage of the smart assistant using voice control, you really should have an Echo of some sort.
With several different smart speakers in the Amazon Echo family, deciding which one is right for you and your household can be tricky. At Reviewed, we're obsessed with testing everything we use, so we can find out which really is the best of the bunch. But when it comes to Echo speakers, which are all based on the same software and are built with the same (or similar) parts, we asked, "Is there really one Echo that's better than the rest?"
The short answer is, "Not really." The long answer is that the "best" Echo smart speaker is entirely subjective and depends on what each person needs. So instead of ranking the Echo lineup from best to worst, we looked at each speaker's unique characteristics to determine the ideal buyer for every model. In doing so, two really rose above the ranks: the third-generation Echo (available at Amazon for $99.99) and the Echo Show 5 (available at Amazon). Both of these speakers have the most universal appeal and would be perfect in any room of the house.
These are the best amazon smart speakers we tested:
Third-Generation Echo
Echo Show 5
Third-Generation Echo Dot
Second-Generation Echo Plus
Second-Generation Echo Show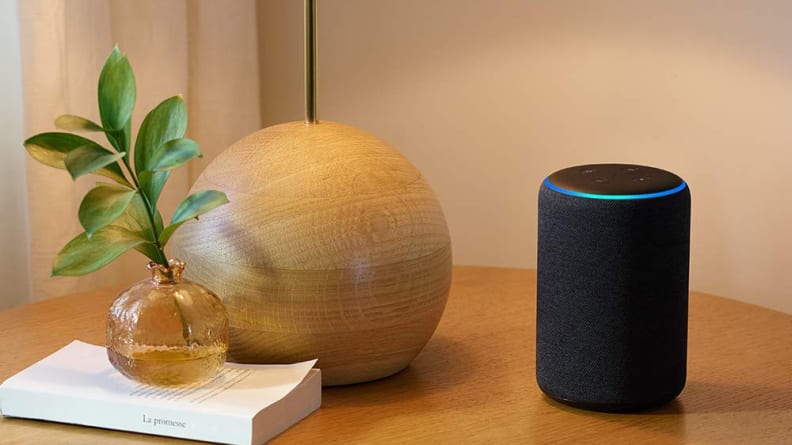 Best Overall
Amazon Echo (3rd Gen)
We've always loved the Amazon Echo, so we weren't surprised to find that the third-generation model is another great option for anyone looking to bring an Alexa-enabled smart speaker into their homes. It has great sound quality thanks to Dolby audio, a 3-inch woofer, and a 0.8-inch tweeter. And it has an auxiliary input and output as well as Bluetooth if you want to stream music from another device. The Echo also uses far-field voice recognition so Alexa can hear you even if you're in the next room.
Every Echo speaker has access to the same Amazon Alexa skills and features, but we found the third-generation Echo offers a desirable blend of quality performance and value. It doesn't act as a hub for devices that require their own bridge like the Echo Plus, and it may not have a screen like the Show, but there's still a ridiculous amount of stuff Alexa voice commands can do without a camera or display.
The Echo has respectable audio quality all on its own, but pair it with another Echo and an Echo Sub, and you have a 2.1-channel multi-room setup with rumbling bass.
Our favorite feature: We love the sound quality of the Echo. It can really fill the room when playing music while taking up very little space.
The biggest downside: As this isn't a smart display, it doesn't have a screen. Echo users miss out on the expanded video capabilities of the Show, but that won't surprise anyone.
Who should buy it: Those who want Alexa but don't want the visual distraction of a smart display.
Pros
Amazing sound

High performance quality

Great value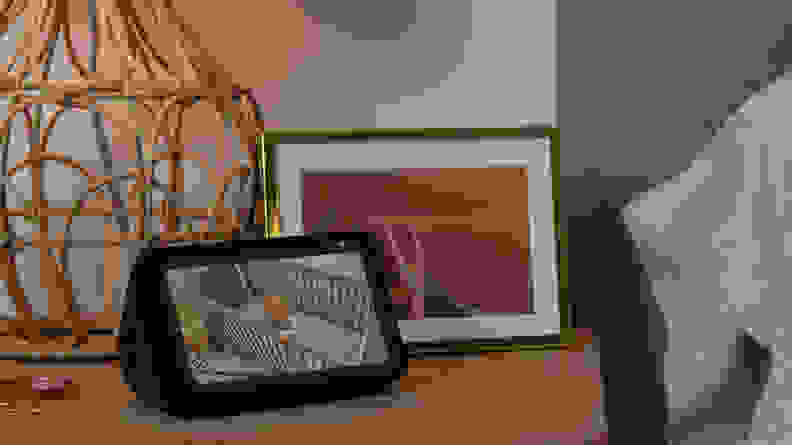 Best with a Display
Amazon Echo Show 5
The Echo Show 5 is my personal favorite among the Echo lineup. The combination of the small but super useful 5.5-inch screen with a sleek, modern design makes this little smart speaker look just as at home on a bedside table as it does on a home office desk, a living room shelf, or a kitchen counter. The screen displays a customizable clock but also cycles through personalized information categories to give you insights at a glance.
Considering that the Show 5 has a modest 1.65-inch speaker, the audio quality is not half bad for such a small device. It also gives you the ability to make hands-free video calls, which are surprisingly perfect with the small screen. You can also watch video feeds from smart cameras, video baby monitors, and video doorbells. And it can stream TV and movie content from Prime Video, though it's not really designed as a media streaming device. You can also listen to Apple Music using the Echo Show 5.
Our favorite feature: The Echo Show 5's screen is somehow both compact and easy to read. The small footprint makes it easy to find the perfect spot in your home, but the screen is still easy to read from across the room.
The biggest downside: It has a built-in camera, so if you have privacy concerns this may be a red flag for you. However, you can disable Drop-In calling through the Alexa app and also say "Alexa, turn the camera off" to ensure no one is spying on you. You can also cover the camera with a built-in shutter.
Who should buy it: Anyone who wants an Alexa speaker with a screen.
Pros
Full Alexa capabilities

Minimal footprint

Integrated camera cover
How We Tested
The Tester
Hi there, I'm Sarah Kovac. I'm the smart home editor here at Reviewed, and I've been testing Alexa devices of all kinds for about seven years. I live and work in an actual smart home, where I can test products in real-life scenarios and run into all possible hangups and annoyances (and there are many). Echo speakers are some of the most polished smart devices on the market, and I have several in my home. My work in this article was built on top of the original piece, which was written by Samantha Gordon.
The Tests
Because every Echo speaker has its own strengths and features, our testing couldn't be standardized across each device. Instead, we used each Echo for several weeks before deciding which one is best for which uses.
Echo Speakers and Privacy
Privacy might seem like a thing of the past, as everywhere you go, there's some computer watching or listening. But in your own home, you can do a few things to protect yourself, even from naturally invasive smart home devices.
You can stop your Echo speaker from listening for (and possibly mishearing) your wake word by turning off your mic via the mute button on the top of the device. Or, turn on audible alerts within Settings in the Alexa app to know when your Echo is listening beyond just the indicator light.
Bloomberg recently reported that Amazon employs workers to manually review voice recordings. You can opt-out of having your voice recordings included in the review process by going to Settings > Alexa Privacy > Manage Your Alexa Data, then toggling off the setting that says Use Voice Recordings to Improve Amazon Services.
In these privacy settings, you can also delete voice recordings, which are accessible to anyone you share the app with. You can even set up auto-deletion every three or 18 months.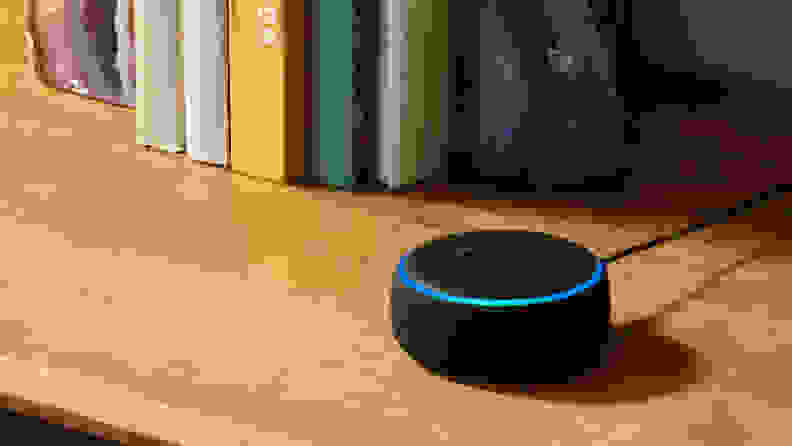 Best Entry-Level Echo
Amazon Echo Dot (3rd Gen)
The Echo Dot is the perfect entry-level smart speaker. It gives you access to all the standard Alexa features at a fraction of the price of its larger siblings. But with the price break, you do have to sacrifice sound quality. There is, however, a 3.5mm input on the back and Bluetooth connectivity, so you can easily connect it to any existing speaker for a boost in audio quality.
Our favorite feature: The price is the key reason to buy an Echo Dot, especially as it goes on sale occasionally for as low as $29.99.
The biggest downside: The small speaker delivers noticeably low-quality audio playback, though this generation presents a major improvement in that area over its predecessors. If you want to use it for playing music, connect it to an external speaker or go for an Echo instead.
Who should buy it: College students, people on a budget, people who aren't 100% sure if Alexa is right for them, and Echo enthusiasts who want to fill their home for less.
Pros
Affordable

Good starter speaker

Bluetooth connectivity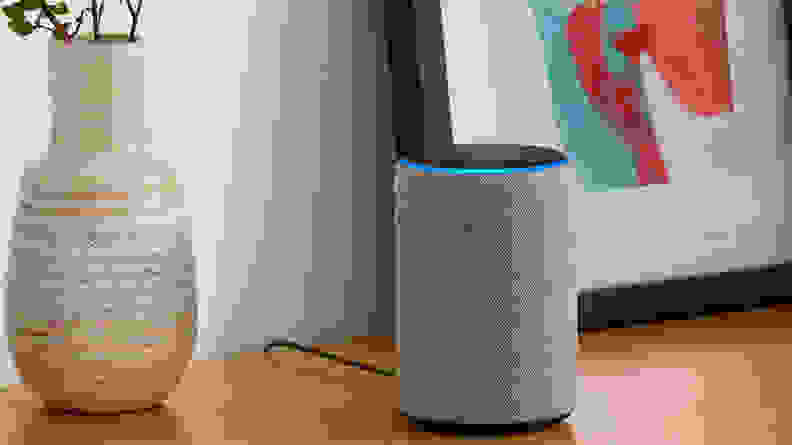 Best for Smart Homes
Amazon Echo Plus (2nd Gen)
The Echo Plus is not just a smart speaker—it also acts as a smart home hub that can connect to some smart gadgets that might otherwise require a separate hub, including Samsung SmartThings smart plugs and Philips Hue lights, among others. While you can tell any Echo voice commands like, "Alexa, find my devices," to have her scan your network for compatible smart home gadgets, only the Echo Plus can connect to gadgets that are Zigbee compatible. Other Echos will simply not "see" them without a Zigbee hub on the premises.
What this means is that, if you've got SmartThings devices and Hue lights and would rather not manage three separate smart home systems, the Echo Plus can tie everything together and save you a big chunk of change if you haven't yet purchased additional smart hubs. If you've already got the appropriate hubs, the Plus might not be necessary unless you're looking to streamline.
Our favorite feature: The Echo Plus can act as a hub for many popular smart home products.
The biggest downside: It costs about 50% more than the Echo, so if you don't really need the hub functionality (and most folks won't), it's not worth it. But if you're looking to avoid hub-clutter, it might be a good investment.
Who should buy it: People with lots of smart home gadgets who want to centralize control.
Pros
Smart home hub

Connects to Zigbee devices
Cons
More expensive than other Echo speakers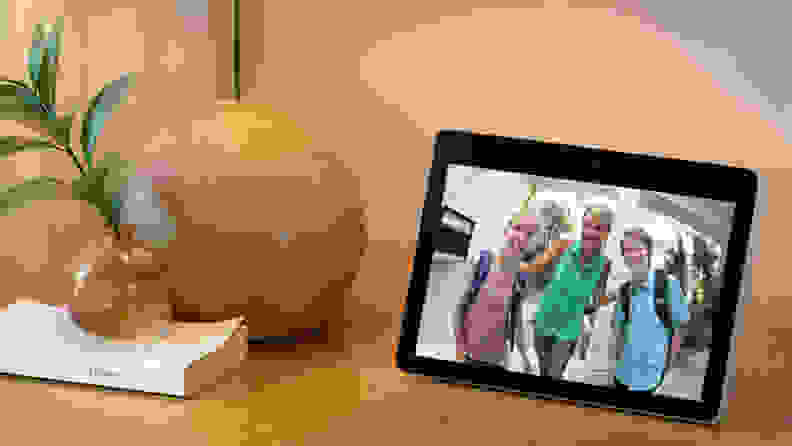 Best for Video Calling
Amazon Echo Show (2nd Gen)
The second-generation Echo Show is perfect for people who want their Echo to be a visual centerpiece. This generation's speakers are on the side/back of the display, which leaves more room for the crisp, 10.1-inch screen.
The Show's camera and large screen make it perfect for hands-free video calling, which it can perform between Echo devices or via Skype. It can also pull in your favorite shows from streaming services like Prime Video and Hulu, and even the music listening experience is enhanced with cover art and rolling lyrics when playing music.
Our favorite feature: The display is vibrant and adds something beautiful to just about everything Alexa can do.
The biggest downside: It's a bit bulky.
Who should buy it: Anyone who wants an Echo with a large screen.
Pros
Great display

Large screen

Good for video calls
More Articles You Might Enjoy
The product experts at Reviewed have all your shopping needs covered. Follow Reviewed on Facebook, Twitter, and Instagram for the latest deals, product reviews, and more.
Prices were accurate at the time this article was published but may change over time.
Up next
Get Reviewed email alerts.
Sign up for our newsletter to get real advice from real experts.