Smart Home
The Best Outdoor Smart Plugs
Outdoor smart plugs offer us many conveniences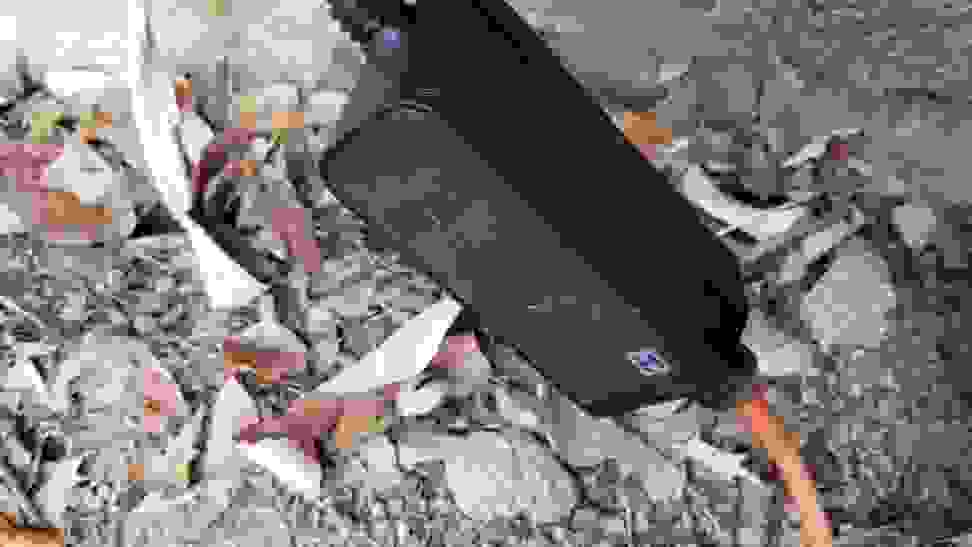 Credit: Reviewed / Sarah Kovac
Smart plugs are the quickest and easiest way to turn your home smart. They're devices that let you remotely control your electronics or appliances via smartphone. An outdoor smart plug, of course, does the exact same thing — outside. All you have to do is plug the device into a standard outdoor socket and boot up the companion app. It's really that simple.
Not only do smart plugs control small appliances like coffee makers and fans by voice command and apps, but they can also turn on your holiday lights. While we may not use as many electronics outdoors as we do inside, outdoor smart plugs offer many conveniences, as they save electricity and maintain home security. Outdoor smart plugs are also designed to handle the weather.
After spending a few weeks with the best outdoor smart plugs on the market, we are confident that the Meross MSS620 Outdoor Smart Plug (available at Amazon) is the best one you can buy.
Here are the best smart outdoor plugs we tested ranked, in order:
Meross MSS620 Smart Outdoor Plug
Geeni Outdoor Smart Plug
iHome iSP100
GE Enbrighten Outdoor Smart Switch
Woods WiOn 50049 Outdoor WiFi Outlet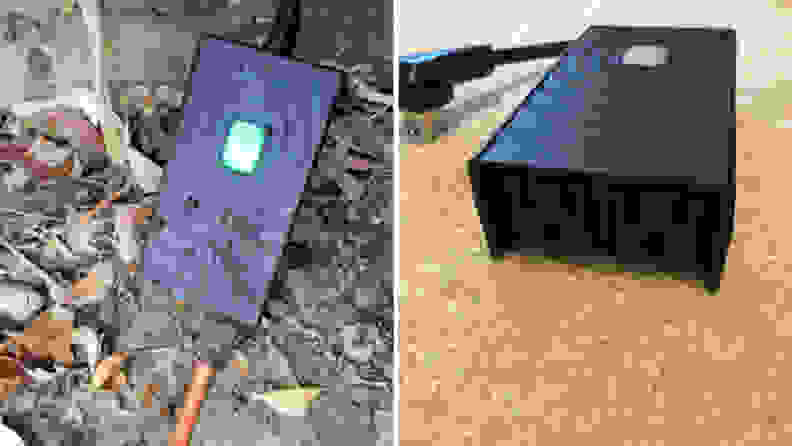 Best Overall
Meross MSS620 Smart Outdoor Plug
The Meross outdoor smart plug is what an outdoor smart plug needs to be. It's rugged, weather resistant, easy to use/control, and it has status lights that are easy to see and understand from a distance. It has two separate plugs that can be controlled independently. Since our outdoor outlet has two sockets, we could plug more than one thing at a time.
While this isn't the only dual outlet smart plug that we tested, it's the only one that allows us individual control of each plug via the app and via voice assistant. This plug is very responsive, easy to use during set up and testing, and we love that we could see at a glance whether both outlets are turned on thanks to prominent indicator lights. The one thing that this plug does not offer, however, is reporting of energy consumption.
The app makes it easy to create scenes. For example, you can set the smart plug to turn off when you are away from home or turn on when you get up in the morning. These scenes are triggered by using voice controls with your smart assistant of choice. ("Okay Google, good morning" will trigger your morning scene).
It's also very easy to set up routines for your Meross smart plug. Routines will either power the plug on or off according to a schedule or turn your plug off after a specified amount of time. The app's settings tab contains helpful guides to walk users through setting up the plug with Google Assistant and Amazon Alexa. From looks to function to the app, this plug is just pleasant to work with.
If you're looking for a good outdoor smart plug that's a pleasure to operate and can accommodate more than one item being plugged in at a time, the Meross won't disappoint.
Pros
Works with Amazon Alexa and Google Assistant

Allows for the creation of smart routines

Dual plugs that can be controlled independently
How We Tested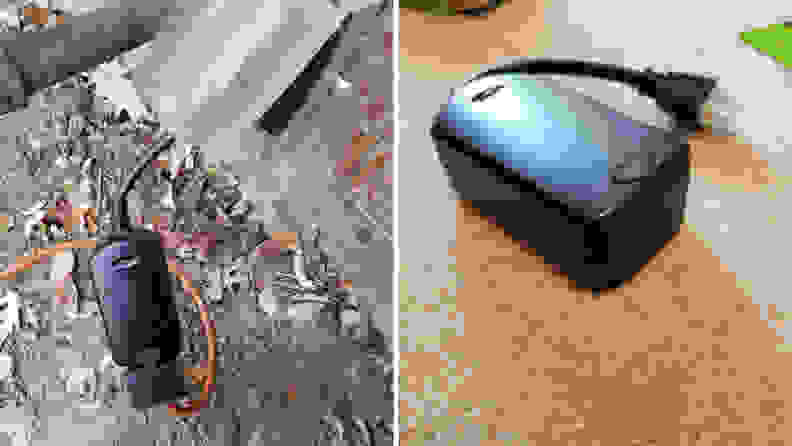 The Tester
Hi, I'm Sarah Kovac. I cover smart home products for Reviewed, and I was interested to see how outdoor smart plugs stack up to their indoor counterparts, and if they even make sense to use at all. The results were mixed, but I definitely walked away with some favorites.
My husband and I are Midwestern homeowners who recently moved to a neighborhood where holiday decorations might as well be a competitive sport. Just about every house on our block is covered in Christmas lights, every lawn is littered with reindeer, and it's honestly a little intimidating. But we are determined to join in the festivities this year and decorate as much as our budget will allow.
Unfortunately, it might not allow much since energy bills have skyrocketed in our area over the past year. The thought of having electricity-sucking decorations plugged in all the time doesn't sound like the most affordable decision, but I hoped that outdoor smart plugs might be a good way to keep energy consumption to a minimum.
The Tests
We collected five of the most popular and best selling smart outdoor plugs available on the market today and tested them at my home over a period of several weeks. We loaded each plug's corresponding app on both iOS and Android and, when applicable, connected each one to an Alexa account and the Google Home app to test for responsiveness and ease-of-use with voice assistants. We also tested responsiveness via cellular connection only, compared response times on iOS and Android, we unplugged and re-plugged each outlet to see how long it would take them to reconnect, and we even sprinkled water on each of them while they were plugged in to see how well they would handle rain.
What You Should Know About Outdoor Smart Plugs
Most of these plugs can plug in without blocking the second outlet above. However, it really depends on the type of outlet cover you have. In our testing, we could only use the top outlet. That's because the smart plug's cord pushed up against the bottom edge of the outlet cover, making it impossible to plug in all the way.
An angled plug may give you some issues, as it could potentially block the second outlet. The only plug we tested that successfully freed up the second outlet was able to do so because it was not an angled plug. The cord stuck straight out from the outlet rather than at an angle. While it didn't block the second socket, the cover couldn't close down safely over the cord.
While these plugs should have no problem with a little rain, they definitely shouldn't be submerged or sprayed directly with the hose. We're dealing with electricity here, so don't push your luck. Though all the plugs we tested had no problem with a light sprinkling of water, the safest smart plug in the world cannot protect you, especially if you're using an extension cord that's not meant to be used outdoors.
Our test outlet had a cover very similar to this one and it has withstood many years of abuse and strong Midwestern thunderstorms and snowstorms. Make sure that you have a good extension cord and that it's in good shape if you're running power to outdoor lights or anything else far from the outlet. We have tested a bunch and the best outdoor extension cord is the Voltec Outdoor Extension Cord.
---
Other Outdoor Smart Plugs We Tested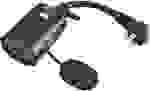 Geeni GN-OW101-101 Smart Wi-Fi Outdoor Plug
If you don't need a smart plug with dual outlets, the Geeni Indoor/Outdoor smart plug works well and is a good option. We find it's easy to set up and install, it works reliably and quickly, it has bright status lights, and our favorite feature is the tight cover to seal the plug when it's not in use. It's also one of the smallest outdoor smart plugs we've tested, so it wouldn't be awkward to use indoors when you don't have a need for it outside. It even has a notch that will allow you to hang it from a screw or nail, which a nice touch, as it keeps it up off the ground. Aside from the fact that it doesn't have dual outlets, we really have no complaints.
The Geeni app requires you to log in using your cell phone number, which might turn some people off. The home screen shows the outdoor temperature, humidity, and air pressure—we're not sure how useful that information is in relation to a smart plug, but we guess it doesn't hurt. The app will walk you through the creation of scenes to turn your plug on or off with ease, but we didn't find the setup process to be as intuitive in the Geeni as it was in Meross. We found it difficult to specify which action we wanted to trigger the scene (for example, the action could be local sunset, which would trigger the scene that turns the plug on). But if you're not looking for automation, this plug is good enough at being turned off and on from a phone.
If you want to control your outdoor smart plug remotely, but you don't need a lot of bells and whistles, the Geeni is definitely worth considering since it is a few bucks cheaper than the others we reviewed. It's a solid little plug and a good value for the price.
Pros
Reliable connection

More affordable than other smart plug options

Smaller than other plugs we tested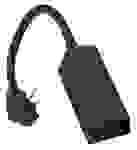 iHome iSP100
The iHome Outdoor Smart Plug is a solid little spark plug, but it lacks some of the features of the others we tested. The plug itself is slim and compatible with Alexa and Google Assistant. The indicator lights on the side of the plug are a little smaller than we'd like, as we can't really see them without getting up close. It does have a notch that allows it to hang from a nail or screw but doesn't have energy monitoring, a plug cover, or dual outlets.
The iHome Control app on Android offers a quick view of your smart plug and its status. It doesn't offer any extra information like local weather or energy usage like some of the others to, but it's simple to operate, and it makes it easy to set up schedules and trigger power on/off in response to Nest's home/away status or information from motion, leak, and window sensors.
The IOS version of the app is more impressive, as it connects with HomeKit and can, therefore, control every HomeKit-enabled smart item in your house. If you don't need dual plug capacity and the rest of your smart home is operating on HomeKit, the iHome might be a good choice.
Pros
Works with Amazon Alexa, Google Assistant, HomeKit

User-friendly app setup
Cons
No energy monitoring

Lack of multiple outlets
GE 14284 Z-Wave Plus On/Off Smart Lighting Control Outdoor Module
GE's Outdoor Smart Switch requires you to have a Z-Wave hub in order to use it. If you don't have a Z-Wave hub, there's really no reason to even look at this smart switch. Even if you do have a Z-Wave hub, it's worth noting that this is one of the more expensive switches we tested and it's not directly compatible with voice assistants like Alexa, Google, and Siri.
Since we used a Wink hub to control this switch, that was the app we used. We didn't have any complaints about the Wink app, as it's easy to use and offers an activity feed, easy to create shortcuts, and automation. But any Z-Wave-compatible hub should work with this plug, so your app experience may vary depending on which hub you choose. SmartThings, Wink, ADT Pulse, Trane, Vivint, Nexia, Honeywell, HomeSeer, Harmony Home Hub Extender, Vera, Connect, and Iris are all Z-Wave certified hubs.
It does have a really nice outlet cover for when it is not being used, so that's something. This plug sticks out instead of angling down, meaning my outlet cover couldn't close over it, but that also means that it didn't block the second outlet. This plug works fine, but it's definitely not worth going out and buying a hub for.
Pros
Comes with a protective exterior outlet cover

Dual oulets

Wink app is easy-to-use
Cons
Requires Z-wave hub (additional cost)

More expensive than similar options
Woods WiOn 50049 Outdoor WiFi Outlet
While we like that the Wion outdoor smart plug has two outlets and an easy-to-find the power button, we struggled to get it to work properly. The app is awkward to use and difficult to understand, and we couldn't get it to connect it to Alexa at all, though it's supposed to be compatible.
The WiOn app isn't great. It offers an on/off switch for the plug as well as a programmable timer, and it does have a button called "usage," but if you tell it will just tell you "this device does not have this function." There is a button in the lower right-hand corner that looks like a pen and paper, but it's not immediately clear what it does (it starts and email draft to support). The settings tab contains frequently asked questions, troubleshooting, online supports, and videos, so there's plenty of help getting the plug up and running, but the app just feels far from intuitive. The font is awkwardly large, and the icons in the app are confusing. We could have looked past this clunky app if the plug had been outstanding, but unfortunately, that was not the case.
If you need two outlets, you'll be much happier with the Meross.
Pros
Two outlets

Programmable timer
Cons
App is difficult to use

Can only be controlled if on the same WiFi network

Connectivity issues with Amazon Alexa
More Articles You Might Enjoy
Up next
Get Reviewed email alerts.
Sign up for our newsletter to get real advice from real experts.