You've tried counting sheep, taking the recommended dose of melatonin, and turning that box fan in the corner of your bedroom to the highest setting. But you still can't shut off your brain long enough to fall asleep. If this sounds familiar, you're not alone—in fact, the CDC reports that as many as one out of three of us don't or can't sleep enough. The good news is that you probably already have a versatile sleep aid in your home. Her name is Alexa and she comes equipped with some surefire skills to get you off to dreamland in no time.
1. Turn your Alexa speaker into a sound machine.
It's no secret that ambient sound can be a powerful way to get to a relaxed enough state to doze off into a deep sleep. When it comes to providing you with a database chock full of relaxing sounds, Alexa's got you covered. Want to feel transported to a different climate? Opt for rain sounds. Want to lull yourself to sleep with a familiar sound to drown out frenzied thoughts? Request some white noise. Miss your childhood feline? Ask for cat sounds. When the sound is constant and soothing, sleep won't be far off.
Sleep Sounds even offers a premium membership that allows you to combine your favorite sounds so that, yes, you can drift off to the sound of a cat purring in a thunderstorm.
Enable Sleep Sounds or say, "Alexa, enable Sleep Sounds."
2. Diffuse calming essential oils.
The ASAKUKI Smart Wifi-Essential Oil Diffuser makes it easy to unwind from a hectic day, allowing your personal spa night to begin whenever you like. This diffuser works in conjunction with an app called TuyaSmart that you can download and control with your Amazon Echo device.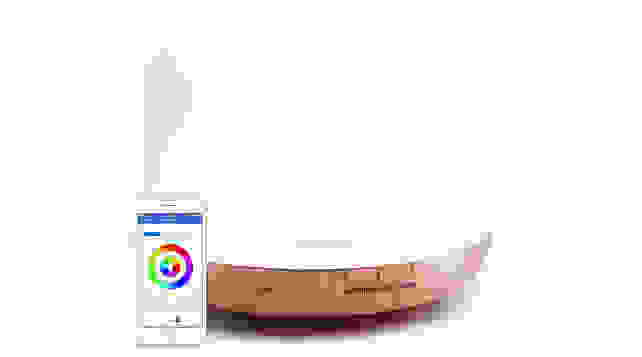 Smell, unlike the other senses, moves directly from our noses to our brain's emotion and memory centers, leading to an almost instantaneous impact on our mood. The right scent can create a calm ambiance that sets you up for a night of restful sleep. Just put soothing scents like lavender or vanilla into your diffuser, get cozy, and say "Alexa, turn on the diffuser." Let aromatherapy do all the work from there as you let go of the stresses and worries of the day.
Get the Asakuki Smart Essential Oil Diffuser
3. Let Alexa tell you your ideal bedtime.
A consistent sleep schedule that allows you to log the recommended six to eight hours of solid REM sleep can make all the difference. But achieving this can be tricky, especially if you don't know where to begin. Sleep Buddy is like having a personal sleep assistant in the palm of your hand: Ask Alexa what time you need to go to sleep to wake up well rested. All you do is open Sleep Buddy and ask, "When should I go to bed if I want to wake up at 7 am?"
Get Sleep Buddy or say, "Alexa, enable Sleep Buddy."
4. Turn your Echo into a night light.
Recent studies suggest that bright light causes insomnia. It's hard to avoid turning on lights if you get up in the night, but this skill can put an end to the struggle. It turns your Amazon Echo Dot (or any other Echo device that has a blue light ring on top) into a pulsing nightlight that gives off just enough of a glow to see by but likely not enough to disrupt your circadian rhythm.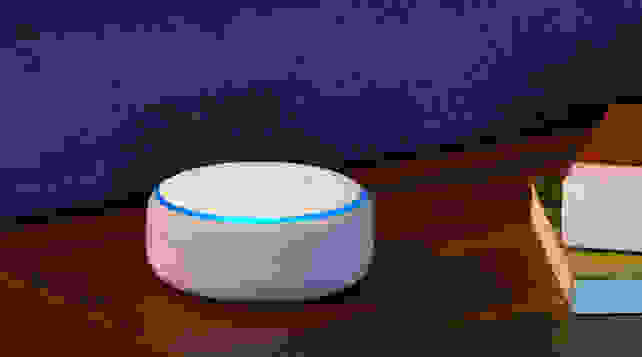 Like the Sleep Sounds skill, Night Light can loop all night long if you want it to, or it can be set to turn off whenever you'd like. It's a good option for people who have to get up from time to time in the middle of the night and struggle to get back to sleep. Here's looking at you, parents of small children.
Get Night Light or say, "Alexa, enable Night Light."
5. Ask Alexa to play sleep meditations.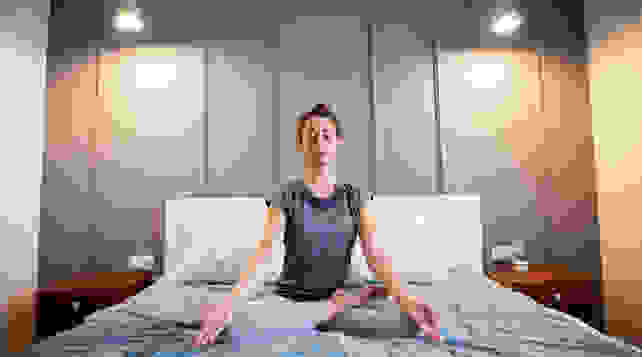 Life is stressful. If you struggle with things anxiety, depression, being able to keep your focus, or just falling asleep in general, guided meditations may be just what you need to let go and allow yourself to truly relax. Your body and mind have to work together for you to be able to sleep effectively, and for that, meditations can work wonders. Alexa's Guided Meditation skill provides a plethora of breathing exercises, step-by-step meditations, and soothing mantras. Each one lasts anywhere from three to eight minutes and is focused on a core goal, which could be letting go of your anxiety or helping your body feel centered and relaxed.
"Alexa, open Guided Meditation."
Just say, "Alexa, open Guided Meditation," and let her whisk you away. If you're not into the one she chooses, just say, "Alexa, play next." There is even a Meditation of the Day that changes every morning.
Get Guided Meditation or say, "Alexa, enable Guided Meditation."
6. Create routines with Alexa.
The easiest way to make solid sleep regularly accessible is to find a routine that you can stick with—one you can employ night after night to help your eyelids flutter closed a little faster.
You can set a command to trigger a cascade of sleep-inducing actions from all of your Alexa-enabled devices.
In the Routines section of your Alexa app, you can set a command to trigger a cascade of sleep-inducing actions from all of your Alexa-enabled devices. For example, "Alexa, it's bedtime," can trigger your smart lights to dim, your Nest to lower the house temperature, your bedroom Echo to play a relaxing playlist, and your smart locks to lock all the doors.
Try it: How to use Alexa Routines
7. Let Alexa read to you.
Any e-book in your Kindle library can become an instant bedtime story. Just say "Alexa, read my Kindle book," and she'll pick up right where you left off. If you want to start with a new title, just tell Alexa to read that particular title. You can even tell her to "pause" and "resume my book" if you need a break at any point. This service is perfect for users who don't have an Audible account but still want to listen to the books in their personal libraries.
Try it: Say, "Alexa, read my Kindle book."
8. Tell Alexa to warm your bed.
Investing in the Eight Smart Mattress might seem like a drastic move, but if you struggle with chronic insomnia, it might be worth a shot. The mattress retails for around $1,700 but it offers quite a bit in terms of comfort and convenience. Utilizing the bed's sensors, the Eight Sleep skill can tell you how you slept the night before. Its real perk, however, is that its compatibility with your bed allows it to warm your bed throughout the night.
"Alexa, ask Eight to start warming my bed."
One of our editors uses the Eight smart bed, and she claims (tongue-in-cheek) that the bed warming feature may have saved her marriage.
9. Optimize your sleep environment.
The place in which you sleep can have a huge effect on the quality of your sleep. With Awair's Air Quality Monitor, you can keep tabs on the conditions of your home—everything from temperature to humidity to toxins and chemicals. The Air Quality Monitor plays well with Alexa, as well as Google Assistant, Nest, and even IFTTT.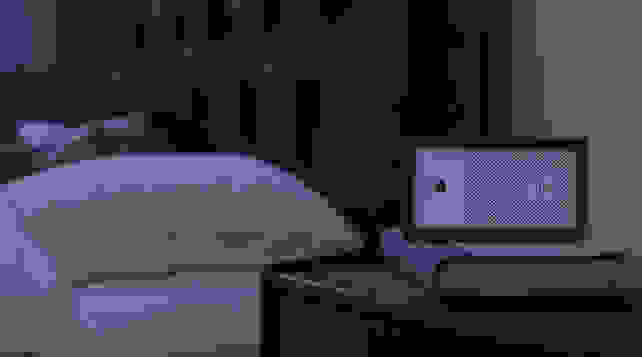 Not only is it smart—it's gorgeous. The minimal design will blend easily with just about any décor, as the white display panel and walnut frame work together nicely for a simple, calming aesthetic. The Awair app tracks air quality over time and offers tips for improvement. Say goodbye (and goodnight) to those sleep-stealing allergies.
Get the Awair Air Quality Monitor
10. Tell Alexa that you can't sleep.
This one might seem silly at first, but this skill can be just the ticket. Just say, "Alexa, I can't sleep," and the I Can't Sleep skill is there to help you do just the opposite. Alexa will give you something to think about, like recalling a memory from your past or picturing yourself doing something you like to do. This simple act of busying your mind with something that isn't currently stressing you out or overwhelming you might be just the thing you need to let yourself fade into sleep.
Get I Can't Sleep or say, "Alexa, enable I Can't Sleep."
There is no right way to get to sleep. Any combination of Alexa's skills or smart products might be the perfect recipe for helping you find your way there. Test them out. If it's not working, just ask Alexa to stop that skill and move onto the next one. In the end, all that matters is you being able to get the rest you need. Alexa is here to help, and lucky for you, she's always awake.
More articles you may like
Our editors review and recommend products to help you buy the stuff you need. If you make a purchase by clicking one of our links, we may earn a small share of the revenue. Our picks and opinions are independent from any business incentives.