Panasonic announced two budget-friendly camcorders today to round out their 2012 lineup, each with a trick or two up their sleeves to stay ahead of the still cameras and smartphones encroaching on their video-capture territory.
Like several compact video cameras scraping for relevance, the HMX-WA2 is waterproof up to 3 meters, making it more durable than most cameras and any smartphone. It can also snap 14-megapixel photos and offers a host of extra features, including sweep panorama and some artsy filters and effects. Video capture is 1080/60i in MP4 format, and still resolution is 14.1 megapixels.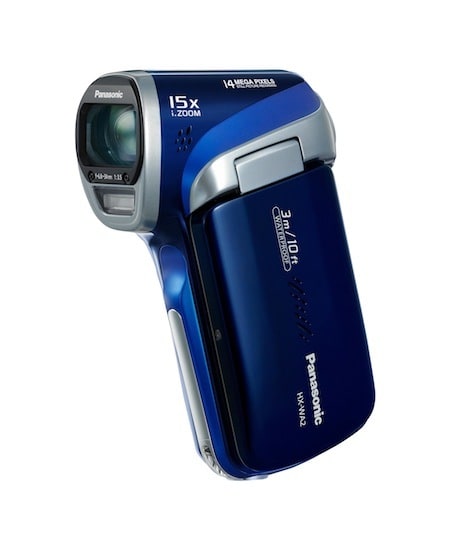 The WA2's pistol-grip design accommodates a respectable 5x optical zoom—a leg up on the typical non-zooming pocket camcorder, even if the WA2 isn't quite as pocketable. The grip is also much more comfortable to handle for long periods than the typical "video stick" design.
The compact camcorder market has settled down very quickly, but models like the WA2 that approach the genre from a different perspective should be able to find a comfortable spot in the marketplace. The WA2 will be available this spring for $279.
Also announced was the V10, holding up the bottom end of the traditional camcorder lineup. It maxes out at 720p, though with an enormous 63x optical/70x enhanced zoom range, four-axis optical stabilization, and a price tag at just $249, it's a bargain. It will be available this spring in black, red, and silver.
**PANASONIC INTRODUCES NEW WATERPROOF CAMCORDER DESIGNED FOR ACTIVE USE*
The HX-WA2 Offers Users More Opportunities to Capture Stunning Video and Photos in a Variety of Conditions
LAS VEGAS, NV (January 9, 2012) – Panasonic today introduced the new HX-WA2 camcorder, which provides users with enhanced features and durable product design for more opportunities to shoot high-quality video and still images in a variety of outdoor conditions. Ideal for capturing underwater activities and scenes, the Panasonic HX-WA2 camcorder features a waterproof design which allows for submersion in water at a depth of up to 9 feet, 8 inches (three meters).
"Designed with adventurers in mind, Panasonic's new HX-WA2 camcorder provides users with more diverse functionality for shooting in outdoor environments. The resilient, waterproof design allows users to experiment with shots in rainy conditions and even underwater," said Chris Rice, Senior Product Manager, Imaging, Panasonic Consumer Marketing Company of

North America. "By enabling both video and still picture recording, users can enjoy enhanced features for capturing crisp, clear memories."
Beyond capturing HD videos, the HX-WA2 can also shoot, high-quality, 14-Megapixel images and can also utilize the Panorama Mode function by simply panning the camera up, down, left or right to capture horizontal or vertical panoramic images. Intelligent 15x Zoom allows users to record faraway subjects in extreme detail and Active E.I.S. (Electric Image Stabilization) provides powerful hand-shake correction for clear, blur-free video or still pictures.
Using the included HD Writer VE2.0 software, consumers can easily edit videos captured on the Panasonic HX-WA2. The software features a "Smart Wizard" that automatically starts when the camcorder is connected to the USB port of a PC, prompting users to follow a simple, on-screen guide to easily copy video clips to a PC or burn to a DVD. The software also allows videos to be easily uploaded onto YouTube™ and Facebook™ so even the most inexperienced users can post onto the web. Advanced editing functions allow users to set their favorite songs as background music, insert various effects and transitions, and even use photo retouch. With the newly added Short Movie Story function, a user can easily transform recorded still images into a dramatic short movie. Once the image data, theme, and background music are selected, the

camera takes over to automatically complete the story, which can be saved onto disc with HD image quality and easily uploaded to the web.
The Panasonic HX-WA2 will be available in blue and orange. Pricing and 2012 availability will be announced approximately 30 days prior to shipping. For more information, and live coverage on January 10-11 from Panasonic at the 2012 International Consumer Electronics Show, please visit www.panasonic.com/CES. Plus, follow Panasonic's CES activities on Twitter @PanasonicEvents and join the conversations.*
{:{PhotoGallery article.attachments}:}