---
The Insignia NS-37L550A11 features a high-gloss, chunky black plastic bezel with the brand's logo applied to the plastic. It might as well say "Acme," as the set's bland exterior is a classic example of design by price point. While some sets can go overboard with form (we're looking at you, Samsung), an HDTV couldn't possibly look cheaper than this Insignia.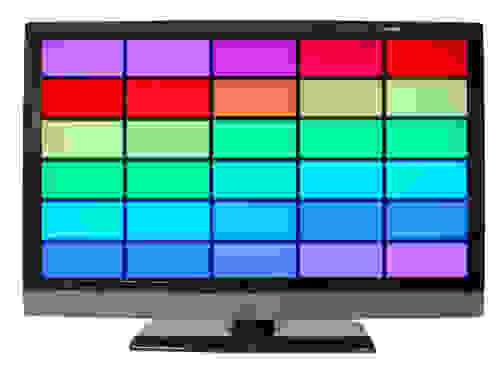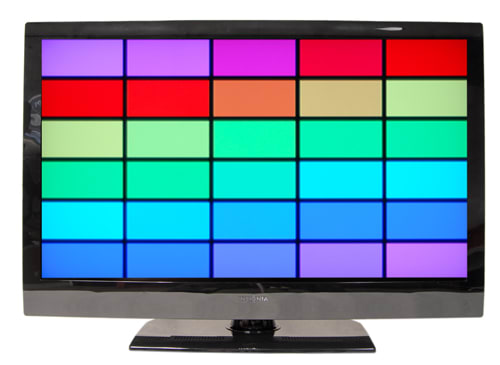 ---
The back of the Insignia NS-37L550A11 is made of cheap-feeling matte black plastic. There are no handles or indents that help ease the burden of carrying the set, but most of the set's input connections live here. As most connectors are within an indent and facing down, perpendicular to the screen, it's clear this set was designed to hide plugs or spend its life mounted on the wall. For information about the ports on the back of the Insignia NS-37L550A11 see our Connectivity section.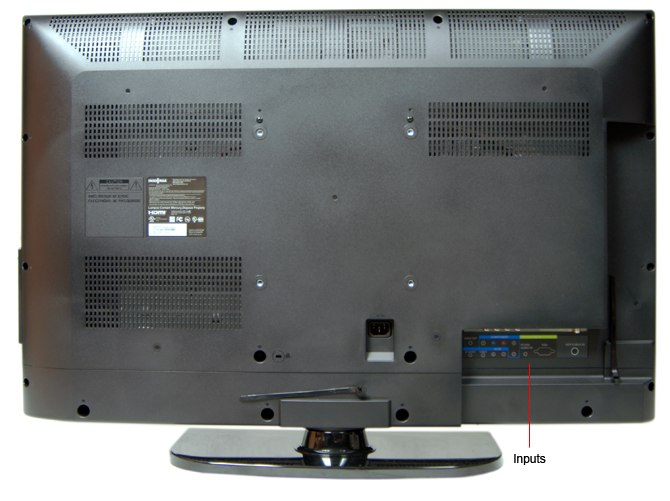 ---
As this Insignia LCD uses less-expensive, traditional CCFL backlighting technology, it's thicker than ultra-svelte LED-edgelit LCDs. On the right of the TV are basic controls, while input ports are recessed on the left. For information about the ports on the sides of the Insignia NS-37L550A11 see our Connectivity section.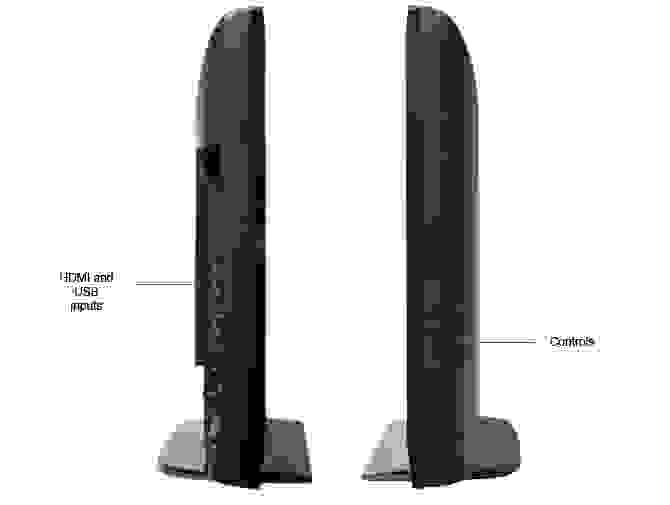 ---
While far from fashionable in appearance, the Insignia's stand is elegant in its simplicity. A swiveling mount is already attached to the set, and attaching the base only requires four screws. Should you want to mount the set on the wall, the mount can be removed. The only way it could be simpler to put together would be if the set and stand came pre-assembled. 
---
Basic controls are included on the right side of this Insignia. While the chiclet-style buttons have a high-quality feel, they're also indistinguishable from each other by touch. You'll probably be using the remote for most functions.
---
The Insignia's surprisingly robust universal remote is well-balanced and designed with ergonomics in mind. A Coke-bottle shape keeps the remote snug in the user's hand, and rubber buttons prevent errant keystrokes. Grasping the remote is comfortable and puts certain buttons at thumb's reach. Unfortunately, these buttons are DVR/DVD controls plus one inexplicably marked "PVR/List." According to the user manual, it's used to display a list of programs recorded on a DVR. Giving such prime real estate to an obscure button is a clear sign that not much thought was given to the remote's layout. Rubber buttons look like they should be backlit, but aren't, and the angle at which the set can be controlled is narrow.
Oddly, the remote comes with a hefty stand that cradles it and keeps it at easy reach. This is hardly necessary, as feet on the bottom of the controller keep it steady on a flat surface, but the extra effort put into designing this feature makes the poor button placement all the more baffling.
---
We were extremely impressed by the Insignia's packaging. After removing the packing tape, we were greeted with recyclable plastic-foam packaging that didn't squeal like nails on a chalkboard as we pulled the set out of the box. The bags that held the remote and other accessories were all resealable, so unwrapping them was easy. Assembly took seconds, and well-written instructions that included the word "please" were a throwback to a more glamorous era of assembly manuals, in keeping with the set's 2-year warranty. It seemed surprising that a Best Buy store-brand set included a cleaning cloth, a composite cable and component cable -- usually lucrative add-on sales for a retailer. Even though you still have to get your own HDMI cable, finding all of those extras in the box of an entry-level set was a nice touch, like a free tasty breakfast at a budget hotel.
---
It's possible for a TV to have a better black level than this Insignia's 0.07 cd/m2, but you'd hardly notice if it did. You will notice, however, that the darkest images on the NS-37L550A11's screen are quite close to a true black, which is impressive for an LCD. (More on how we test Black Level.)
---
The NS-37L550A11 has a very high peak brightness of 400.69 cd/m2, which is ideal for displaying the details of very bright images. Most LCDs don't have a problem with brightness, but this set is particularly adept at it. (More on how we test Peak Brightness.)
---
As we expected from a set with such a low black level and high peak brightness, the NS-37L550A11 has a spectacular contrast ratio of 5724:1. This is about as good as it gets from an LCD, which tend to have trouble with black levels. Since the human eye relies heavily on contrast to determine detail, the nuances of shadows  and bright spots in movies and television shows won't be lost on viewers of this set. (More on how we test Contrast.)
---
This Insignia HDTV had no problems in our tests of tunnel contrast. That means its black level remained relatively consistent even as the screen displayed increasingly dark images. We calibrated our set to turn off all auto-dimming and auto-contrast features, which may have otherwise affected black level. (More on how we test Tunnel Contrast.)
---
We weren't surprised to see the NS-37L550A11 do so well on the white falloff test, displaying a consistently bright white even as the amount of white on screen increased. LCD TVs usually perform very well on this test, since they can display bright white images without the risk of generating too much heat. (More on how we test White Falloff.)
---
The Insignia NS-37L550A11 we tested did have some trouble with uniformity. Both all-black and all-white displays suffered from corners that were lighter and darker, respectively, than the rest of the screen.  (More on how we test Uniformity.)
---
Greyscale gamma measures how well a television transitions from black to white along a greyscale gradient. An ideal slope is between 2.1 and 2.2, so the Insignia's slope of 2.5 means that you might not be able to see transitions among darker blacks in the deepest shadows. Still, the Insignia performed admirably on this test. (More on how we test Greyscale Gamma.)
---
The Insignia performed nearly perfectly on our color temperature test. Any error in displaying colors could not be perceived by the human eye. (More on how we test Color Temperature.)
---
 The NS-37L550A11 had some trouble with the RGB color performance test. See all those bumps along the lines? Those are evidence of color banding -- where the set has trouble displaying a smooth gradient of colors. The plateau at the top of each line means that colors peak early on this set. For the average viewer, that means you'll see a lack of distinction when an image includes bright colors. (More on how we test RGB Curves.)
The graphs below are an exact representation of how the Insignia displays each color along the color gradients of red, green and blue. Where you see vertical lines, that's evidence of color banding. Since the Insignia cannot display certain colors, what should look like a smooth gradient turns into a noticeably rough border between two colors wherever an intermediate color cannot be produced.
Unlike some sets, which only have difficulty with one or two colors, the Insignia consistently has trouble displaying red, green and blue.
---
This Insignia also has difficulty displaying colors according to the internationally recognized rec. 709 standard. Reds, greens and blues are all slightly oversaturated. (More on how we test Color Gamut.)
Want to crunch the numbers yourself? Here they are:
---
The NS-37L550A11 did a decent job with motion performance. With all video processing modes off, moving images had little artifacting but were extremely blurry while in motion. For instance, one test image we use shows a brick wall moving back and forth across the screen. The edges of the wall were crisp, but the detail of the white mortar between the red bricks was lost. Turning the 120Hz feature on provided an interesting tradeoff. Suddenly, the bricks could be seen, but evidence of artifacting abounded with jagged edges and leading trails of color around the brick wall. This set seems to offer a direct trade between blur and artifacting, which may not be a problem if you adjust your set accordingly. (More on how we test Motion.)
---
Though 120Hz processing is designed to enhance film-based content that was shot at 24fps, this Insignia has a little trouble showing such images even in 120Hz mode. For example, moire patterns occasionally flashed on a moving test pattern shot at 24fps, while a slow pan across a football stadium led to a minor amount of judder. (More on how we test 3:2 Pulldown and 24fps.)
---
Though the NS-37L550A11 has a native resolution of 1080p, much of what you'll be watching will be in other resolutions that the set will have to process in order to display correctly. This set did a great job in all resolutions, with nary a whiff of overscan, blur or moire. (More on how we test Resolution Scaling.)
480p
We usually see a small amount of overscan -- around 3 percent -- on HDTVs displaying 480p. Not so with this Insignia, which handled the former broadcast standard with aplomb.
720p
The Insignia had no problems with overscan, moire or illegibility of text in 720p.
1080i
There was the slightest moire in one of the test patterns we use in the resolution scaling test. Other than that, the set was perfect.
---
The Insignia NS-37L550A11 has a native resolution of 1080p, and has no problems displaying images in other resolutions.
---
Like a solar eclipse, the NS-37L550A11 is only visible from a very narrow angle. According to our tests, this Insignia is only viewable from 11 degrees off center on each side. After that, the picture loses more than 50 percent of its contrast ratio. You probably won't need a Konica Minolta CS-200 Chroma Meter to tell you that, though, as the poor viewing angle is obvious to the naked eye of anyone not watching the set head on. (More on how we test Viewing Angle.)
---
Though the NS-37L550A11's overall reflectance performance was acceptable, one specific aspect of this Insignia's reflectance was particularly annoying: any light shined directly at the screen would reflect back as if in a mirror. Otherwise, there were no annoying rainbow patterns radiating from bright lights shining at the set, and ambient light sources couldn't wash out the screen. Not even a table or floor lamp made a difference. It seems as long as you don't aim any light source directly at the screen, you'll be fine with the NS-37L550A11. (More on how we test Reflectance.)
---
Unlike more expensive sets, this Insignia had very few video processing modes. Many of the modes on other sets are quite useless, however, so we didn't really miss them. All of the video processing modes on the Insignia actually change how the picture is displayed. Whether you appreciate those changes will probably depend on what you're watching.
It's important to note that the higher the 120Hz motion processing was set, the more odd video processing glitches we saw. For instance, when the set was connected to a computer, the mouse appeared to skip across the screen. With other images, blur was reduced significantly at the expense of more artifacting. We'd recommend using the highest setting of motion processing only for sports and action flicks, where the reduced blur outweighs other drawbacks.
---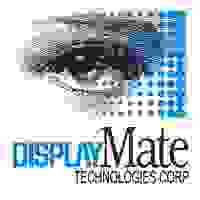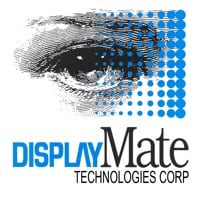 As you can see by the minute adjustments we made, the Insignia NS-37L550A11 came fairly well-calibrated out of the box.
Awkwardly, scales for most picture settings were from 0-50, while others stopped at 30 and some even waded into negative numbers.
---
The NS-37L550A11 is stingy when it comes to video modes. While other sets have optimal presets for cinema, sporting events and use as a computer monitor, the Insignia offers only a mode for video gaming.
---
We were impressed by the NS-37L550A11's complement of ports, including four HDMI inputs, one component and one composite input each with separate audio inputs, and even a rare S-Video input.
Aside from internet connectivity, there's nothing missing, though we wouldn't mind more component inputs for older devices.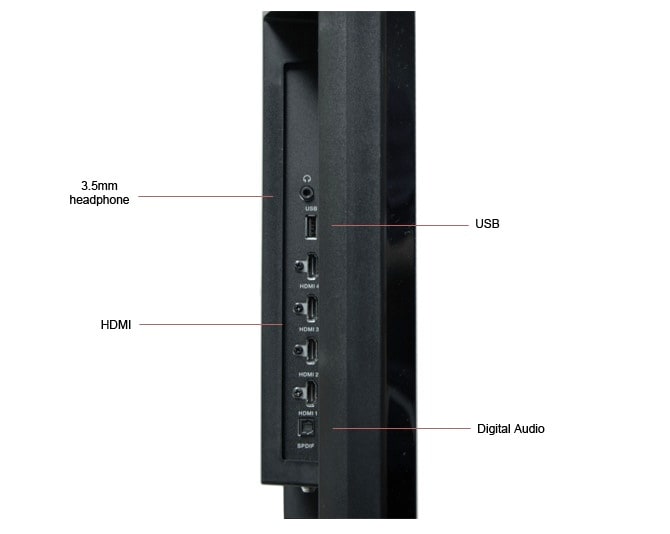 ---
All HDMI inputs, the USB input, digital audio output and 3.5mm headphone jack are on the side of the set. All other inputs are on the back of the set, facing downward and perpendicular to the screen. This is an ideal setup for hiding cords and mounting the set on the wall, but these ports are very difficult to access otherwise.
---
With two 10W speakers, the Insignia NS-37L550A11 is plenty loud. However, the audio quality leaves a lot to be desired. As expected of speakers installed in a cheap plastic case, voices sound hollow, as if projected from across a room. Turning on the surround sound function doesn't help too much, but we do recommend putting the treble all the way up. There's no equalizer -- only bass, treble and balance functions.
The set features dynamic volume processing from Audyssey, which is supposed to equalize different volumes, softening the screaming car sales commercials amidst episodes of Golden Girls. It may work, but it also makes audio sound uncomfortably compressed and flat.
---
Few televisions have menus as straightforward as this Insignia. While we'd love to say that's due to intentionally clean design, it's really because there just aren't that many customizable features. If you're a cinephile who insists on micromanaging your picture, you're not going to be thrilled with this set. However, if you're looking for an HDTV that nearly anyone can figure out without so much as a glance at the instruction manual, this one's for you.
Picture settings are the same ones you'd find on the knobs on your grandma's Zenith console. Should you not understand what they do, each function is clearly explained within the menu.
Advanced picture settings are few, but they exist in a separate menu. The only thing we don't like about the menu setup is that many dialog boxes take up far too much of the screen to make an accurate adjustment.
---
Should you need to decipher anything on the NS-37L550A11, you'll be glad to know the instruction manual is straightforward and comprehensive, with diagrams and drawings illustrating most instructions. It's actually a mildly engaging read, devoid of jargon and seemingly written by someone who has actually used the set. Some of the headings are curious: Who knew that televisions can specify end of life directives? (This one wants to be recycled in an approved landfill.) You can find the Insignia NS-37L550A11's manual online here.
---
If you're looking for on-board internet features, look elsewhere. This Insignia has a lot of inputs, but none of them are for an Ethernet cable or WiFi adapter.
---
The Insignia NS-37L550A11 has a decent photo browser accessible through its USB port.
Videos and music aren't supported, but you can easily create and customize a slideshow of the images on your USB drive. It's not an elegant setup, but it works.
---
The Insignia NS-37L550A11 is a power miser, consuming only 73 watts at $14.26 per year when the backlight is set at 14 so the screen's brightness is 200 cd/m2 -- an ideal setting for most users. Should you want to crank up the backlighting for a more vivid picture, it'll still only consume 128 watts, leading to an average yearly cost of $20.21 (More on how we test Power Consumption.)
Compared to other sets, you'll probably save a couple of dollars a year on electricity with the Insignia. No matter which LCD you choose, it'll be far cheaper to run than a plasma.
Value Comparison Summary
---
When looking solely at picture quality, the slightly larger Samsung is a pretty good match for the Insignia. Though the Insignia is a Best Buy exclusive product, we found it online for under $500 while we couldn't find the Samsung for any less than $800. That $300 difference gets you internet connectivity and a screen that's three inches larger and viewable from a much wider angle than the Insignia.
Blacks & Whites
---
With the same low black level of 0.07 cd/m2 as the Samsung, the Insignia only has a better contrast ratio because of its slightly higher peak brightness. The Insignia will be able to better display details in bright scenes, but both TVs do pretty well here.
Color Accuracy
---
While the Insignia is the clear winner in the color temperature comparison, the Samsung is better at the RGB curve and color gamut tests. If you're concerned about colors that peak early -- leaving it harder to differentiate detail in vivid, colorful images -- the Samsung may be a better choice, though neither set does a particularly poor job.
Motion
---
The Samsung does a slightly better job at preventing artifacting in motion processing. They both perform about the same at reducing blur. Both TVs here do a pretty good job, though, so you're safe with either one.
Viewing Effects
---
It would be hard for the Insignia to win at this comparison, as nearly all other sets beat it at viewing angle. The Samsung LN40C630 is no exception, having nearly three times the viewable angle of the NS-37L550A11 before contrast drops below 50 percent.
Connectivity
---
When it comes to simple inputs and outputs, the two sets are nearly identical. Where the Samsung shines, however, is internet connectivity. If you're planning to watch Hulu, Netflix or other online streaming video sources, the Insignia really can't compete as it's lacking any internet features.
Value Comparison Summary
---
Though the Sony has a slightly lower MSRP than the Insignia, we found them both online for around the same price. The two sets are extremely similar, though the Insignia offers slightly better performance, while the Sony has a larger screen surrounded by a more stylish bezel.
Blacks & Whites
---
The Sony's higher black level and lower peak brightness mean that it's no match for the Insignia's stellar contrast level. Still, the Sony is no slouch, besting other similar sets.
Color Accuracy
---
The Sony far outperforms the Insignia in the RGB curve and color gamut tests, while the Insignia does best at color temperature. You may notice slightly less detail in vivid, colorful images if you choose the Insignia, though both sets perform admirably.
Motion
---
The Sony and Insignia both performed equally well while processing motion. However, the Sony suffered from some overscan processing non-native resolutions, while the Insignia did not.
Viewing Effects
---
The Sony easily beats the Insignia with nearly three times as wide a viewing angle. The Sony also features video processing modes that the Insignia lacks, such as Live Color, which may be of use to some viewers.
Connectivity
---
The Sony and Insignia have nearly the exact same inputs and outputs. While the Sony offers two component inputs to the Insignia's one, the Insignia has a rare S-Video input. If you have an S-VHS or Hi-8 player lying around, the NS-37L550A11 is your set.
Value Comparison Summary
---
The Vizio E371VA and Insignia NS-37L550A11 are both 37 inch sets with MSRPs around $629 and actual retail prices around $500. The Insignia, however, does everything better than the Vizio aside from viewing angle. Contrast, motion and connectivity are all superior on the Insignia.
Blacks & Whites
---
With a black level of 0.31 cd/m2, there's no way the Vizio E371VA can compete with similar sets when it comes to contrast ratio. That's certainly the case with the Insignia NS-37L550A11, which has nearly six times the contrast ratio of the Vizio. With the Insignia, you'll get better detail in darks and lights.
Color Accuracy
---
Again, the Vizio slightly bests the Insignia at the RGB curve and color gamut tests, while the Insignia comes out ahead with the color temperature comparison. Both sets do well at displaying colors -- but the Vizio does a slightly better job than the Insignia, especially when it comes to displaying details in vivid, colorful scenes.
Motion
---
While the Vizio's motion processing is slightly blurrier than the Insignia, there's really very little difference between the two sets.
Viewing Effects
---
Viewing angle is the only comparison in which the Vizio clearly beats the Insignia, which isn't surprising considering how minuscule the Insignia's viewing angle is.
Connectivity
---
The Vizio and Insignia both have the same number of HDMI inputs. However, the Vizio only has one measly shared component/composite input. If you're planning on watching content from more than one older device, you'll need a splitter.
Meet the tester
Keith Barry
Former Editor in Chief, Reviewed Home
@itskeithbarry
Keith was the Editor in Chief of Reviewed's appliance and automotive sites. His work has appeared in publications such as Wired, Car & Driver, and CityLab.
Checking our work.
We use standardized and scientific testing methods to scrutinize every product and provide you with objectively accurate results. If you've found different results in your own research, email us and we'll compare notes. If it looks substantial, we'll gladly re-test a product to try and reproduce these results. After all, peer reviews are a critical part of any scientific process.
Shoot us an email