Why does a 55-inch TV have to cost this much? The technical answer is because OLED technology is difficult to produce in large sizes. Small OLED screens have been available for years—your cell phone probably has one. The real reason that companies will be charging so much is that OLED offers two serious benefits: a darker screen than plasma TVs and a brighter screen than LED TVs.
This technology promises the best of both worlds. It doesn't hurt that OLED TVs—the 55EA8800 in particular—are insanely thin. Is your wallet out yet?
The 55EA8800 is an exotic bird.
If we gave out awards for the best looking products at CES, the 55EA8800 would get my vote. It's difficult to avoid freezing up—just staring at the pictures on the floor models, dumbly transfixed by the powerful blast of colors. The TVs themselves were impressive too, though. Calling the 55EA8800 thin is an understatement: from the looks of it, there aren't any ports located on the back. Perhaps LG will use a separate device to house all the connections (a la Samsung's One Connect box).
Calling the 55EA8800 thin is an understatement.
Unfortunately, the stand on this TV was a major disappointment… because it's not the same stand that the production model will use. Yes, the 55EA8800 will be available in two months, but the production stand we saw won't go with it. The "Flamingo Style" stand LG showed at CES was gorgeous. The TV rested on one leg, mimicking the pink bird's iconic pose. The supporting leg curved around the width of the TV, creating a sturdy stand—at least for a TV that will presumably weigh very little. It's a shame that this stand won't be used. LG had better have a worthy replacement for it!
Faster and smarter... at least that's what we've been told.
LG is revamping its smart platform in 2013. And how exactly does that help you, dear consumer? Faster processing! More apps! A recommendation feature! Better voice recognition! Well, at least that's what the company says. These features weren't available for us to play with, so we'll have to take LG's word for it.
For a full rundown of LG's improvements to its smart platform, check out our article here.
Mouthwatering picture quality is the real reason to be excited about this TV.
OLED technology is like The Matrix: You can't go back to a normal life after learning the truth. The draw of this technology is its best-of-both-worlds approach to picture quality. You can get the inky black levels of plasma, along with the bright whites of an LED. Yes, we were shown demo images on the show floor, but the result was still jaw-dropping. The 55EA8800 has a picture to die for.
This is one we can't wait to test out.
An LG representative told us about the company's WRGB (White Red Green Blue) technology in its OLED TVs. Here's the condensed version of what this means: All TVs have pixels made up of red, green, and blue sub-pixels—these colors make up every other color you see on a TV. LG added a white sub-pixel that, according to a rep, cuts down on the intensity of blues and leads to greater overall color accuracy.
We're pleased with what we saw on the 55EA8800's screen, yet skeptical of this fancy WRGB technology. This is one we can't wait to test out.
Forgot LED and plasma: You want an OLED TV.
OLED technology in TVs is finally coming, and we couldn't be happier. This represents another step forward for display technology—think boxy projection TVs evolving into LED flat panels.
The design of LG's 55EA8800 is a sight to behold, and so is its picture quality (at least what was shown). The problem—and this is always the case with the early adoption of technology—will be its price. $12,000 for a 55-inch TV is a tough sell. LG's 2012 flagship LED, the 55-inch LM9600, costs about $2,000—a bargain compared to the 55EA8800.
Aside from price, LG's OLED TV offers the best attributes of plasma and LED TVs, an improved smart platform, 3D (not shown), and... excitement for tech geeks and TV-lovers everywhere. Start saving now: this slim wonder will be released in March.
Meet the tester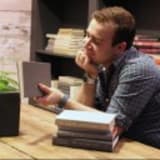 Josh Fields
Staff Writer
@reviewedtech
An enthusiast of all things tech, Josh is one of Reviewed.com's resident television experts. When he's not looking at bright TV screens in a dark room, he's probably reviewing a laptop or finding a new snack at 7-11.
Checking our work.
Our team is here for one purpose: to help you buy the best stuff and love what you own. Our writers, editors, and lab technicians obsess over the products we cover to make sure you're confident and satisfied. Have a different opinion about something we recommend? Email us and we'll compare notes.
Shoot us an email