Vacuums
The Best Handheld Vacuums of 2019
Put the power of clean in the palm of your hand
Credit: Reviewed.com / Jonathan Chan
The right tool for the right job is an adage that especially applies when you're cleaning your house. Busting out a full-sized vacuum to deal with a mess in a confined space is going to lead to a disappointing result. That's where a handheld model can help.
Battery-powered, lightweight, and maneuverable, these vacuum cleaners are the perfect solution to blast that hard-to-reach dirt. But, there are tradeoffs. For example, cutting the cord means that using a more powerful suction setting will decrease the battery life. In terms of individual performance by model, though, we can't rely on online reviews alone to give us the full picture of performance.
That's why we rounded up nine of the best-selling handheld and car vacuums and put them to task in our testing labs. We measured the battery life, how well they sucked up dirt without a power cord, and if they were easy to use.
After weeks of the testing, the Dyson V7 Car+Boat (available at Amazon for $236.61) rose to the top of the rankings. While the V7 had the best suction, decent battery life, and a wide assortment of attachments, we understand it's pricey. Our list includes value picks as well.
These are the best handheld vacuums we tested ranked, in order:
Dyson V7 Car+Boat
Black & Decker BDH2000PL
Black & Decker HNV215BW52
Black & Decker CHV1410L
Bissell MultiReach
Shark Ionflex Duoclean IF251
Bissell Pet Hair Eraser
Shark Pet Perfect II
Dirt Devil SD12000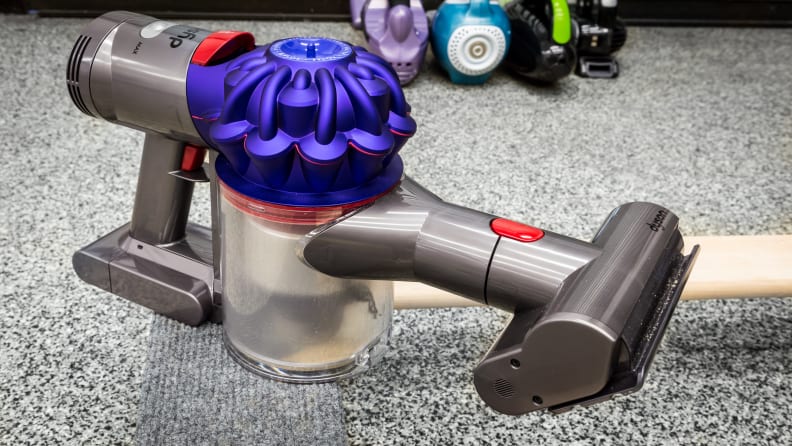 Best Overall
Dyson V7 Car + Boat
The cordless Dyson V7 Car+Boat won our top spot for best handheld vacuum, due to its tremendous furniture, tight space and floor care capabilities. This handheld offers long battery life, powerful suction, and a flexible set of included attachments. We understand the high price tag is a little hard to swallow for most people, so if you're willing to get by with the minimum number of attachments, the V7 Trigger lacks the Car+Boat's included car charger and some tools—but runs a bit cheaper.
In our tests, this bagless vacuum beat all its competitors on pickup for strong suction, cleaning over 75 percent of the dirt we laid out for it. Battery life is up to 30 minutes of low-power cleaning or seven minutes at full power—which we used for testing.
Its attachments also impress: The motorized rotating brush head is compact, just six inches across, and designed to resist tangling hair. The Car+Boat model also includes two dusting brushes, a crevice tool for tight spots, and a flexible hose that extends out two feet for more reach under seats. No matter whether you're doing some spot cleaning on upholstery or going at some dirt in pile carpets, the V7 will get the job done.
Pros
Powerful suction

Compact design
Cons
Expensive for a hand vacuum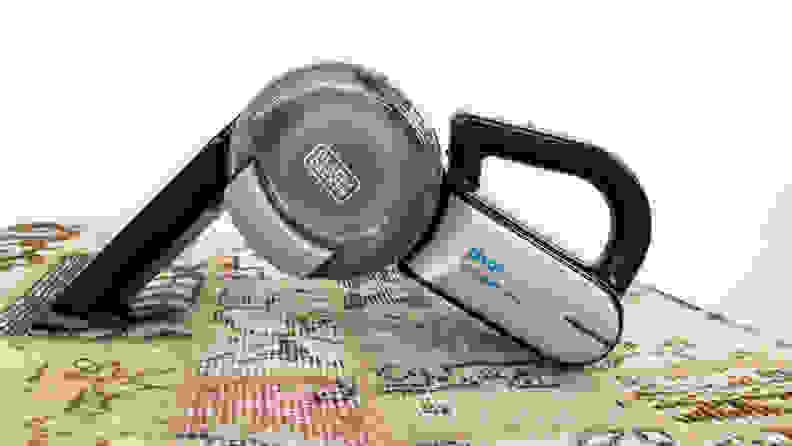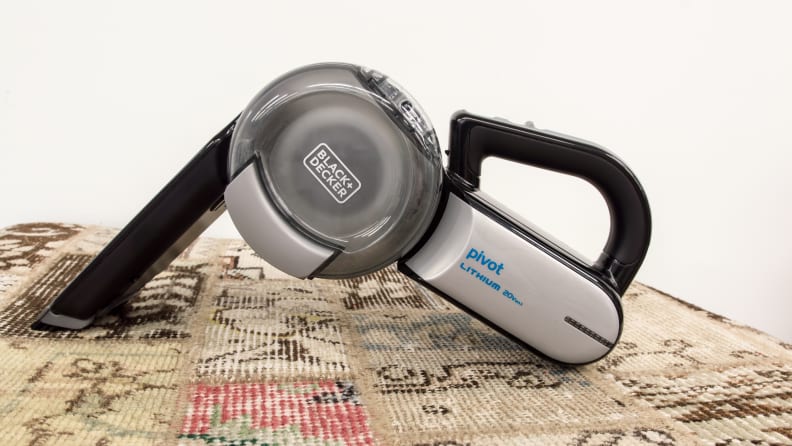 Best Value
Black & Decker BDH2000PL
If you want to spend less—a lot less—than the Dyson, we recommend the Black+Decker Pivot 20V. Unlike the Dyson, which is based on a stick vac design, the cordless Pivot is a dedicated cordless handheld vacuum.
One of the great design features is a pivot joint that lets you bend the unit 200º. This literal flexibility lets you turn the Pivot into a hook to get cobwebs off the tops of cabinets, or fold it up for easy storage. However, its big body and lack of a hose make its hard to maneuver under car seats. The crevice and dusting tool are permanently attached, too.
We clocked the Pivot's run time at 11-and-a-half minutes—third in endurance of all the vacuums we tested. It came in second place during our pickup test, capturing 70 percent of the dirt we laid out. Considering that it only costs around $70, that's an impressive showing.
At the end of the day, if you need help cleaning up small messes in tight spaces, but don't need a top-of-the-line tool, the Pivot is a safe choice.
Pros
Powerful 20V motor

Can angle head to get in tight spaces
How We Tested
The Tests
Testing these little suckers and picking a winner was a three-step process. The first step consisted of weights and measurements. Out of the box, we put on the heaviest attachment and placed the vacuum on a scale. We then measured the "reach" of each vacuum: how far it extends from your hand for cleaning.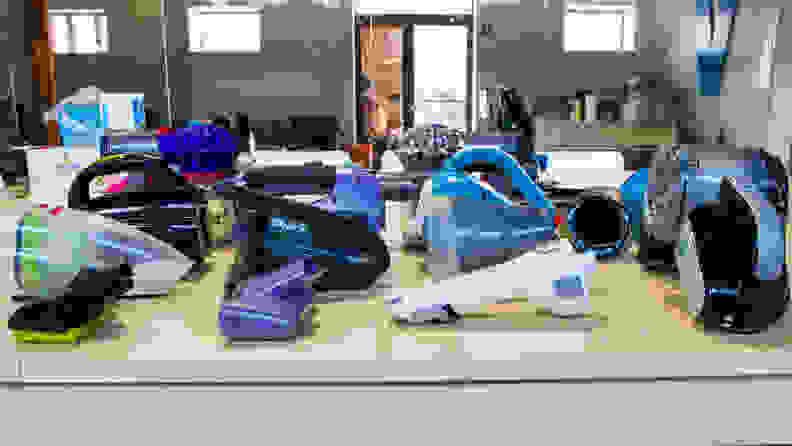 Next came the performance tests. We measured battery life and pickup of dirt, crumbs, and pet hair. To make everything fair, every vacuum was allowed to charge for 24 hours before and after the battery test. If a powered brush head was available, it was attached. All tests were performed on the highest power settings.
Finally, we took our top picks and brought them out of the lab and into a dirty car. We put uncooked rice on the floor to simulate debris like tracked-in road salt and discarded snacks. We stuffed pet hair between the seats, and scattered dirt all over the trunk.
We also judged our top picks based on how easy it was to change attachments, and how balanced each vacuum felt in hand during cleaning.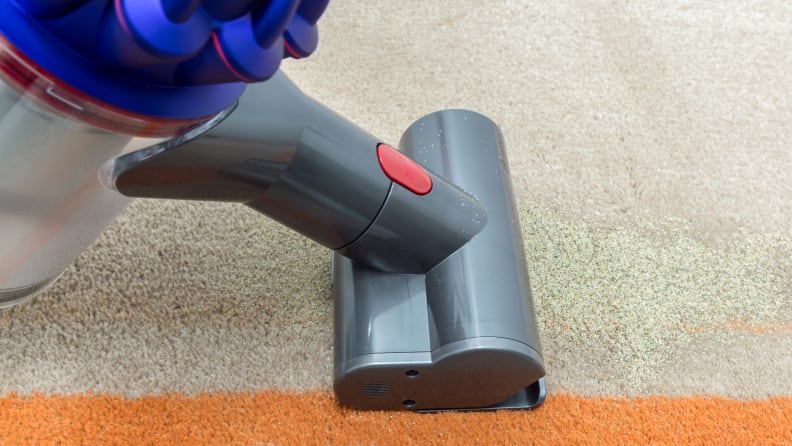 ---
Other Handheld Vacuums We Tested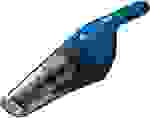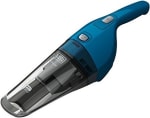 Black & Decker HNV215BW52
Do you ever have spills at your home that are too small for a mop, but too big for a paper towel? Well, that's where the Black+Decker HNV215BW52 comes in.
Retailing for around $40, this mini wet-dry vac mastered both. During our dirt pickup test, it captured 60 percent of the dirt, placing it in the top half of our roundup. And it picked up water, too, so you won't have to go through a roll of paper towels. This was the lightest handheld we tested, tipping the scales at only 1.5 pounds.
So, why didn't it win? Well, its battery life was weak. It only ran for a total of 10 minutes, and we noticed a decline in suction at around the 8 minute mark. That might be fine for a small spill, but that's not nearly long enough for cleaning a car or any of the other more involved uses for a compact vacuum.
Pros
Can clean up spills

Very light and easy to handle
Cons
Only 10 minutes of battery life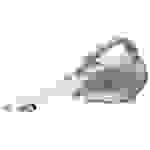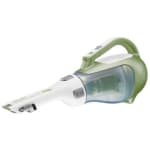 Black & Decker CHV1410L
The Black+Decker CHV1410L is a great kitchen cleaner. Like the Pivot, its crevice tool and dusting brush are attached at the tip.
It only weighs 2.8 pounds, and can stand up while charging on your countertop. During our testing, the CHV1410L picked up 62 percent of the debris we left out for it—8 percent less than the Pivot. We say this model is good for light dusting and crumb cleanup, but it can't handle any heavy-duty work.
Pros
Weighs less than three pounds

Can charge and fit on countertop
Cons
Only average suction

Outdone by other Black+Decker vacuums


Bissell MultiReach
Like the Dyson V7, the Bissell MultiReach is based on a stick vacuum design. It also costs as much as the D7. While the D7 has 16 minutes of continuous maximum power and onboard lights to illuminate dark spaces, it also weighs more than the Dyson, and didn't clean as well in our tests.
We were able to fit the Dyson V7 in more places, too. For the same price, we think the V7 is a better handheld vacuum.
Pros
Very light and easy to move around

Design makes it easy to vacuum on top of furniture
Cons
Expensive for what you get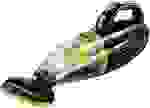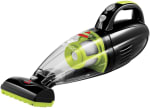 Bissell Pet Hair Eraser Cordless Hand Vacuum 1782
The Bissell Pet Hair Eraser sits in the middle of all the performance rankings, and only costs $50. Its battery only lasted 14 minutes, and the motor started to fade at the 11-minute mark. With that power, the spinning brushes did fine with fur—but only picked up around 52 percent of all the dirt we laid out for it.
With a maximum weight of 3.3 pounds, you'll be able to tote the Pet Hair Easer around without fear of fatigue. Plus, every purchase means a donation to Bissell's pet rescue foundation.
Cons
Battery starts to fade after 11 minutes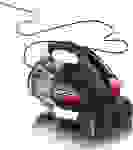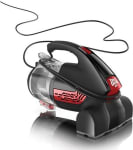 Dirt Devil SD12000
The Dirt Devil SD12000 is the only corded hand vacuum on our list. It retails for under $25, so we're willing to cut it some slack (pardon the pun). With its 20-foot cord, this Dirt Devil weighs in at 3.5 pounds. It picked up only 54 percent of the test dirt we put down, and it floundered when it came to getting crumbs off our test carpet.
Instead of picking up large debris, the whirling brushes flicked them aside. With no variable settings, there's no way to slow it down or turn off the brush—which is why we don't recommend it.
Cons
Weak suction

Difficulty picking up debris
More Articles You Might Enjoy
Up next
Get Reviewed email alerts.
Sign up for our newsletter to get real advice from real experts.