Canon EOS Rebel XT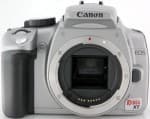 Read Full Review
Full Review
**Color ***(8.36)*
When converting to the digital format from film, many photographers are skeptical of the color reproduction capabilities of digital cameras. While digital prints will often exhibit an impressive color range, there is often a variance from the natural scene. For many digital cameras, the tendency is to over-saturate colors, increasing the vibrancy of the scene. This can make the image appear more striking, but is certainly not a realistic representation of the setting.
See Full Specifications
Specifications
| | |
| --- | --- |
| Built-in Mic | Unknown |
| Wind Cut | Unknown |
| Mic Hi/Low | Unknown |
| Audio Level Control | Unknown |
| Headphone | Unknown |
What's Your Take?