Casio Exilim EX-Z600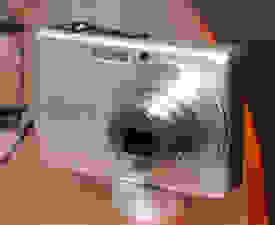 Read Full Review
Full Review
**Front

**The front of the Casio EX-Z600 features a 3x zoom lens on the right side when facing the camera. The lens ring extends slightly out over the edge between the front and left side of the camera, creating a sliver on the body which curves out to echo this feature. The AF assist light is located above and slightly to the left of the lens ring. To the left of this light, the in-camera flash for the EX-Z600 is positioned off the center axis of the lens.
See Full Specifications
Specifications
| | |
| --- | --- |
| Effective Pixels | 6.0 Megapixels |
| Battery Type | removable lithium-ion |
| Battery Model Number | NP-40 |
| Height | 2.2 mm |
| Width | 0.8 mm |
What's Your Take?