Samsung NV7 OPS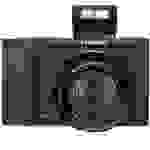 Read Full Review
Full Review
**Front The Samsung NV7 has a retro look with its wide front, thickened hand grip, wide lens, and tall flash unit. The camera's minimalist black frame also helps it pass as an old-school model. The hand grip is shown on the left; it is thicker than the rest of the camera and has a pyramid-like shape. At the top of the hand grip is where the mode dial protrudes out of its side; only the etched lines on the side of the dial can be seen.
See Full Specifications
Specifications
| | |
| --- | --- |
| Optical Zoom | 7 x |
| Burst | Unknown |
| Direct Printing | Unknown |
| Video Output | Unknown |
| Zoom Wide | 1 |
What's Your Take?