The Best Fat Separators of 2019
By Lindsay D. Mattison, August 29, 2018, Updated February 07, 2019
There's nothing sexy about a fat separator. In fact, it's quite possibly one of the least glamorous kitchen tools. No one really wants to think about fat that much, but these gadgets seriously come in handy when you don't have time to defat your broth or pan juices. Think about a busy Thanksgiving Day: Everyone is already bustling around the kitchen to get dinner ready, there's no way you have time to pop your turkey stock in the refrigerator and wait for the fat to solidify (not to mention that there's probably no room in the fridge anyway!). To make sure your gravy isn't slick with fat, use a fat separator—like our top pick OXO Good Grips Good Gravy 4-Cup Fat Separator (available at Amazon for $24.95)—which allows you to separate liquids and fats almost immediately.
It's really just about simple physics: Fats and liquids don't mix. Given a few minutes' time, the fat will float to the top because it's less dense than water. These gadgets take advantage of that and pour from the bottom, making it easier to get flavorful liquid without a ton of excess fat. The best ones even have strainer tops that are designed to filter-out aromatics like chopped onions, carrots, or peppercorns. To find the best time-saving fat separator, we compared eight top-rated models.
Here are the best fat separators we tested ranked, in order.
OXO Good Grips Good Gravy 4-Cup Fat Separator
OXO Good Grips 4-Cup Fat Separator
Cuisipro 4-Cup Fat Separator
Vondior 4-Cup Gravy Separator and Fat Separator
Bellemain 4-Cup Fat Separator/Measuring Cup with Strainer & Fat Stopper
Swing-A-Way 4-Cup Easy Release Fat/Gravy Separator
Trudeau 0991105 Gravy/Fat Separator
Vita for Home 4-Cup Gravy Separator & Fat Separator
Updated February 07, 2019
Advertisement - Continue Reading Below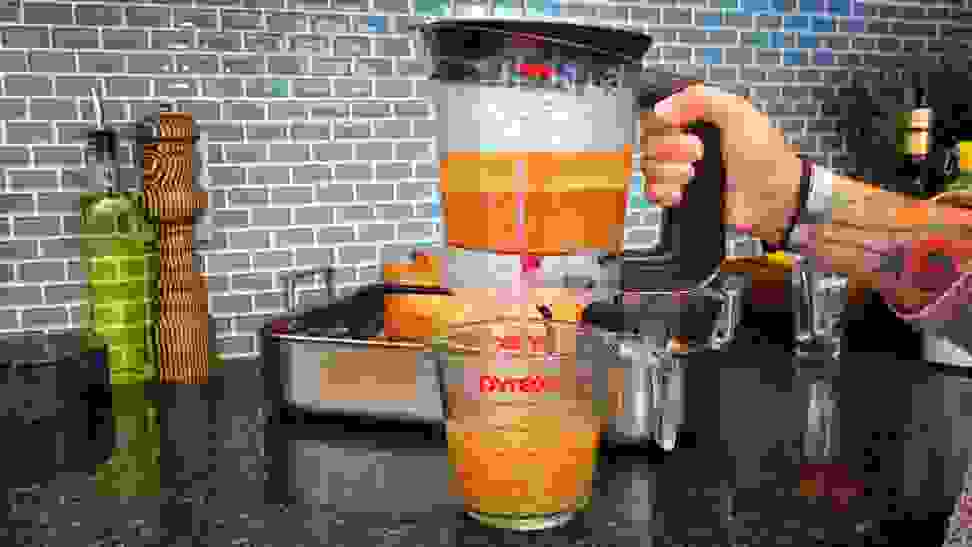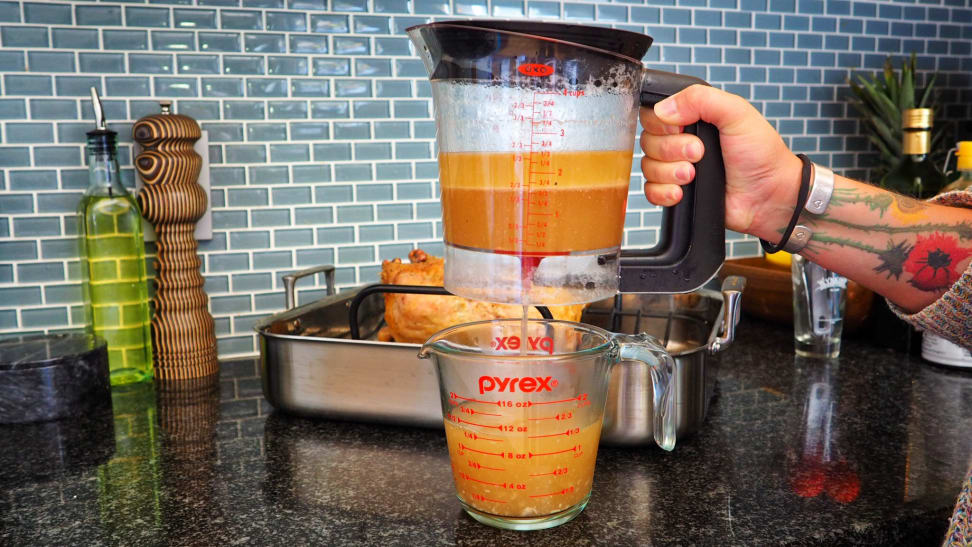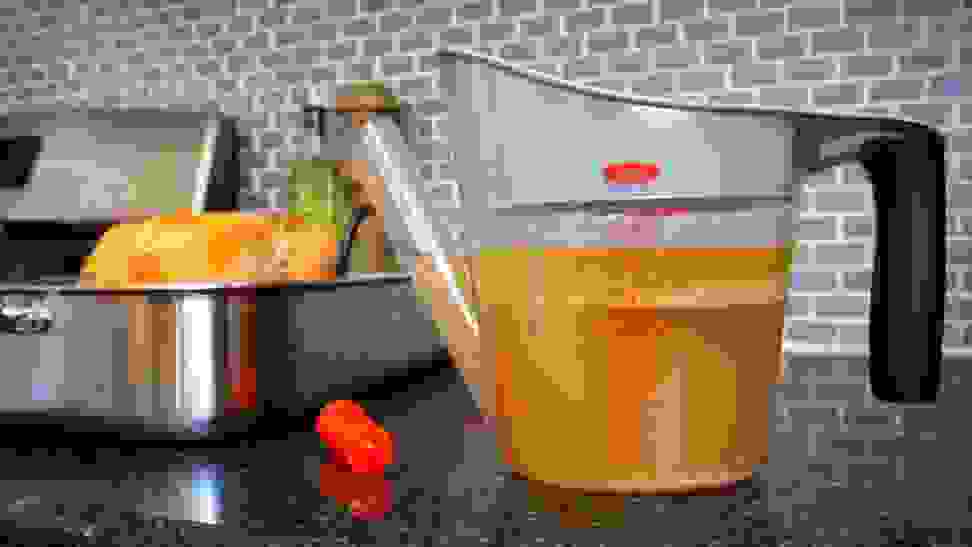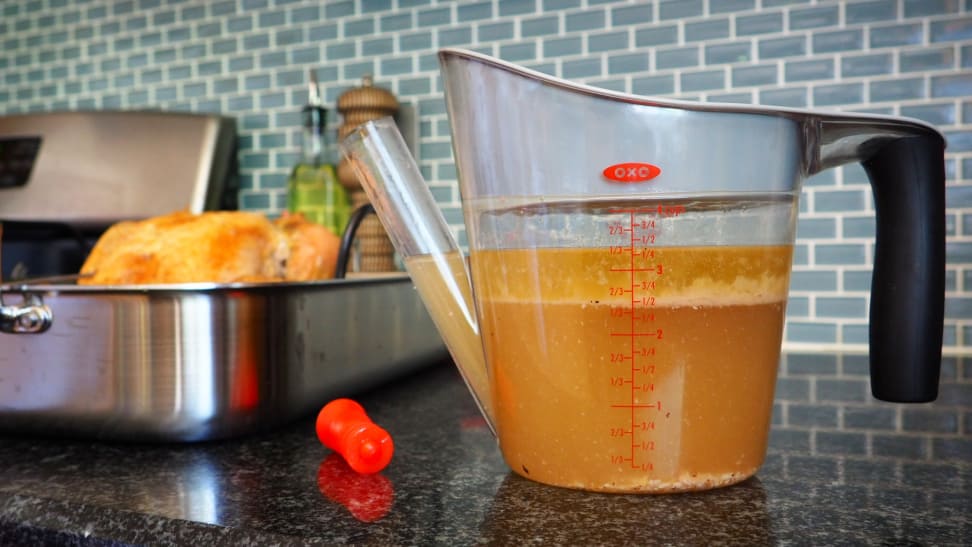 How We Tested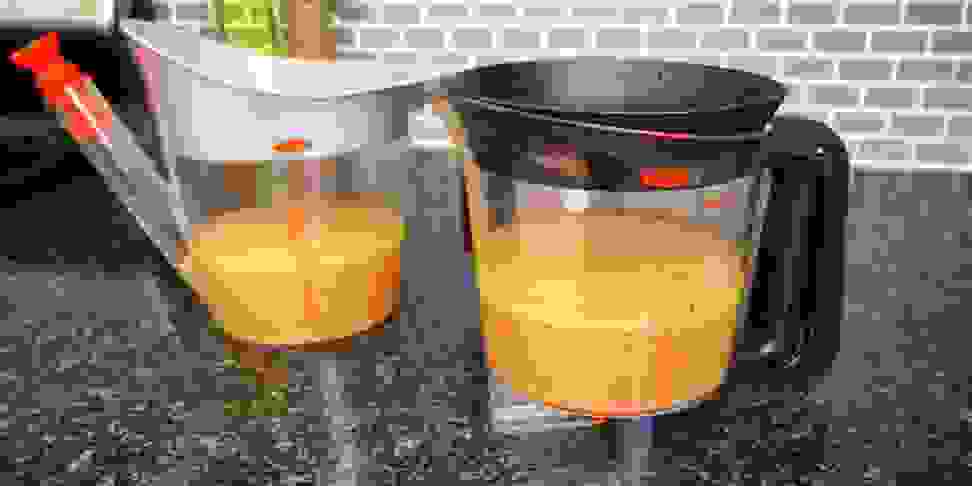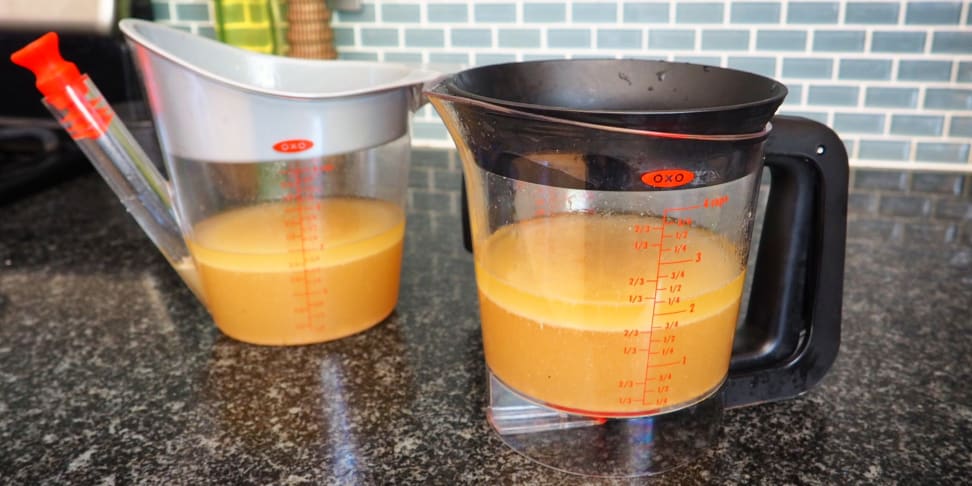 The Tester
Hi, I'm Lindsay Mattison, a trained professional chef who loves making from-scratch meals. That usually means my refrigerator is jam-packed with the latest batch of pickles, condiments, and sauces. Because I'm always creating new and exciting foods, I don't have time to wait for fat to solidify when making stock. My fat separator saves me a ton of time, and I'd love to help you do the same!
The Tests
We picked up eight fat separators—four bottom-drainers and four spout-style pitchers—and put them to the test. Our tests were designed to evaluate ease of use and defatting ability. Ultimately, we were looking for an easy-to-use fat separator that wouldn't make a mess and didn't allow a lot of fat to pass through with the liquid.
To test the separator's ability to defat liquid, we tasked each one with separating large and small amounts of fatty chicken stock. We added 1 cup of vegetable oil to 3 cups of stock, and 1/4 cup of oil to 3/4 cups of stock. Some separators performed better with small amounts of liquid while others excelled at the larger quantities. To become our winner, the separator had to ace both tests.
Next, we tested the strainer to see if it could strain out normal aromatics found in chicken stock. Every strainer was able to keep the chopped onions and carrots out, and none of them prevented all the thyme leaves from passing through without a cheesecloth liner. The biggest differentiator was the peppercorns: Some passed right through the larger-sized holes while others were perfectly positioned to keep those types of solids out of the finished stock.
We finished out our tests by making sure each separator could hold the promised 4-cup capacity. We also measured one cup of water in each model to make sure it weighed 240 grams to check its accuracy as a measuring cup.
How Do Fat Separators Work?
There are two types of fat separators: spout-style pitchers and bottom-drainers. They both work the same way, although their draining methods differ. After you pour your stock or sauce through the strainer (which is designed to catch aromatics like chopped onions or peppercorns), give it a minute to allow the fat to rise to the top. With the pitcher design, you simply pour the liquid through the spout, which pulls from the bottom of the receptacle. For the bottom-drainer types, you pull a lever to drain the liquid directly through a hole in the bottom. With both methods, you stop pouring before you reach the floating fat, leaving it behind in the separator.
---
Other Fat Separators We Tested
Advertisement - Continue Reading Below