Kitchen & Cooking
The Best Manual Can Openers
From traditional openers that will last decades to specialized safety models, these are the best manual can openers for your kitchen.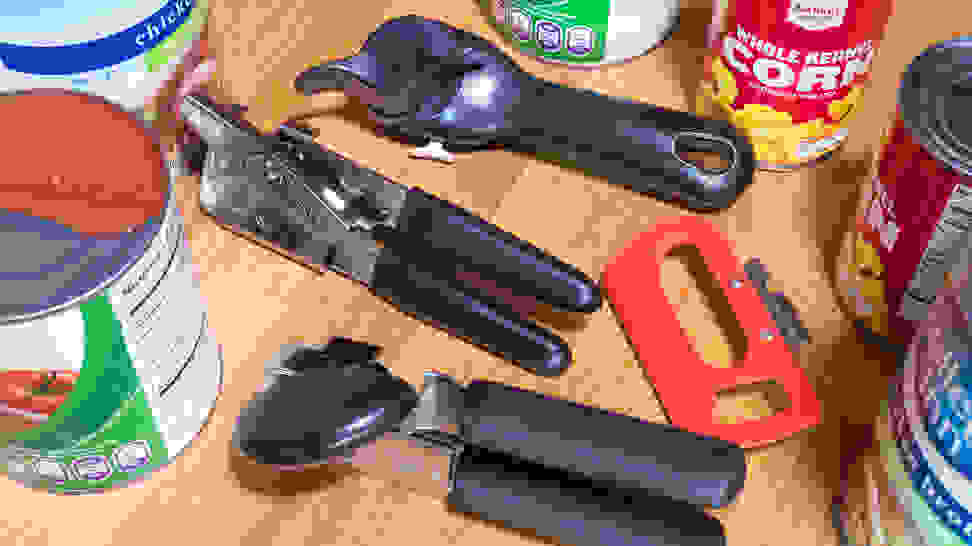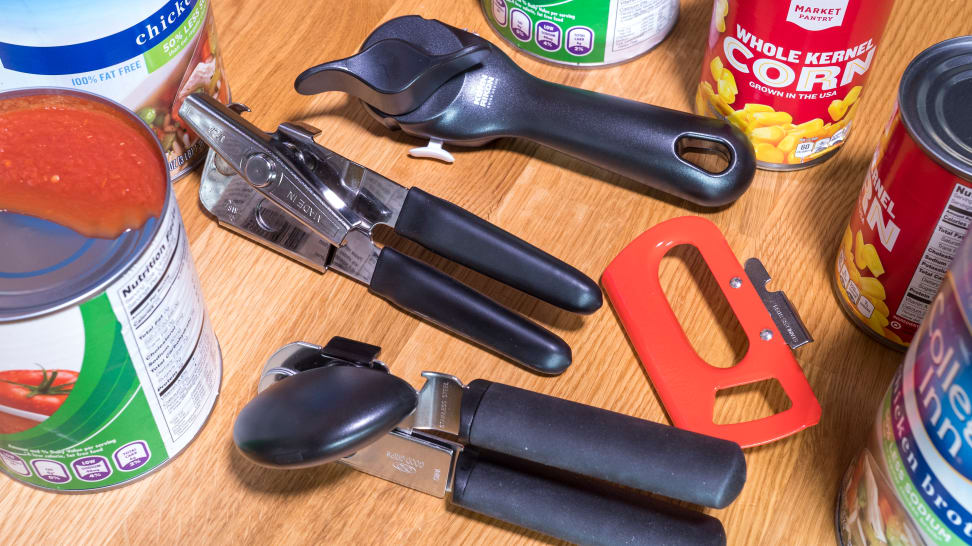 Credit: Reviewed / Jackson Ruckar
The humble can opener is a kitchen tool we tend to take for granted—you might not think about it much while it's sitting in a drawer, but you'll miss it desperately when it's gone. Take that from someone who was dumb enough to hack at their black bean can with a paring knife in a moment of mid-move desperation not too long ago.
Manual can openers are increasingly flimsy, made with plastic elements. Or, they can be loaded with gimmicky bonus features. Unless you're using the same all-metal rotary opener that's been in the family for years, there's a good chance you've run through multiple devices that just keep breaking. To save you the money and frustration of another bad purchase, we chose 10 highly-rated manual can openers and put them to the test opening every size can under the sun, evaluating for speed, comfort, durability, and safety, among other factors.
We found that the classic EZ-DUZ-IT Deluxe Can Opener (available at Amazon for $9.90) is our favorite and will be best for most people. It can outlive the competition without sacrificing speed or comfort. However, the OXO Good Grips Smooth Edge Can Opener (available on Amazon) out-performed all our can openers and is our favorite safety model, cutting through the side of cans to produce a smooth edge (our only concern is some of the plastic construction may limit its long-term durability). Lefties will find joy in the Kuhn Rikon Auto Safety Lid Lifter (available on Amazon), another safety model with an ambidextrous knob.
While electric openers are the right choice for those who use a lot of canned foods or have trouble using their hands, they can take up valuable counter space—making a good manual opener essential.
Here are the best manual can openers we tested ranked, in order:
OXO Good Grips Smooth Edge Can Opener
EZ-DUZ-IT Deluxe Can Opener
Made in USA Can Opener
OXO Good Grips Can Opener
Kuhn Rikon Auto Safety Lid Lifter
Bartelli Soft Edge 3-in-1 Ambidextrous Safety Can Opener
U.S. Shelby Co. P-51 Can Opener
Korin Japanese Can Opener (Ganji Kankiri)
Nogent Classic Service Super Kim Manual Can Opener
Zyliss Lock N' Lift Can Opener with Lid Lifter Magnet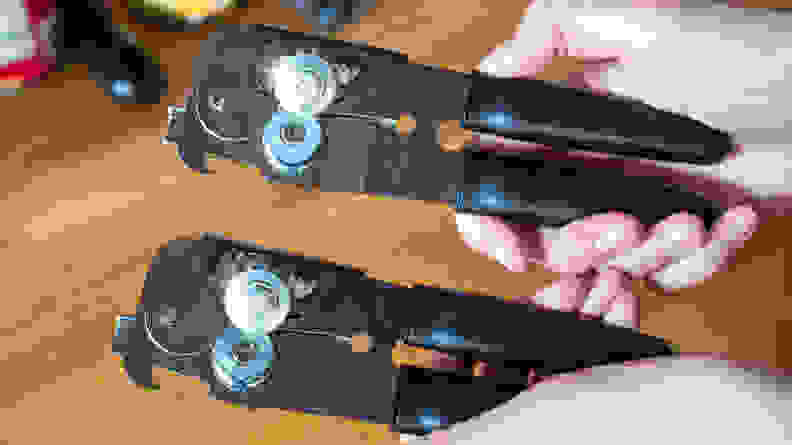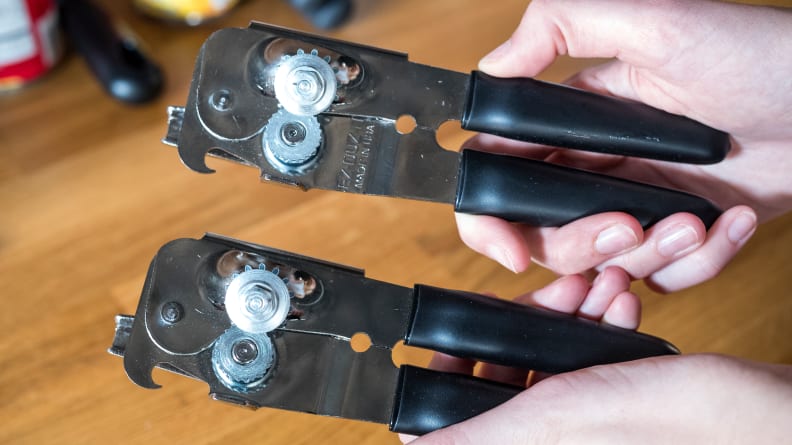 Best Overall
EZ-DUZ-IT Deluxe Can Opener
The unassuming EZ-DUZ-IT probably looks exactly like the can opener you grew up with—and for good reason. What it lacks in special features and flashy design it makes up for in pure power and rock-solid construction, making it our top choice for most people. Throughout our testing, the EZ-DUZ-IT easily pierced lids, stayed attached to the edges, and made its way around cans without catching or resisting along the way. Its slim rubberized handles were easy to grip and prevented hand fatigue when opening can after can. And with such an intuitive, straightforward design, there's little room for user error.
While the EZ-DUZ-It excelled in ease of use and speed trials, its durability is what pushed it ahead of the pack. Its all-metal construction makes us confident that it will survive many years of daily use, including being jostled around in drawers and dropped off the counter, and its Amazon user reviews support our theory. You could probably drop this thing off a four-story building without breaking it, but we wouldn't recommend it. In a world of flimsy plastic levers and dulling blades, the EZ-DUZ-IT is a steadfast companion that's in it for the long haul. The only drawbacks of the opener are that it produces sharp-edged lids and is designed for right-handed people, but these are standard features of most traditional rotary openers.
Pros
Exceptionally durable and well-constructed

Easy to use

Affordable
Cons
Produces sharp edges

Right-handed only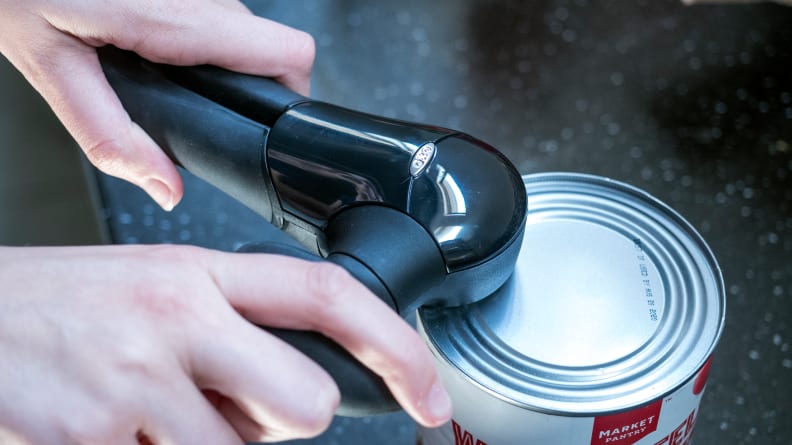 Best Safety
OXO Good Grips Smooth Edge Can Opener
If safety and comfort are more important to you than a decade of use, the OXO Good Grips Smooth Edge Can Opener is the way to go. This ultra-rubberized safety opener easily attaches to the top of cans (with the help of a visual guideline to eliminate the guesswork of placement) and glides around the edges with ease, producing a top that cleanly separates from the can's base like the lid of a jar.
Although it moves more slowly than our ambidextrous safety pick from Kuhn Rikon, the OXO sits more comfortably in the hand and appears much less likely to break—where the Kuhn Rikon has a plastic button used to pinch the can's lid for final removal, the OXO's pinchers are built into the metal of the entire opener and are controlled by squeezing the handle. Using these pinchers isn't as intuitive as pressing a button, but we think the construction pays off in the long run. For just under $14, the OXO Good Grips Smooth Edge is also one of the least expensive safety openers we tested, so you don't have to feel like you're going over-the-top to open a can. While this OXO took first place in our overall scoring, its plastic components and safety blade simply mean it won't work effectively for as long as the EZ-DUZ-IT or other all-metal traditional models.
Pros
Easy to use

Produces safe edges

Affordable
Cons
Slower than others

Right-handed only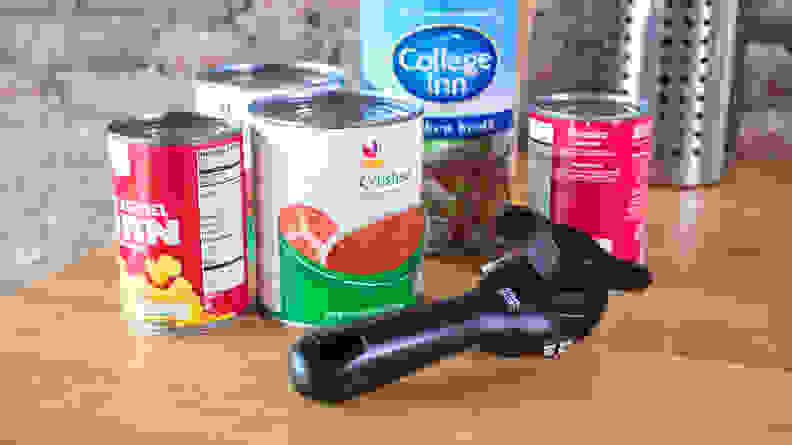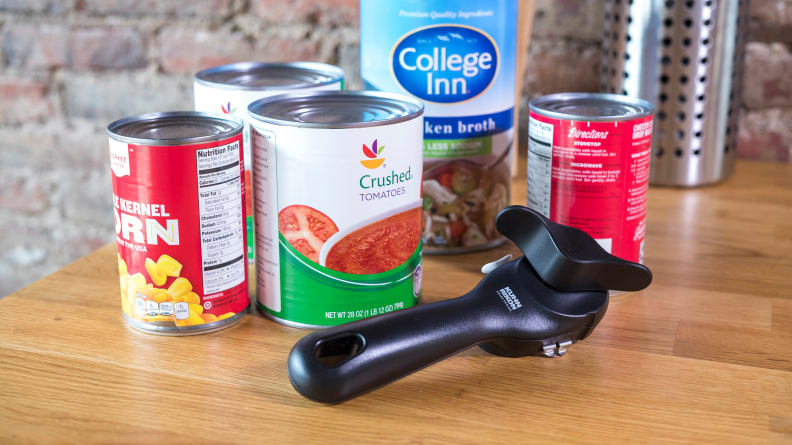 Best for Lefties
Kuhn Rikon Auto Safety Lid Lifter
The lefties and ambidextrous folks at Reviewed have spoken—the Kuhn Rikon Auto Safety Lid Lifter is the fastest, most intuitive opener to use if you lack a dominant right hand. The Kuhn Rikon looks like (and operates similarly to) the OXO Good Grips Smooth, but the knob is situated on top of the opener, rather than the side.
Even as a right-handed person, I really loved using the Kuhn Rikon throughout testing. Its push-button control of small pinchers that lift can lids make it the fastest safety opener we tried, start to finish. Unfortunately, that button is made of plastic, as is most of the Kuhn Rikon's handle and knob, which leads me to believe it won't survive as much use as our other top choices. Amazon reviews of the product are overwhelmingly positive, but some users note the limited shelf life on the "lid lifter" component.
Pros
Fast and easy to use

Produces safe edges

Good for lefties
How We Tested
The Tester
I'm Cassidy Olsen, and I'm the food and kitchen writer here at Reviewed. While I like to use fresh foods as often as possible in my home kitchen, you can't beat the price and convenience of canned goods. A crunchy tuna fish sandwich is one of my favorite lunches (sorry, haters!) and I've encountered some truly awful can openers in my pursuit of this meal, so I was excited to get to the bottom of which opener I should buy for my new apartment. Durability and ease of use were critical to me, but I took into consideration that comfort and safety are also top of the list for people with young children or trouble using their hands.
The Tests
Our testing methods were simple: use each opener on three types of cans, each a different shape and size. I timed how long each opener took to open each can and took into consideration the ease and feel of the process as a whole. Did the opener stay attached to the can's edges? Did it resist being turned? Did it leave our hands sore? How messy or difficult was removing the lid at the end? Were its edged sharp or jagged? I suffered through smelling a combination of tuna fish and tomato sauce for weeks to get to the bottom of these questions.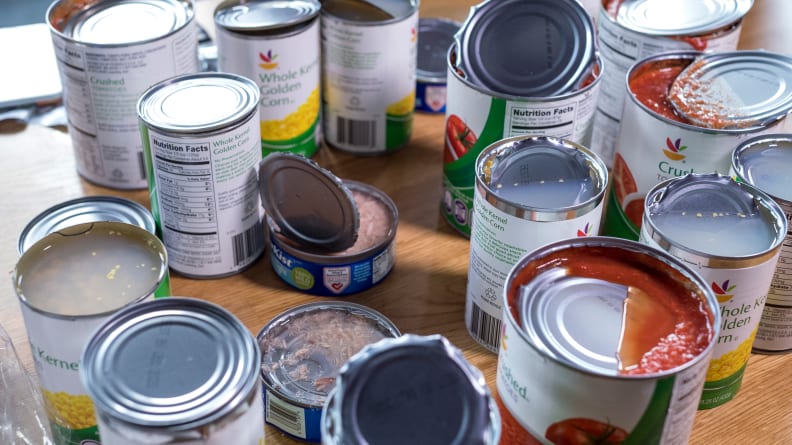 With such a variety of openers being tested, I also considered that durability, portability, and ease of use would vary by category. For example, traditional openers will last longer than safety openers because they must cut through a thinner piece of metal, and fixed openers will generally outlive rotary models due to their—as the name suggests—lack of moving parts.
Which Can Opener Do I Need: Traditional or Safety?
Traditional can openers—the ones you're probably best acquainted with—attach to a can's rim and pierce the lid from the top, resulting in a sharp, potentially jagged lid that must be fished out of the can or pried off from one side, if you stop short of one full rotation. On the other hand, safety openers allow the blade to cut through the side of a can near the top, resulting in the smooth separation of the can into two pieces with flat, even edges. Because cans have thinner lids than sides, traditional openers have to do less work than their safety counterparts and are generally more efficient and durable.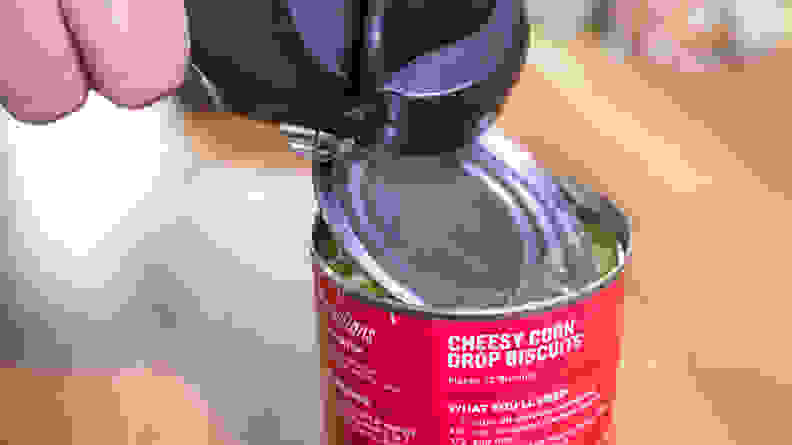 While we recommend traditional openers for most people, safety openers are a great option if you're seriously worried about sharp edges. Maybe your pet tries to get into your trash and lick cans clean, your child often helps you make dinner, or you just have health concerns about any potential nicks. We tested a variety of both traditional and safety can openers for this article so you can make the choice that's right for you and your family.
---
Other Manual Can Openers We Tested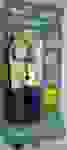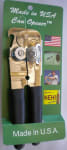 Made in USA Can Opener
If you couldn't tell by the name, the Made in USA can opener prides itself on American manufacturing, and it's by far one of the sturdiest, most built-to-last openers we tested. So what's the catch? It's actually the same exact product as the EZ-DUZ-IT, down to markings on the central bolt, but costs twice as much. Both can openers are emblazoned with MADE IN USA on the knob in the same place, so it looks like this can opener's claim to fame isn't so special after all.
In our testing, the Made in USA and EZ-DUZ-IT were basically indistinguishable. If the EZ-DUZ-IT sells out or isn't available in your area, this opener is the way to go—but it would be foolish to spend twice on the same product otherwise.
Pros
Exceptionally durable and well-constructed

Easy to use

Affordable
Cons
Produces sharp edges

Right-handed only

Identical to the EZ-DUZ-IT, but more expensive


OXO Good Grips Can Opener
This standard rotary opener combines the functionality of the classic EZ-DUZ-IT with the rounded, super-padded knob of the OXO Good Grips Smooth Edge. It's comfortable to hold and easy to use, and it's OXO's number-one seller—in addition to a fan favorite on Amazon. We're hesitant to give it top marks, however, because of the plastic piece that secures one of the gears to the handle. Unlike the all-metal EZ-DUZ-IT, this OXO isn't likely to stand the test of time.
Pros
Comfortable to hold

Easy to use
Cons
Produces sharp edges

Right-handed only

Not very durable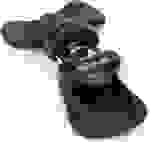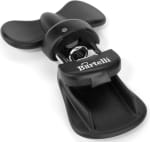 Bartelli Soft Edge 3-in-1
This odd-looking opener took us a minute to figure out—the addition of a full bottle opener below its Mickey-Mouse-ears knob makes it look more complex than it is—but was simple enough to use once we became acquainted with it. As a safety opener, it struggled slightly when cutting through the thick perimeter of the can, requiring more force than the OXO Good Grips Smooth Edge. It received bonus points for being ambidextrous and rather comfortable, but its plastic construction and odd design make it seem rather breakable. Overall, a middling performance by an interesting device.
Pros
Comfortable to use

Produces safe edges

Good for lefties
Cons
Confusing

Struggled to cut through certain cans

Not very durable

U.S. Shelby Co. P-51
Amazon currently sells the P-51 packaged together with its mini companion, the P-38, for a whopping $4. They're such small, inconspicuous pieces of metal that we actually lost our first delivery of them in a mess of boxes. Because they were designed to be carried by soldiers in the field, they're keychain-level portable and wildly durable. One Amazon reviewer claims to own a functioning P-38 from 1944!
Despite their unassuming stature, these WWII-era openers pack a punch, and can open just about any can with some practice and elbow grease. But "practice and elbow grease" aren't what most people are looking for in a household can opener. While it was fun to try the P-51 and P-38, they took three to four times as long to use as other manual openers and started to hurt my hand. I also had trouble keeping the P-38's blade propped up and away from its base.
If you want something small to take hiking or to give as a gift to a handy friend, these openers are a great bet—but if you're just trying to open cans in your kitchen every day, you should probably stick to a device that won't hurt your thumb or get lost in your drawer.
Pros
Exceptionally durable

Very affordable

Good for camping, hiking, and traveling
Cons
Produces sharp edges

Difficult to use

Uncomfortable in the hand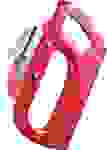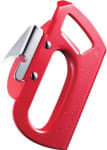 Korin Gangy No. 300 Can Opener
Like the U.S. Shelby Co. openers, the Korin Japanese Can Opener was a blast to use for a limited period of time. It's sleek, handle-like design and bright red coloring are a fun alternative to traditional American rotary openers in black and chrome. Even the packaging, which looks like it contains a retro bar of soap, caught our eye. Because it's another fixed opener, there is absolutely no plastic and zero moving parts anywhere on the device, meaning it could last you decades.
Unfortunately, the opener is just too difficult to use to be a good option for most people. It took us multiple attempts to figure out how you're supposed to move the opener and at what angle, it unhooked itself from the sides of cans on occasion, it splattered me with liquid from the cans, and it left my hand sore. It also requires some brute strength to use and has an extremely sharp, exposed blade that can leave jagged edges, making it unfriendly to children and people with disabilities. Buy this opener if you're skilled with your hands and want something cool to show your friends, but beware if you're concerned with safety and actual ease of use.
Pros
Exceptionally durable

Very affordable

Interesting, attractive design
Cons
Produces sharp edges

Very difficult to use for most people

Right-handed only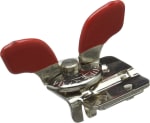 Nogent Classic Service Super Kim Manual Can Opener
Another international, bright red opener, the French Nogent Super Kim takes some getting used to. Truth be told, we never successfully figured out how to attach the opener without just forcing it down onto the lid, puncturing its side with a safety blade. Although its all-metal construction suggests durability, the Super Kim let us down in most other areas. It forces you to grip the can with one hand while you attach and turn, which resulted in splatters and messy hands during testing. Tuna cans posed a particular challenge because of their stout shape, although larger cans caused less trouble.
Cons
Very difficult to use

Confusing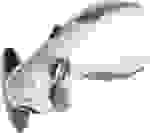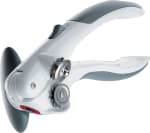 Zyliss Lock N' Lift Can Opener with Lid Lifter Magnet
This traditional opener has a nifty magnet on its front end that makes fishing can lids out of cans easy, but we wouldn't write home about anything else. Its white plastic exterior is unstylish, it's somewhat difficult to attach to cans, and it has two red plastic buttons that look likely to snap off in time. Although the Zyliss has a high average rating on Amazon, many recent reviews support our theory and point to how often it breaks or stops working. It also feels wrong dipping the head of the opener into the can's contents to pick up the lid, resulting in a dirty opener that needs cleaning. It will work in a pinch, but you'd be wise to invest in something else.
Cons
Difficult to use

Right-handed only

Not very durable
More Articles You Might Enjoy
Up next
Get Reviewed email alerts.
Sign up for our newsletter to get real advice from real experts.