Kitchen & Cooking
10 food products you can buy to support restaurants
Supporting small businesses tastes delicious.
Credit: Poi Dog / La Bodega at Compass Rose
To say 2020 was a tough year for restaurants is an understatement. Since last March, COVID-19 has prompted businesses to shutter and re-open countless times. Many, sadly, have shuttered permanently. And while there are certainly signs of hope for 2021, many restaurants—especially small mom and pop shops—are still struggling to survive the winter.
That struggle has prompted chefs and owners to get creative. Some have invested in pricey outdoor heaters, built elaborate outdoor structures, or added menus of hot drinks in hopes of enticing diners to keep coming even when the weather dips. Some have pivoted to an all-takeout menu or signed on to expensive delivery services. And some have preserved, baked, bottled, and boxed goods to ship all over the country.
Below, we've gathered 10 products from a few of our favorite restaurants—from chocolate dipped alfajores to vegan fish sauce—that ship nationwide. Order now and show your support!
1. The Grey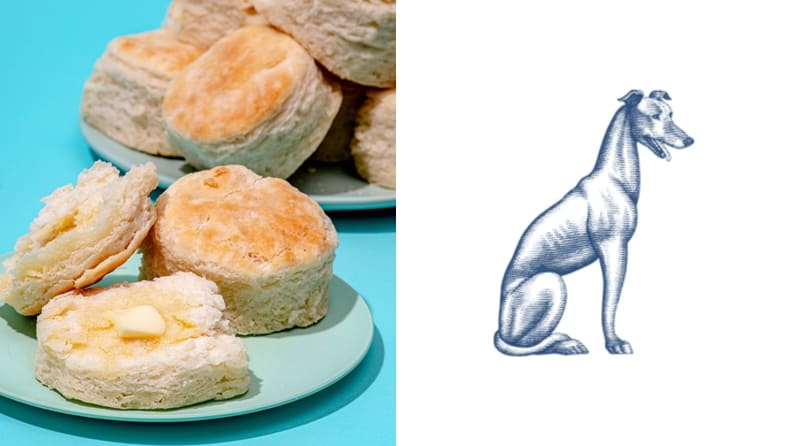 First, take the trays of hot buttermilk biscuits out of the oven. Add bacon jam, seasonal fruit jam, or pimento cheese (or some combination of the three, we're not here to judge.) Then close your eyes and imagine you're sitting at The Grey, chef Mashama Bailey's gloriously sleek Savannah, Georgia restaurant situated in a revamped 1960s Greyhound bus terminal.
While travel is tough right now, these can almost take you there. (Though if your imagination needs some extra motivation, there's also salted honey pie, pickles, and adorable little jars of chocolate pot de creme.)
Get The Grey's Buttermilk Biscuits with the Fixins' on Goldbelly for $95
2. Poi Dog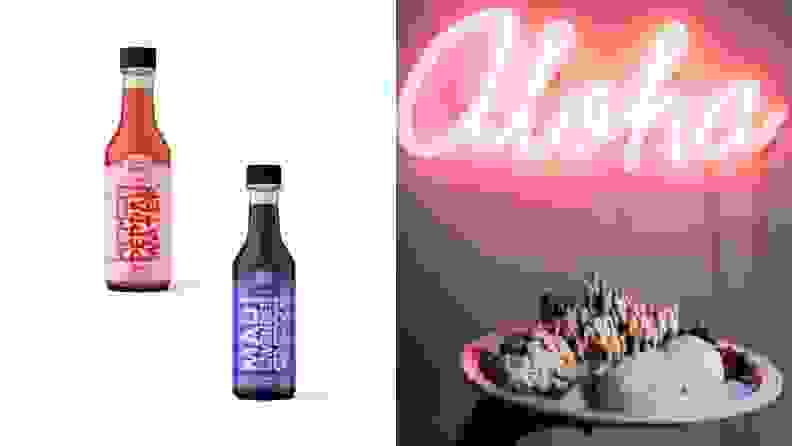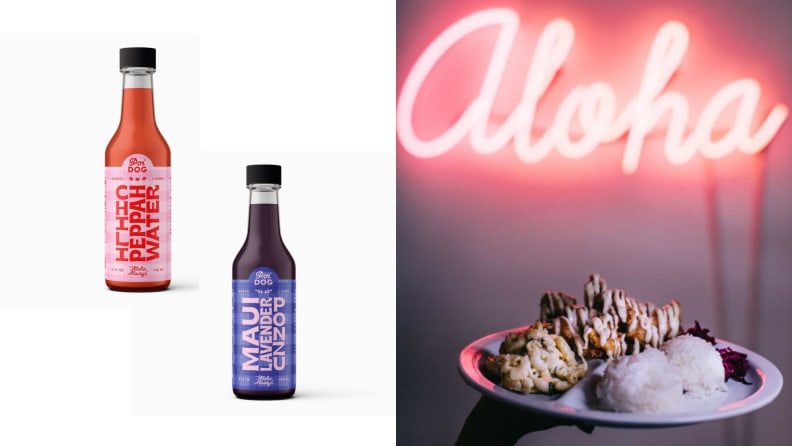 Philadelphians loved Poi Dog's Hawaiian-style plate lunches, ahi poke, and Spam musubi since it opened in Rittenhouse Square in 2017, and for years before that during its life as a food truck. Luckily, the now-closed restaurant lives on with Kiki Aranita's line of Hawaii-inspired sauces.
"I want people to encounter these sauces in places (grocers, shops, independent restaurants selling pantry items) that are reminiscent of what Poi Dog's restaurant was: small but an integral part of its community and maybe a little quirky," she says. "I want people to have that feeling of discovery many of our customers felt when they happened upon our restaurant or food truck, but I want them to be creative with the sauces."
The Maui Lavender ponzu sauce, made with lavender grown on the island, makes a lovely, aromatic dip for sushi and dumplings. Though since its recent launch, the chef notes she's heard the sauce has been used to make cocktails, and even sipped straight from the bottle.
Get Poi Dog's Maui Lavender Ponzu Sauce at Gotham Grove for $14
3. La Bodega at Compass Rose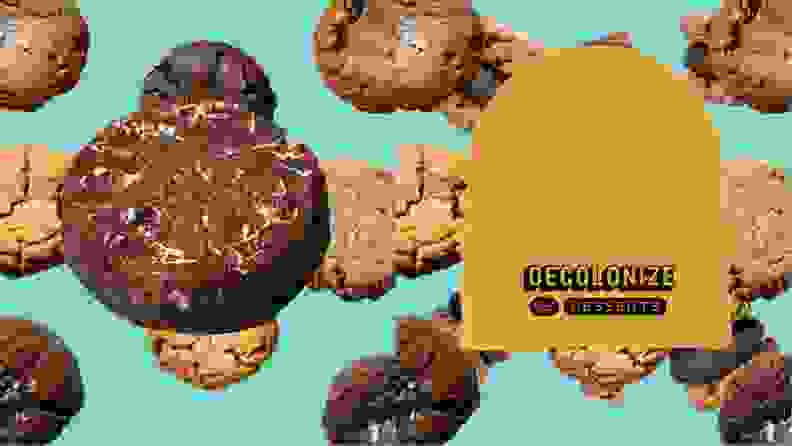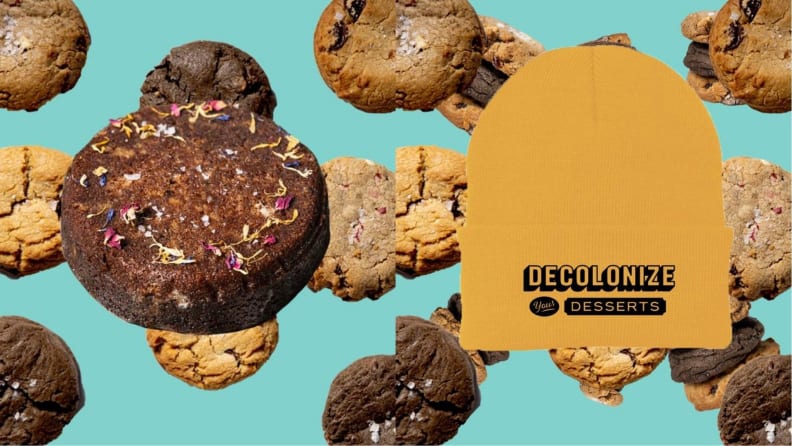 At pastry chef Paola Velez's buzzy DC-based bakery, delights like dulce de leche babka and plantain sticky buns are inspired by her childhood growing up between the Bronx and the Domincan Republic. And they're in high demand. Skip the line and order one of her boozy, perfectly-spiced rum cakes to be delivered right to your door.
The next round of shipping for this 6-inch buttery, rum-soaked vanilla pound cake begins January 18, so mark your calendars.
Get the La Bodega at Compass Rose Golden Rum Cake for $45
4. Pagu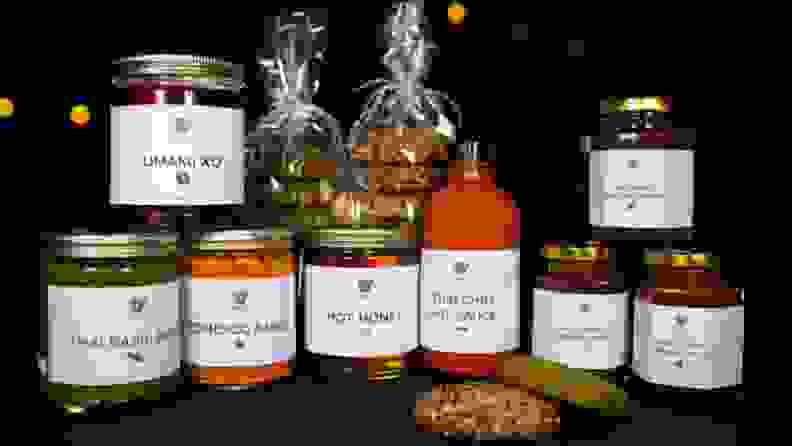 Did you know that a group of pugs is called a grumble? (!!) Chef Tracy Chang named her Cambridge, Massachusetts restaurant Pagu after her adorable dog, and the Japanese-Spanish tapas spot is now selling curated grumbles, i.e. gift boxes filled with some of Pagu's popular treats.
Try the Lucky Pug, which comes with spreads like the passion fruit caramel, plus hot honey, sauces, cookies, and their purple pancake mix. The treats are so good, you won't even be that disappointed the box contains zero real pugs.
Lucky Pig gift grumble for $99
5. Cafe Patachou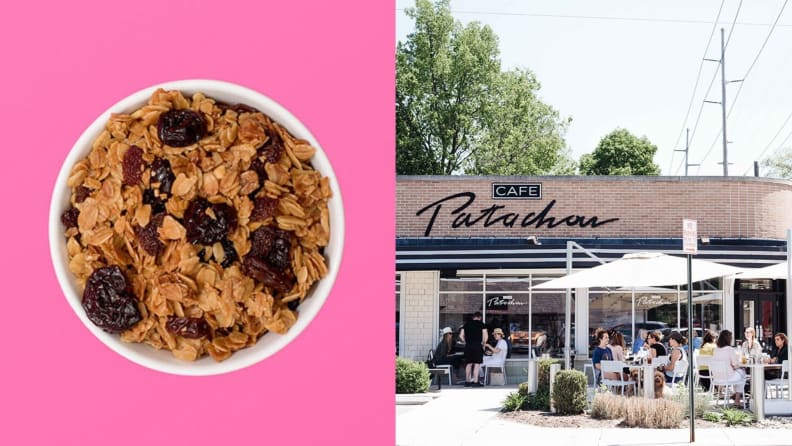 The on-staff farmer and bee-keeper indicates the level of dedication Cafe Patachou has to local ingredients. For more than 30 years now, Martha Hoover's community-minded cafes have been serving up some of the city's best breakfasts (and lunches, and afternoon treats)—farm-fresh omelettes and salads, sandwiches on house-baked bread—in neighborhood outposts around Indianapolis.
The scratch-made granola, featuring sun-dried cherries, raisins, and almonds, will transform your basic morning yogurt into the rich and complex treat you deserve to eat for breakfast.
Get the Cafe Patachou Granola for $13.95 per pound
6. Jezabel's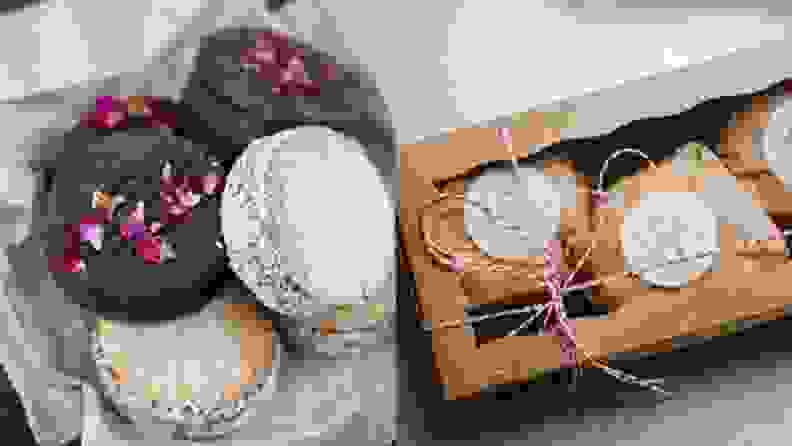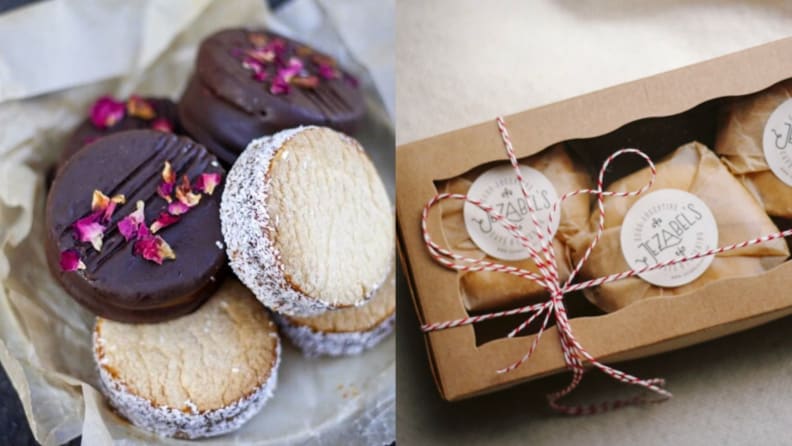 Jezabel Careaga's cafe is known for her flaky empanadas filled with seasonal veggies or spicy lentils, plus sweeter Argentine house-baked treats like quince paste tarts and alfajores. Get the latter—a traditional dulce de leche-filled butter cookie sandwich—beautifully wrapped and shipped. Choose Alfajores de Maizena, sprinkled with coconut, or chocolate dipped, or a mix of both.
Get Jezabel's Alfajores for $22
7. Long Grain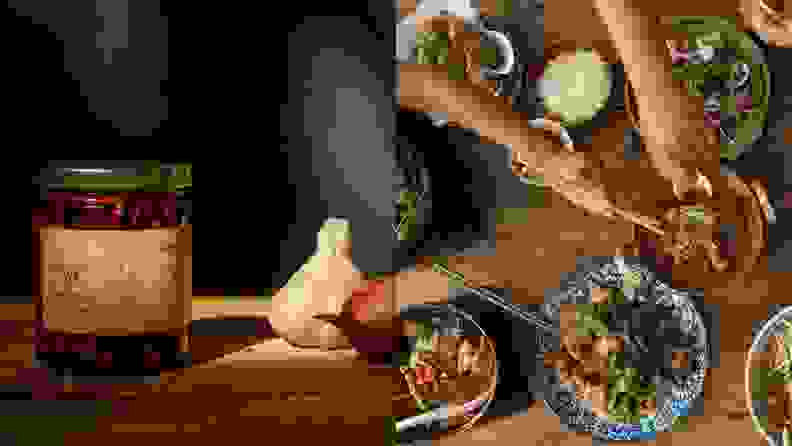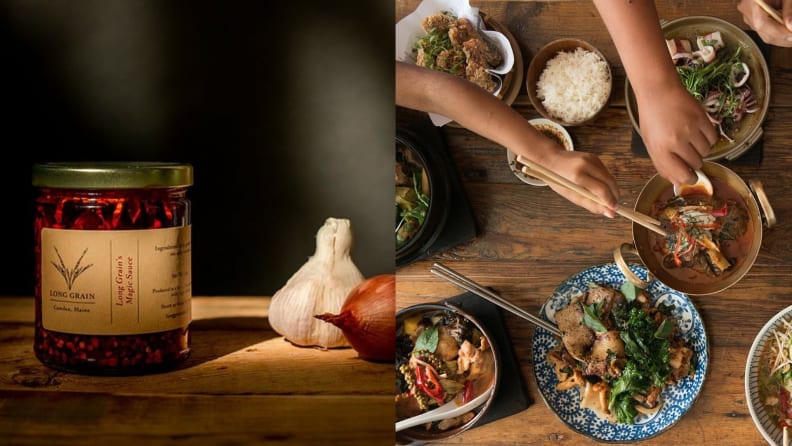 At Long Grain in Camden, Maine, husband-and-wife owners Ravin Nakjaroen and Paula Palakawong showcase a menu inspired by several Asian cuisines using seasonal and locally sourced ingredients—pad see ew with daily house made noodles, Maine crab fried rice, beef Panang curry.
They also sell a line of small-batch, preservative-free sauces, including a tangy dumpling sauce, Sriracha, and Magic Sauce, which sells out almost immediately after it gets restocked. Add the chili crisp oil made with shallots and garlic to eggs, rice bowls, and anything else that needs a little magic.
Get the Long Grain sauces starting at $9.99
8. Tân Tân Café & Delicatessen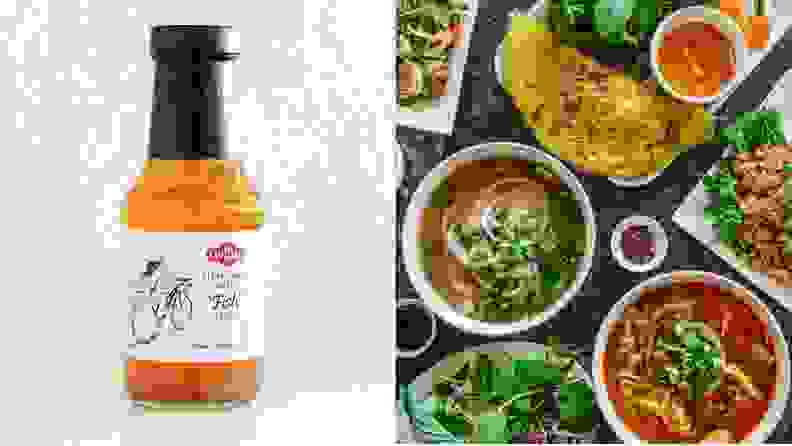 While Beaverton, Oregon's beloved Vietnamese cafe is temporarily closed, you can still snag their sauces, made from family recipes they've been serving in the restaurant for the last 20 years. Try the vegan "fish" sauce to make a Nuoc Cham dipping sauce, for marinating meat, drizzling onto noodles, or dipping dumplings.
Get Tân Tân Café & Delicatessen's Vegan Fish Sauce for $7
9. Kopitiam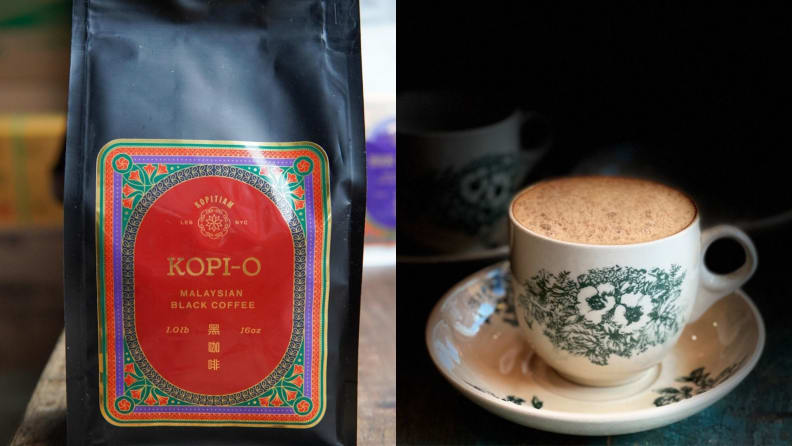 The all-day Malaysian cafe on New York's The Lower East is opened with a limited menu, still serving favorites like Nasi Lemak and thick-cut toast with pandan coconut jam. But for those who don't live in the neighborhood (or the city), order a bag of their Kopi-O beans, grown in Sumatra before they're charcoal-roasted with margarine and sugar in Penang, Malaysia, where co-owner and chef Kyo Pang grew up. Add sweetened condensed milk to recreate a cup of the cafe's kopi tarik at home.
Get Kopitiam's Kopi-O coffee beans for $20
10. Guelaguetza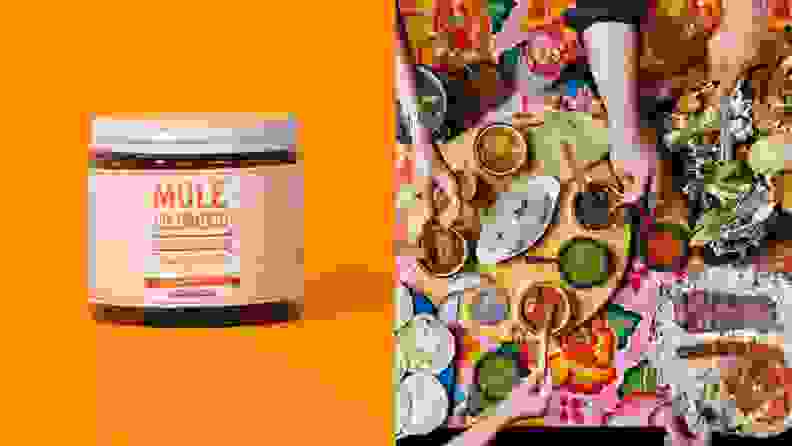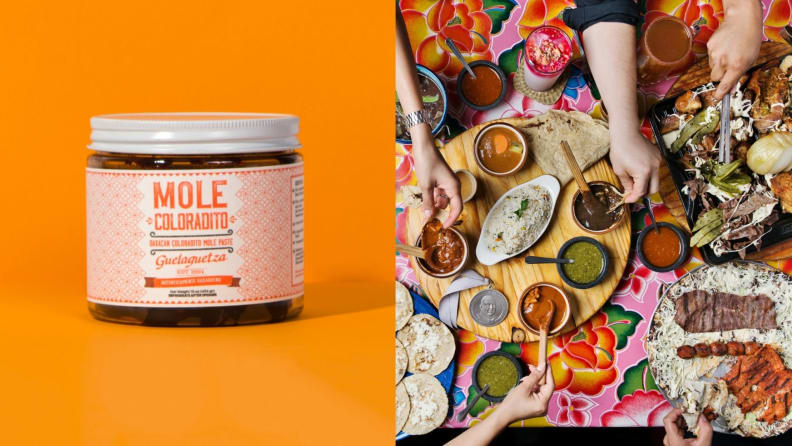 The late food critic Jonathan Gold called Guelaguetza "the best Oaxacan restaurant in the country." Since opening in LA's Koreatown in 1994, the Lopez family has been serving traditional Oaxacan dishes using family recipes and ingredients they source from Mexico.
The online retail shop sells the restaurant's famed mole, which you can and should use to make pan fried mole chicken thighs, a mole egg salad sandwich, and more classic and creative recipes.
Get the Guelaguetza Festival de Mole Bundle for $32
The product experts at Reviewed have all your shopping needs covered. Follow Reviewed on Facebook, Twitter, and Instagram for the latest deals, product reviews, and more.
Prices were accurate at the time this article was published but may change over time.