If your family's Thanksgiving is anything like mine, its warm, fuzzy feelings brought on by the togetherness and carbs are probably punctuated by some moments—okay, many moments—of tension and stress. Before the day even arrives, there's getting so-and-so from the airport, digging up recipes you haven't used in a year, and fighting with a stranger over the last good bag of green beans at the grocery store. It's enough to make you want to forget the big meal entirely and book it to the nearest restaurant.
Enter HelloFresh. The popular meal kit delivery service—which ranks high on our list of the best meal kit services on the market—wants to take some stress of out of the holiday with their recently-launched HelloFresh Thanksgiving Box, an all-in-one meal kit of Thanksgiving favorites designed to feed up to 10 people in just four hours of preparation. For people who want to forgo the turkey for another centerpiece dish, the service also offers a Sides and Dessert only box to supplement your existing meal plan. The boxes are on sale now while supplies last, and available for delivery between November 13 and 18.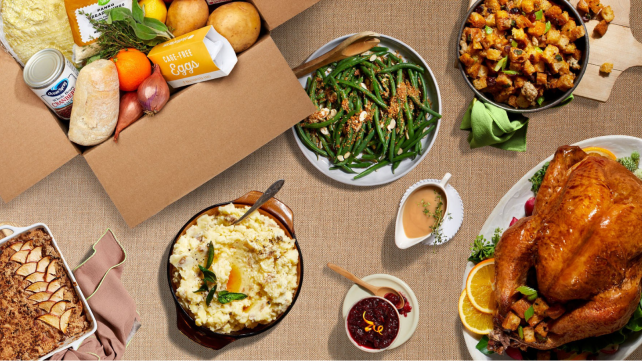 With the launch of their Thanksgiving box, HelloFresh is following in the lead of Martha Stewart's service Martha and Marley Spoon, which started offering their Thanksgiving meal kit in 2016. Yet while the Martha Stewart name has always been associated with holiday entertaining, HelloFresh has only ever tackled simple, time-sensitive meals like weeknight dinners—are they up to the massive task of a "drama free" Thanksgiving dinner?
To find out, I gathered six hungry friends for a Canadian Thanksgiving celebration and tested one of the first HelloFresh Thanksgiving Boxes in my home kitchen, keeping track of every hurdle, triumph, and turkey mishap along the way. Read on to see whether the box might be the right solution to your meal worries this season—or if you should call up a caterer instead.
What's in the box?
Every HelloFresh Thanksgiving Box comes packed with the ingredients to make a roast turkey, four classic sides, gravy, and an apple-ginger crisp for dessert, as well as a fold-out playbook with recipes for each dish. The playbook also comes with general tips and tricks for holiday-hosting newbies like myself, including which order you should prepare the dishes in and how to carve a turkey. The Sides and Dessert box includes everything but the turkey.
Every HelloFresh Thanksgiving Box comes with the ingredients for a turkey, four sides, gravy, and dessert.
This year, the full menu is as follows:
Roasted Turkey rubbed with Garlic and Herb Butter
Garlic Mashed Potatoes with Crispy Fried Sage
Ciabatta Stuffing with Chicken Sausage and Cranberries
Green Beans and Caramelized Shallots with Crispy Almonds and Panko Topping
Cranberry Sauce with Orange, Ginger, and Cinnamon
Classic Gravy with Garlic and Herbs
Apple Ginger Crisp with Cinnamon-Pecan Crumble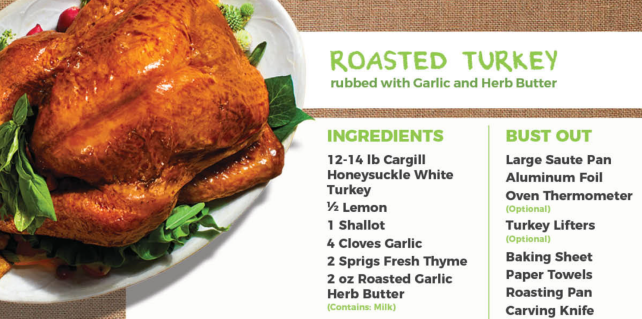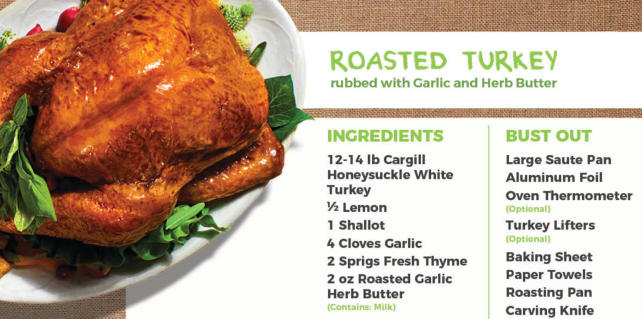 Ultimately, everything in the Thanksgiving Box is a slight twist on a very classic dish—the only way it differs from my family's usual meal is the lack of bacon in the green beans, and the addition of fresh ginger to the cranberry sauce and crisp. The turkey comes slightly frozen and needs to be thawed for two to three days before being prepared, while the rest of the ingredients are good to go into your refrigerator or pantry until you're ready to cook.
What's not in the box?
The only things you'll have to provide yourself are staple ingredients, like cooking oils and sugar, and all the necessary kitchen tools. Check out our round-up of the best Thanksgiving tools if you don't know where to start, or find our recommendations here:
How much does it cost?
The full Thanksgiving Box costs $159, or $14.90 per serving plus shipping for a 10-person meal. The Sides and Dessert Box is $99, or $8.90 per serving plus shipping. This might sound way high or way low, depending on who you are.
According to the American Farm Bureau Federation, the average cost of a Thanksgiving feast in 2017 was $49.12—a third the price of the full HelloFresh Thanksgiving kit. However, that cost was calculated by adding up the average prices of common ingredients instead of speaking to people about what they actually paid—in reality, most people say they pay $100 or more for the meal when they host a crowd.
You're certainly paying a steep convenience fee by going through HelloFresh instead of the grocery store. For example, a 16-pound turkey costs an average of $22.38 at the store, far from the $60 you pay from HelloFresh for a smaller bird. But if you're new to cooking for a large group and don't have your budget down pat, you may find that you spend close to $150 on ingredients anyway—and the peace of mind that the meal box provides might be worth the extra dough.
How it all went down
The delivery and packaging: The Thanksgiving box arrived the afternoon of the Thursday that HelloFresh had specified, four days before I planned to cook. Because I was out of town, my housemates were kind enough to quickly unpackage the box, placing the turkey and chicken sausage in the freezer (until it was time to defrost on Saturday) and the rest of the ingredients in the fridge and pantry as appropriate. The ingredients took up most of my freezer and an entire shelf in the fridge, but that was expected—it was food for 10 people, after all.
When I returned to my apartment, I saw that the HelloFresh packaging—familiar to me from my days testing the best meal kits on the market—was minimal. The cardboard box was cumbersome but recyclable, and most of the produce was left loose to cut down on waste. The lack of organization by dish did, however, make it difficult to find ingredients in the fridge day-of—I would have preferred the ingredients be separated into paper bags to save time.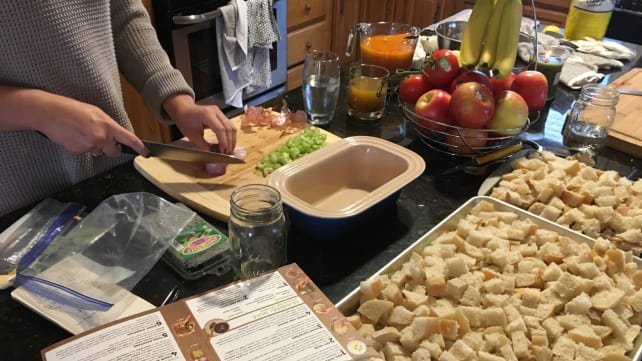 The timing: I'm a fairly confident cook, but I wasn't confident in my ability to make my first Thanksgiving dinner in just four hours all on my own. So, I enlisted my housemate and best friend as sous chef for the afternoon—and thank god I did. We cooked for five hours straight with just one short break in the middle, finally serving dinner around 7:30 pm.
I always say that timing different dishes is the hardest part of cooking, and unfortunately, meal kits don't really change that. HelloFresh's "Four-Hour Game Day Plan" gives a 10-step guide to making all of the kit's dishes in a timely fashion (without any one dish getting too cold or overcooked in the process), and while it's fairly straightforward, it's only a rough outline for the wild scrambling you'll be doing in the kitchen when working on over six dishes at one time.
In the end, all the dishes were complete, with nothing horribly overcooked and no injuries to speak of. But it took longer than listed for everything to come together—even with the help of another cook.
It took longer than listed for everything to come together—even with the help of another cook.
The turkey: Full disclosure—I had never attempted to cook a turkey before this meal kit. I never went to culinary school, have no reason to roast whole birds in my everyday life, and have only ever acted as an assistant to my mother on Thanksgiving. I had to borrow a roasting rack from my friend's mother to even make this recipe. Also, turkey is seasonal for a reason—the biggest birds can get very dry when sitting in an oven for hours on end.
Needless to say, I was nervous to embark on this journey for the first time—and thrilled when the turkey actually turned out really, really well.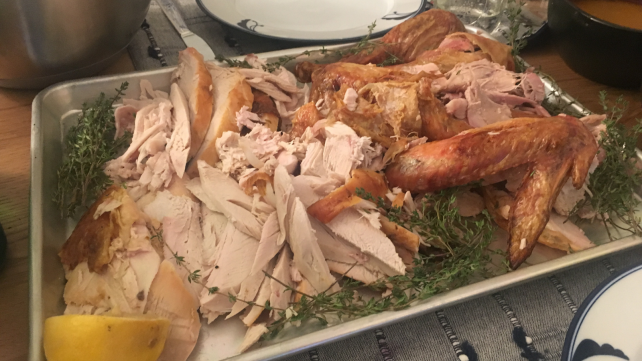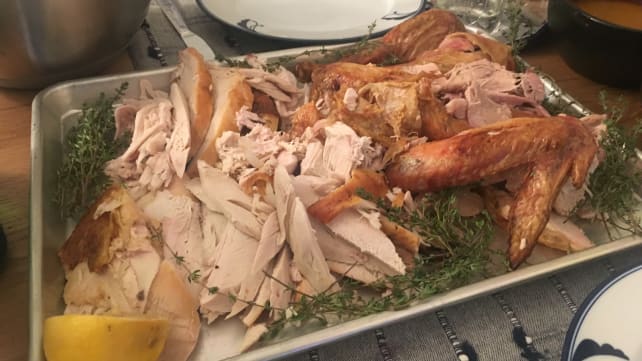 The attribute the success of my HelloFresh turkey to a combination of quality poultry, good directions, and pure luck. The Cargill Honeysuckle White Turkey that HelloFresh sent was a manageable 12 pounds, which meant it only needed to roast for about two hours at a high 425 degrees (as opposed to the large, low-and-slow roasts of my childhood that tended to result in a dry bird). The directions also said to leave the turkey unstuffed, which helped cut down on cook time.
The turkey was delicious—my guests said it was better than the ones they usually have at Thanksgiving.
Because I'm notoriously bad at reading directions on recipes in full, I managed to mess up a few times despite the strength of HelloFresh's directions. For one, the turkey wasn't completely defrosted when I went to cook, so I ran it under some water while prying bits of frost out of its insides—and the recipe says explicitly not to rinse the bird!
However, I feel I'm not entirely to blame for the frost situation because the Thanksgiving Box doesn't include directions about defrosting your turkey, which would be helpful for more inexperienced cooks to have when preparing their meal. And in the end, the rinsing didn't seem to have a negative effect on the quality of the skin.
The directions were spot-on for timing—I stuck a meat thermometer in after an hour and 45 minutes and it was precisely done. After following the carving directions provided to the best of my ability, the turkey was ready for the table. All of my guests were genuinely impressed when eating it, many remarking that it was better than the ones their parents usually make!
The garlic herb butter gave the skin some delicious zest, while the whole aromatics in place of stuffing provided flavor to the bird's inner meat and the gravy added some extra flavor and moisture when serving. Overall, it was a huge win for the meal kit—and for turkeys everywhere.
The side dishes: For most of us, the delicious side dishes are the best part of Thanksgiving dinner—and HelloFresh's sides didn't disappoint. Although I felt some dishes were needlessly complex or could have used more fresh ingredients, the final results were all tasty and much-loved at the dinner table, even the ones we adapted for allergies.
Delicious side dishes are the best part of Thanksgiving dinner—and HelloFresh's sides didn't disappoint.
The cranberry sauce was the most cut-and-dry of all the dishes, only requiring me to grate some ginger, chop some orange, and sprinkle some cinnamon into a bowl of canned cranberry sauce. As someone who always makes fresh sauce from a bag of cranberries with a dash of orange zest every Thanksgiving, this business of using the canned stuff was mystifying.
Looking back, I see now that it was a convenient way to cut corners and save time—but fresh cranberry sauce really isn't a challenge to make, and my guests would have preferred it.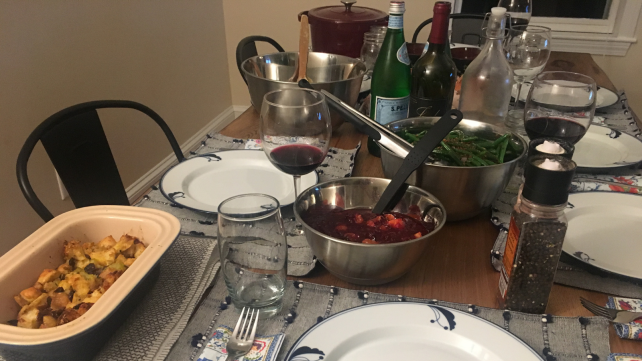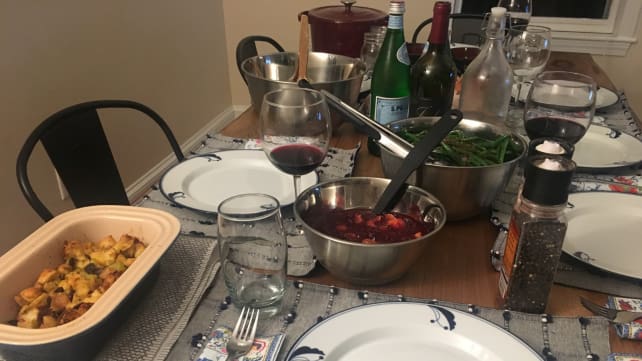 I adapted both the green beans and the ciabatta stuffing for my guest who has a dairy allergy, making two versions of the stuffing but simply trading the butter for a vegan alternative in the green beans. After forgetting to set a timer, I managed to lightly burn the panko mixture for the green beans (nice one), but it didn't ruin the dish.
While the stuffing took a lot of prep work, the results were well worth it, and both versions were flavorful and fluffy. I simply traded in chicken stock for the mise en glace in the dairy free version.
The real star of the show, though, was the garlic mashed potatoes, a classic brought to new heights with crispy fried sage. They were easy to make (as mashed potatoes usually are), creamy, and the perfect base for the homemade turkey gravy. All in all, the sides came together just as I had hoped—but if I were running the show, I would have added bacon to the green beans.
The dessert: The first dish we prepared was actually the last dish we ate—apple ginger crisp, a fresh alternative to classic apple pie. We followed HelloFresh's recommendation to bake it early in the afternoon and reheat it in the oven after dinner. I accidentally grated a massive piece of ginger root (what did I say about following directions?) into the mixture, but it still turned out delicious.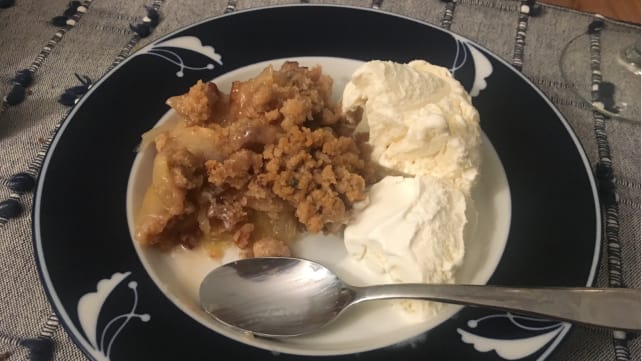 This is the only dish where I did notice some inconsistencies and errors in the recipe, however. For example, the directions say to cut the apples into "bite-sized cubes," even though it's evident in the photo that slices are the right way to go. One line also says to add a "pinch of sugar" into a bowl that is already full of sugar—I can assume they meant salt. These are small errors, but for people who are quickly moving through recipes and not questioning the logic of every step, they can have a big impact. Some more proofreading would make this recipe an absolute keeper.
Is it worth it?
For many, making family recipes is one of the most cherished, personal parts of their holidays, and the idea of outsourcing that to a meal kit company probably sounds absurd. But if you're new to hosting or simply want to impress in-laws, college friends, or other loved ones with a good meal, HelloFresh's Thanksgiving Box is an amazing tool to have.
Through our testing, I was consistently impressed by the quality of ingredients, clarity of recipes, and flavor of the final dishes from the Thanksgiving Box. The portions were also right for a feast—our group of seven ate our share, and we had leftovers for days after.
If you're new to hosting or simply want to impress loved ones with a good meal, HelloFresh's Thanksgiving Box is an amazing tool to have.
Their claim of a "drama-free dinner in four hours" is a bit of a stretch—our preparation took five hours between two people, and there was plenty of hectic scrambling to finish dishes at the end. However, making over six dishes at once is always going to be stressful, and the gameday playbook from HelloFresh did its best to encourage organization and quell confusion.
If you can afford the expense, the HelloFresh Thanksgiving Box will give you everything you need to confidently host a dinner party this November—even if there's still a little drama.
Our editors review and recommend products to help you buy the stuff you need. If you make a purchase by clicking one of our links, we may earn a small share of the revenue. Our picks and opinions are independent from any business incentives.