You already know you need a high-quality chef's knife in your kitchen. You're dreaming of chopping carrots and slicing onions like you're on a competitive cooking show, but before you can start practicing your skills in front of your cat, you need that top-notch knife.
When it comes to chef's knives, there are a lot of important factors to consider, including size, length, material, and—most importantly—the maker. If you want a tool that's going to work well and last long, you'll probably want to invest in one of the big brands—Wusthof, Victorinox or Zwilling.
So what's the difference? All three will get the job done, but once we dive into the details, you may spot a few factors that make one brand the best for your needs.
Wusthof chef's knives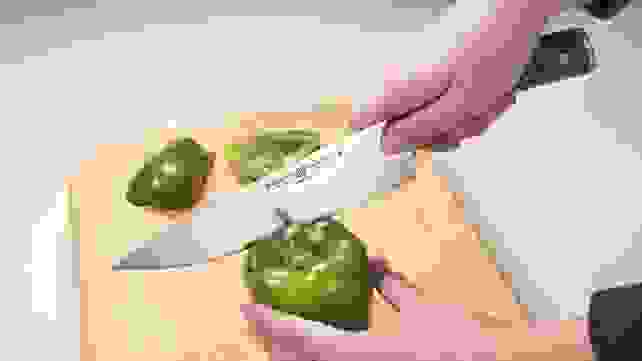 Wusthof is a popular German knife brand that's been around since the 1800s and has a stellar reputation. German knives are known for being sturdy and long-lasting, but does this brand live up to the hype? Let's dive into the specifics of the Wüsthof Classic Ikon 8-Inch Cook's Knife.
Design
The blade: The Wusthof knife curves steadily along the front—blades that are more curved toward the front are best for chopping in a rocking motion.
The bolster: The bolster is the metal cuff that sits between the blade and the handle; bolsters generally keep your finger from slipping while chopping, and they can have a significant impact on a knife's balance. Wusthof chef's knives feature straight bolsters that allow you to get a good grip.
The handle: The metal of this blade extends through the handle. The Ikon line of Wusthof chef's knives have more of a contoured handle for an ergonomic grip, but in our testing, we found the handle to be a tad too long, which negatively affects its balance.
The weight: 9 ounces
Strength
Wusthof chef's knives are made from a single piece of high-carbon German stainless steel and are slightly heavier than comparable options, making them powerful enough to slice through any ingredient with ease. However, these knives are better for general chopping than they are for precision tasks.
Price
Wusthof knives are the most expensive of this bunch, retailing for around $170 for an 8-inch blade. There are smaller chef's knives available from this brand, but most are still over $100.
Victorinox chef's knives
Victorinox is a knife manufacturer based in Switzerland, and while perhaps best known for the iconic Swiss Army Knives, they make top-notch kitchen tools, as well. Here's what you should know about the highly rated Victorinox Fibrox Pro 8-Inch Chef's Knife.
Design
The blade: Victorinox knives have the least amount of curve in their blade—they're more akin to a French-style blade, which tends to be almost triangular. This makes it ideal for a slicing motion, where you draw the blade back toward yourself.
The bolster: This chef's knife doesn't have a traditional metal bolster. Instead, the non-slip thermoplastic handle extends all the way to the base of the blade, where it features a slightly curved bolster to help you grip the knife.
The handle: As mentioned, Victorinox chef's knives feature non-slip thermoplastic handles, and while it may look a little cheap, it's balanced and comfortable to use.
The weight: 6.7 ounces
Strength
The stainless steel blade of the Victorinox knife can effectively cut through most foods, but it requires a bit more maneuvering and force on hard ingredients like butternut squash since it's lighter than other knives.
Price
The Victorinox easily snags a victory here, as these chef's knifes typically cost around $30. Their construction might not last as long as knives from other brands, but they're an unbeatable value by any measure.
Zwilling chef's knives
Zwilling J. A. Henckels is another highly regarded German knife maker, and it's actually one of the oldest brands in the world, dating back to 1731. Fun fact: the Zwilling logo is a pair of twins, as the brand was founded in June, the month associated with the Gemini zodiac sign. Here are the specs on the Zwilling Pro 8" Chef's Knife.
Design
The blade: Of these three options, the Zwilling chef's knife has the most dramatic curve on the front, making it ideal for chopping with a rocking motion.
The bolster: The Zwilling knife comes with a curved bolster, which allows you to pinch the blade with your thumb and forefinger, providing more control while chopping.
The handle: The Zwilling knife's handle is made from a rigid thermoplastic, and the metal does extend all the way down the handle. We found the blade to be well-balanced and easy to control.
The weight: 9.5 ounces
Strength
This chef's knife is made from a single piece of high-carbon stainless steel, and its weight plays to its advantage while slicing, allowing you to leverage that power and cut through most meats, vegetables, and fruits. It even makes quick work of tough ingredients like butternut squash.
Price
These knives are middle-of-the-road, costing around $150.
The verdict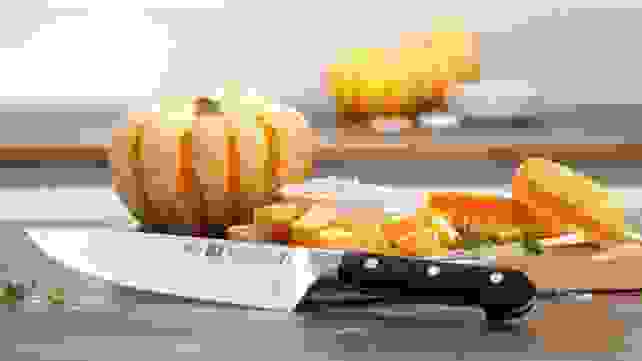 In our rankings of the Best Chef's Knives, we found the Zwilling Pro 8" Chef's Knife to be the best all-around option for both beginners and experienced home cooks alike. Its hefty weight, solid construction and thoughtful design make it a worthwhile investment for any kitchen!
However, the best chef's knife for your needs may vary. If you prefer a lightweight knife that might not be so powerful, the Victorinox might be a better option. The same holds true if you're just looking for an inexpensive knife to test the water with.
At the end of the day, no two cooks are alike, so you'll want to test out different knives to see what works best for you. Before you know it, you'll be united with your knife soul mate and chopping away like you're Bobby Flay.
Our editors review and recommend products to help you buy the stuff you need. If you make a purchase by clicking one of our links, we may earn a small share of the revenue. Our picks and opinions are independent from any business incentives.