Study after study has proven that hand washing is the least efficient way to clean dishes. Hand washing isn't just a waste of time, it's also a huge waste of water. But not all kitchens have the plumbing—or the space—to install a full-sized dishwasher.
If you're sick of hand washing but can't remodel, we've got the solution: a portable dishwasher. Just snap it onto your kitchen sink's faucet when you need to use it, then wheel it away to a corner or closet when you're done. Some even come with built-in counter space on top. Just be forewarned: If your kitchen faucet lacks a removable aerator, you may have some issues with installation.
There are also small, countertop dishwashers that can only fit a few place settings. If that's good enough for you, we're fans of the Sunpentown SD-2201W (available at Home Depot for $450.95). But we think most consumers would benefit from something larger—the models we chose to highlight here are all designed to wash full loads of dishes.
Updated September 21, 2018
Advertisement - Continue Reading Below
Portable versus countertop dishwashers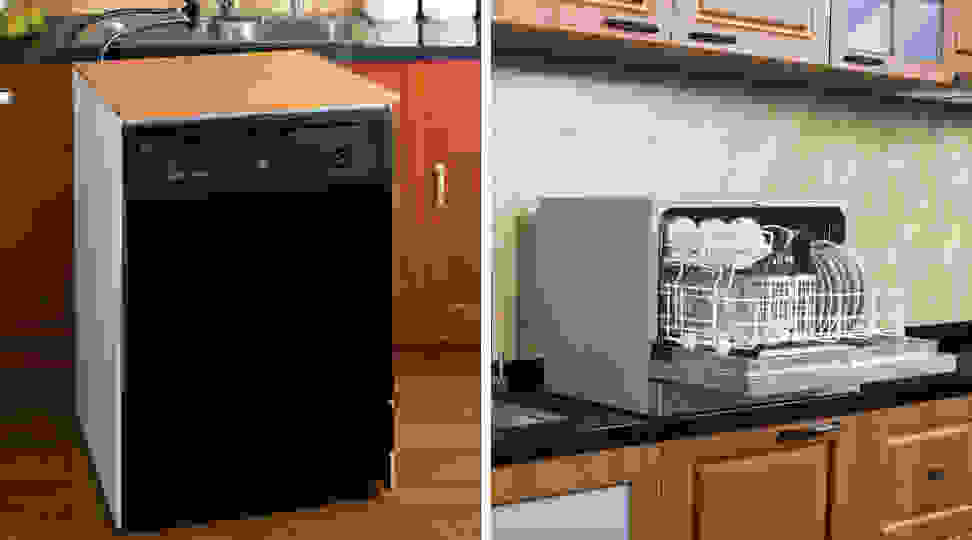 If your kitchen doesn't have a cutout for a standard 24-inch installed dishwasher, there are two alternatives to just giving up and washing everything by hand: portable dishwashers and countertop dishwashers. Make sure you know the difference when you're shopping.
Portable dishwashers — Portable dishwasher are typically on wheels so you can roll them up to the sink when in use and shove them in a corner when they're not. They're typically 18 inches wide, though you can also find 24-inch-wide models. Because they're about the same height as a standard dishwasher, the two racks can hold quite a few dishes.
Countertop dishwashers — If floorspace is limited or you just don't need to wash that many dishes, a countertop dishwasher may be a better choice for you. Countertop dishwashers cost around half as much as a portable dishwasher. They don't fit much and they certainly don't roll out of the way, but you'll still save a lot more water and time than you would by handwashing. Take a look at our Best Countertop Dishwashers of 2018 for recommendations.
More portable dishwashers we tested
Advertisement - Continue Reading Below