Study after study has proven that hand washing is the least efficient way to clean dishes. Hand washing isn't just a waste of time, it's also a huge waste of water. But not all kitchens have the plumbing—or the space—to install a full-sized dishwasher.
If you're sick of hand washing but can't remodel your kitchen, we've got the solution: a portable dishwasher. Just snap it onto your kitchen sink's faucet when you need to use it, then wheel it away to a corner or closet when you're done. Based on our tests, our favorite portable dishwasher is the SPT SD-9241W (available at Home Depot for $460.74) because of its amazing cleaning performance and easy operation.
(If you only need to wash a few dishes at a time, check out our article on the Best Countertop Dishwashers.)
Read on to find out what we liked (and disliked) about each of the portable dishwashers we tested.
Updated January 03, 2019
Advertisement - Continue Reading Below
Portable versus countertop dishwashers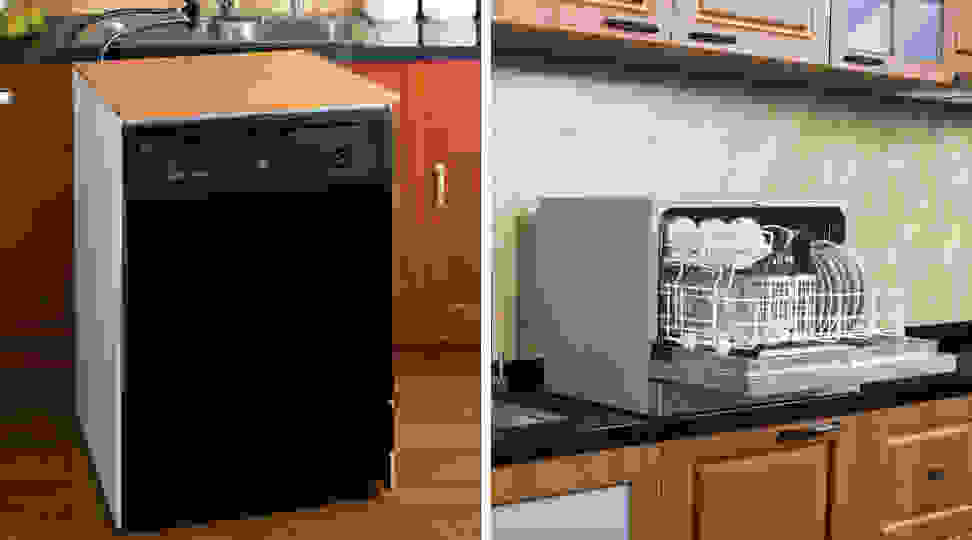 If your kitchen doesn't have a cutout for a standard 24-inch installed dishwasher, there are two alternatives to just giving up and washing everything by hand: portable dishwashers and countertop dishwashers. Make sure you know the difference when you're shopping.
Portable dishwashers — Portable dishwasher are typically on wheels so you can roll them up to the sink when in use and shove them in a corner when they're not. They're typically 18 inches wide, though you can also find 24-inch-wide models. Because they're about the same height as a standard dishwasher, the two racks can hold quite a few dishes.
Countertop dishwashers — If floor space is limited, or you just don't need to wash that many dishes, a countertop dishwasher may be a better choice for you. Countertop dishwashers typically cost about half as much as a portable dishwasher. They don't fit much and they certainly don't roll out of the way, but you'll still save a lot more water and time than you would if you always wash your dishes manually. Take a look at our Best Countertop Dishwashers of 2018 for recommendations.
Note: If your kitchen faucet lacks a removable aerator (the fitting at the end of the faucet that contains a gasket and a small screen), you may have some issues with installing countertop or portable dishwashers. Examine your kitchen faucet carefully to ensure that it's capable of having a hose attached before you purchase a portable or countertop dishwasher.
---
More portable dishwashers we tested
Related Articles
• The Best Countertop Dishwashers
• The Best Affordable Dishwashers
Advertisement - Continue Reading Below