The Best Padlocks of 2019
By Courtney Campbell, December 17, 2018, Updated January 02, 2019
Padlocks are meant to keep you safe and secure, so imagine our frustration when the lock to Reviewed headquarters' parking lot gate went missing overnight, and so did its replacement (twice). If only we had (what we now know) is our favorite padlock—the Stanley Hardened Steel (available at Amazon for $32.09)—our gate would have remained locked.
Locking an outdoor gate or fence just needs a simple but sturdy lock. There are smart padlocks on the market that rely on bluetooth (these are different from the smart locks you secure to your door), but most padlocks rely on a simple key or code, which has been used to operate these security tools for decades.
Choosing a padlock initially seems easy enough, until you find yourself struggling to unlock it, or worse, when a stranger successfully unlocks it for you. So, we tested and compared some of the best padlocks to find out their durability, see how easy they were to use on a variety of chains, and help you choose which padlock to buy.
These are the best padlocks we tested ranked, in order:
Stanley Shrouded Hardened Steel Padlock
Desired Tools 4 Digit Combination Lock
ABUS Titalium Aluminum Alloy Padlock
Kwikset SmartKey
Master Lock Bluetooth Padlock
Master Lock Word Combination Lock
Master Lock Set Your Own Combination Padlock
ABUS Diskus Padlock
Master Lock Standard Dial Combination Lock
ORIA 4 Digit Combination Lock
Updated January 02, 2019
Advertisement - Continue Reading Below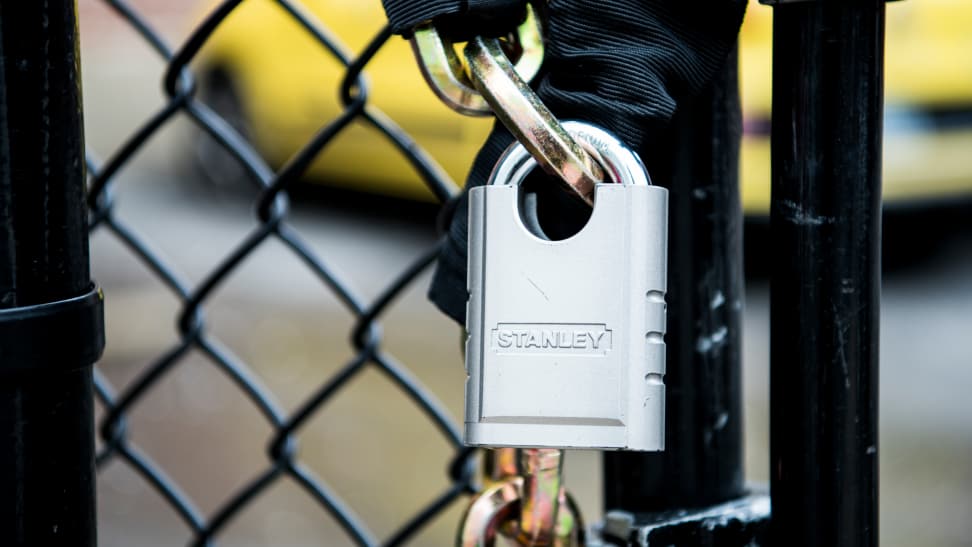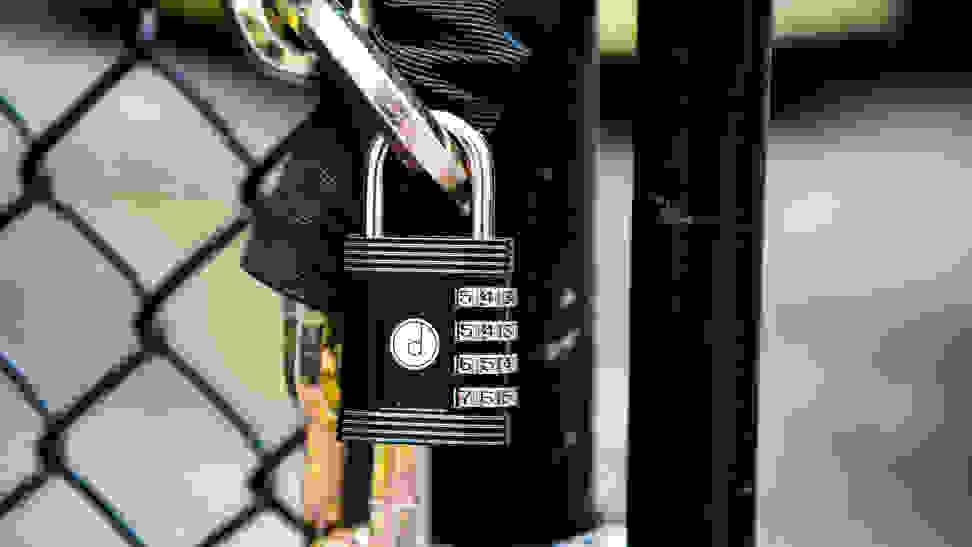 How We Tested
The tester:
I'm Courtney Campbell, an e-commerce writer here at Reviewed, and I spend most days sifting through the best deals on the internet for the best products out there. I'm also a big fan of personal security. You can find my apartment door usually locked even when I'm home and I never leave for the gym without a lock in my tote. I understand the importance of keeping whatever's most important to you safe and what's the best way to do that.
The testing process:
I found 10 of the most popular padlocks and pitted them against each other to determine the best of the best. For the combination padlocks, each lock was set with a combination and opened several times to determine how easy each padlock was to unlock and lock. We also tried opening the locks while they were locked by pulling on them. Next, these tests were applied to a bike lock and a chain to see how they fared in action.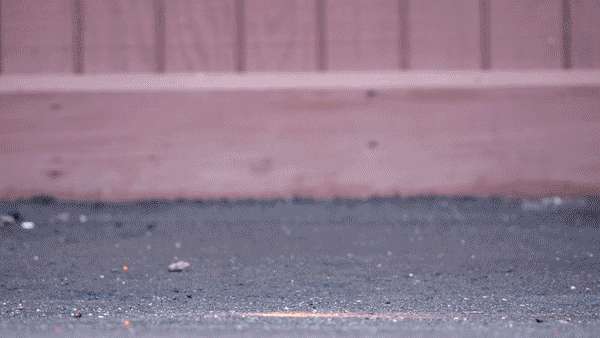 Next, we had some fun with a few destructive tests. Locks were chucked from the second-floor fire escape of our building to see how easily they would break or if they would open on impact. We also checked a while later to see if they still worked. The locks were then submerged in water for 24 hours to see if weathering would damage them. Finally, they were placed in a freezer for 24 hours and I then attempted to open each one, to simulate how they would fare in cold weather.
Things to know when buying padlocks:
Different uses call for different kinds of padlocks. Typically, keyed locks are the easiest to use and are often made with a higher level of security in mind. You're going to want to opt for ones with more key pins, which means they're more difficult to pick, and ones made of tougher metals. But if you're locking up simple things at a gym or an employee locker room, or sharing a locked space, combination locks work will too—you may just struggle with a combination a few times before opening.
For the best padlocks, look for locks made from metal—just be sure a weather-resistant material, such as brass, steel, or aluminum, is used if you plan to keep them outside. For better security, Home Depot suggests die-cast zinc, solid-steel bodies, and boron-steel shackles will "provide additional cut and pry resistance."
According to a guide from Home Security Month on the seven steps for selecting a high-security padlock, "the best thief-proof padlock must be: resistant to cutting, resistant to twisting, tough to drill [and] part of an overall security solution. The world's strongest padlock is of no use whatsoever if it's fastened to the world's weakest door using inadequate fittings." The guide also notes the importance of finding a well-engineered locking mechanism, ensuring a small amount of the shackle (the metal fastening bar) is visible (that helps prevent cutting), and buying a lock with the highest number of key variations.
---
Other Padlocks We Tested
More articles you might enjoy
Advertisement - Continue Reading Below