Home & Garden
How to create a relaxing living space, according to interior designers
Minor tweaks can bring some major Zen.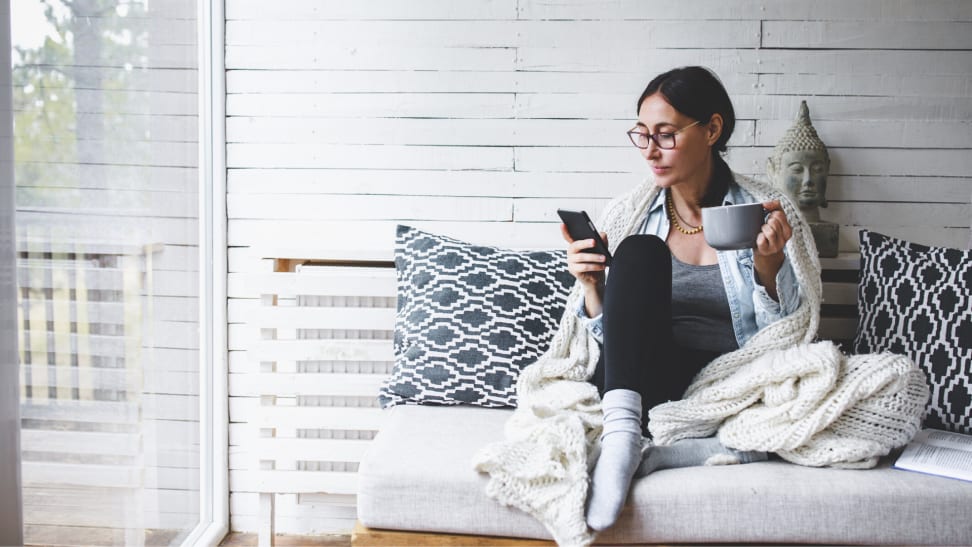 Credit: Getty Images / Jasmina007
Thanks to COVID-19, we're all stuck in our physical space, craving more mental space. Suddenly our home is not only where we live, but also where we work, dine, and even socialize (hello, Zoom). Now more than ever, it's important to make that environment inviting.
While Kim Kardashian's desire to decompress in an all-white abode is extreme, you can still easily find relaxation by simply rearranging what you have. We tapped interior design professionals for tips on creating a more productive and calmer home. Bonus: Their advice could add more space for those Instagram Live living room dance parties.
Take notice of your surroundings
Start by observing how you currently move through your space, suggests Georgia Marcantoni, a Denver-based holistic interior designer who hosts workshops on using your home to cultivate a space for peace and reflection.
Is there a table you always seem to bump into? A shelf that feels a little low that you crunch when you are by it so you don't knock your head? "Take notice of the subtleties of how you feel in each room and how you move from room to room. Does it feel natural and easy or contracted and uncomfortable?" she asks. Once you have the answers, address them as you see fit.
Mix up your furniture
While stymied social and work schedules make every day seem the same, your furniture shouldn't be. Instead, think of mixing up textures, sizes, and weights.
"When you think about the composition of your space, make sure you have furniture facing all directions in the room," Marcantoni says. "This will keep things dynamic and invite greater flow."
You should also consider the proportion of each item and how they interact. "When arranging items you want the largest piece in the middle and smaller items towards the sides," she adds. "Denser items juxtaposed with lighter items will keep things dynamic and not feel too heavy or too ungrounded."
Get moving
Just because we can't move around outside these days, doesn't mean we have to be stagnant. Gabriela Gargano, owner of Grisoro Designs in New York, suggests moving art and accessories around to give your home a fresh feel when a trip to the store isn't in the cards.
"Escape is a luxury we no longer can afford, so the simplicity of spatial organization is key."
"In these times, our rooms are seen as visual comfort spaces where we should aim to create Zen," she explains. "I like to gather all of the art and accessories in secondary bedrooms and bathrooms, which you naturally see less often, and swap it into locations like your master bedroom, kitchen, or powder room. It feels fresh and breathes new life into your home without any cost."
She also points to rugs and accent lamps as other easy DIY ways to freshen up a room if changing the entire floor plan isn't an option.
Find joy coming and going
"Consider the first and last moments when you're moving from room to room, and bring extra attention to these areas by making sure they spark magic within you," says Marcantoni. "You want to see objects that bring joy."
For example, compose a vignette of beloved objects in your entryway (aka the first and last place you see upon entering or leaving on a TP run) or in your "new" home office that used to be a spare bedroom.
Sleep tight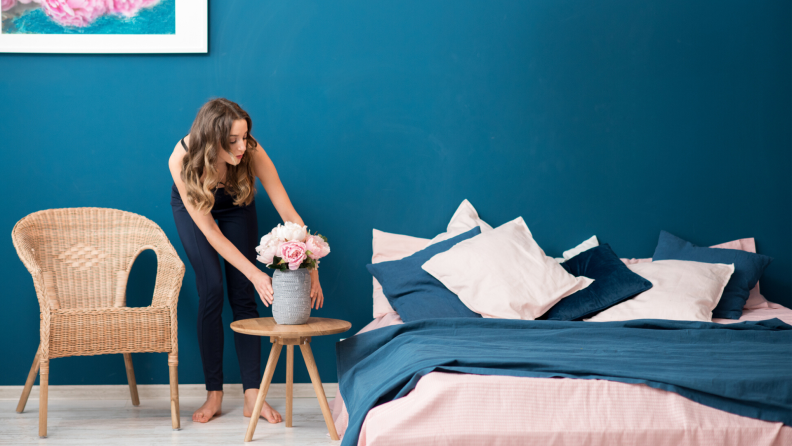 These uncertain times are giving z's a run for their money. "During times like this it's important to get the bedroom right for sleeping," advises Tyler Hill, co-owner of Mitchell Hill, an interior design firm and art gallery based in Charleston, South Carolina.
"Escape is a luxury we no longer can afford, so the simplicity of spatial organization is key to creating relaxed spaces without having to buy new items. If you're not sleeping well, put a bed on a wall that faces the window so that natural light can dictate your sleeping patterns. It also allows for a steady stream of light from dusk till dawn."
Bring the outside in
You can also use art to soothe your focal points in your bedroom. "Try switching out an abstract painting for one that is reminiscent of the outside and nature," Hill adds.
There are plenty of DIY framing projects online to display a photograph of a recent hike. Silver lining: Social distancing gives us a better view of nature, with focus being on the trail, not the people on it.
Or showcase a piece of art that reminds you of a vacation you once took surrounded by friends or family. "Use what you already have and choose things that offer you happiness as visual reminders of better times to come."