Home & Garden
10 ways to make your house way cozier while you're stuck inside
Spend your quarantine in comfort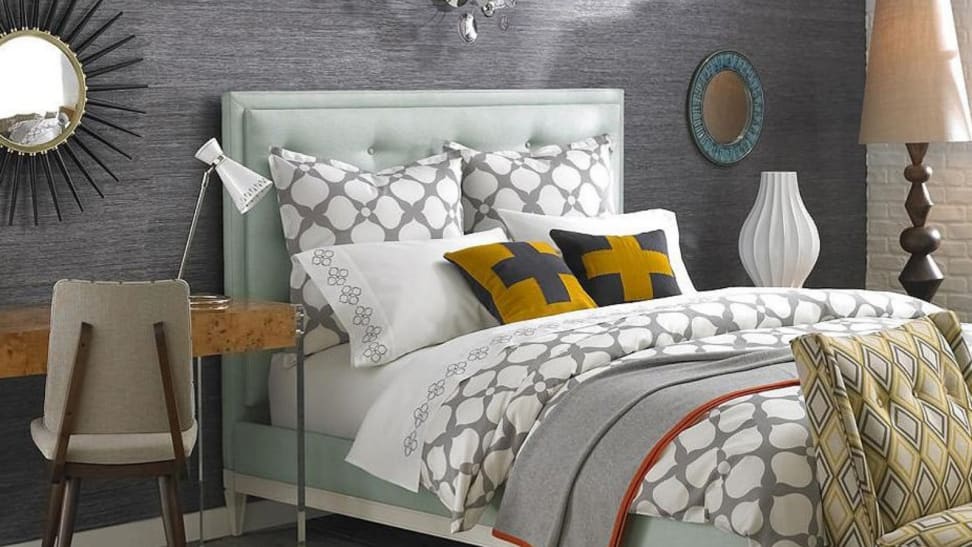 Credit: Lumens
It's important that we all engage in social distancing right now, which means many of us are spending far more time at home than we're used to. We're spending more time under blankets and staring wistfully out the window, pretending we're in an Adele music video and dreaming of the day we can sit in coffee shops again (please tell me that's not just me).
Your home may be pulling triple duty as your living space, an office, and a school for the next few weeks, so make sure you're taking the time to turn it into the comfy oasis you deserve. Whether you're feeling more stress than usual or just now realizing you haven't bought a new comforter in years, there are a few easy ways you can make your home just a little bit cozier while you're stuck there for the next few weeks.
1. Get a large blanket you can curl under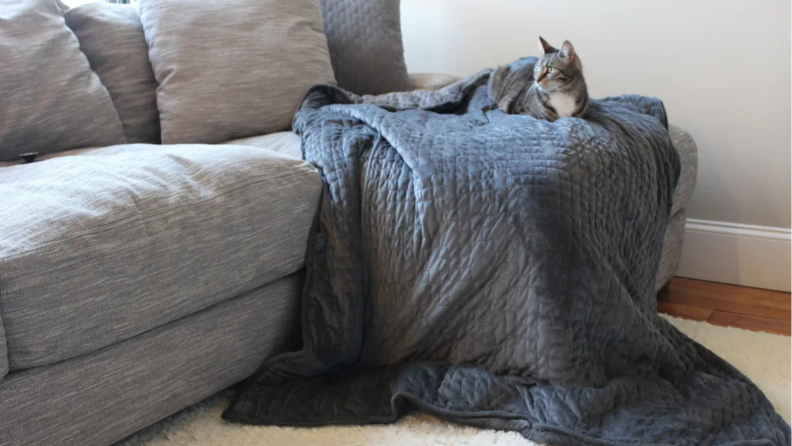 One of the great benefits of working from home is that you can wrap yourself in a blanket while you get your tasks done. My personal favorite is the Big Blanket, which is a massive 10-by-10-foot blanket that acts as a comforter, family blanket, and pet-approved sleeping surface. I reviewed the Big Blanket back in November and haven't taken it off since.
If you're looking for a warm and cozy blanket that doubles as gorgeous home decor, many of our editors swear by the Gravity Blanket, which is our favorite weighted blanket and a cult-favorite among consumers. The Gravity Blanket is beautiful, comfy, and can make your home feel cozier whether you're wearing it or just staring at it.
2. Use an essential oil diffuser to clear the air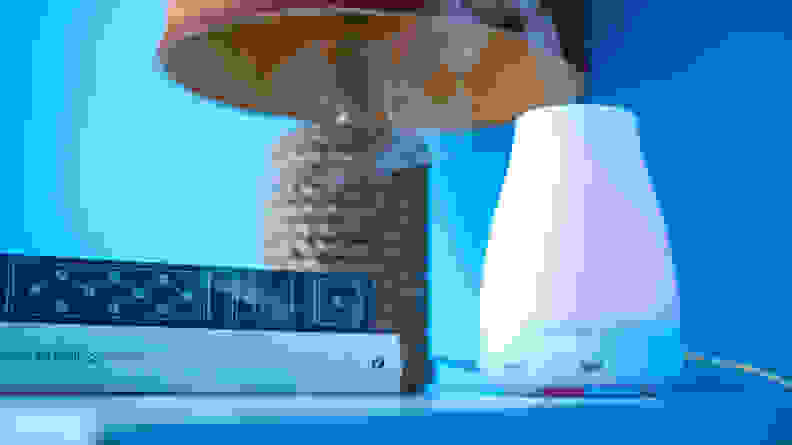 An essential oil diffuser isn't going to disinfect the air, but it will make it smell more pleasant, which is a huge consideration to make when you're creating a cozy home. Our favorite essential oil diffuser is the InnoGear Upgraded 150ml Diffuser, which has more than 23,000 reviews on Amazon. Our tester loved the fact that this diffuser came with its own measuring cup, locked into its base, and did a great job diffusing mist throughout the space.
Get the InnoGear Upgraded 150ml Diffuser from Amazon for $16.99
3. Install a smart home thermostat to make the atmosphere perfect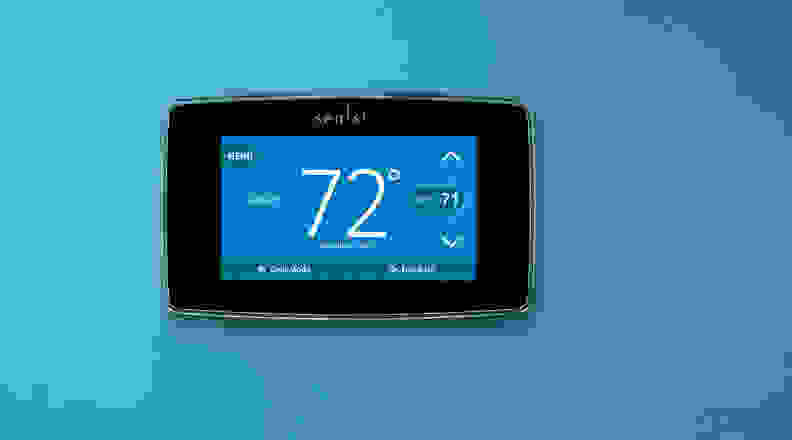 You're probably wondering if a smart thermostat is really all that different from a standard one, and we're happy to report: Yes, they're drastically different, and if you're trying to prioritize home comfort right now, you're going to want one.
Unlike standard thermostats, smart ones can connect your phone, allowing you to adjust temperatures from your mobile device and even change per room—so if you're working in the living room and know you won't be back in the dining room for a few hours, you can set one temperature lower than the other.
Our favorite smart thermostat is the Emerson Sensi, which is compatible with Amazon Alexa, Google Home, and Apple HomeKit. We found installation and set up to be a breeze, and were particularly impressed with this model's scheduling abilities.
Get the Emerson Sensi Touch WiFi Smart Thermostat from Amazon for $169
4. Find a plant friend you can isolate with
I've been spending a great deal of time talking to my pets this week. They're great listeners until they wake up and start running from me. I've heard plants make excellent conversation partners too, as they love funny stories and can't run when I botch the punchline. Editor Meghan Kavanaugh purchased a desk plant from The Sill and has enjoyed watching her grow and thrive over the months.
Introducing live plants to your home is a great way to bring the outside into your home, something we all desperately need right now. We love shopping from The Sill, as they have a massive selection of plants for all people, whether you're looking to flex your green thumb or just looking for a pretty plant that requires minimal effort to keep alive.
5. Buy a brand new pillow for your poor neck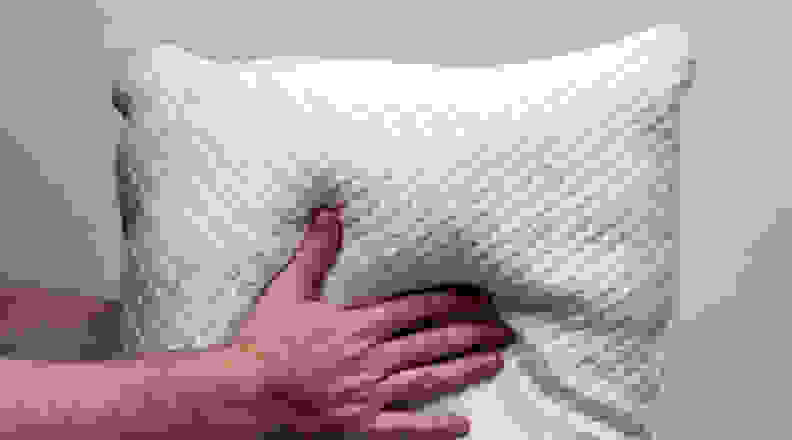 I've never been to a hairdresser without one mentioning, "Oh wow, you carry a lot of tension in your neck." Yes, thank you Traci, my stress lives in my neck, which means I need a delicious pillow when it comes time to sleep. Upgrading your bedding is an easy way to make your bedroom feel cozier, whether you're just sprinkling in throw pillows or re-doing your entire bedroom set.
Starting with a new pillow is a good way to ease yourself into a comfier bedroom. When it comes to bed pillows, our favorite is the Xtreme Comforts Shredded Memory Foam Pillow, which our testers found to be fluffy, hypoallergenic, and smooth (no lumps or bumps here).
Get the Xtreme Comforts Shredded Memory Foam Pillow from Amazon for $49.99
6. Adjust your indoor lighting to match your mood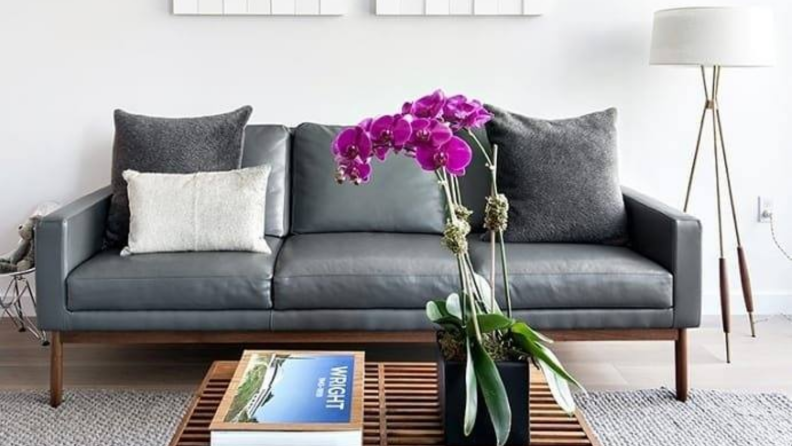 Sick of staring at white walls while you get your work done? Mix up your home's lighting by investing in new lamps, colorful shades, or adjustable lighting that can change along with your mood.
One of our favorite shops to buy lighting is Lumens, which sells an array of designer lighting perfect for modern living spaces. Floor lamps are my favorite way to adjust a room's lighting, as you can pick a piece that's both gorgeous and features customizable lighting options you can change depending on the time of the day.
Another lighting option that can spruce up your home is investing in smart lighting, or swapping out your bulbs for smart bulbs you can control from your phone. Our favorite smart bulbs are in the Philips Hue White and Color Ambiance A19 Starter Kit, which pairs with most smart speakers and offer a range of colors that allow you to mix up your home lighting.
7. Play your favorite tunes throughout the day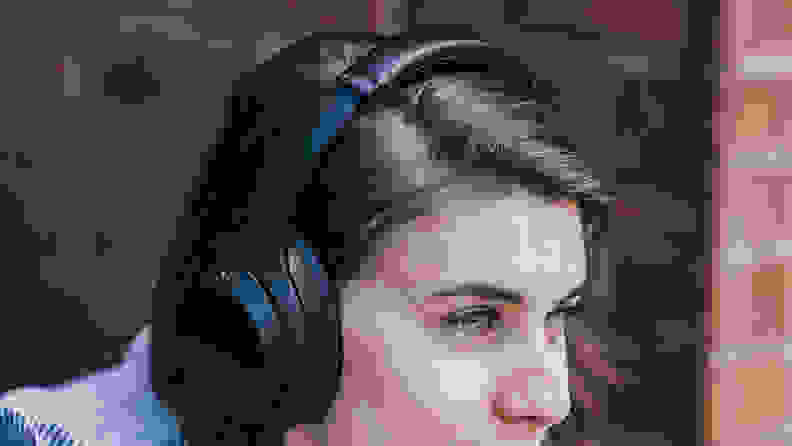 Need that coffee shop atmosphere but can't hole up at your favorite place? Grab your favorite smart speaker and start blasting that Spotify (at a reasonable volume). Playing music is a great way to build your home's atmosphere and make you feel calm as you go about your work day.
Alternatively, if your home is suddenly filled with far more people than usual, it may be time to invest in a high-quality pair of noise-canceling headphones. Our favorite pair is the Sony WH-1000XM3, which allow you to customize the level of noise cancellation while still delivering high-quality audio.
Get the Sony WH-1000XM3 noise-canceling headphones from Best Buy for $279.99
8. Get a drink machine that will make you warm beverages
Like many others, I can't function in the morning without my coffee, and even if I'm not drinking it in the afternoon, the smell of freshly brewed coffee always makes me feel calmer. Whether you miss that coffee shop atmosphere, you're looking for a warm scent to fill the room, or you need a way to brew hot beverages in the morning, a new coffee machine could do the trick.
Our favorite coffee maker is the Technivorm Moccamaster—it's on the pricier side, but it made the perfect cup of coffee every time. Plus, it's gorgeous, so it adds a little personality and rustic decor to your kitchen.
Get the Technivorm Moccamaster from Amazon for $299
9. Get a new rug to add character to your space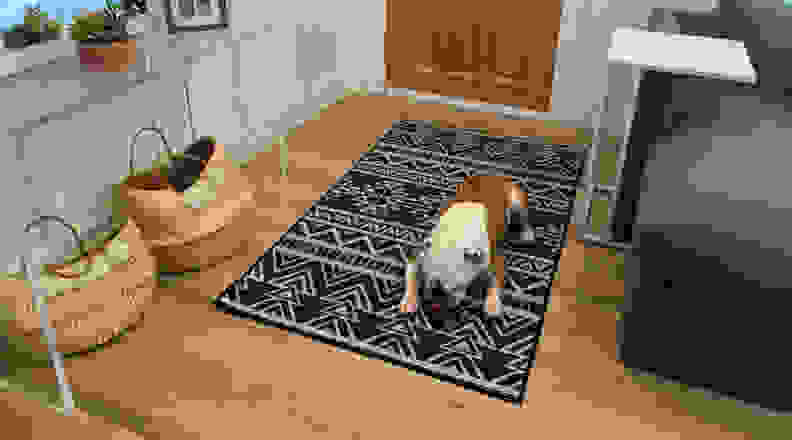 You know what really warms a room? A brand new rug. One of our favorite places to shop for rugs is Ruggable, which sells water- and stain-resistant rugs that can be easily washed in the washing machine. We tried Ruggable and loved the appearance and ease-of-use of their rugs, finding that we could match them with various decor styles and interests.
10. Invest in cozy home clothing you can relax in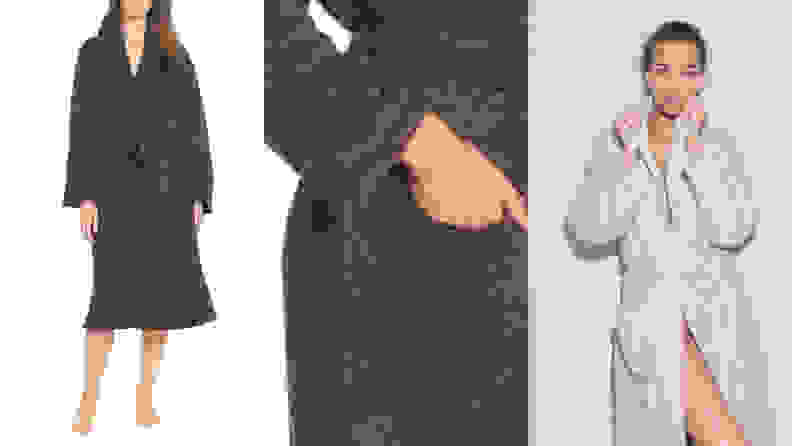 We both know I'd be lying if I said I've put on a proper pair of pants since the quarantine began. I'm spending my days under a throw blanket, not focusing on getting dressed for work. If you're finding that you have a sudden desire to build your sweatpant collection, we feel you—we love shopping at Nordstrom and find that their comfy clothes are high-quality, long-lasting, and deliciously soft. Our parenting editor Anna Lane swears by her Barefoot Dreams CozyChic Robe, which has a near-perfect 5-star rating on the Nordstrom website.
Get the Barefoot Dreams CozyChic Unisex Robe from Nordstrom for $99
The product experts at Reviewed have all your shopping needs covered. Follow Reviewed on Facebook, Twitter, and Instagram for the latest deals, product reviews, and more.
Prices were accurate at the time this article was published but may change over time.