Laptops for college students: you can put them on your list of higher learning essentials right along with shower caddies and flip flops. Nowadays, your computer is just as important as your student ID. Not sure whether to purchase a Chromebook or a 2-n-1 convertible laptop? Well, it really depends on your needs. But we've done the hard part, figuring out the best laptops for students, no matter your focus.
Just need something for writing papers and watching Netflix? The Asus Chromebook Flip C434TA-DSM4T (available at Amazon for $548.99) is our top pick, as it's excellent for casual use. College is expensive enough already, so it's important to shop smart. Whether you're working with a tight budget or you have a little expendable income, we've got something for everyone.
These are the best laptops for students we tested ranked, in order:
Asus Chromebook Flip C434TA-DSM4T
HP Omen 15 (NVidia GTX 1070, Intel i7-8750H, 16GB RAM, 256GB SSD, 2TB HDD)
Acer Nitro 7 (AN715-51-752B)
Dell G5 (2019, i5-9300H, 24GB RAM, 256GB SSD + 1TB HDD, GeForce 1650)
Lenovo Yoga Chromebook C630 81JX0001UX
Acer Chromebook Spin 13 CP713-1WN-53NF
Google Pixel Slate (Intel Core i5, 8GB RAM, 128GB)
Huawei Matebook X Pro (Intel i7, 16GB RAM)
Lenovo X1 Carbon (Touchscreen, 6th Gen)
Google Pixelbook (2017, Intel Core i7)
Dell Inspiron 13 5000
Dell Inspiron 15 7000 Gaming
Microsoft Surface Pro 4
Advertisement - Continue Reading Below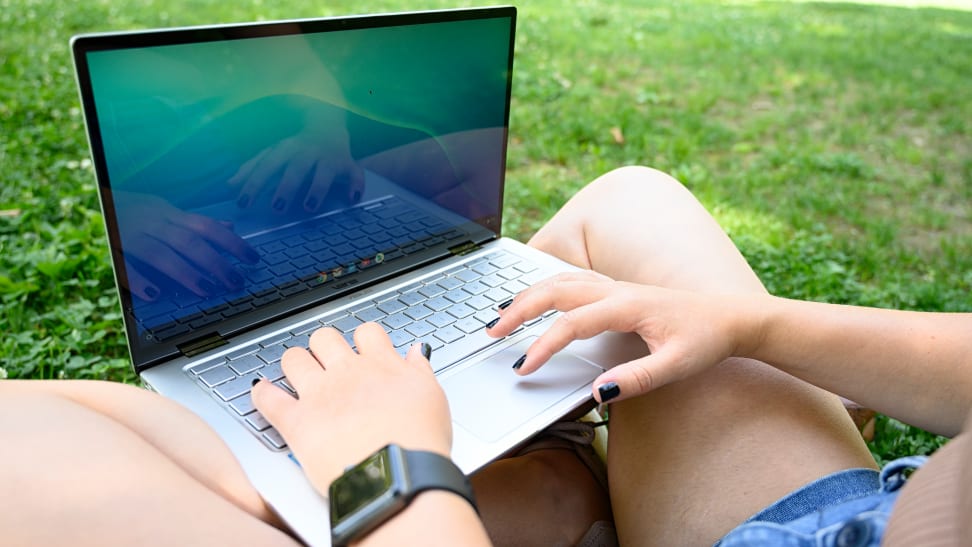 How We Tested
The Tester
Hi, I'm Ashley Barry-Biancuzzo, the former laptop reviewer here at Reviewed and an editor of our Best Right Now buying guides. Though Reviewed has been testing laptops for a couple of years now, I seized control of this beat (cue evil laughter) in 2017. It was the perfect category for me because I've been playing around with laptops ever since I was a kid. I understand the value of protecting your laptop because of my experience with the delicate internal components.
The Tests
We first attempt to push each machine's processor to its brink. These tests help us determine the responsiveness of the laptop and whether it'll be able to handle streaming or running Google Chrome in the background with simultaneous gameplay. We then run a series of tests on the graphics card to figure out how fast graphics and images rendered on a particular machine, and whether your gameplay will run smoothly.
Once that's established, we run a battery test overnight. We unplug the laptop and set the display brightness to 200 nits and then we cycle through popular websites like Discord and Twitch until the battery dies. This is how we figure out how much action we can get on a single charge. The idea is to emulate everyday tasks.
Lastly, we consider the overall build quality like how sturdy the hinges feel and if there's any flex to the display. We also take into account how light the machine is—under five pounds is ideal—and how many ports it offers.
What Type of Laptop Should I Get?
There's the traditional clamshell, which can only be opened 180-degrees. These laptops have been around for ages and are popular among college students. Then there's the 2-in-1 convertible, which can be folded or flipped. You can flip the screen around and use it as a tablet or prop it up like a painter's easel. This kind of laptop is great for the regular traveler, as they're really versatile and lightweight.
Does Display Size Matter?
A laptop with an 11-inch display is going to be much lighter than one with a 15- or 17-inch screen. So, if you need something that's light and portable, a larger display isn't going to cut it. That said, bigger displays have higher resolutions and that means a sharper picture. If you're a photo or video editor, you'll probably want a bigger screen so you can see all those minute details. If you just need a lightweight machine for research or writing papers on, an 11-inch display should do you just fine, especially if you're taking it from class-to-class.
---
Other Laptops For Students We Tested
More Articles You Might Enjoy
Advertisement - Continue Reading Below