Laptops
The Best 24-inch Gaming Monitors of 2019
These are the best standard-sized gaming monitors around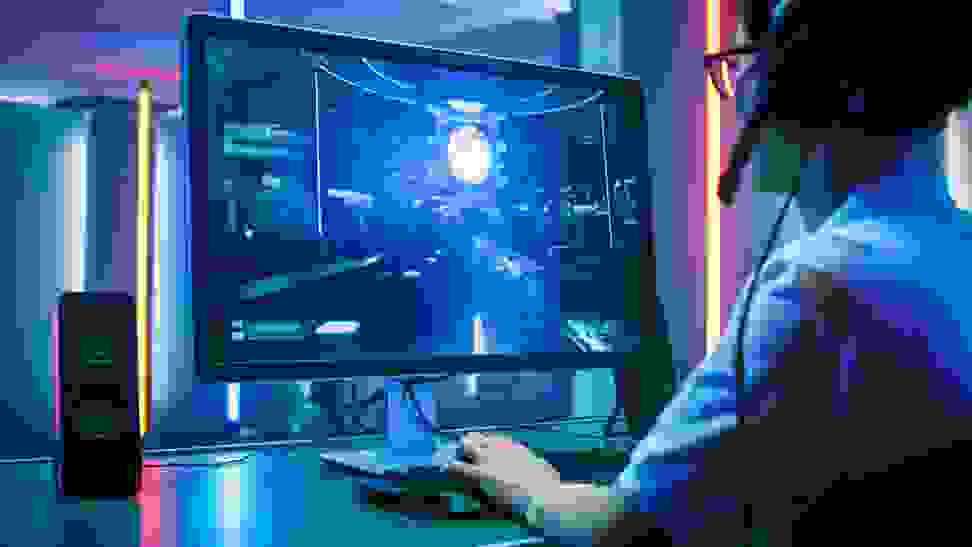 Credit: Getty Images
If you're pretty serious about gaming—whether it's on PC or console—you've probably considered investing in a gaming monitor. Whether you want pure speed or simply prefer the more minimal appearance of a simple 24-inch monitor (compared to one of huge, ultra-wide 30+ inch ones), smaller gaming monitors tend to put a focus on high refresh rates over high resolution or efficacious IPS displays, which ensures they outpace bigger monitors and TVs while keeping prices relatively affordable.
If you just want the best 24-inch gaming monitor around, we strongly recommend the BenQ XL2540 (available at Amazon for $399.00)—specifically the 240 Hz variant. For the price, it delivers stellar refresh rates (the highest you can get) and eSports-friendly features without upping the price via "excessive" add-ons like programmable LEDs. However, if you want something a little fancier, or need specialty features like FreeSync or G-Sync, there are plenty of options.
These are the best 24-inch gaming monitors we tested ranked, in order:
BenQ Zowie XL2540
Asus MG248Q
Dell Alienware AW2518H
Dell S2417DG
BenQ Zowie RL2460
BenQ Zowie XL2411P
Asus VG245H
Best Overall
BenQ Zowie XL2540
24-inch screen
1,920 x 1,080
240 Hz
No "sync" type
Flat screen
TN panel
A step up from the more affordable XL2411P, the BenQ XL2540 is another of BenQ's Zowie sub-brand, meaning it's frills-free, straightforward, and wholly focused on speed and response time. The XL2540 is available in a few different refresh rate variants (called XL2530, XL2536, etc.), but no matter which one you get, you'll be getting a 24.5-inch screen, full-HD (1,920 x 1,080) resolution, and a flat TN panel.
We tested the XL2540, which is the 240 Hz variant. It's one of the more expensive XL25 models at $499, and it's worth noting that outside of its very slightly larger screen and high refresh rate, the specs here are more or less identical to the other "Zowie" monitors we tested. What you're really paying for is the higher 240 Hz refresh rate—though the XL25 also includes a screen hood, which BenQ claims helps competitive gamers cut down on distractions in their peripheral vision. This wasn't my experience, but then again, I didn't test these monitors side-by-side with competitors at an eSports competition.
The biggest reason to spend more on the XL2540 (compared to the XL2411P, XL2530, XL2536, and so on) is its 240 Hz refresh rate. While you might not need that much refresh fidelity right now, it does mean if you choose to upgrade your gaming tower, video card, or GPU going forward, you'll have room to "grow into" the XL2540's refresh rate.
Best Value
Asus MG248Q
24-inch screen
1,920 x 1,080
144 Hz refresh rate
FreeSync compatible
Flat screen
TN panel
One of the more affordable options on the list, the 24-inch Asus MG248Q keeps things simple. You're only getting 1,920 x 1,080 resolution (which is plenty for this screen size) and a flat, TN-panel display. The MG248Q is FreeSync enabled, but its major claim to fame is its 144 Hz refresh rate, which makes it a great choice for PC players looking to get a twitchy, eSports advantage during particular competitive games. I can't say I necessarily played better myself, but I think that's on me.
The MG248Q compares most directly to the BenQ XL2411P, which retails for the same price and has the same resolution and refresh rate. The difference here is that you're getting FreeSync, which (if you have an AMD video card, especially a mid-tier one) can be a major decision influencer. Overall, this is a great budget-friendly option if you just want a gaming-focused monitor that isn't weighed down by excessive bells and whistles.
How We Tested
The Tester
Lee Neikirk is Reviewed's TV and display expert. He's been an ISF Certified display calibrator since 2014, and has loved video games since 1992, so it only made sense to have him deep dive into the expensive, colorful, and sometimes confusing array of gaming monitors available to gamers right now.
The Tests
We tested each monitor on the same PC (a Lenovo tower with an Intel i5-7400 card, 8G of RAM, a 1T HDD, and a 128GB SSD) and played roughly the same broad selection of games (Civilization VI, EVE Online, Overwatch, PUBG, and a few others in special cases). We used refresh rate testing patterns from Blur Busters and our own in-house pattern generation and light measurement equipment to test basic luminance specs and color fidelity where necessary.
A good portion of the testing/rating of the monitors was also based on the ease of their UIs, the effectiveness (or lack thereof) of different manufacturers' proprietary features, and overall design/build attractiveness. However, performance and value winners were primarily selected on a combination of their price and appeal to the widest variety of gamers.
---
Other Monitors We Tested
Dell Alienware AW2518H
25-inch screen
1,920 x 1,080
240 Hz native refresh rate
G-sync compatible
Flat screen
TN panel
The AW2518H is a smaller version of the high-end, 34-inch AW3418DW. It's a bit bigger than the standard 24-inch gaming monitor (at 25 inches), but doesn't exceed its grasp in terms of screen resolution, offering up a full HD (1,920 x 1,080) palette. Like its big brother, the AW2518H is also G-Sync compatible, features the "AlienFX" RGB lighting system (which is a kind of built-in bias lighting), and a 1ms response time for smooth, delay-free gaming.
While it's usually around $700, you can find the AW2518H for a good deal less money online—under $500 in some cases. That's still not chump change, however, but fear not: you're not simply paying a premium for the Alienware brand, though you are paying for it. This monitor's major draw is its native 240 Hz refresh rate, which puts it on par with some of the most popular eSports monitors in the biz. If you competitively engage in games like Counter-Strike, PUBG, or Overwatch, a 240 Hz refresh rate—the highest native refresh rate amongst displays in 2018—is going to give you an advantage, plain and simple.
However, keep in mind that you're paying more here for the sleek, angular design; for the AlienFX RGB system; and for built-in G-Sync compatibility, which is proprietary to NVidia and thus requires extra investment on the part of the manufacturer. In short, the AW2518H is your standard 24-inch gaming monitor on steroids. If it has any drawbacks, it's the TN (twisted nematic) LCD panel: you aren't going to get amazing viewing angles or vivid colors like you would with an IPS variant. But if you need a monitor where you'll primarily be using it head-on while playing games that are more focused on twitchy, satisfying gameplay than graphical fidelity, this one is a great choice, especially if you can find it around $350 online.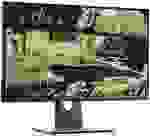 Dell S2417DG
24-inch screen
2,560 x 1,440
165 Hz native refresh rate
G-sync compatible
Flat screen
TN panel
The Dell S2417DG (which starts at $569 but is available online closer to $430) is a bit of an odd beast: on the surface, it's an unassuming-looking (if not sleek and minimal) 24-inch monitor that uses Dell's standard UI and button layout—there are no strips of RGBs, headphone hooks, spiky stand feet, or any of the more explicit trappings of other gaming monitors looking to scream "I was made for gaming."
However, under the hood, this understated Dell has some impressive specifications that help justify its price tag. For one, despite being on the "smaller" side at 24 inches, it utilizes a 2,560 x 1,440 resolution—which is many more pixels-per-inch than the standards 24-inch monitor—as well as built-in G-Sync functionality. However, this monitor's most gaming-forward asset is its overclocked 165 Hz refresh rate. You'll also get groovy features like height/tilt/swivel adjustment and a DisplayPort input.
While the TN panel utilized here won't give games the same crisp viewing angles and color fidelity as an IPS variant, overall the S2417DG doesn't really have any major drawbacks. Thanks to its high resolution and refresh rate, it's one of the best examples of a monitor that's suited for gaming while avoiding the general excesses often found in the gaming monitor sphere.
However, I'm compelled to advise potential buyers that it's somewhere in the middle, between the pure speed of a lower-rez eSports monitor and the cinematic presentation of a larger-screened widescreen monitor. It's plenty fast when overclocked, but you'll need a powerful graphics card to run games that require the higher resolution at higher speeds, especially with G-Sync enabled.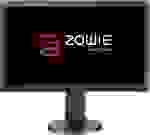 BenQ Zowie RL2460
24-inch screen
1,920 x 1,080
75 Hz/60 Hz
No "sync" type
Flat screen
TN panel
BenQ's "ZOWIE" line of monitors are spec'd specifically for eSports purposes, and this gives them a bit of an advantage in terms of value, but also reduces their overall appeal in some ways. The RL2460 is meant specifically for consoles, meaning the native refresh rates (60 Hz/75 Hz) are lower than many of the monitors on the list. However, at $220, the RL2460 is also quite a bit cheaper than many of the other monitors on the list.
You're essentially paying for resolution that's high enough for the native output of most modern Xbox One and PlayStation 4 games. Xbox One X or PS4 Pro owners won't get 4K resolution with this monitor, but since adding enhancements like 4K textures and High Dynamic Range tend to slow games down to a point anyway, if you're looking for graphical fidelity over competitive speed, this isn't the monitor to go with. The exclusion of G- or FreeSync technology and less-impressive TN panel type mean you can expect satisfactory, but not amazing graphics, too.
The RL2460 is for console gamers who are looking to outpace and outplay other console players in a competitive environment. If you're replacing your TV with a monitor like this, you're giving up screen size and resolution, in a sense, in order to game with as little lag and response delay as possible: think games in the FPS or fighting genre, rather than more cinematic/narrative titles. This specialization keeps the RL2460's cost low, but it also means you're not getting the best of more than one world.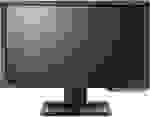 BenQ Zowie XL2411P
24-inch screen
1,920 x 1,080
144 Hz
No "sync" type
Flat screen
TN panel
The BenQ "Zowie" XL2411P is the Display Port-equipped variant of BenQ's popular XL2411. The Zowie designation means it's specifically tricked out for eSports consideration, and like most eSports monitors it trades graphical flash and higher screen resolution for the fastest response time and hyper-specialized features. To that end, this smaller 24-inch display wields the faster "TN" panel type, meaning its off-angle viewing and some degree of color fidelity are not top-of-the-line, but its response time and refresh rate are.
At $250 (or less online), the XL2411P is one of the more budget-friendly 144 Hz monitors around. As usual, BenQ/Zowie eschews the trappings of higher-end gaming selections, sticking to 1080p resolution, side-stepping G- or FreeSync compatibility and including a minimal port selection (though you do get DisplayPort with the "P" variant). Trim bezels and a standard charcoal finish make for a sleek-enough coat, but as gaming monitors go, the XL2411P is quite understated, too.
This is a great choice if you're specifically looking for an eSports monitor that will give you a competitive advantage in twitchier games like Counter-Strike, Overwatch, or PUBG. As long as you aren't looking for high pixel density or next-generation (10-bit) color saturation, the XL2411P is one of the best choices in this price range.
Asus VG245H
24-inch screen
1,920 x 1,080
75 Hz refresh rate
FreeSync compatible
Flat screen
TN panel
The super-affordable Asus VG245H is a great choice if you want to get a multi-purpose gaming monitor. Its 75 Hz refresh rate might not hold a candle to the many 100+ options available, but it's perfect for modern gaming consoles, and the addition of FreeSync means AMD-wielding PC gamers can smooth out tearing issues—it's especially helpful if you don't have the beefiest rig.
This is definitely a console-focused monitor, however, especially now that Xbox One supports FreeSync. At the price, if you're not playing on a TV, this is the most valuable console monitor we've checked out, though you get certain desirable features from something like the BenQ RL2460, which is a bit more expensive.
More Articles You Might Enjoy
Up next
Get Reviewed email alerts.
Sign up for our newsletter to get real advice from real experts.