Laptops
The Best Gaming Keyboards of 2019
Stay on top of your game with these high-performance keyboards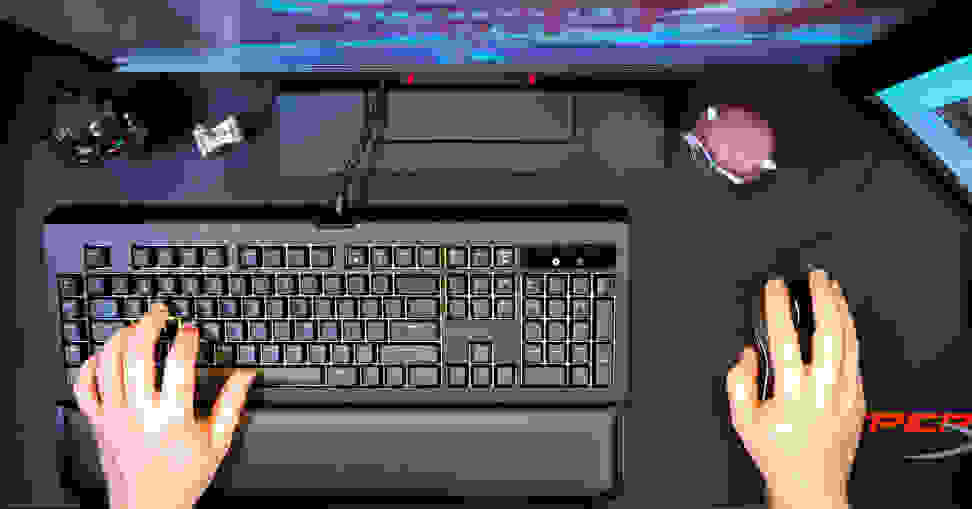 Credit: Reviewed.com / Jackson Ruckar
If you're serious about PC gaming, a keyboard designed with gaming in mind is a must-have. A step beyond the standard 'board, gaming-focused keyboards often deliver a handful of traits that facilitate play. Features like mechanical keys with quick, reliable travel and more generous key spacing are standard these days. In fact, modern gaming keyboards are expected to deliver all that and more—they're often billed as professional devices, after all.
My favorite from amongst the bunch was the Logitech Pro (available at Amazon for $79.99), a tenkeyless, compact gaming keyboard from Logitech, old hats in PC peripherals of all kinds. While not the most feature-heavy or physically robust, the Pro offers a great combination of high-end hardware and attractive design, with just enough extra features that we feel it's the best choice for the majority.
Of course, all of the keyboards here serve up a sleek, modern take on the ideas of mappable macros and expert-level WASD jockeying.
These are the best gaming keyboards we tested ranked, in order:
Logitech G Pro Gaming Keyboard
Razer BlackWidow Chroma V2
SteelSeries Apex M500
HyperX Alloy FPS
Logitech G413 Carbon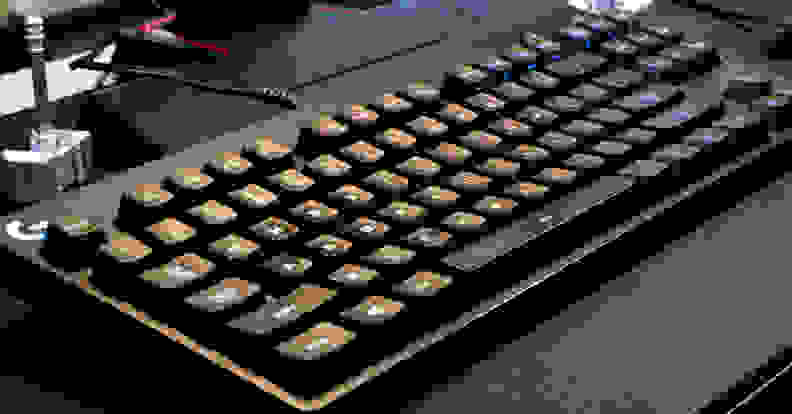 Best Overall
Logitech Pro
The Logitech Pro is our pick for best overall due to its combination of reliable performance, compact size, and simple, robust feature set. The "tenkeyless" Logitech Pro ditches the number pad found on the right-hand side of most keyboards in favor of a more compact design. While this makes it slightly less ideal for general/office use, it makes it easier to center equidistantly under each hand, which is better for typing and certain game layouts. You're getting fewer keys here compared to most gaming keyboards out there, but you're also essentially paying for sheer performance rather than a potentially extraneous set of keys.
It may seem odd that the smaller Pro fetches a higher price than some of the much larger—and perhaps flashier—keyboards on the list, but you're not just paying for portability here. I found the satisfyingly clicky keys boasted reliable, quick travel, and the symmetrical/center-based layout lenders typing and WASD'ing a sturdiness that first-time users should find very appealing. The Logitech Pro was far and away my favorite keyboard for general typing, and it's minimalist-looking enough that it won't offend aesthetic sensibilities if you're looking for form as well as function. At $130, it's not cheap, but it will please a wide majority of gamers.
Finally, it's by far the best choice for gamers on the go from amongst the keyboards we tested. The detachable cable and compact design make it easy to pack away and take on the road.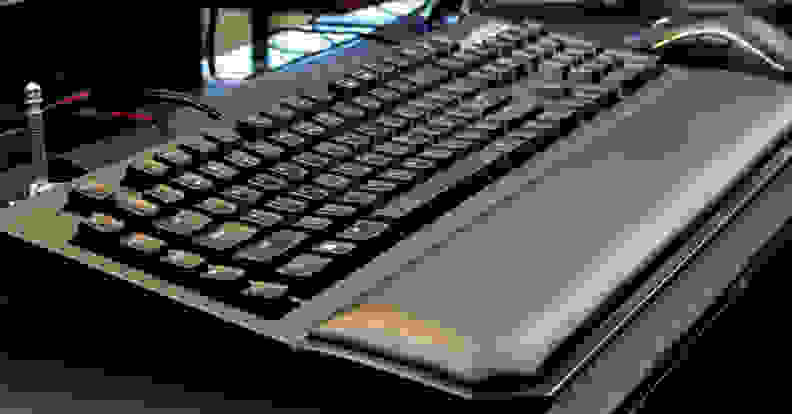 Best Performance
Razer BlackWidow Chroma V2
A standout member of Razer's LED-happy "CHROMA" brand, the BlackWidow is by far the priciest keyboard in our roundup, but for good reason. Not only is Razer a leader in gaming peripherals of all types, but the company also wields the advantage of branding/manufacturing proprietary keys (or "mechanical switches") for its keyboards. This means the BlackWidow Chroma is available with either "tactile and clicky," "tactile and silent," or "linear and silent," depending on the customization you favor. The company also claims that, regardless of which mechanical switch you go with, you'll get 30 million more keystrokes out of them than the standard switch.
I wish I could say that we tested millions of keystrokes, but the Zerg didn't give me a chance. A big part of the test process for each gaming keyboard (and the sister gaming mouse roundup) involved playing games, one of which was StarCraft. I'm no pro gamer, but I was a decent SC player back in the day, and the game presents an excellent opportunity to test out features related to micro/macro management and unit directive skills. The BlackWidow excelled in this area, partially due to the sheer size/key quality of the keyboard, but also due to the unique elements present in the "CHROMA" line. In fact, amongst the staggering amount of LED backlight customization options here, there's even specific settings for different games—FPS, RTS, MMO, MOBA, and StarCraft, specifically. The latter setting (pictured) automatically highlights the relevant keys to help players maximize their APM (actions per minute), which is an economical measurement (in mid- to late-game) for ensuring you aren't wasting time or resources.
But that's really just the tip of the iceberg. Where features go, the BlackWidow packs pretty much everything and the kitchen sink into its hardware and software. A handsome braided cable, multi-bracket positioning feet, five extra macro keys along the left side, USB pass-thru functionality, and even audio out/microphone jacks for the staunchest power users. This version (V2) also includes a very comfortable wrist-rest, which smartly magnetizes to the bottom of the keyboard, making it very easy to attach and remove on the fly. While there is evidence that these kinds of wrist rests are not actually good for preventing wrist fatigue or carpal tunnel, we're not complaining about its inclusion.
The BlackWidow is a serious product at around $170, but it's also the rootenest, tootenest performer amongst these keyboards, and has a huge array of special features and extras that should please gamers of all stripes. That said, if you don't need the whole kit and caboodle, there are much cheaper options that might suit your needs.
Other Gaming Keyboards We Tested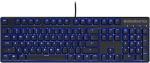 SteelSeries Apex M500
This SteelSeries mechanical gaming keyboard brings a lot to the table for the $100 asking price. The Apex M500 wields the widely praised Cherry MX Red keys and delivers a traditional size with high ramps that allow for multiple height adjustments. SteelSeries claims the Apex M500 is "built like a tank," and I'm inclined to agree. Not only was it one of the sturdier-feeling keyboards I tested, but I hammered at it while typing and desperately trying to win StarCraft matches, and it didn't flinch.
The Apex M500 features blue backlit keys, which are not only kind of gorgeous, they're a little more soothing than the standard red or greens featured by many gaming keyboards. Overall, the Apex M500 is a very good all-around choice for its sturdy build and generous real estate. It doesn't have quite the laundry list of extra features as something like the Razer BlackWidow, but it's also much more affordable, making it a great pick for a wide variety of gamers.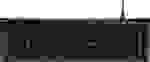 HyperX Alloy FPS
HyperX may not be as widely known as brands like Logitech or Razer, but the company makes some rad gaming peripherals—especially its gaming headsets. The Alloy FPS is a solid gaming keyboard: it's mechanical with a robust design, and features the same praised Cherry MX switches as the Apex 500. The handsome red-and-black cable is detachable, and you'll get the full keyboard-and-numpad experience here, too.
My time with the Alloy FPS was mostly positive, though typing proved difficult. There's a trend in gaming keyboards to provide very responsive, tall, and clicky keys. These are great for double-tap executions during games and overall precision and clarity, but sometimes they're spaced in such a way that typing is not as smooth/easy from the get-go as a more standard keyboard. That was the case with the Alloy FPS: solid for gaming, a bit meh for typing. I did get used to it after some due diligence, but it was a standout drawback here that I didn't experience with the other keyboards I tested.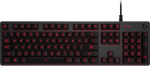 Logitech G413 Carbon
Logitech's G413 is the most affordable keyboard we tested, but don't let its price dissuade you. The G413 still wields Romer-G keys, a sturdy design, and gives ample real estate that's good for both gaming and typing. My one little pet peeve with the G413—which is available in either silver or carbon finishes—is the spring sound.
While all mechanical keyboards use springs to provide quick, clicky travel, the G413's spring-return noise (a high-pitched metallic ring) is more audible than any other keyboard here, to the point that I found it a bit distracting. While this isn't likely to be a problem if you're playing with headphones, or a game that's particularly loud/busy, in the opening moments of resource gathering in StarCraft I found the ringing mechanical sound to be irritating. This could be a fault of the Romer-G keys, or simply the G413's design.
However, outside of that tiny nitpick, this is a good choice for the asking price. It shaves off extraneous features and a bit of build quality to undercut the competition, but if you want entry-level, we recommend it.
More Articles You Might Enjoy
Up next
Get Reviewed email alerts.
Sign up for our newsletter to get real advice from real experts.