Laptops
The Best Mesh WiFi Routers of 2019
These are the best mesh WiFi solutions you can buy.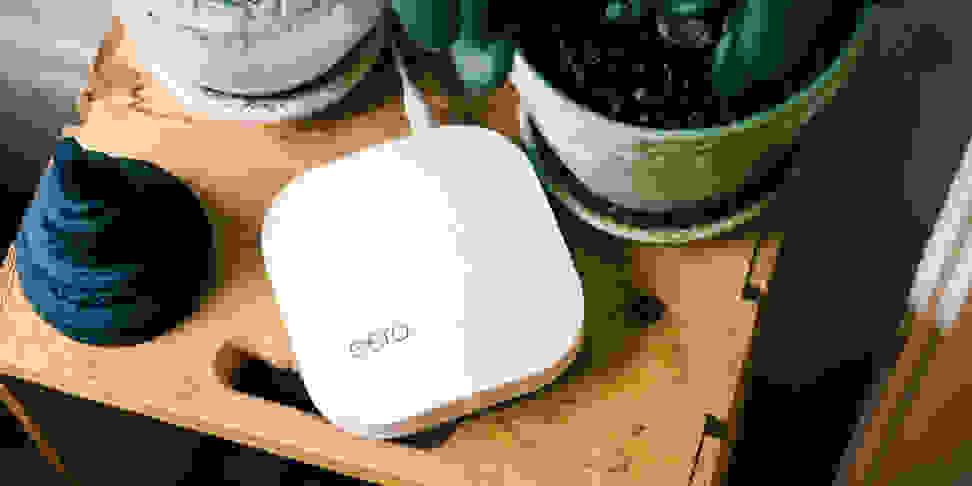 Credit: Reviewed.com / Brendan Nystedt
So-called "mesh" routers are fairly new in the consumer market compared to traditional routers, but the technology promises wider coverage and better signal strength overall. Since our first roundup of mesh routers a couple years ago, the technology has matured considerably, and several brands now offer incredible WiFi coverage for even the largest homes, and at prices that aren't too egregious.
We tested nine of the top-ranking and most popular mesh networking home WiFi solutions on the market, with our top pick being the Google WiFi System (available at Amazon for $242.99). Google's mesh networking solution offers a dead-simple setup, great performance and a slew of useful features that the average family home would need: parental controls, security, WiFi traffic prioritization and more. Plus, it's one of the more affordable mesh networking solutions that we tested.
You won't go wrong with any of our top picks, however, some may be more difficult to set up and configure than our top choice. If you are tech tinkerer, that may not be an issue for you. Also, some tested are more expensive than Google WiFi, yet didn't offer better performance or features.
Here are the mesh WiFi routers we tested, ranked in order:
Google WiFi System
Eero Home WiFi System
AmpliFi HD Mesh WiFi System
Netgear Orbi Mesh WiFi System
Linksys Velop Home WiFi
Zyxel Multy X
Synology Mesh Router MR2200ac
D-Link Covr Dual Band Whole Home WiFi System
Mercku M2 Hive Wi-Fi System
Best Overall
Google Wifi (3-Pack)
Google's offering for mesh home WiFi is a solid choice for most consumers. We tested the Google WiFi three-pack option - it ships with one router that connects to broadband, and two nodes to extend the WiFi signal.
Setup is simple enough that any child with an iPhone (or Android device) could manage it, but the performance and features here are not child's play.
Google WiFi provided the best Internet speed with a cable connection that has 400 Mbps download service level -- with Google WiFi reaching throughput speeds of up to 120 Mbps at certain points in testing. That is incredible performance in our testing environment: a multi-dwelling apartment building in a highly-populated area with lots of other WiFi routers competing on the same wireless radio bands. A standalone home in a less-densely populated area is likely to see even stronger performance.
As mentioned, Google WiFi is simple to set up and even guides you through the best placement of the nodes for optimal performance and coverage. The setup uses Bluetooth so if you don't have an Internet connection beforehand, there is no problem setting the system up and it can be set up just using a smartphone.
The companion app (available at the App Store or Google Play) offers full control of the home network via a smartphone. Parents can set Internet access schedules or block adult content from children's devices.
Its small nodes are unobtrusive and should be easy to place in any room. The main router and the two nodes each have dual Gigabit Ethernet ports, so you can hardwire a gaming console, smart TV or other Internet-connected device to them.
Google WiFi is such great networking hardware that it is baffling why there is currently no integration with Google Home or Google's Smart Assistant. Especially since you can manage many other smart home devices through the app. It would be ideal if you could use Google's smart assistant to reboot the network or find out which devices are connected or kick your kids offline from the office.
Still, Google WiFi is our top pick for a mesh networking solution. It's affordable, not among the most expensive we tested, has an adequate feature set, and is easy to set up and configure.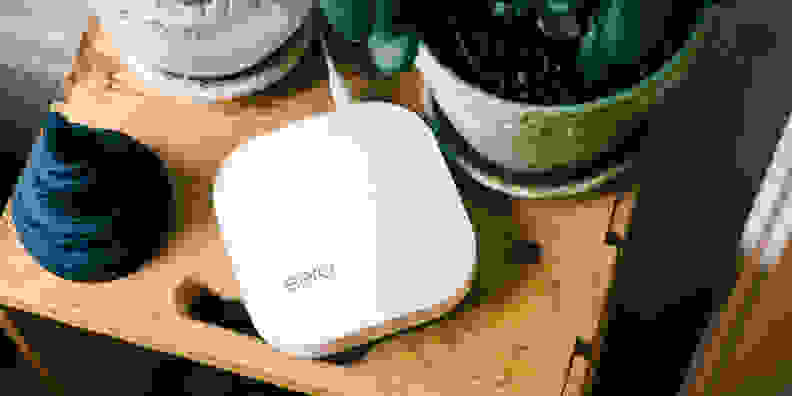 Easiest Setup
Eero Pro + 2 Eero Beacons
Eero is a breeze to set up and is a solid alternative to Google WiFi. One of the first mesh networking solutions to come to the market, Eero has since been acquired by Amazon this year for $97 million —that's how valuable the world's largest ecommerce considers this product.
And with good reason. Eero offered Internet speeds on par with Google Wifi in our testing- although the Eero's speed was not as fast at a distance, as Google's.
And the setup and configuration are almost automated. Eero detected the broadband connected instantaneously and provided detailed instructions on the best places throughout the testing area to install the nodes.
Most home users will be satisfied with the feature set. It supports parental controls, setting up firewall rules to control the type of Internet traffic that comes in and leaves your network, and supports control of third-party smart home devices.
A few caveats: Advanced features including ad blocking, robust security, and granular control over devices connected to the mesh network will cost you a yearly fee. Also, there is currently no integration with Amazon's Alexa.
How We Tested
The Tests
We tested all nine routers in a pre-war, four-story apartment building. Testing was performed on floors one, two and three. The building is made of stone and plaster and has a lot of metal doors and fixtures -- a very challenging WiFi environment.
To add to that challenge, the building is in the middle of a busy metropolitan area with lots of business and home wireless networks.
The current network in the testbed is a cable broadband connection with a service level of 400 Mbps download speed and 20 Mbps upload. The router is a Netgear Nighthawk X45 AC2600 Smart WiFi Router.
The cable network is Spectrum (formerly Time Warner) and bandwidth was tested using the Fast.com Internet speed test application.
Each router system was set up, upgraded to the latest firmware and tested at least an hour after configuration. Dell's Latitude 7400 2-in-1 Laptop/Tablet combo was the laptop used for testing and as well as a Samsung Galaxy S9 phone with the latest version of Android. Also used to test streaming capabilities and performance load on the wireless network - an LG smart TV with wireless connectivity.
The Tester
My name is Samara Lynn, and I've tested consumer wireless technology including routers, extenders, cable modems and more for almost 10 years. I've also set up networking equipment professionally.
---
Other Mesh WiFi Routers We Tested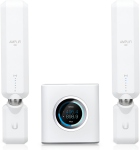 AmpliFi HD Mesh WiFi System
This attractive mesh networking system lets you set up the network via a touchscreen. Once configured, the smart LCD screen shows the network speed.
The kit also has two mesh nodes points. They are long antennas that plug in flush to a wall and swivel so you can adjust for best signal pickup. The Amplifi system uses a downloaded app for setup. One issue was that the WiFi network had some problems restarting after a firmware upgrade. After a reboot of the router and nodes, the issue was resolved.
The router has five Gigabit Ethernet ports so you can hardwire several devices to it. The apps' features include parental controls, setting access rules and setting up devices into groups.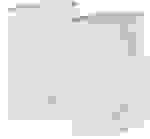 Netgear Orbi WiFi System (RBK50) AC3000
Netgear is a longstanding leader in the consumer WiFi market, so it's no surprise that it has a quality mesh networking solution. The Orbi Ultra-Performance Whole Home Mesh WiFi System comes with an Alexa assistant.
It's a gorgeous system of devices that also serve as an audio system - it features Harmon/Kardon speakers. It also has an app-based setup. The app walks you through setup of the router, nodes (Netgear refers to them as "satellites" and getting Alexa up and running. Features include parental controls offering Internet time limits and usage monitoring.
Like Netgear, Linksys has been in the business of home WiFi networking for a long time. The Velop Home WiFi system is easy to set up through the Linksys app and gives instructions on where to place the wireless nodes.
The nodes stand upright at about 7-inches tall so there may be some limits in placement. But the software has a very user-friendly interface and features that include parental controls, guest WiFi access and the ability to ability to prioritize which devices get the strongest wireless signal.
While the Velop's performance was not as strong as other mesh networking solutions we tested, it does have integration with Alexa and you can easily see all devices connected to your home network via the app.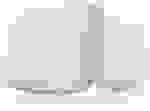 Zyxel Multy X
Zyxel designed its mesh networking system to cover large spaces, The Multy X system uses six internal antennas plus three wirelesss radio bands, one of which is a dedicated backhaul just to connect the nodes.
It's an impressive feat of engineering. Yet, the solution did not offer the performance of our top pick. Also, at over 9-inches wide, the nodes are quite large and that means you may have some limitations on where to place them.
Yet, the Zyxel offers an advanced feature set that may be of more interest to advanced users who want granular control over their home network.
Synology MR2200ac
Synology is known more for its excellent lineup of storage devices but it has thrown its hat in the mesh networking ring with its MR2200 ac.
The router can be setup using a web browser or app. But it's the browser-based web interface that really lets you get down to the nitty-gritty configuration and settings. Synology fans will be happy with the interface - it's obviously derived from the management console of Synology's network-attached storage devices.
The router is quick to install and delivered solid performance in testing, but seems designed more for advanced users and may frustrate the average home user who wants to quickly get a mesh network running and then pretty much forget about it.
D-Link COVR-C1203
The D-Link Covr mesh networking system ships with one router (D-Link refers to it as "the master") and two nodes. The router and nodes have dual Gigabit Ethernet ports.
Covr uses an app for set up. The app detected the nodes as soon as they were powered up. The mesh network is created automatically without any interaction on the user's part.
Unfortunately, the app crashed a few times during testing. That is likely to frustrate home users trying to set up Covr.
The nodes are relatively tiny and easy to incorporate into any room. Performance was decent in testing but not as fast as our top choices. Covr's feature set includes web filtering, guest WiFi access, and parental controls.
Mercku M2 Hive System
Mercku's mesh networking system is designed for large spaces, even larger than the other mesh networking system we tested -- spaces up to 6,000 square feet. That is because it ships with a router and four mesh nodes - the most of any system we tested.
It's a great idea, but in testing there were a few issues with Mercku. It took a few attempts using the app for the router to pick up the powered on nodes - but it eventually did. Also, the Mercku is not as feature-rich as other mesh networking systems we tested, the setup is not as user-friendly and the parental controls are very basic.
The Mercku system did not deliver as speedy performance as the other mesh networking solutions we tested. Plus, the tiny hive nodes have very small LED which makes it hard for those who may not have the greatest eyesight to see the connection status of the nodes.
---
More Articles You Might Enjoy
Up next
Get Reviewed email alerts.
Sign up for our newsletter to get real advice from real experts.