Laptops
The Best Wireless Mice of 2019
We picked the best wireless mouse on the market.
Credit: Reviewed / Keith Shaw
While some people keep predicting the end of the keyboard and mouse in favor of touch, voice, or gesture control, there are many of us who reject laptop-style controls such as the touchpad or the tiny nub pointers on ThinkPad notebooks. We still want a mouse to hold and move in our hands. That's why we spent hours testing and determined that the Logitech MX Anywhere 2S (available at Amazon for $59.99) is the best general-purpose wireless mouse on the market.
Over the years, computer mice have evolved from basic click and scroll behavior to provide extremely specific functions, including those for gaming or high-precision models for CAD software users. You can also still find hundreds of inexpensive made-in China models that have different faceplate colors and styles, and those that include trackballs for navigation.
For this roundup, we wanted to find the best wireless mouse for web browsing and basic applications. Something that would point, click, and feel comfortable in the hand. We chose to focus on mice that cost between $20 and $100 to ensure the models offer something more than just two buttons and a scroll wheel, but are not as expensive as gaming or specialized models. We narrowed our list further based on user reviews, best-sellers online and store availability, and whether a model was newer from a particular maker. Our final choices came down to eight models from five companies: Logitech, HP, Microsoft, Apple, and Kensington.
These are the best wireless mice we tested ranked, in order:
Logitech MX Anywhere 2S
Logitech MX Master 2S
HP Wireless Mouse X4000
Kensington SureTrack Any Surface Bluetooth Mouse
Microsoft Surface Precision Mouse
Logitech M720 Triathlon
HP Wireless Mouse X3000
Apple Magic Mouse 2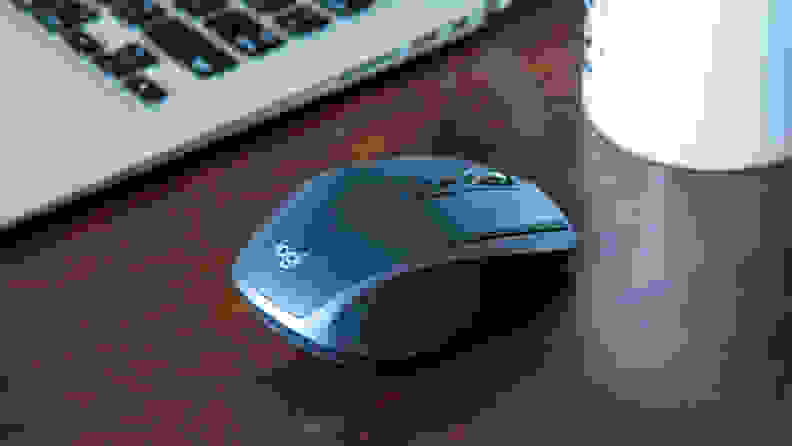 Best Overall
Logitech MX Anywhere 2S
This mouse packs a lot of features into its small frame. The mouse lives up to its name, able to track and navigate on any surface, including glass, with high precision. It's powered by a rechargeable battery offering up to 70 days of life on a single charge, so there's no need to scramble to find extra batteries if the mouse suddenly stops working. You can still use the MX Anywhere 2S as a wired mouse when connecting to a computer via the included USB charging cable.
The mouse can connect via its included USB dongle or Bluetooth, giving you extra options for connecting. Up to three computers can be paired to the mouse via the Easy Switch button.
The MX Anywhere 2S includes support for Logitech's FLOW software (download separately as part of the mouse software), which lets you copy and paste files across different computers. In my testing, I could move files from my Windows 10 desktop (the mouse was connected via Bluetooth) to my USB dongle-connected MacBook Pro notebook by just clicking and dragging between the two screens. It's an amazing piece of software that solves a problem of file transfer between two systems without needing a storage device, hard-wired connection, or Internet cloud storage.
The MX Anywhere 2S also features my favorite scroll wheel option-the ability to switch between a click-style scroll (some call it detent) and a smooth scroll by just pushing the wheel with your finger. Other mice I tested could also switch between these two scroll styles, but required a separate button push.
The Logitech Options software (a separate download) also features several choices to customize the mouse's buttons for even more options. For example, if you want to adjust the volume of your music, you can assign that task to one of the mouse buttons. There are some pretty deep and specific customization options.
My biggest complaint for this and the Logitech MX Master 2S mouse, a larger model that we also tested, is there's no storage compartment for the USB dongle, increasing the likelihood that you might lose it. While you could still use the mouse via Bluetooth, I prefer having a storage option for the USB dongle.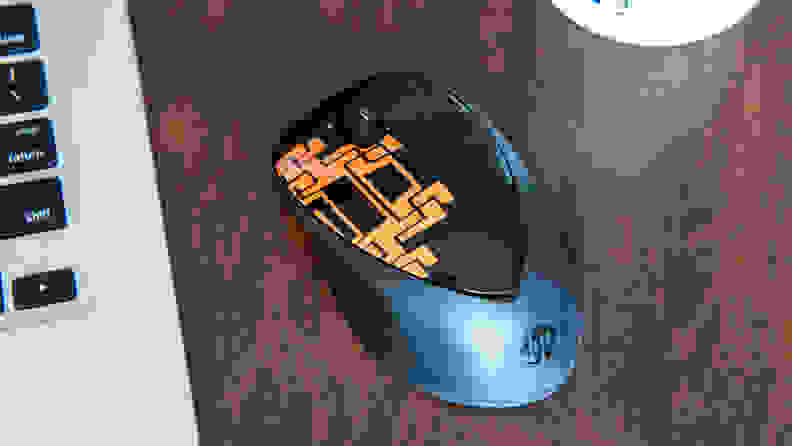 Best Value
HP Wireless Mouse X4000
If you're looking to spend less money and don't need as many button customizations, the best option is the HP Wireless Mouse X4000 ($30 MSRP).
This mouse supports HP's Link-5 technology that connects up to five devices via the same USB dongle. If you have limited USB port options and want to connect a mouse and keyboard or other compatible devices, you could use one USB dongle instead of two or more. This technology only applies to Link-5 compatible devices, though, making it useless for cross-device functions (for example, if you wanted to use a Logitech keyboard and HP mouse).
HP touts a staggering 30-month battery life (2.5 years!) for the X4000, which is powered by two AA batteries. Removing the batteries is a bit tricky, as the mouse's faceplate doubles as the battery cover. Most battery covers on wireless mice are located on the bottom. In my testing, the top of the case/faceplate always caught on one of the mouse buttons. However, the long battery life adds to the mouse's value.
The X4000 worked well on all of our surface tests save for the glass tabletop, and it felt good in the hands of both small-sized and larger-sized hands. I was less impressed with the scroll wheel-there's no smooth-scrolling option and it felt harder than other mice, meaning I needed to exert more effort when scrolling. The extra effort would increase the chance of wrist pain after long periods of using the mouse.
How We Tested
The Tester
I'm Keith Shaw, and I've reviewed consumer technology products for more than 15 years, including several varieties and sizes of computer mice in the pre-wireless days. This includes mice that operated with a hard rubber ball that you would routinely clean lint out of after a few months of use.
The Tests
We tested each mouse on a variety of surfaces, including wood, Corian countertop, glass, and soft and hard mousepads. We performed several general computer tasks that require periods of mousing-creating a presentation, long-article web browsing, and playing a web-based game (skipping games that would require a dedicated gaming mouse). We noted whether the mouse had an on/off switch, if there was a storage compartment for the USB dongle, and rated the general ease of use for connecting to a computer (either through the dongle or Bluetooth). For comfort, we had several people with varying hand sizes use the mouse on different surfaces and had them rate their comfort level for each mouse when used on a table or in a more casual setting (like sitting on a couch). For mice with additional software features, we downloaded the software and rated how easy it was to customize specific buttons to perform extra tasks.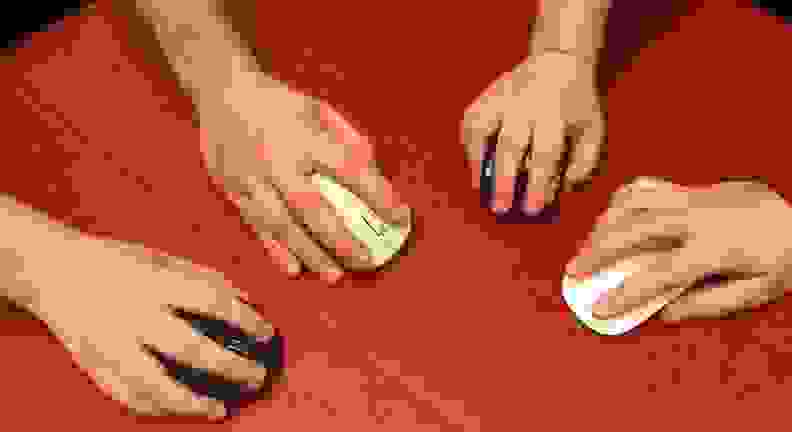 All of the mice performed well in most of our tests—the differentiator came down to the ability to work on multiple surfaces and operating systems (mice that could work with Macs and PCs did well), and general comfort based on a person's hand size.
---
Other Wireless Mice We Tested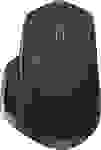 Logitech MX Master 2S
Almost an exact duplicate of Logitech's MX Anywhere 2S, the MX Master 2S is designed for people with larger hands. When I had some friends with larger hands try out all of the mice, they enjoyed the larger mice designs while detesting the smaller ones. When factoring in other options like connectivity, customization and how well it worked on any surface (like its twin, this one performed well on glass), the MX Master 2S came out on top among the larger mice designs.
Featuring the same software options (Logitech Options and FLOW), the MX Master 2S also includes a USB dongle and Bluetooth connectivity choice, the ability to switch between up to three systems, and the rechargeable battery. Unlike the MX Anywhere 2S, the MX Master 2S features a separate button for switching the scroll wheel between the click scroll style and the smooth style. However, the mouse also features a separate scroll wheel button located on the thumb area (where your thumb would rest if you are right-handed), which can be customized for additional functions.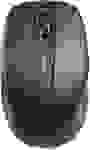 Kensington SureTrack Any Surface Wireless Bluetooth Mouse
Another mouse in the "track anywhere" category is the Bluetooth-only wireless SureTrack model. If you travel a lot and find yourself in hotels with glass-topped desks, this is the mouse to have-its small size won't weigh down your travel bag, you won't have to worry about losing a USB dongle, and you will be able to use the mouse on the glass surface without problems.
The smaller design wasn't a hit with our larger-hand testers, but the small-hand contingent liked the feel of the mouse. There aren't any additional customization options like with some of the other mice tested.
One feature I appreciated: The mouse sports an LED on its top that will light up when the battery is about to die, giving you some notice to find a replacement.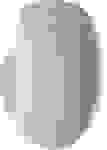 Microsoft Surface Precision Mouse
One of the newer Microsoft mice, this model was a hit with our testers who had larger hands, giving them a better comfort fit than the smaller-sized mice.
The mouse could switch between a smooth scroll feel and the click style, and it can pair with up to three devices at a time. The charging cable could be used as a wired connection, and there are four customizable buttons-customization occurs with a separate Mouse and Keyboard Center software download. The mouse also worked well on all of our surface (pun not intended) tests, including glass.
The biggest problem we had with this mouse-it's really only designed for Windows 10 systems. The Bluetooth didn't work with our Macintosh system, and the drivers crashed one of our Windows 7 systems. There is a warning on the box that a specific Bluetooth version is required, so if you want this mouse, make sure you have the right computer system before buying this model.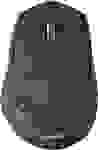 Logitech M720 Triathalon
Like the other Logitech mice we tested, the M720 Triathlon offers both USB dongle and Bluetooth connectivity options. Unlike the MX series, the M720 Triathlon features a USB dongle storage compartment inside the battery area. Logitech touts a very long 24-month battery life with a single AA battery, which impressed me.
The size of the M720 is appealing to those with larger hands. It also supports the Logitech Options and FLOW software, giving you some button customization features. In our tracking tests, the M720 worked fine on all of our surfaces except for the glass table top.
The scroll wheel supports both the click and smooth styles, but activating this is done with a separate button push. Overall, this is a less expensive option for people looking for the Logitech software options compared with the MX series.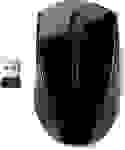 HP X3000 Wireless Mouse
This mouse offers the bare minimum features and options. It's also the lowest-priced option among the mice I tested. At an MSRP of $20, you could get this for less via Amazon and other retailers. The X3000 was also the smallest of all the mice I tested-it was even too small for the small-hand testers. If you need a basic mouse for your kids to use, gravitate toward this one. No customization features or extra buttons on this, either, and you're stuck with only a click scroll wheel. Forget about tracking on glass-it won't work.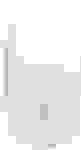 Apple Magic Mouse 2
Apple's latest mouse is a great option if you intend to use it only on a newer Apple computer (OS X v. 10.11 or higher). It will still work with older systems (and Windows if you really want to), but then you won't get access to the mouse's greatest feature—the ability to use your finger as the scroll option on the surface of the mouse.
I didn't think I would like this method of scrolling, having fallen in love with the scroll wheel that gives you the smooth/click options. But I'll admit, scrolling over long web pages with my finger was a nice feeling, and it caused me to change my method of handling the mouse. Instead of gripping the mouse with all of my hand, I was more gingerly with the Magic Mouse 2—using only my thumb and ring finger to control the mouse's movement, saving the middle and index fingers for scrolling and clicking.
The Magic Mouse 2 includes a rechargeable battery that is charged via an included Lightning cable that will also automatically pair with its Macintosh computer when connected, so you don't have to mess with Bluetooth settings. Like many Apple products, the Magic Mouse 2 costs more than you'd expect-the $79.99 mouse falls in line with some of the other top-end mice I tested here, but with less features and almost no customization. There are some custom features, but they fell more in the "oh, that's somewhat interesting, but not very useful" bucket.
If you're looking for an all-purpose mouse, skip the Apple model. But if you're a true-blue, diehard Apple fan, you'll enjoy using this mouse. Even our larger-hand brethren enjoyed its feel and comfort.
More Articles You Might Enjoy
The Best Gaming Keyboards
The Best Gaming Mice
The Best Laptops
Up next
Get Reviewed email alerts.
Sign up for our newsletter to get real advice from real experts.