Small Appliances
This cocktail machine is the latest thing you didn't know you needed
If you miss going out for drinks, this machine is almost like having a live-in bartender.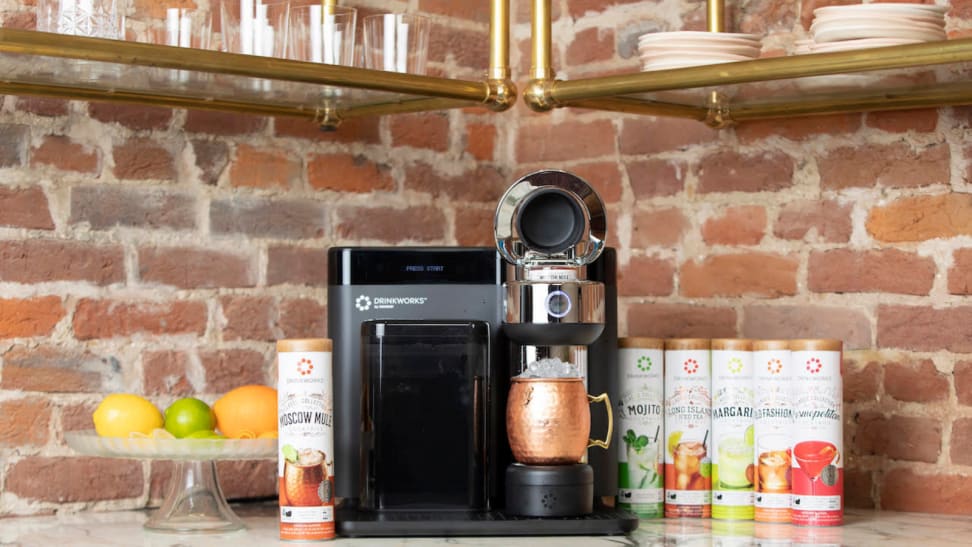 Credit: Drinksworks
With COVID-19 restrictions still in place, bottomless mimosas at your favorite brunch spot are out of question. That makes a home bar machine more appealing than ever—you don't need to step out of the house to sip on fancy cocktails on your couch. Or, if you're planning an outdoor gathering with people in your pod, a single-serve cocktail maker may suit everyone's tastes.
Love them or hate them, single-serve beverage makers aren't going anywhere—after the success of Keurig machines, which take most of the work out of coffee brewing, single-serve pod cocktail makers are becoming a popular item for among amateur mixologists. We tried the Drinkworks Home Bar by Keurig and here's what happened.
How does a Drinkworks Home Bar work?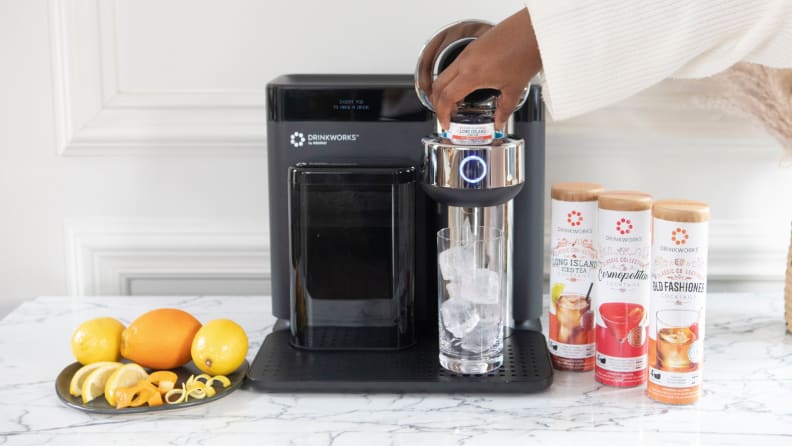 Drinkworks Home Bar looks and works similar to a Keurig coffee maker; you insert a capsule into the machine and let it handle the rest. Its sleek look makes it a nice addition to any kitchen space.
The set-up was easy enough and only took me 10 minutes. The most difficult part of assembly is installing a CO2 cartridge in the back of the machine, which is provided in the package. This will allow you to make frizzy cocktails like a Moscow Mule or a Gin and Tonic.
Once everything is in place, power on the machine to start the chilling cycle, which takes approximately 25 to 30 minutes. The touchscreen will turn on automatically when the machine powers on and will provide instructions. When the cycle is complete, the touchscreen will direct you to insert a pod. Open the brew head next to the touchscreen, insert a pod, place a glass under the brew head as prompted, close the brew head, and then hit "Start" on the brew head. It takes about 10 seconds to get a full size cocktail (about 4-9 ounces), which is way faster than making everything from scratch.
What we like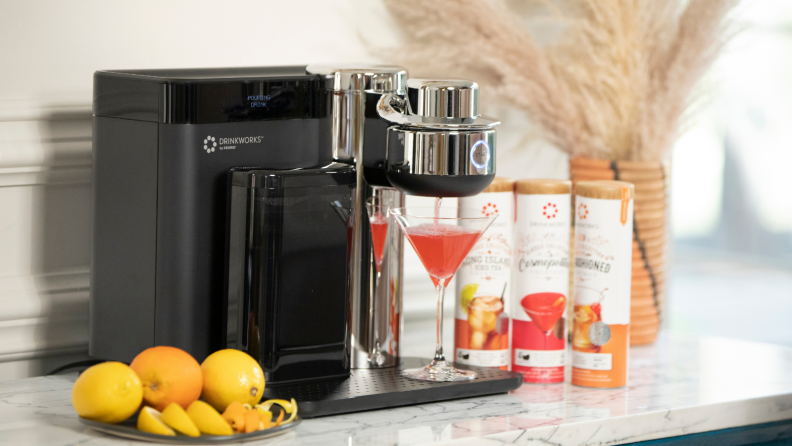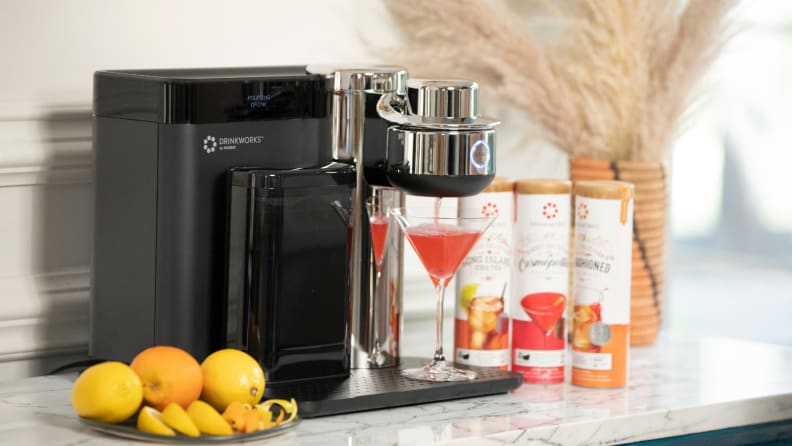 The machine makes a cocktail fast
Though making a cocktail isn't always complicated, it takes some time for me to gather the ingredients, chop the garnish, crush some ice, and shake things up. It's messy and all the effort required for one drink may not be worth it if you're planning to make a few different cocktails in one evening.
With this machine, a pod, and the touch of the button, you'll get bar-quality cocktails without dirtying your cutting board or shakers, and it mixes the drink fast. Plus, the drinks are perfectly chilled every time without diluting their strength.
There are plenty of choices
If you aren't satisfied with one type of cocktail, this machine gives you the option to explore new flavors without requiring you to commit to full sized bottles of liquor, bitters, or syrup. Currently there are four collections with 30 different cocktails available, including popular ones like Cosmopolitan, Mojito, and Whiskey Sour. My favorite is the Wandering Wine Collection, which features fun summery drinks like Rose Spritzer and Bubbly Lemon.
The pods are recyclable
Since plastic waste is a concern when it comes to single serve beverage makers, Drinkworks runs a recycling program in partnership with Loop, which helps recycle the used pods. All you need to do is gather the pods with the pre-paid recycling bag provided in the box, seal the bag, and drop it off at the nearest USPS location, as the return address is printed on the bag.
What we don't like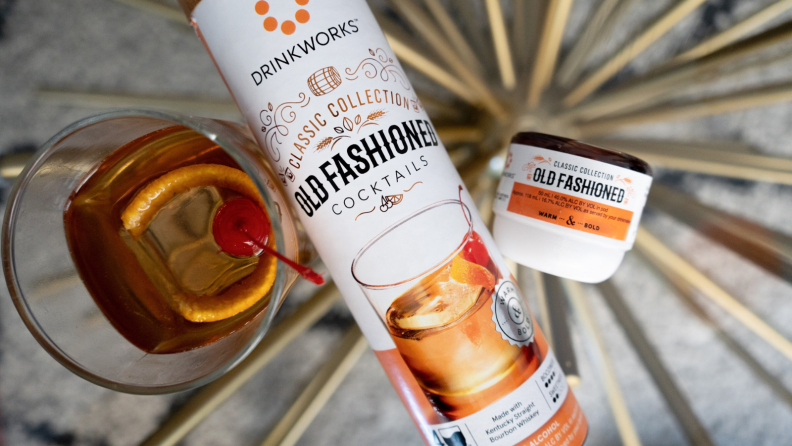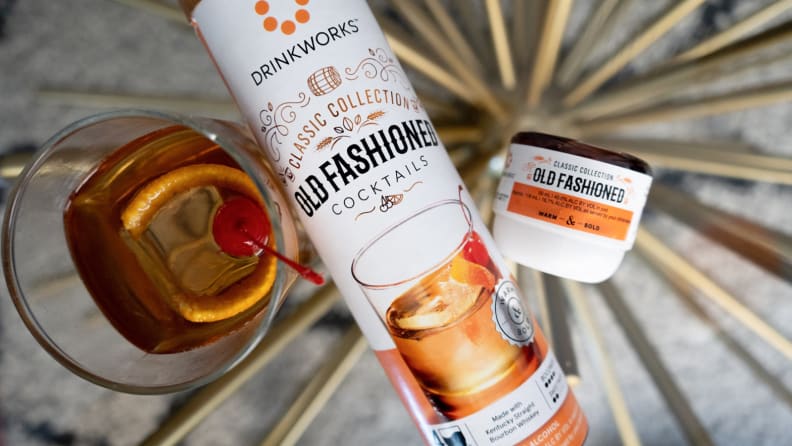 Sadly, this machine only makes cocktails and can't double as a coffee maker. Pods must be purchased separately and are available at your local liquor store, or you can order them online for delivery. Each pack costs $16.99, which is reasonable, but there are cheaper options.
Is the Drinkworks Home Bar worth it?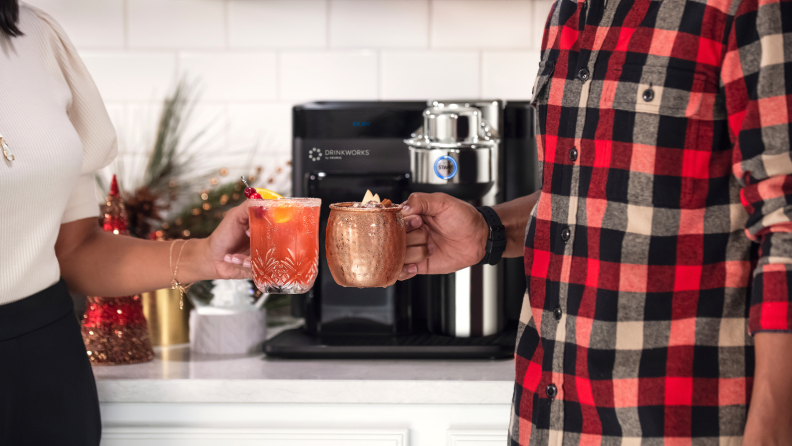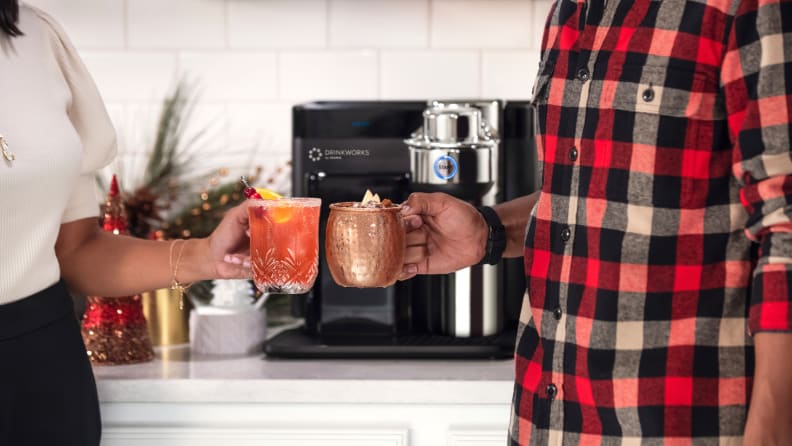 If your home bar is limited to a couple types of liquor for cocktails you regularly drink, but not extensive enough to shake up the wide range of cocktails that you can get at a real bar, then you may find this machine useful. Many popular cocktails like daiquiris, White Russians, and margaritas are available, as well as seasonal favorites like Rose Spritzer and Peach Sangria. If you're a cocktail person, Drinkworks Home Bar surely has a drink for you.
The product experts at Reviewed have all your shopping needs covered. Follow Reviewed on Facebook, Twitter, and Instagram for the latest deals, product reviews, and more.
Prices were accurate at the time this article was published but may change over time.