Smart Home
The Best Smart Indoor Security Cameras
Image quality isn't all that counts when it comes to keeping your home safe.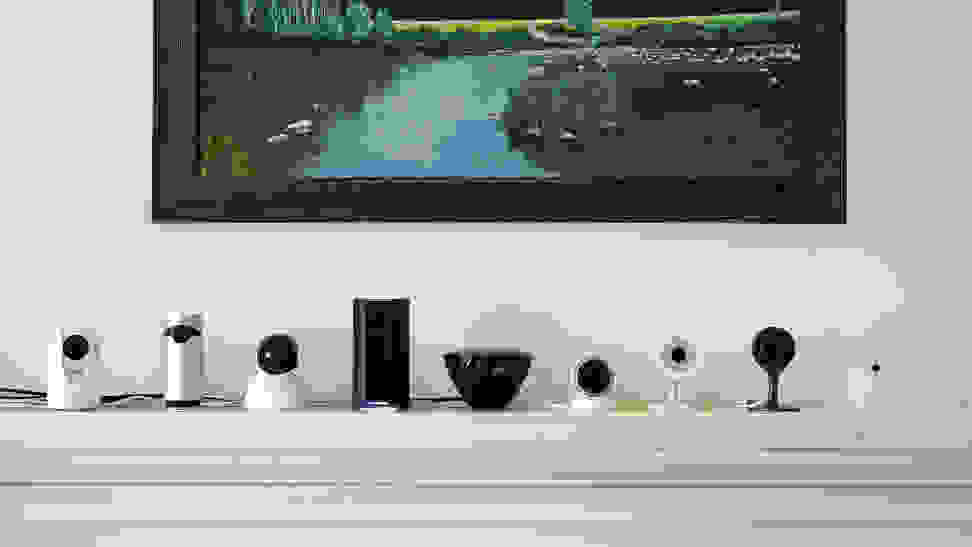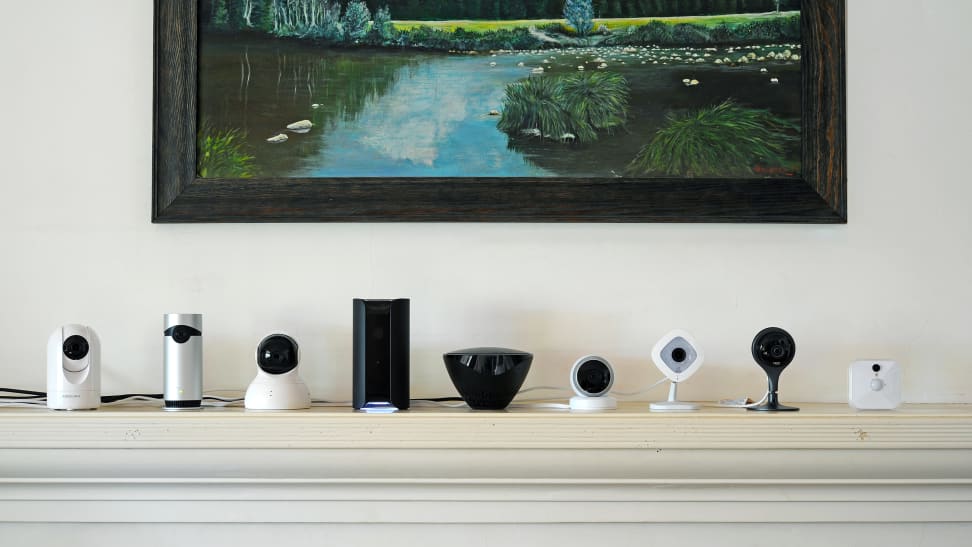 Credit: Reviewed.com / Ben Keough
Over the past few years, home security cameras have come a long way from their direct-to-VHS origins. Today's security cameras are smarter, using motion detection to tell when something unusual is happening and WiFi connections to send you phone alerts. They even back up clips to the cloud, so if a thief steals your camera, you could still have the evidence you need without local storage. Smart cameras also boast two-way communication, flexible scheduling, and even integrations with smart home platforms like Amazon Alexa and Google Home.
But not all smart security cameras have the features you need, and some do a better job of implementing them than others. Then there are costs to consider—both the up-front purchase price and the ongoing cost of a subscription service. That's where we come in.
Over the course of several weeks, we tested 11 of the most popular smart indoor security cameras on the market. Through everyday use and controlled tests, we checked for image quality, reliability, customizability, and features, then analyzed how much they'll cost you over the long term. When all our testing and analysis was complete, it was clear that Logitech's Circle 2 (available at Amazon for $187.00) is the best indoor security camera to get.
If you're looking for outdoor security cameras or cameras that act as video baby monitors, check out those respective roundups. And if you'd like to see our other top picks for indoor cams, keep reading below.
These are the best indoor security cameras we tested ranked, in order:
Logitech Circle 2
Yi Dome Cam
D-Link Omna HD
Foscam R2
Nest Indoor Cam
Wyze Cam v2
Wyze Cam Pan
Kasa Cam
Netgear Arlo Q
Canary All-in-One Security Cam
Blink Cam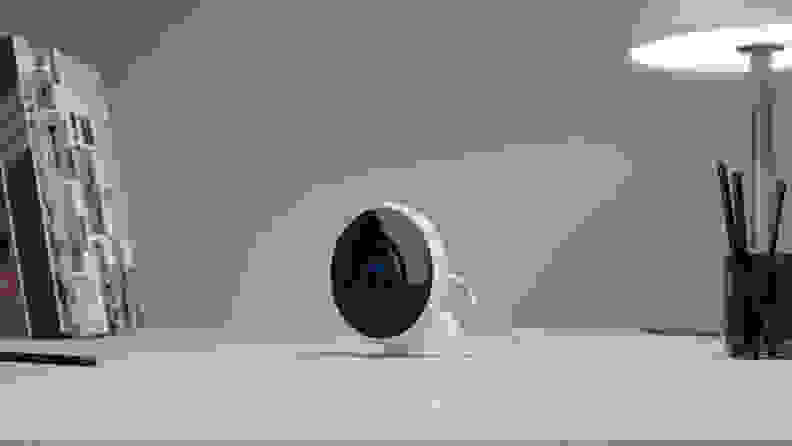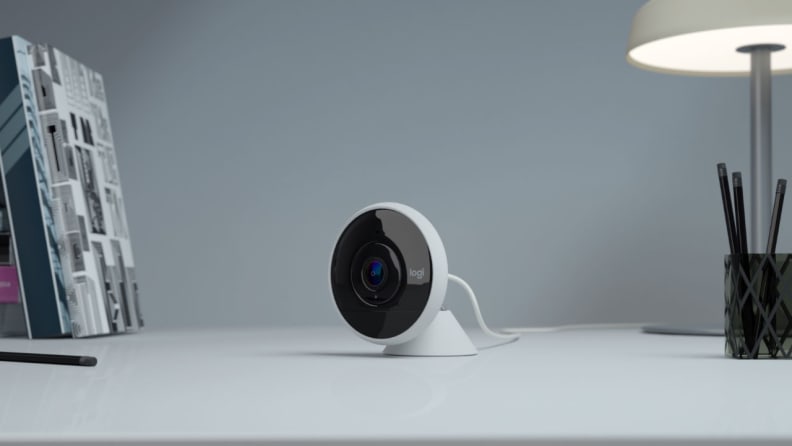 best overall
Logitech Circle 2
The first-generation Logitech Logi Circle was our favorite indoor security camera for its easy setup, wire-free convenience, free 24-hour cloud storage, and well-designed app with its clever Daily Brief feature that creates a montage of the day's events. The new Logi Circle 2 keeps all of that, although we tested the wired version this time, which has to stay plugged in. Logitech also makes a version of the Circle 2 that's a wireless home security camera. (available on Amazon), however, we haven't tested it yet.
The Circle 2's night vision is much improved from the first version, which required total darkness to switch into night vision. The camera also supports Apple HomeKit, which is rare for a security camera, as well as Alexa, Google Assistant, and the clever Logitech Pop buttons. HomeKit setup was a little frustrating since it required unplugging the camera and removing its cover to find a very tiny 8-digit code I had to type into the Home app, then plug the camera back in very quickly to make sure the Home app could find it. Most HomeKit gadgets have an easily scannable code somewhere much more accessible.
Overall, the app is incredibly easy to use. It's always in landscape mode, which took a little getting used to, but it opens quickly to the live view and places color-coded circles on the right side that represent motion-triggered recordings. Blue circles are likely to have a person in them, and you can create a highlight reel called the Daily Brief that stitches the day's most interesting footage into a montage.
It's easy to save clips and photos to your device's camera roll for sharing, too, and we love how push notifications come with preview images so you can see at a glance if you need to open the app and view the whole clip. The Circle 2 includes free 24-hour storage, and you can upgrade to a Basic plan that includes 14-day storage starting at $3.99/month or Premium, which offers 31-day storage and a handful of other advanced features starting at $9.99/month.
Logitech's Circle 2 is no bargain compared to low-cost options like Yi Dome Cam or the Wyze Cam (you could install nine Wyze Cams for the cost of one Circle 2, and never pay storage fees), but if you want the best security camera that has an easy-to-use app and/or you're a HomeKit household,this camera is your best bet.
Pros
Wire-free setup

Works with Alexa, Google, and Siri

Easy to save clips and photos to your camera roll
Cons
Tricky setup process

More expensive than other similar options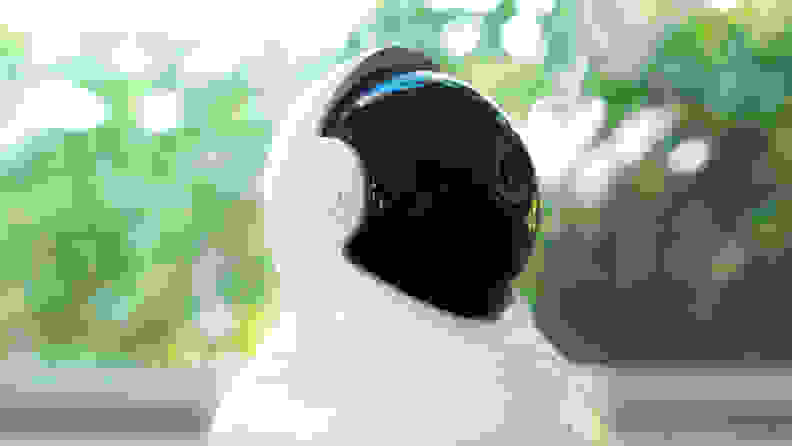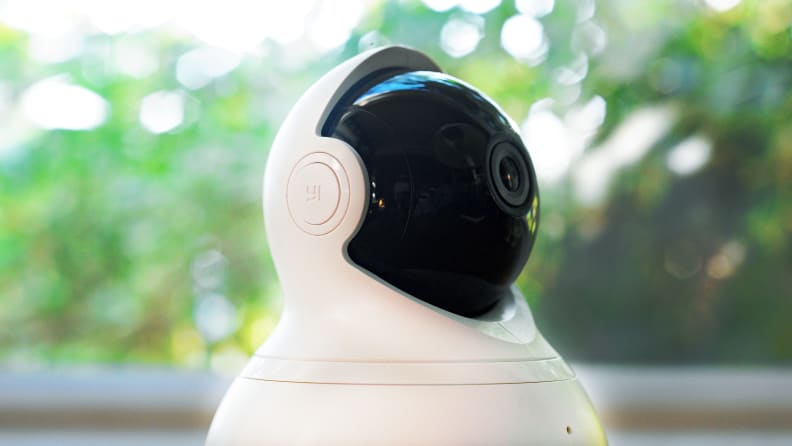 best value
Yi Dome Camera 720p
Editor's Note: We are in the process of testing the new Yi Dome Cam, and will will be updating this guide with the results soon.
Yi made a name for itself with affordable yet high-quality action cameras, but it also makes a variety of home security products. The 720p version of its Dome Cam can be found for around $35 now that a newer 1080p version is out, but even at 720p, the video quality is very good. The only camera that beats the Yi Dome Cam 720p on price is the $20 Wyze Cam, but the Dome Cam has a lot more features that make it our pick for the Best Value.
The Yi Dome Cam is one of two models we tested that can pan and tilt via remote control. You simply open the app and use the on-screen directional pad to tilt it up and down, left and right. The camera can spin 345 degrees horizontally and tilt 115 degrees, which more than makes up for the lens's slightly narrow 112-degree field of view.
It's also much better than the similar Wyze Cam Pan at locking onto subjects and tracking them as they move around. It's a little creepy, but useful if you want to document a thief's movements or figure out how your dog keeps getting up on the kitchen counter. You can also bookmark up to 10 camera positions and have the camera move between them automatically, or schedule continuous panning.
Setup is mostly painless, and image quality is very good, especially considering it's only 720p. In addition to seven days of free cloud storage, you get a microSD card slot for local backups. We also liked the two-way speaker, which is much louder and clearer than most rivals. The Yi app provides plenty of in-depth customization, but isn't as simple or nice to use as Logitech's; it's fine for techies, but your aunt might find it confusing.
Pros
Clear, two-way speaker

Camera pans and tilts via remote control

More affordable than other similar options
Cons
App can be difficult to use
How We Tested
The Tester
Hi, I'm Susie Ochs. For several years, I've tested and reviewed tech products for Reviewed, as well as Macworld, TechHive, PCWorld, Tom's Guide, and MacLife.
The Tests
To find the best indoor security cameras, we originally researched the market and purchased and tested eight cameras from the top brands. After a few new options emerged on the market, I retested our winners and pitted them against five new cameras to see if any new contenders could oust the current winners.
I installed each in my house, making notes about the installation procedures, in-app setup process, and reliability. Testing included several days of regular use, evaluating video quality, audio quality, responsiveness, and network reliability, and app usability on a numerical scale.
A big trick with security cameras is getting the notifications dialed in, so you're alerted to the things you want to know about without being bombarded with notifications every time the wind flutters a curtain. So I tested the sensitivity controls for each home security camera, whether or not they support motion zones, and how quickly they alerted me to people and noise.
I also installed the apps on both an iPhone X and a Galaxy Note 8 to determine if the app experience was identical across platforms, and tested how quickly each app began the live stream.
What You Should Know About Smart Indoor Security Cameras
The first question you should ask yourself is why you need a smart indoor security camera. Do you live in a dicey area? Are you looking to check in on your pets or children? Not only do the best indoor security cameras monitor your house, but some of them can also even send a live video feed to your smartphone.
This may seem obvious, but you should never install an indoor camera outdoors. That's because outdoor cameras are designed to handle different temperatures and heavy rain/strong wind. Indoor cameras just aren't durable enough. They also blend in with the environment rather than stick out.
Depending on your needs, you may want to opt for a camera with a wide field of view. This is good if you want to watch more than one room. A camera with a 180-degree field of view, for example, will capture a larger area than a camera with a 100-degree field of view.
The next thing you should consider when selecting a home security camera is picture quality. While a 720p resolution is considered standard, it's not going to be as clear as a 1080p (full HD). If it's sharp details you're after, we'd recommend opting for the Foscam R2 camera, which is listed below. If a clear picture doesn't matter to you, a camera with a 720p resolution is good enough.
Some cameras will store your footage in the cloud. That means it's stored on a remote server instead of a memory card. Not only does cloud storage safely back up your footage, but you can also access your clips anywhere. This may make things more convenient, sure, but you'll probably have to pay a monthly fee for it.
---
Other Indoor Security Cameras We Tested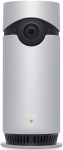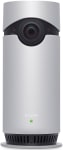 D-Link Omna 180 Cam HD
The D-Link Omna 180 Cam HD is the only Apple HomeKit-enabled indoor security camera in this roundup and as a camera, it's the best we tested. The lens is phenomenally wide at a full 180 degrees, and razor-sharp edge to edge. Compared to a camera like the Blink Cam, which offers a mere 110 degrees, it's almost like getting two cameras for the price of one. Footage from the Omna 180 looks just as good at night as it does in daylight, too. The camera is easy to get running, thanks to HomeKit's simple setup process, and the app is pretty straightforward.
There's just one big hitch: notifications. To put it simply, once they're activated, there's no way to stop them aside from manually shutting them off. There's no notification scheduling, no snoozing, no nothing. They're just on or off. That wouldn't be so bad if there was a convenient on/off toggle, but no such thing exists; the option is buried deep in a submenu of a submenu, which makes it a chore to enable and disable. When you add in the fact that the Omna HD only works on iOS and that it's the only camera we tested that doesn't offer some sort of cloud storage option (all videos are saved to a microSD card instead), you've got a recipe for a camera not many people will want to buy, despite the awesome optics.
Pros
Works with Apple HomeKit

180-degree wide lens

Sharp day and night video
Cons
Alerts must be manually shut off

Only works with iOS devices

No cloud storage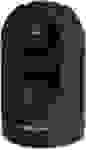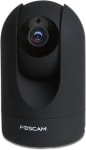 Foscam R2
The Foscam R2 is functionally very similar to the Yi Dome Cam, with a few key differences. First, it requires a wired connection for setup. It's not immediately clear why that's necessary for a camera that works over WiFi, but there you are. While the setup is more onerous than most, it's not super complicated—we got it up and running within 15 minutes, with only a couple missteps. Second, while the R2 can pan and tilt, it doesn't have the subject tracking functionality of the cheaper Yi. Third, it's 1080p, while the Yi is limited to 720p. (However, Yi also makes a 1080p Dome Cam that's quite a bit cheaper than the Foscam R2.)
Almost everything we liked about the Yi Dome Cam is here, so if the Yi's are out of stock and you like the sound of its features, this is a good backup pick. The apps are nearly identical and equally usable. The R2's image quality is very good at 1080p, and the onboard speaker is nice and loud. The cloud storage options aren't quite as generous as Yi's, however, which is another reason it's not one of our top picks.
Pros
1080p video quality

Loud and clear speaker
Cons
Lack of cloud storage options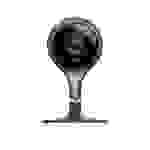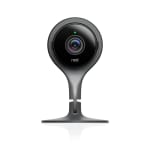 Nest Cam
We loved Nest's outdoor security camera, so it came as a bit of a surprise that the Nest Cam Indoor lagged so far behind in our testing. There's nothing particularly wrong with it: It produces very good video and offers great two-way audio, it's well-built, easy to set up, and the app is among the best in the business. It just doesn't stand out among these cameras like the outdoor version did among its rivals.
The Logi Circle, Foscam R2, and D-Link Omna all shoot sharper clips. Logi's app is even easier to use than Nest's sleek, but aging, software. It took longer to start streaming than several other cameras. And while others offer at least a day of free cloud backups, Nest doesn't offer any cloud storage or facial recognition without a subscription plan. The list of near misses goes on and on. If you're already invested in the Nest ecosystem, by all means, go ahead and grab a few of these. (Especially if you've already bought into a Nest Aware subscription.) But if you're not, there are better values out there.
Pros
Clear two-way audio

High-quality video streaming
Cons
No free cloud storage

Delayed streaming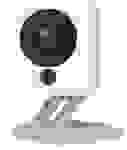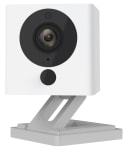 Wyze Cam v2
With its low price, you might expect this security camera to be a piece of junk. The Wyze Cam is not. With 1080p resolution, easy ways to schedule alerts and adjust the sensitivity, and a genius feature that can notify you if your smoke alarm or carbon monoxide alarm goes off, this camera has everything most users would need, and it only costs $26.
The Wyze Cam's field of view is a lean 110 degrees, the smallest of any camera we tested, but with its low price and with no cloud storage fees, you could always add more cameras for more coverage. The Wyze Cam is easy to adjust and light enough that you don't need screws for mounting, just the included magnetic plate that sticks to your wall or ceiling with adhesive.
Wyze Cam captures video in 1080p, 720p, or 360p, and shows you how much bandwidth you're using at all times. The video quality is very good, with just an occasional stutter in the live stream when viewing it at 1080p. Night vision was adequate once it kicked in, and a button on the live view lets you engage it manually if the Auto feature is struggling to keep the camera shooting in color when there isn't enough light for it.
The app could be a little better organized. Its controls and settings are easy to use, but notifications and the videos you saved yourself are kept in two different places, which isn't that intuitive.
Still, we're willing to forgive these shortcomings since Wyze Cam gives you 14 days of rolling cloud storage for free to save motion clips, and has an SD card slot if you want continuous recording. It's not perfect, but there's a lot to love.
Pros
1080p resolution

More compact than similar options

14 days of free, rolling cloud storage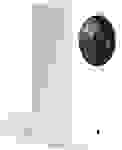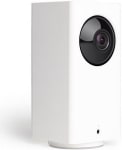 Wyze Cam Pan
Wyze offers a panning camera too, and it has the same free 14-day cloud storage as the Wyze Cam v2, but we prefer the stationary camera. While the Pan camera can track motion, its movement was choppy, struggling to keep up with my family members as they walked through the room. It can also cycle through four preset camera positions, but the smoother-panning Yi Dome supports up to 10.
The audio on the Wyze Cam Pan also didn't live up to the Wyze Cam v2, with a longer delay and less volume. If you need panning, check out the Yi Dome instead, or just stick up multiple units of the Wyze Cam v2 to watch multiple locations from one app.
Pros
14 days of free, rolling cloud storage
Cons
Struggles to track motion

Delayed streaming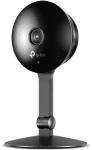 TP-Link Kasa Cam KC120
The black metal Kasa Cam looks great, and its high-quality video makes your house and family look good too. It's the best footage we've seen, with realistic colors and balanced lighting.
Sadly, the app doesn't quite live up to the camera's quality. The setup process is a little clunky, and the app oddly doesn't let you take photos or videos from the live stream. Streaming started the slowest of all the cameras we tested, and when you're using two-way audio, the app waits for you to finish talking before sending everything you said to the camera's weak speaker in one chunk, leading to awkward delays.
Pros
1080p video

Stylish design
Cons
Clunky setup process

Slow streaming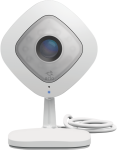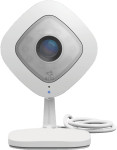 Netgear Arlo Q
Like the Nest Cam, Netgear's Arlo suffered in the move indoors. Once again, it was simply outpaced by cheaper, more capable rivals like the Logi Circle and Yi Dome Cam. The app took a surprisingly long time to start streaming, and had more of a delay than most other cameras we tested; sometimes the stream would lag more than a minute behind real-world events. It's worth mentioning that we tested these cameras on a weak WiFi network, but all were tested under the same circumstances. While others coped with the conditions, the Arlo Q stumbled.
But it's not all bad. The Arlo Q is well made, with a physical design much like the Nest Cam Indoor's. Setup is simple, and the app—while far from being as intuitive as Logi'sor Nest's—has lots of options for those who like to really tweak their setup. Perhaps the best thing about the Arlo Q is that Netgear offers a full week of cloud backups for free. That makes it a pretty good bargain—as long as you have a good router and internet connection, anyway.
Pros
Free cloud storage for 7 days

Sturdy design

Easy-to-use app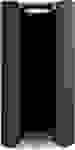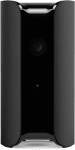 Canary All-in-One Home Security System
Canary's flagship security camera is pretty (it reminded us of the monolith from 2001) and the app is good-looking, too. The camera also houses a very loud siren, which is a great feature if you need to scare off an intruder or play a prank on your family. (Just kidding! Don't do this. It's really loud.) The device starts streaming quickly and image quality is good, if not great. It's also very good at recognizing when you're home and when you're not, putting the camera in the right mode based on that info. There are other neat customizations, like a feature that auto-populates local emergency phone numbers so you can dial with one click. Still, the app is short on options—you can't customize much at all—and the camera is missing features common on other devices, like two-way audio. Given the relatively high asking price, there are simply better options.
Pros
Loud siren to scare off intruders

Fast streaming

High-quality video playback
Cons
Lack of two-way audio

Lack of customizable features
Blink Camera System
Blink gets a lot of love from the DIY security crowd, and it's easy to see why. Its cameras are small, they run for years on readily available lithium AA batteries, and they're relatively affordable. (You can get three cameras and a sync module for a fraction more than most cameras in this list go for alone.) That means you can put them just about anywhere in your house without worry, or so you'd think.
Unfortunately, in our experience, setup was a pain, the Blink app was an ugly, buggy mess, and live streaming took forever to start, often failing entirely. (Get used to seeing "System is busy, please wait.") If you don't care about live streaming and just want motion-triggered clips, the experience is better. Despite its 720p resolution, the Blink Indoor Camera produces very nice footage, and you get free cloud storage for up to 1,440 five-second clips. The clips are easy to retrieve, download, and share, too.
Pros
Runs on lithium batteries

More affordable than similar options

Clear, 720p resolution
Cons
Difficult setup process

Delayed streaming
More Articles You Might Enjoy
Up next
Get Reviewed email alerts.
Sign up for our newsletter to get real advice from real experts.