If you have a smart thermostat in your home, it's likely a Nest Learning Thermostat. While Nest may be the big name, there are many up-and-coming products in the smart thermostat game. One of those is the Glas Smart Thermostat (Check price on Amazon), made by global giant Johnson Controls.
Johnson Controls literally invented the room thermostat 135 years ago, and now it has brought to the home a smart thermostat that is as much brains as it is beauty.
Read more: The Best Smart Thermostats of 2018
It's beautiful
Glas is, as its name would suggest, a see-through panel that is touch sensitive and displays text and graphics like a tablet. It has Cortana built in, so you can speak directly to the Glas thermostat to adjust temperature, ask Cortana anything, and now even access Alexa by saying, "Hey Cortana, open Alexa."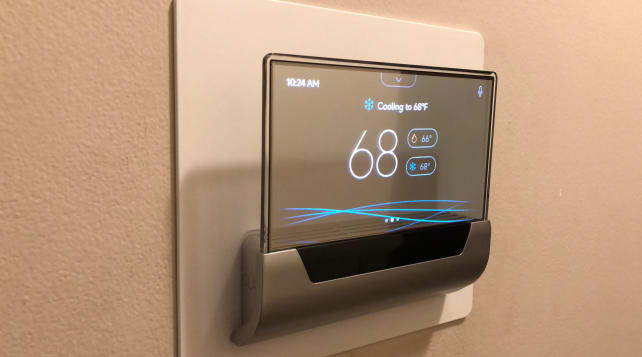 The Glas is a self-contained smart speaker. The speaker on Glas is definitely not high enough quality for playing music, but it's sufficient for getting responses from Cortana and Alexa. Look at the best Amazon Echo smart speakers if you're looking for good sound quality.
It's helpful
Both the Glas thermostat and its accompanying app give users data about indoor and outdoor temperature, air quality, humidity levels, and the amount of energy the thermostat has saved you over the last week.

It's slow
One major gripe I had with the Glas after being accustomed to the Nest was the amount of time it takes for the Glas app to connect to the thermostat. From the moment I tap the app icon on my iPhone X to the ability to adjust the temperature, 15 to 20 seconds elapse. That's way, way longer than the load time of the Nest app. Granted, this is more of an annoyance than a deal-breaker, and hopefully future updates will streamline the login and connection time.
It's not great with complex schedules
Another thing I missed about my Nest was the lack of ability to create complex schedules. We keep strange hours at my house, as my husband's shift at work requires him to get up at 1:30am, I work from home, and we have three kids who go to sleep and wake early. I like the house colder after my husband leaves, and I like it to heat up as I'm getting out of bed. With Nest, I could create as many scheduled temperature changes I wanted, and that schedule could be different every day.
Glas allows for a different schedule every day, but you can only schedule "Home," "Away," and "Sleep" sessions. That's probably fine for families with more regular schedules, but I missed my ability to set the temperature to 66 degrees an hour before bed, 64 degrees when my husband left for work, 68 degrees before my alarm… you get it.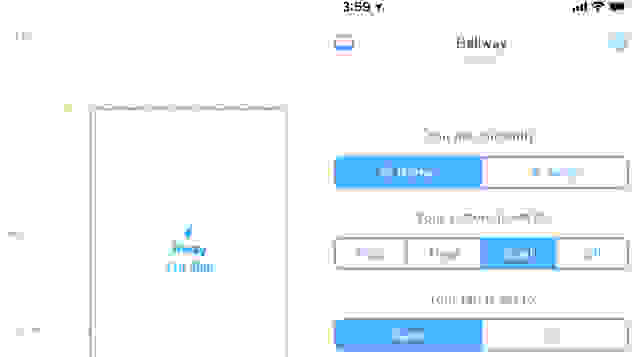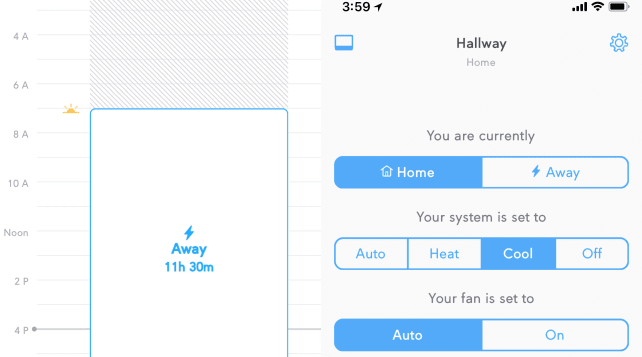 It keeps our air fresh
But I absolutely loved Glas's ability to run the fan continuously or every so often if the air quality isn't great. It also reports on outdoor air quality, so I knew which days I could open up the windows without aggravating my allergies.
Should you buy it?
If your thermostat lives in a common area, the built-in voice assistant could turn out to be a big plus. But if the thermostat is in a hallway and out of earshot, like it is in my home, the smart speaker capability may not get used much. Glas is undeniably beautiful, and the clear display means it will easily blend with any aesthetic (even the not-so-pretty, optional backplate can be painted). It comes with a C-wire adapter and the installation process is easy.
It's about $100 more than the Nest, and often you can get a Nest heavily discounted or free from your energy company (that's how I got mine). If you'd like to be able to access Cortana on your thermostat and you want more control over our home's air quality, Glas is worth the extra expense. But if you're just looking for an easy-to-use thermostat that learns your preferences over time, the Nest is sufficient.
Our editors review and recommend products to help you buy the stuff you need. If you make a purchase by clicking one of our links, we may earn a small share of the revenue. Our picks and opinions are independent from any business incentives.