The Best French Press Coffee Maker of 2019
By Sarah Zorn, Updated March 25, 2019
In a world full of coffeemakers—percolators, pour-overs and standard automated drip machines—why bother with French presses? Admittedly, they require a bit more active work than other models. Using them during your morning routine will generally involve water boiling, vigorous stirring, waiting, and plunging; not to mention ideally coarsely grinding your own beans. But for that satisfying taste and a barista-worthy cup of joe, many coffee enthusiasts will say, it's hard to beat a French press.
So, which French press makes the best cup of coffee? After researching some of the most popular on the market, we narrowed our search and compared 12 of the best French presses by making nearly 150 cups of coffee. Our favorite? The SterlingPro's SS Double Wall Cafetiere (available at Amazon), because it's able to effortlessly turn out sizable amounts of super smooth java (and keep it hot for extended periods of time), at an extremely reasonable price. But it's only one of the dozen models we tested.
Here's how the best French presses ranked, in order:
SterlingPro SS Double Wall Cafetiere
Kona French Press
Espro P7
Oxo Venture
Frieling 23 oz. Stainless Steel French Press
Bonjour Ami Matin
Bodum Brazil
Café du Chateau French Press
Secura 8 Cup French Press Coffeemaker
Le Creuset 27 oz. Stoneware French Press
Oxo Easy Clean 12: Bodum Chambord
Advertisement - Continue Reading Below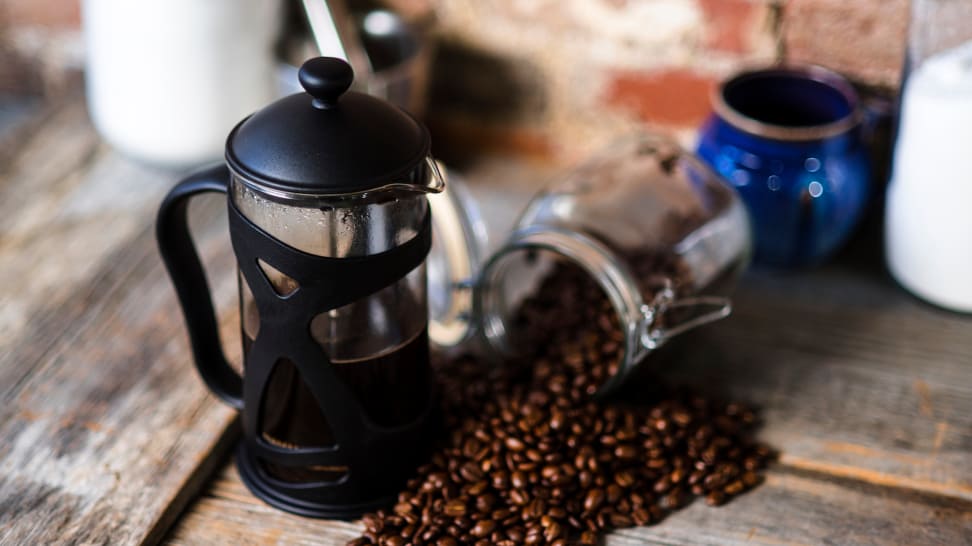 How We Tested
The Tester:
I'm Sarah Zorn, and I've been a food writer and editor for almost 10 years. Like most busy professionals, I almost exclusively function on coffee. And testing 1-plus French presses almost allowed me to hit my daily quota of caffeine.
The Tests:
We made three separate batches of coffee in each machine, using the same method (3 cups boiling water to 1 tablespoon coarsely ground coffee. Combine in the canister, stir thoroughly, let sit for four minutes, and plunge). We assessed subjective questions, such as how easy it was to use the press and plunger, how comfortable it was to hold and lift the press when full, and how simple the press was to clean. We also addressed objective questions, including if there were any grinds in our coffee, the quality, build and durability of the press, whether there were visible measurement marks, if we had any safety concerns, and our overall experience with each unit. We also evaluated how easy it was to froth milk in each press, using the same method (heat 1 cup of milk for 40 seconds in the microwave, place in canister, and plunge 30 times).
What You Should Know About French Presses
Patented back in the 1920's, the current design hasn't changed much over the years. Basically, French presses consist of a lidded canister (made of various materials), fitted with a retractable plunger equipped with metal or plastic filter. After sitting for four minutes or so in heated water (approximately 200 °F), the plunger is used to press and trap course grounds against the canister base, extracting flavor into the water that surrounds it, while the filters prevent spent grounds from escaping into your cup.
So why go the French press route? While paper filters used in other coffeemakers aid in cleanup, they also prevent the tastiest coffee bean oils and essences from making it into your mug. Other kinds of coffeemakers like percolators and drips operate in heat extremes—they come to a boiling point in minutes, then precipitously drop. The slow and steady nature of the French press is precisely what makes the most of the coffee beans; treating them like tea by allowing them to steep before sipping. And in addition to being pretty (and sounding fancy), French presses (known as cafetieres in Europe) actually come in a range of wallet-friendly prices. You can spend as little as $20 for a brewing machine that makes tasty coffee, takes up less counter space, and is more portable than percolators, pour-overs or drip hardware.
The primary factor that sets French presses apart from each other is what material they're made from: stainless steel, glass, plastic, or stoneware/ceramic. So, it's up to the purchaser to decide where their priorities lay when it comes to selecting one. (As is size. two, eight and 12-cup capacity are the most common).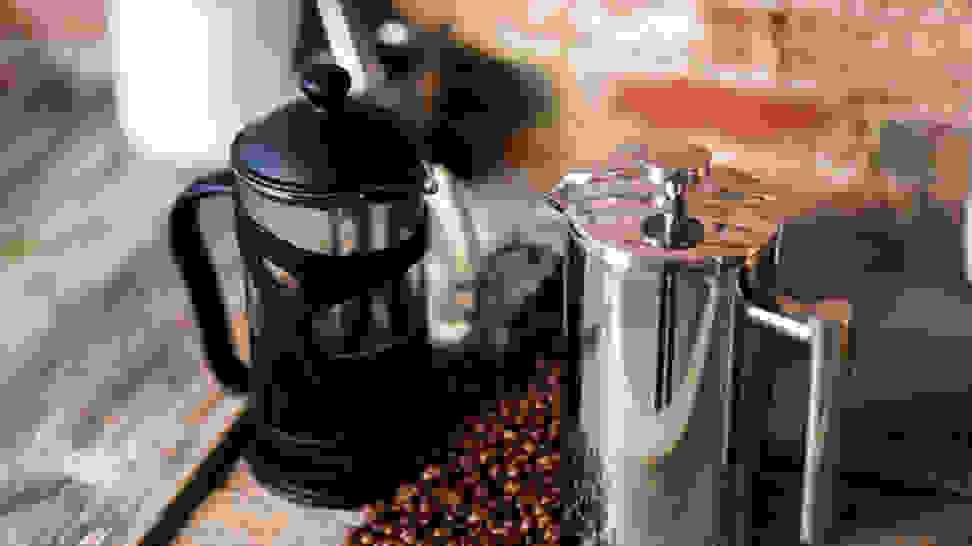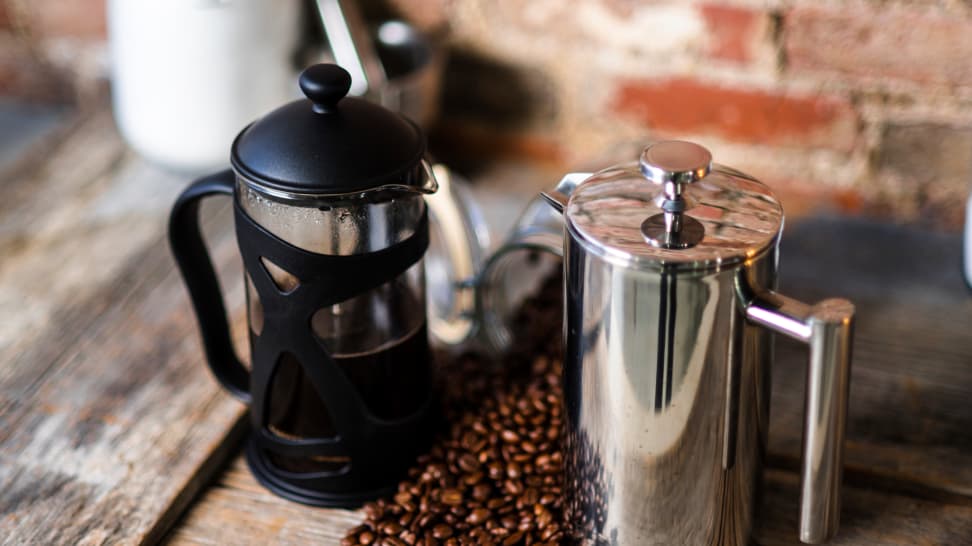 Stainless steel has excellent heat retention and is generally the most durable. We've also found that it's the best performer by far for frothing milk. Stainless-steel presses tend to be expensive though, are rather heavy, a touch less attractive, and you can't actually see the coffee inside.
Glass is attractive and lightweight and generally doesn't transmit off flavors to the coffee. Depending on the model, however, the outside of the carafe often gets hot to the touch, increasing the risk of scalding and burns. They also break easily. Look for models with an outer frame (either metal or plastic) that will help guard against burns and increase durability.
Plastic (it's best to look for BPA-free) is inexpensive, lightweight and portable, making presses easy to take on trips or to the office. It doesn't break as easily, but lower-priced models often aren't made from especially durable parts, so the mechanisms can break down over time. Look for models with an outer frame (either metal or plastic) that will help guard against burns and increase durability.
Stoneware and ceramic looks beautiful in the kitchen, doesn't transmit off-flavors, and has pretty good heat retention (although again, be careful of touching the carafe with your bare hands). It's highly breakable though, and heavy, especially when full of coffee, so dropping could be disastrous. Stoneware/ceramic models also tend to be on the expensive side.
In addition to the materials the carafe is made of, it's also important to assess the plunger, which is instrumental to using a French press. It should move up and down easily, and the filter should ideally be made of metal, not plastic, as it's much more durable, and won't corrode or bend (especially when put in the dishwasher) over time. Speaking of dishwashers, because of all their parts, French presses can be tricky to clean. So look for models that are dishwasher safe, or allow the filter to be separated from the plunger, so you can effectively remove the coffee grinds.
---
Other French Presses We Tested:
Advertisement - Continue Reading Below