Kitchen & Cooking
The Best Kitchen Knives
These essentials are a slice above the rest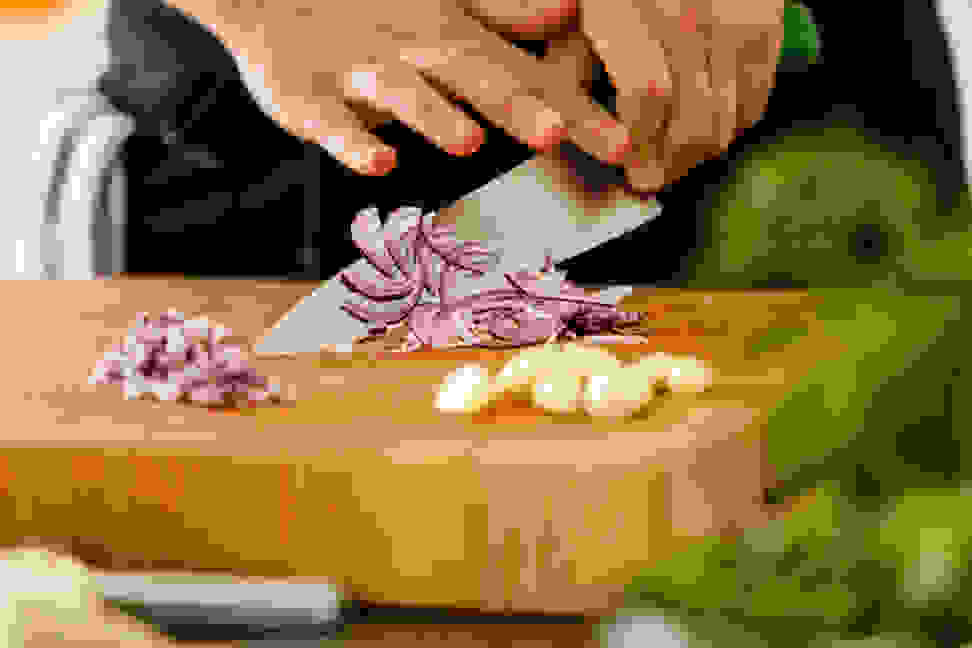 Credit: Getty Images
Ask any chef what the most important piece of kitchen cutlery is, and the answer will most likely be a good, properly sharpened kitchen knife. So, we've spent lots of time chopping, slicing, dicing, and sharpening to find the best knives and knife sharpeners for your home kitchen. Whether you want to buy your knives individually (for everyday cooking, we suggest you'll need a good chef's knife, a paring knife, and a serrated bread knife) or buy a full set of knives that includes some extras, here are the knives that topped our best of lists:
Best Chef's Knife: Zwilling Pro 8-Inch
Best Paring Knife: Wüsthof Classic 3 1/2-Inch
Best Serrated Bread Knife: Shun DM0705 Classic 9-Inch
Best Boning Knife: Wüsthof Classic 6-Inch Flexible
Best Fillet Knife: Zwilling J.A. Henckels Twin Four Star II 7-inch Fillet Knife
Best Knife Sharpener: Chef's Choice 15 Trizor XV EdgeSelect
Best Hand-Held Knife Sharpener: Chef'sChoice ProntoPro
Best Knife Set: Zwilling J.A. Henckels Twin Gourmet Classic (18 pieces)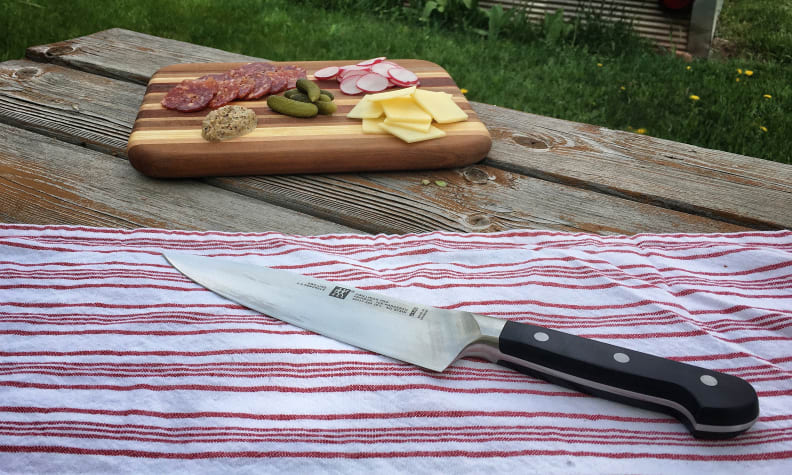 Best Chefs Knife
Zwilling Pro 8" Chef's Knife (38401-203)
J.A. Henckels is one of the most recognizable names in the knife making industry, so it's not surprising that this knife rose to the top of our list. The Henckels Zwilling Pro is a serious workhorse, pulling ahead of the pack in nearly every one of our tests and earning the top spot as Best Overall Chef's Knife.
This high-carbon German steel knife weighs in at 9.5 ounces, making it one of the heftier knives we tested. The weight gave it the strength to handle the heavy-duty tasks we threw at it, cutting through butternut squash with ease. A heavier knife can be less adept at precise cuts, but the Zwilling Pro has a super sharp edge that sliced up a tomato without issue. The design of the wide, tapered bolster made this knife easy to grip and seriously comfortable to use.
Overall, this is a really solid, well-balanced blade with excellent control, allowing you to confidently work through large cuts with precision and comfort. It's a perfect starter knife for beginners and would make a great addition to any pro's knife collection.
Pros
Durable and heavy

Easy to hold and maneuver

Well-balanced blade
Cons
Slightly too heavy for very precise cuts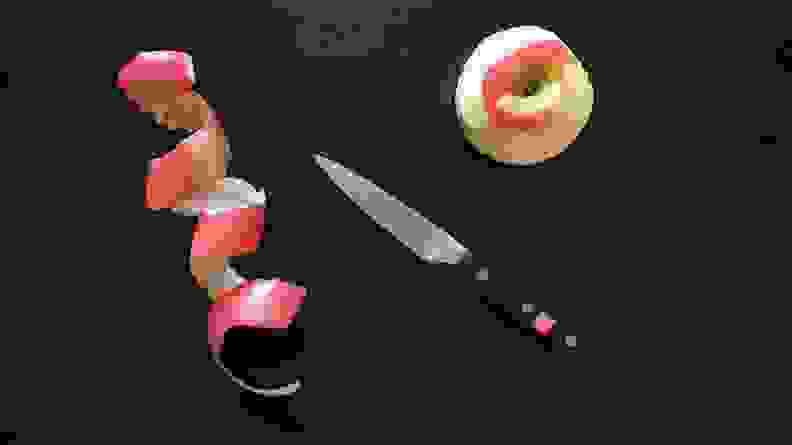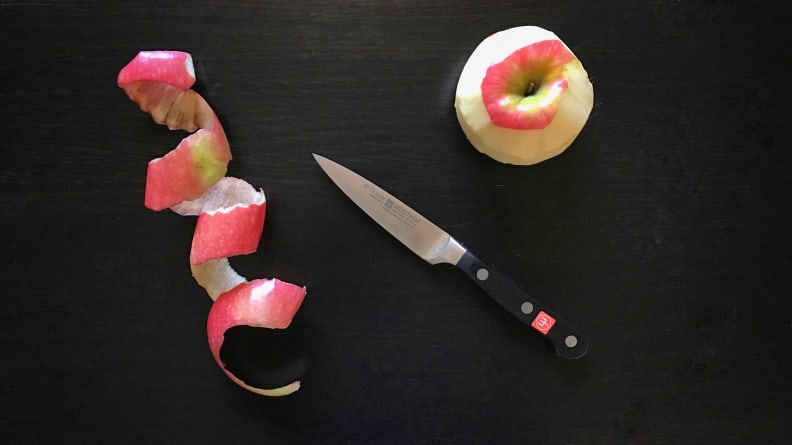 Best Paring Knife
Wüsthof Classic 3 1/2-Inch Paring Knife
The Wüsthof Classic 3.5-inch High Carbon Steel Paring Knife is on the high end of knives we tested (coming in just under $50) , but it's completely worth it. It immediately pulls away from the pack with its perfectly balanced handle and streamlined design. It has great maneuverability and a high level of control. When the sharp blade made quick work of every task we threw at it (including a perfect apple peel and beautiful orange segments), we knew it was a shoo-in for our top paring knife.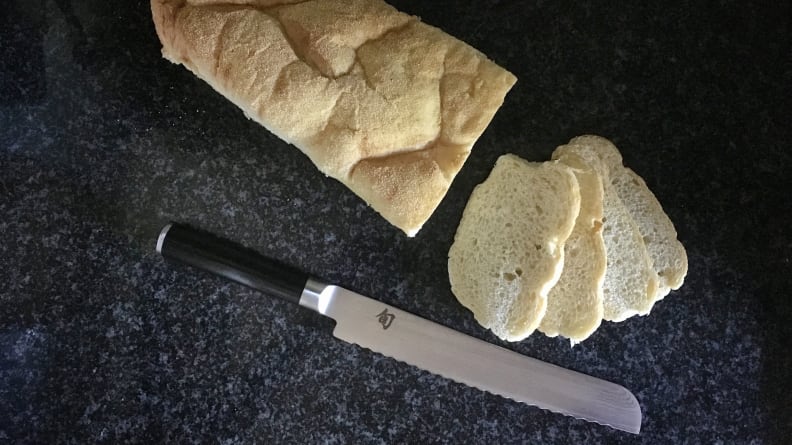 Best Serrated Bread Knife
Shun DM0705 Classic 9-Inch Bread Knife
To be honest, we were a bit wary of people who bought the Shun DM0705 Classic 9-Inch Bread Knife. "You spent how much money on a knife that you can't sharpen?" As it turns out, the joke's on us: This knife is a joy to use, absolutely acing our tests and earning an unprecedented perfect score. It slices through crusty baguette like butter and soft bread falls into perfect slices on the cutting board. The blade moves effortlessly through tomatoes, barely requiring any sawing motion at all. In addition to a high-performing, ultra-sharp blade, this knife is also completely gorgeous with a Damascus finish and an ebony PakkaWood handle. It might cost a pretty penny, but Shun also has a reputation for creating blades with super-sharp edges that stay that way for years.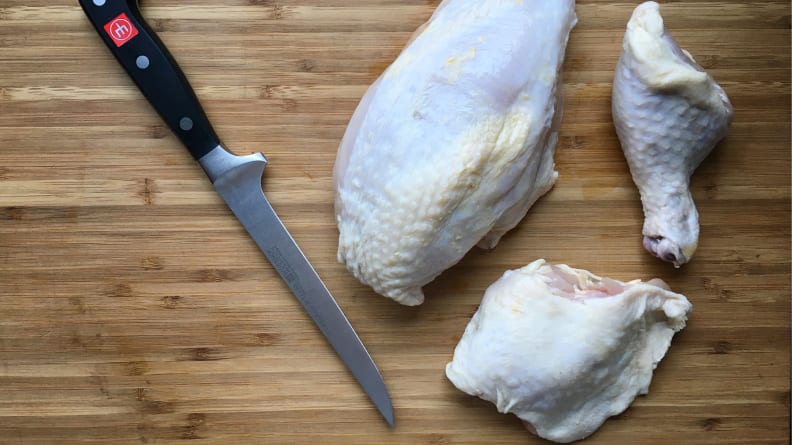 Best Boning Knife
Wüsthof Classic 6-Inch Flexible Boning Knife
We knew very early on in testing that the Wüsthof Classic 6-Inch Flexible Boning Knife would be a favorite. It's incredibly sharp and the blade is just flexible enough to weave around chicken joints with ease. Of all the knives we tested, this one got closest to the bone, sacrificing the least amount of usable meat as we carved. The thin blade can expertly remove the skin without creating any jagged edges. If you're looking to buy one knife that can work with meat, poultry, and fish, you definitely can't go wrong with this one.
Best Fillet Knife
Zwilling J.A. Henckels Twin Four Star II 7-inch Fillet Knife
We tested boning and fillet knives at the same time. So while our top two picks were boning knives, the Zwilling J.A. Henckels Twin Four Star 7-Inch High Carbon Fillet Knife came in third. Admittedly, we went into these tests thinking that the top five knives would all be boning knives. After all, the shape of a boning knife could fillet fish easily, while long, skinny fillet blades would have a difficult time working around chicken joints. Well, this fillet knife certainly proved us wrong.
Not only does it cleanly remove silverskin from pork tenderloin, it can also break down a whole chicken without issue. Our only gripe is that the long, straight blade is a touch awkward around the tinier chicken pieces like the wings, but the blade is flexible enough to make it work. In addition to all that, this knife is a fan favorite here at Reviewed, especially for removing fish skin. If you work more with fish than meat, this is definitely the knife to get.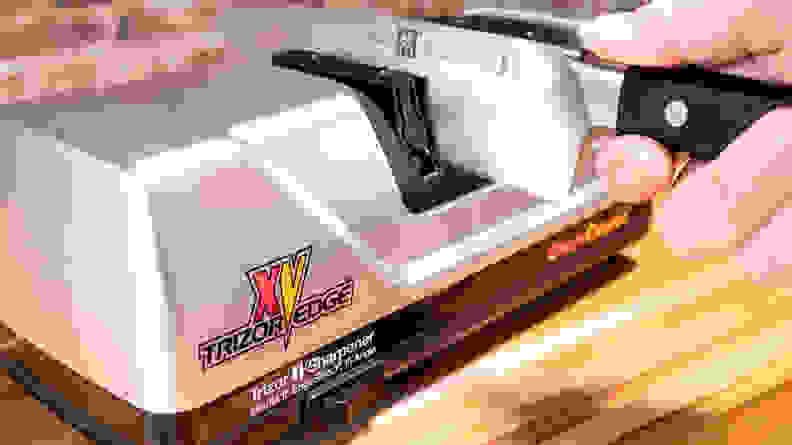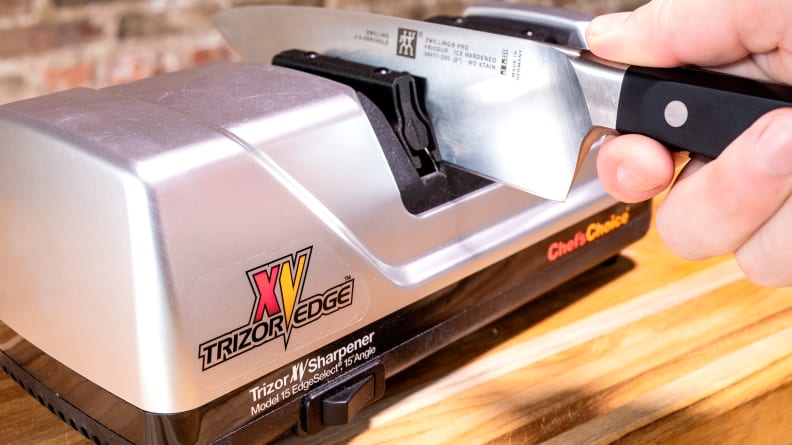 Best Knife Sharpener
Chef'sChoice 15 Trizor XV EdgeSelect
If you have a serious collection of pricey knives, this is the sharpener you want. The Trizor XV EdgeSelect (yes, it's a very silly name) has three stages of sharpening which gradually build up a smooth, even, incredibly sharp knife edge that glides right through a ripe tomato and will stay that way longer than blades sharpened by other methods. Because it's electric, the diamond abrasives in each stage move very quickly. That means they not only work faster but do a better job of fine honing. It's just about impossible to use the Chef's Choice incorrectly because guides hold your knife at the correct angle. The manual that comes with this sharpener is extremely thorough; if you're a real knife geek, you'll appreciate all the info about customizing your blade. You can also use the Trizor to sharpen serrated knives. While not large for an electric appliance, you will need to find some room for it in a cabinet or deep drawer.
Pros
Three-stage sharpening ensures a smooth, sharp edge

Holds knives at perfect angle

Can sharpen serrated knives
Cons
Takes up a good deal of counterspace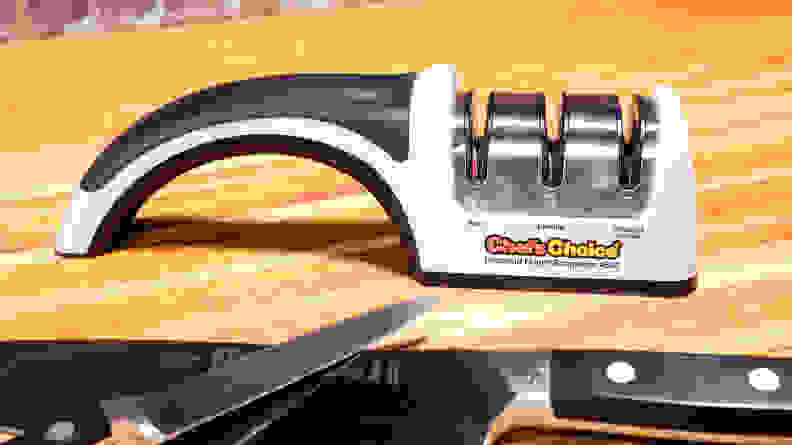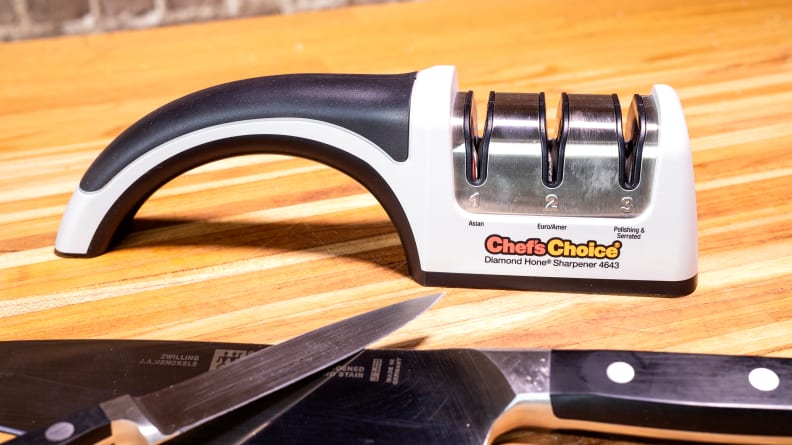 Best Hand-Held Knife Sharpener
Chef'sChoice ProntoPro
In a matter of minutes, this handheld model brings a totally dull knife back to life. There are trade-offs when compared to the Trizor XV EdgeSelect, however. It didn't produce as even an edge and, as you cut, the blade "bites" a little rather than glides. That said, the two-stage ProntoPro gave us a more refined and sharp edge than any other manual sharpener that we tested. And because you sharpen your knives in a back and forth sawing motion, it's also the fastest. Although the ProntoPro can be used by lefties, they'll find it somewhat inconvenient because the numbers on the slots are only visible when it's held in the left hand and the right hand is swiping the knife. It can be used for serrated blades as well and is small enough to stash in a kitchen drawer.
Pros
More compact than countertop models

Fast

Small enough to slip into a kitchen drawer
Cons
Finished blade edge is uneven
Best Knife Set
Zwilling J.A. Henckels Twin Gourmet Classic 18-pc Knife Block Set
When it came to overall value, it's hard to beat the Zwilling J.A. Henckels International Statement 15-Piece Knife Block Set. The chef's knife is lightweight and easy to wield while also being one of the sharper knives in the test group. The paring knife fits perfectly in our hands for off-the-cutting-board activities like peeling apples, and the serrated bread knife makes quick work at slicing crusty baguettes. This set also earns bonus points for including additional items, including a boning knife, kitchen shears, and steak knives.
After all our testing, it was easy to choose the Zwilling J.A. Henckels as our Best Overall knife set. It's a perfect set for a starter kitchen with all those bonus items, but the knives are also sharp enough to make it a great upgrade set, too.
This set includes seven knives (an 8-inch chef's knife, a 4-inch paring knife, a 2.75-inch tourne/peeling knife, an 8-inch serrated bread knife, a 6-inch utility knife, a 5-inch serrated utility knife, and a 5.5-inch boning knife) along with a honing steel, kitchen shears, eight steak knives, and a large, wooden block.
Pros
Great value

Sharpest Chef Knife we tested

Includes steak knives and kitchen shears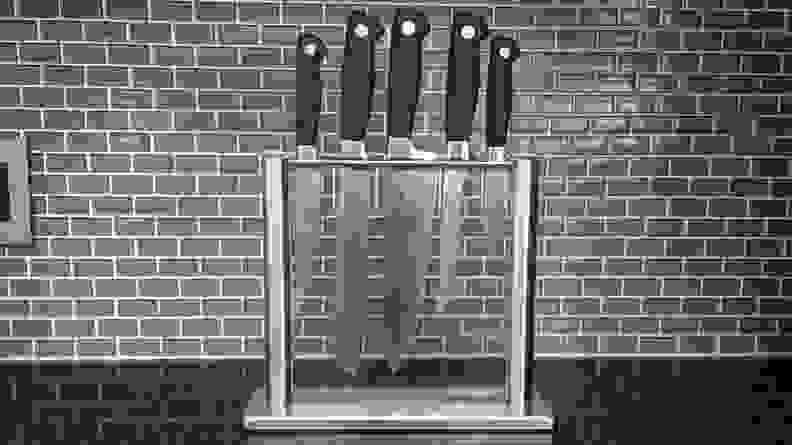 Best Knife Set Under $200
Mercer Culinary Genesis 6-Piece Forged Knife Block Set, Tempered Glass Block
It's easy to like the Mercer Culinary Genesis 6-Piece Forged Knife Block Set with Tempered Glass Block. The set provides the essential knives plus a bonus boning knife, although it's one of the few that didn't include a honing steel or shears. In the end, we found it hard to complain considering you'll receive five impressively sharp knives that performed as well as sets three times its price. In addition to the sharp blades, each knife has a great balance and we love the grip of the handles. To top the cake, the serrated knife is one of our favorites in the group.
After testing the knives, we can see why the Mercer brand is the common supplier of culinary school knife kits. Because of its performance and low price, it's easy to choose the Mercer Culinary Genesis as our Best Value pick.
This set includes five knives (an 8-inch chef's knife, a 3.5-inch paring knife, an 8-inch serrated bread knife, a 5-inch utility knife, and a 6-inch boning knife) which are stored upright in a thin, glass case.
Pros
Performs as well as more expensive sets

Great balance
Cons
Doesn't include honing steel or shears
The Testers
Lindsay Mattison, is a trained professional chef and outdoor enthusiast. During the summertime, you'll find her outside grilling burgers on the patio, cooking a pork shoulder on the smoker, or building a yakitori grill on my fire pit. No matter what she cooks or where she does it, sharp, reliable kitchen knives are a part of her culinary process. She knows what goes into a good blade and what makes for a bad one.
Sharon Franke, has been reviewing kitchen equipment for more than three decades. Before that, she cooked and baked professionally in New York City restaurants for seven years. Her knowledge of all things culinary runs deep.
---
More Articles You Might Enjoy
Up next
Get Reviewed email alerts.
Sign up for our newsletter to get real advice from real experts.