Kitchen & Cooking
The Best Paring Knives
Why do you need a paring knife? For small tasks that require a high amount of control.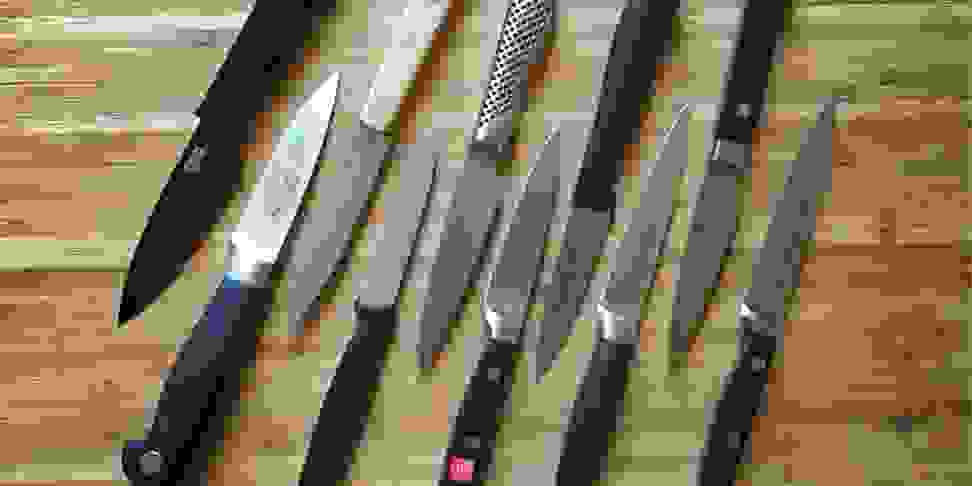 Credit: Reviewed.com/Lindsay D. Mattison
When it comes to essential knives, the paring knife is my number two pick. While the chef's knife might be a total kitchen workhorse, that paring knife is more maneuverable. It effortlessly handles precision-oriented tasks that often take place off the cutting board, like peeling apples and deveining shrimp. Given a choice of any knife, I'll reach for a sharp paring knife–like our top pick Wüsthof Classic 3.5-inch High Carbon Steel Paring Knife (available at Amazon for $49.95)–anytime I'm looking to make a cut that requires a high level of control.
Some cooks say that, since you don't use it as often, you should buy a cheap paring knife and replace it when it gets dull. That's certainly an option–and we've provided a few value picks that will fit that bill. But, after testing 10 top-performing 3- to 4-inch paring knives, we found that they're like most things: with one notable exception, you generally get what you pay for.
Here are the best paring we tested knives ranked, in order:
Wüsthof Classic 3.5-inch High Carbon Steel Paring Knife
Victorinox 3.25-inch Paring Knife
Global 3.5-inch Western Style Paring Knife
Mac 3.25-inch Professional Paring Knife
Mercer Culinary Genesis 3.5-Inch Forged Paring Knife
ZWILLING J.A. Henckels Four-Star 4-Inch Paring Knife
J.A. Henckels International CLASSIC 4-inch Paring Knife
Wüsthof Pro 3.5-inch Paring Knife
Kuhn Rikon 4-inch Nonstick Paring Knife Colori
Opinel No 112 4-inch Paring Knife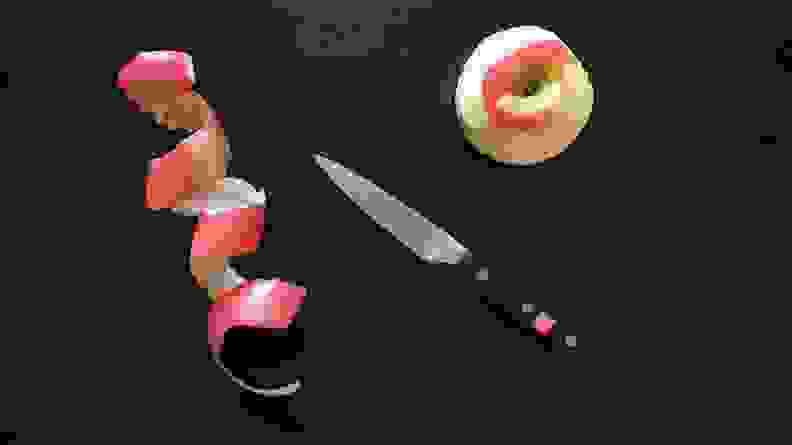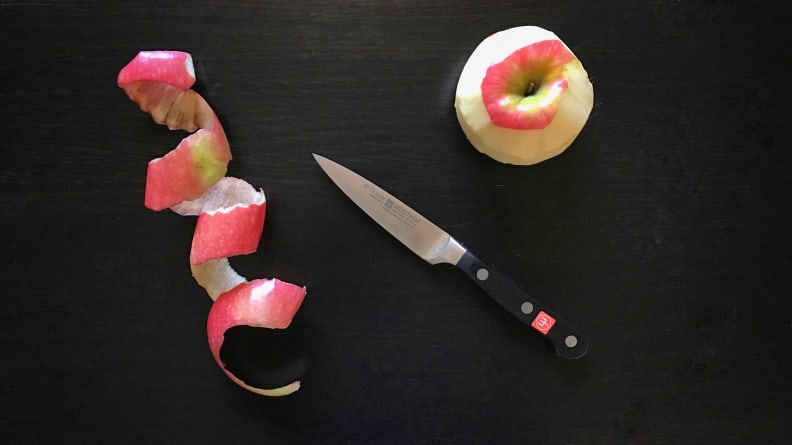 Best Overall
Wüsthof Classic 3 1/2-Inch Paring Knife
The Wusthof Classic 3.5-inch High Carbon Steel Paring Knife is on the high end of knives we tested (coming in just under $50), but it's completely worth it. It immediately pulled away from the pack with its perfectly balanced handle and streamlined design. In addition to great maneuverability and a high level of control, it comfortably hung out in my palm as I peeled and deveined shrimp. When the sharp blade made quick work of every task we threw at it (including a perfect apple peel and beautiful orange segments), we knew it was a shoo-in for our top pick as Best Overall.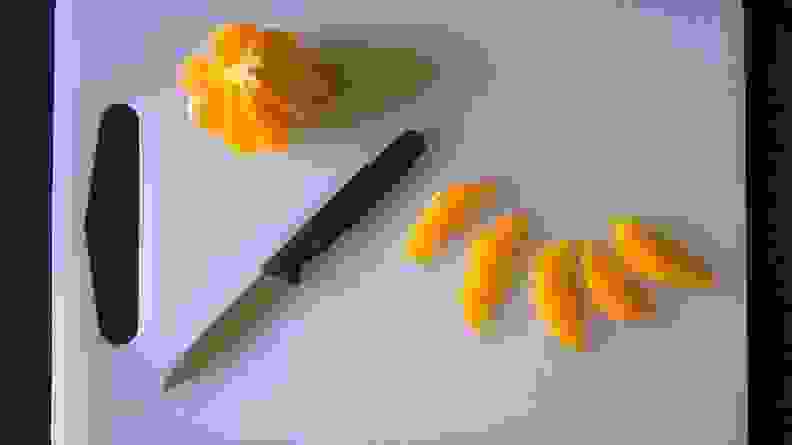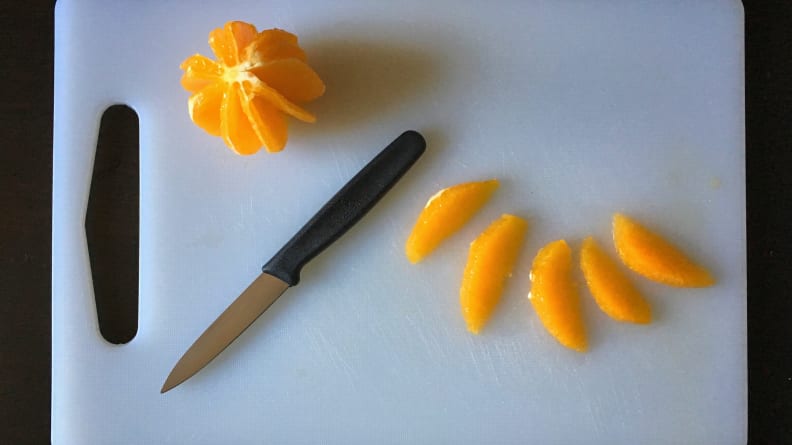 Best Value
Victorinox 3-Inch Paring Knife with Straight Edge
There's nothing to hate about the price tag on the Victorinox 3.25-inch Paring Knife–especially considering how well it performed on our tests. Its ultra-lightweight design made it easy to use off the cutting board and it only slightly lagged behind our top pick. After making quick work of coring strawberries without tiring our hands and peeling apples without so much as a snag, we knew this sharp blade rivaled most of its more expensive competitors. We know we said you get what you pay for, but this knife seems to be the exception to the rule. Because of that, it solidly landed our pick for Best Value.
How We Tested
The Tester
Hi, I'm Lindsay Mattison, a trained professional chef. I tend to use a chef's knife for most of my cutting tasks, but I couldn't live without my trusty paring knife. It's small, it's sharp, and it's perfect for any task that requires a lot of precision–like carving tomato roses! Okay, maybe those should stay on the '90's buffet line, but in all seriousness, the paring knife is an essential part of my knife kit. I've had a personal favorite for years (you'll read about it in a minute!) and I want to help you find yours.
The Tests
We chose 10 paring knives between 3- to 4-inches in length–an adequate size to perform all the classic paring knife tasks while still being short enough to control. We were looking for a knife that could handle off-the-cutting-board tasks like peeling fruits while still being comfortable to use for precision tasks (like mincing shallots). Our tests were designed to evaluate sharpness, comfort, and control.
Any good knife should be sharp out of the box, but the paring knife needs a nice edge to handle slicing food in the air. We peeled apples and segmented oranges to see how well each knife could handle the in-air tasks before mincing shallots to see how sharp it was on the board.
It's also important that a paring knife feels comfortable in our hands as we work suspended in the air. In addition to assessing how easily it peeled apples in a circular motion, we wanted to know how it felt sitting standby in our hands. In a restaurant setting, you don't always have time to set down your knife in between tasks. So, while we were peeling the shrimp with our fingertips, we checked to see if the knife sat comfortably in the palm of our hand while still being ready to spring into action when it was time to devein.
Finally, the knife had to have a nice balance between the blade and handle lengths, giving us the maximum amount of control as we used it. We assessed the shape, both on and off the cutting board, and determined if it could easily get into tight places. After coring strawberries - choking up on the sharp blade - we knew if each knife could cut with precision while still being safe to use.
---
Other Paring Knives We Tested


Global GS-38 Classic 3.5-Inch Paring Knife
If you take a peek inside my personal knife bag, you'll find a Global 3.5-inch Western Style Paring Knife. While it didn't outperform our top picks, it's still a sturdy knife with an ultra-sharp edge (thanks to the Japanese steel). The hollow handle perfectly balanced the not-too-short but not-too-long blade, keeping us in control as we used it. In addition to top marks on all of the tests, this one is also a bit of a showpiece – that iconic textured handle would make a stunning addition to your knife block.
MAC Knife Professional Series 3 1/4-Inch Paring Knife
MAC is a relative newcomer to the Japanese steel market, but they're becoming more well known. Their super sharp blades have a reputation for holding their edge for a long time. The MAC 3.25-inch Professional Paring Knife was one of the more expensive knives we tested, but it was my favorite for coring strawberries and mincing shallots. But, as compared to the other knives, it was on the heavy side and the handle was longer than the blade, creating a slight balancing issue.


Mercer Culinary Genesis 3.5-Inch Forged Paring Knife
Anyone who has gone to culinary school knows the Mercer name–this brand makes the standard knife kit for first year students. For the price, there's a lot to like about the Mercer Culinary Genesis 3.5-inch Forged Paring Knife–the blade was impressively sharp for such an inexpensive knife and it did well on most of our tests. Our major complaint is its weight. Compared to the competition, the bulky handle felt heavy in our hands and the shape made peeling and deveining shrimp an awkward experience.


ZWILLING J.A. Henckels Four-Star 4-Inch Paring Knife
I gotta say, I love the handle material on the ZWILLING J.A. Henckels Four-Star 4-inch Paring Knife. It's soft and smooth without any noticeable edges or sharp corners. When you're holding a paring knife for an extended period of time, you really appreciate small details like that! Unfortunately, the 4-inch blade was just a bit too long and it struggled on precision tasks like segmenting oranges.


J.A. Henckels International Classic 4-Inch Paring/Utility Knife
Once again, between the 4-inch blade and the long handle on the J.A. Henckels International Classic 4-inch Paring Knife, this knife felt just a touch too long. It had a hard time getting into tight spaces to core strawberries and it wasn't maneuverable enough to segment citrus. In addition, the handle itself had sharp angles that made it uncomfortable to hold for long periods of time.


Wüsthof Pro 3 1/2-Inch Paring Knife
The Wüsthof Pro 3.5-inch Paring Knife didn't impress us as much as some of the other knives. It has a flexible blade–which is usually a good thing in a paring knife–but it was really flexy, which made peeling apples more difficult than it should have been. We liked the lightweight design and small profile, but it just wasn't enough for us (even at its low price).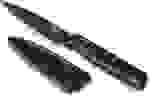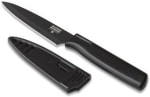 Kuhn Rikon Colori Paring Knife
The Kuhn Rikon 4-inch Nonstick Paring Knife Colori has a plastic handle and a nonstick carbon steel blade. It comes with a plastic sheath, which makes it easy to take on-the-go. But, when it came down to performance, I wouldn't recommend this model as your go-to knife. The slick plastic handle was slippery and the blade's large, jutting butt end threatened to slice our fingers if we choked up on the blade.

Opinel No 112 Paring Knife
I was surprised that the Opinel No 112 4-inch Paring Knife was so maneuverable given its 4-inch length, but it still wasn't my favorite knife of the group. While it was nice and lightweight, it just wasn't as sharp as some of the competition and the straight-bladed design made it difficult to hold while deveining shrimp. It definitely rings in at a value price, but there are better options in this price range.
More Articles You Might Enjoy
Up next
Get Reviewed email alerts.
Sign up for our newsletter to get real advice from real experts.