Home & Garden
22 of the best things under $50 you can buy at Kohl's
Electronics, toys, and kitchenware to fit your budget.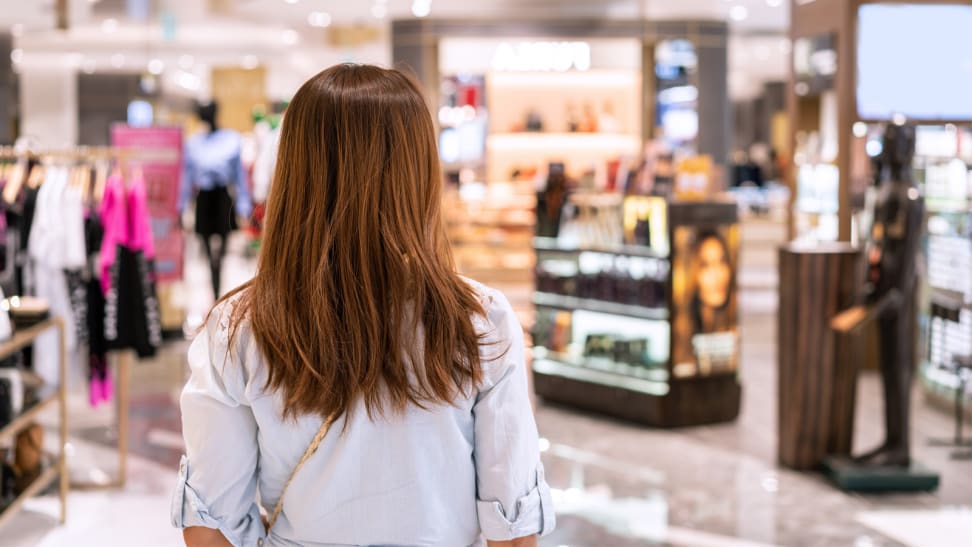 Credit: Getty Images / kitzcorner
We love Kohl's. The department store might be best known for its wide range of clothing, but it also offers a huge array of electronics, toys, kitchenwares, and bath products. Since it's also home to frequent sales, it's a good place to check for practically any home or lifestyle good when you're shopping on a budget.
Plus, you don't have to wait around for spring deals or Black Friday. There are plenty of incredible products for under $50 that are actually worth the money. Here are the 22 of the best items you can snag for under $50 from Kohl's right now.
1. An Amazon Fire Tablet to keep anyone entertained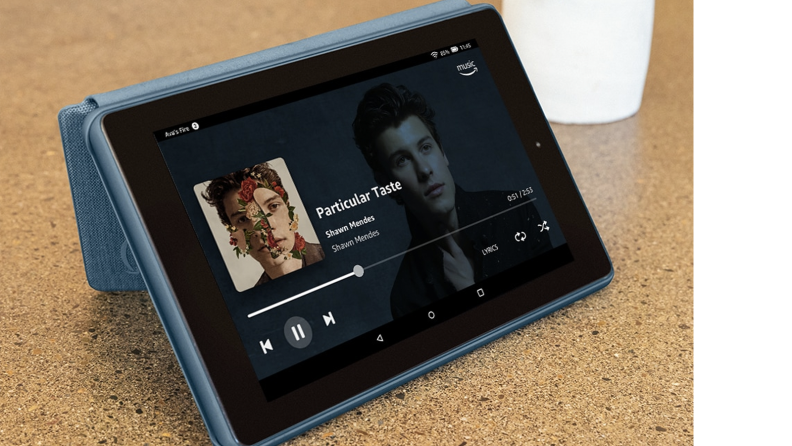 A bestseller at Kohl's, this tablet is equipped to keep you and the family entertained at a surprisingly affordable price. The battery lasts up to seven hours—plenty of juice to get you through a long car ride or a nasty line at the DMV. While it's not our favorite tablet, it's still quite decent for the low price. Some buyers do warn that these tablets don't typically last for multiple years, so just be prepared for the possibility you'll be in the market for a new tablet sooner rather than later. But at this price point, that might not be a big deal.
Get the Amazon Fire 7 16 GB Tablet with 7-in. Display for $49.99
2. A collapsible basket that makes storage attractive
Kohl's offers some beautiful woven baskets for laundry and storage, but we like that these canvas and polyester ones save space: just fold them up when they're not in use. Reviewers say they're sturdy and beautiful in person, offering a sleek, neutral look. The baskets are stain-resistant, but they can be spot cleaned if needed. This is also a great option to store winter clothes, extra bedding, toys, or even hiding unsightly tangles of chargers and cords.
Get the SOHO Market Signature Storage Bin for $26.99-$37.99
3. A functional ottoman that doubles as a hiding place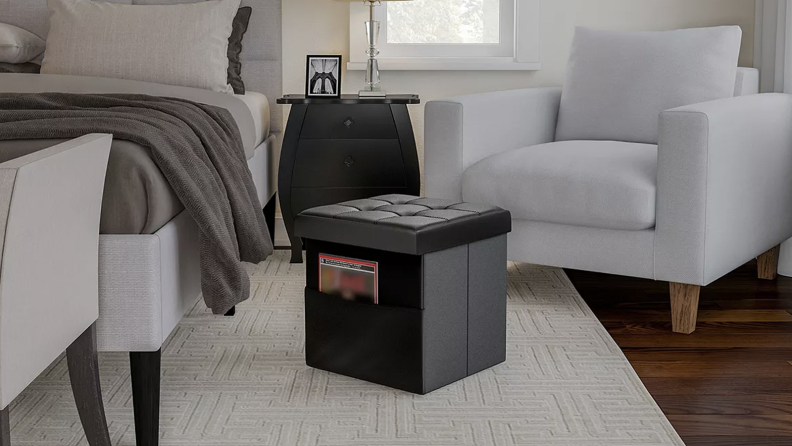 Speaking of clever storage solutions—this pleather ottoman doubles as a storage cube, featuring a removable lid and an exterior magazine slot. Stuff an extra blanket in there, get that stack of old The New Yorkers out of the way or use it as an unexpected and accessible spot to stow your keepsakes. Best of all, reviewers say that when the lid is on the box it's sturdy enough to serve as backup seating. Talk about versatile.
Get the Lavish Home Foldable Faux Leather Storage Cube Ottoman for $44.99
4. A set of throw pillows that will stand up to the weather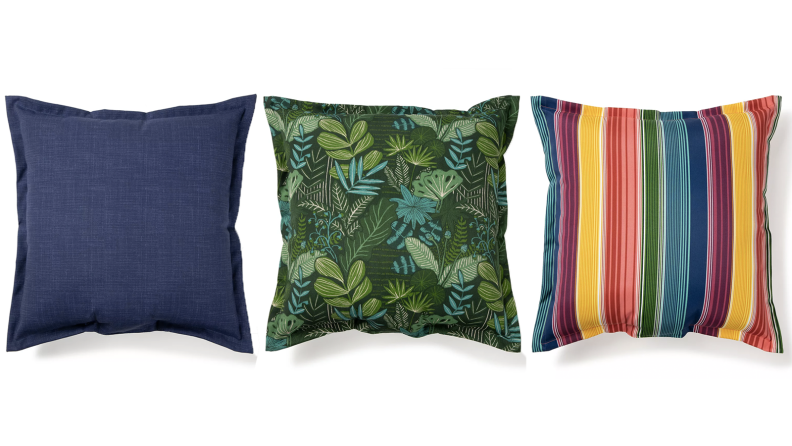 These weather-resistant throw pillows are a versatile, inviting, and affordable way to liven up a porch or patio space. Reviewers say they're comfortable, thick, and just as cozy and functional as they are attractive. This isn't to say there's anything wrong with getting these pillows mainly for the sake of a splash of color. According to reviews, they're bright, vibrant, and true to the images of the Kohl's site.
Get the Sonoma Goods For Life Outdoor/Indoor Oversized Flanged Throw Pillow for $29.99
5. A pair of Bluetooth earbuds so you'll never get your wires crossed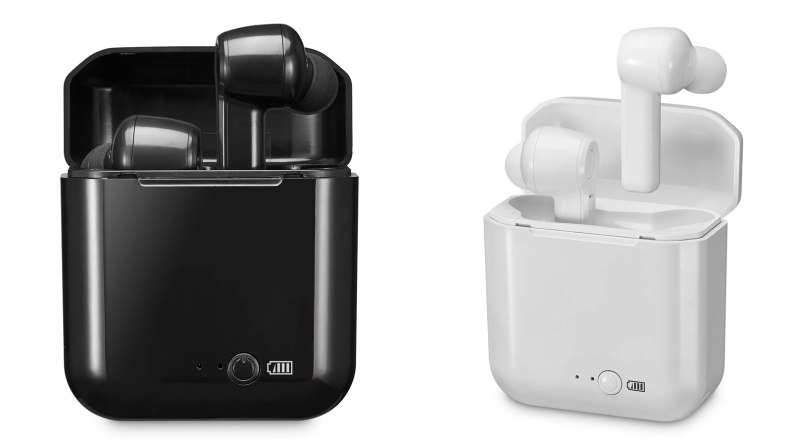 If you hate dealing with tangled masses of earbud wires, wireless is the way to go—and you don't have to shell out hundreds of dollars to get them. While they're by no means the best pair we've ever tested, these highly-rated Bluetooth earbuds let you take calls or listen to music without grappling for your phone. The included storage case doubles as a charging port, so you can ensure you know where the 'buds are and that they're charged all in one go. With more than 400 reviews and a 4.4-star rating, reviewers love these cheaper earbuds and say they're comfortable and easy to pair with their phones.
Get the iLive Truly Wireless Earbuds for $29.99
6. A phone tripod with infinite uses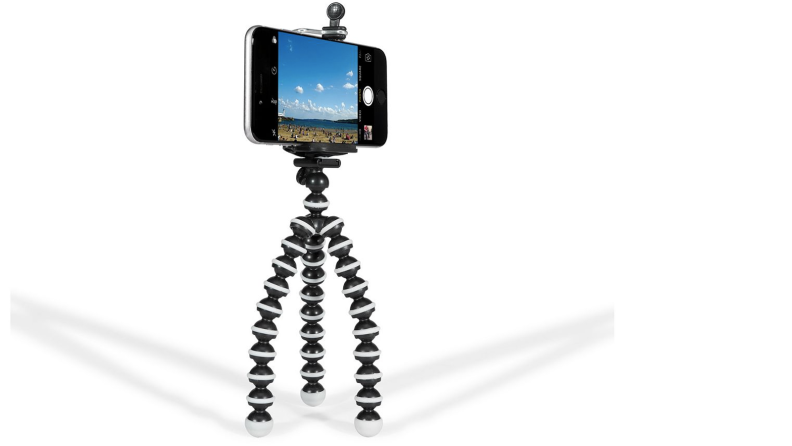 I have one of these flexible phone tripods sitting on my desk at all times. It's one of those weird doodads you don't know you need, but which comes in handy about a dozen times a day. I use mine to take FaceTime and Zoom calls on my phone, record video, and yes, take some killer, hands-free selfies. As many of us are still dealing with the limitations of a bedroom-home office setup, sometimes these small, inexpensive conveniences make all the difference.
Get the GPX 7-Inch Micro Flexible Tripod for $9.99
7. A tailgate speaker that brings the party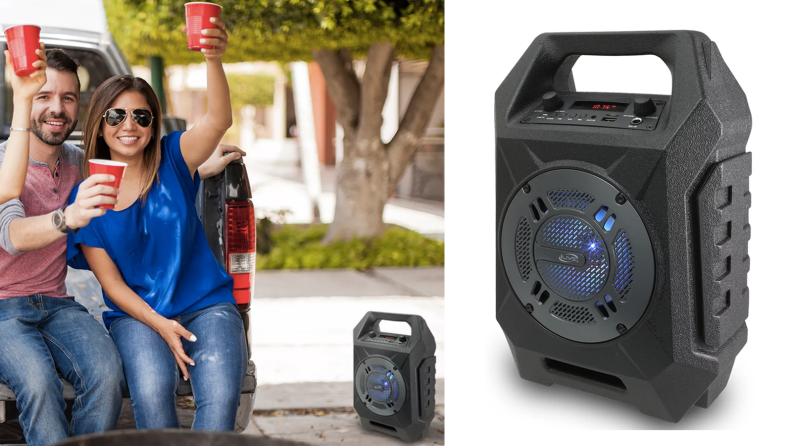 Sometimes you want a small, portable Bluetooth speaker that you can tuck into your pocket for a discreet chill session on the porch. And sometimes you want to party. This tailgate speaker brings the volume, asking to be slammed into the bed of a truck or next to a cooler of beers. It comes equipped to connect to an aux cord, a USB memory card, Bluetooth, or local radio. The battery is rechargeable, and buyers say that the sound is great and the speaker stands up to heavy use.
Get the iLive Bluetooth Wireless Tailgate Speaker for $49.99
8. An adorable swing for a fun-loving baby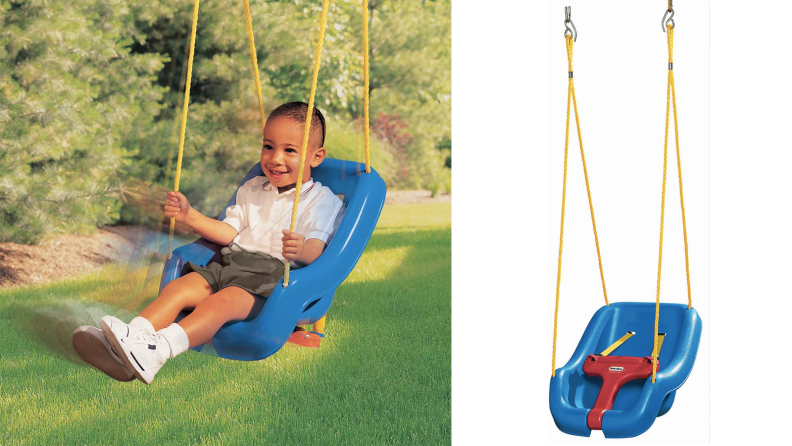 This baby swing is a sweet, safe way to get the little one some outdoor playtime in even a limited space. Made of durable plastic, it's designed to be sturdy and weather-resistant. The T-strap is removable, so you can convert this from a baby to a toddler swing without needing to replace the whole thing. Reviewers note that, given the variety of ways this might be installed, the manufacturer doesn't include hardware for every hanging scenario, so you'll want to plan ahead and make sure you have tools on hand before ordering.
Get the Little Tikes 2-in-1 Snug 'n Secure Swing for $26.99
9. A nonstick skillet for better omelets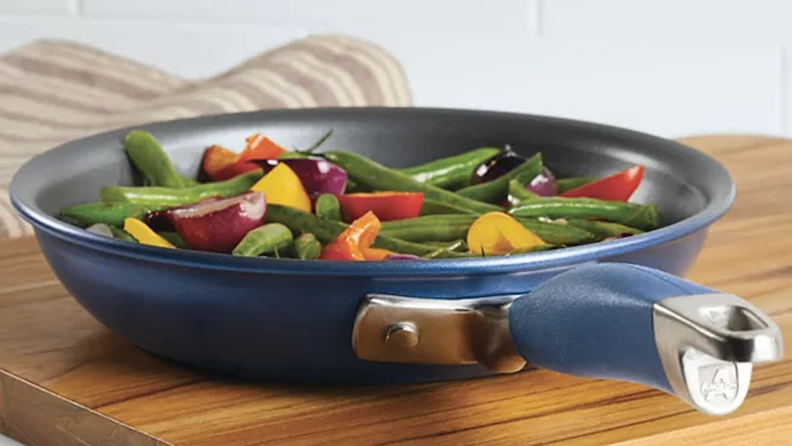 A good skillet is invaluable, but it can easily come with a whopper of a price. Not so with this 8.5-inch nonstick hard-anodized aluminum pan. The pan is safe at temperatures up to 400°F, and the manufacturer says the metal-safe materials last 16 times longer than traditional nonstick materials. The reviewers say the pan stands up to these lofty claims, with some buyers noting that their set has lasted 15 years or more. While it's not the best nonstick pan we've ever tested, our reviewer noted that it lived up to its nonstick claims, though it's a bit on the heavy side.
Get the Anolon Advanced Home Hard-Anodized Nonstick 8.5-in. Skillet for $39.99
10. A reliable hand mixer that won't hog counter space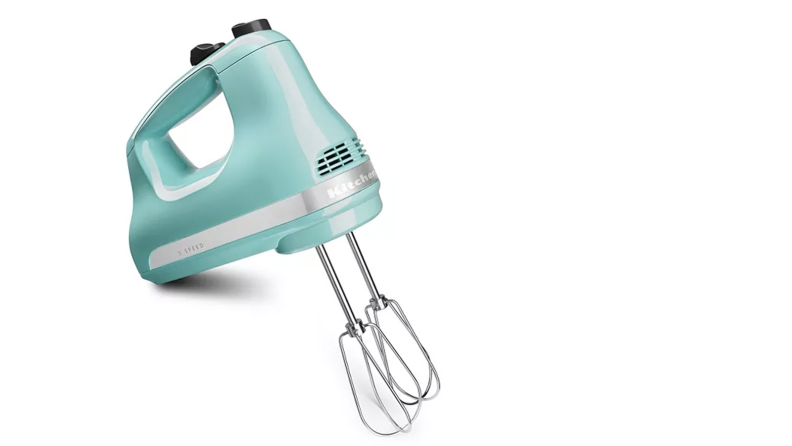 We're pretty much speaking for the entire home baker world when we say we love KitchenAid. As excited as I am to invest in a serious stand mixer one of these days, I am in love with my KitchenAid hand mixer, which is one of our favorites we tested. It's space-saving and affordable, making it a good choice for anyone living in small apartments or someone setting up a kitchen on a budget. That being said, it packs power for such a small size and price tag. I bake cakes, make meringues, and whip cream with this little guy, and never once has it let me down.
Get the KitchenAid KHM512 5-Speed Ultra Power Hand Mixer for $49.99
11. A tiny scooter to get baby on their feet
A toy scooter like this is likely to be fun for any toddler, but it's especially great for those straddling the line between crawling and walking. Getting a handle on balance and mobility is hard work. Who wouldn't want a cute and sturdy scooter to make it a little easier? The scooter also comes loaded with sound effects, educational songs, and sounds effects to keep the baby engaged and learning. The manufacturer recommends the scooter to ages 1 and up, with reviewers saying that kids as old as 4 enjoy it.
Get the Fisher-Price Laugh & Learn Smart Stages Scooter for $39.99
12. A weather radio for work and play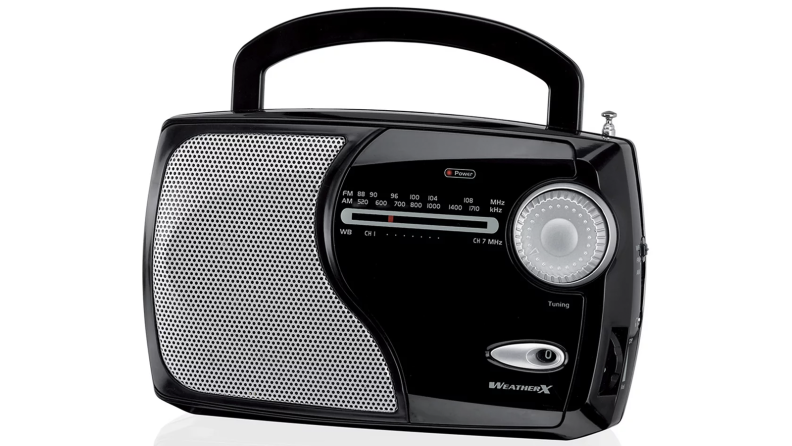 If you're used to listening to music on your phone, you might not think of a portable radio as an essential—but this weather radio comes in handy right when you need it, serving dual purposes for both entertainment and emergencies. It is tornado season, after all. You can use it to listen to AM and FM radio or plug it into your phone to play music, but it will also keep you apprised of NOAA alerts and traffic updates. Battery-operated, this is a great backup for anyone who'd rather not rely entirely on their phone. Buyers have used it on work crews, while gardening, or just as a kitchen radio to pick up local stations. They say it's well-constructed with clear reception and satisfying volume control.
Get the WeatherX AM/FM Weather Band Radio for $24.99
13. A basketball hoop for the next LeBron
Here's another safe and sturdy toy that will get kids outside without requiring a huge amount of space, money, or oversight. Give your kiddo a chance to practice their hand-eye coordination with this little basketball hoop. The hoop adjusts between 2- and 4-feet-tall, leaving some growing room, and is best for ages 18 months to 5 years. The set comes with a soft basketball so little ones will be ready to shoot some hoops right away—although some reviewers do recommend weighing the relatively lightweight hoop down before playtime starts.
Get the Little Tikes Easy Score Basketball Hoop Set for $29.99
14. A popular Amazon smart speaker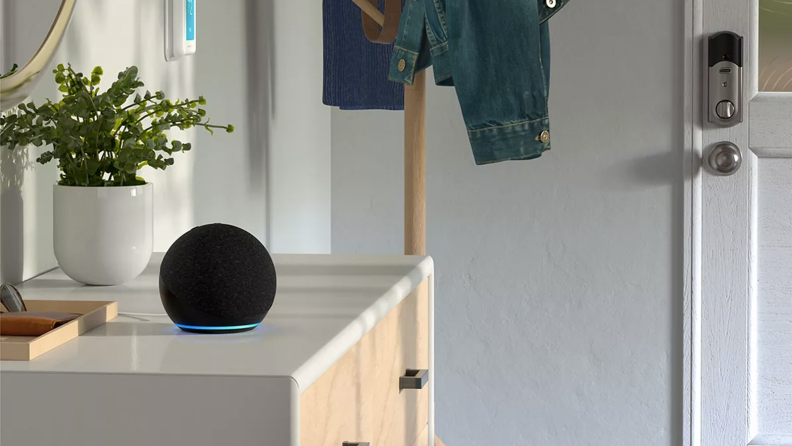 If you've been considering investing in a smart speaker, you've probably already thought about the Echo Dot. It's the most popular Alexa-equipped smart speaker offered, and it's the one we recommend if you're just starting to set up a smart home. The main difference between the Echo Dot and the larger Echo speaker is size, and, as you might expect, a degree of audio performance. You might lose some boom, but in our tests, we found it still offers an impressive bang for the buck. Although it was outshined by more heavy-weight competition in our roundup of the best smart speakers on the market, the Echo Dot definitely offers impressive performance for its small size and affordable price.
Get the Amazon All-new Echo Dot (4th Gen) Smart Speaker with Alexa for $34.99
15. A baby doll to cuddle and love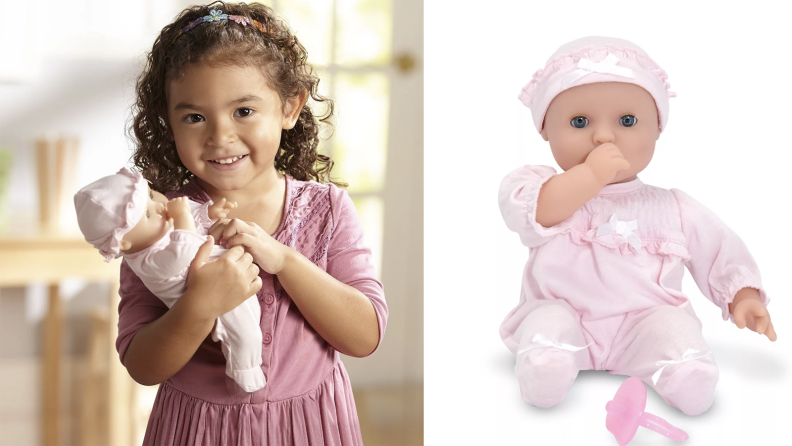 This sweet baby doll from Melissa & Doug is pretty much everything you want out of a cuddly toy. It features a soft body and plastic head and limbs, making it easy to wipe clean after a messy playtime. The eyes shut when the doll is laid down, and it's designed to suck its own thumb, the included toy pacifier, or a play bottle. Unsurprisingly, the reviews are full of buyers reporting their kids refuse to put their new baby down.
Get the Melissa & Doug Jenna Doll for $24.99
16. A Roku system that will make you cancel your cable
I'm biased, but I think a Roku setup is pretty unbeatable when it comes to putting together a convenient and versatile entertainment system. The Roku Stick+ allows you to connect free and paid streaming services to your TV, making cable totally unnecessary. It's the best affordable Roku device we've ever tested and it's compatible with HD TVs, connecting conveniently via HDMI. As a total Roku convert, I can say there's one thing to consider—if your internet is super laggy, relying on streaming services can be a pain.
Get the Roku Streaming Stick+ for $39.99
17. A Hot Wheels set for hours of play
Seeing a set of Hot Wheels cars gives me a serious punch of nostalgia to this day. This expressway set mimics the look of a busy city, encouraging kids to engage in imaginative play. I love the added detail of the miniature elevator, bringing the cars back up to the top of the track once they've completed their race. It's a timeless toy, and reviewers say it's durable enough to survive rowdy playtime. It does include small pieces, so be mindful of gifting this set to a kid who's still in the put-everything-in-their-mouth phase.
Get the Hot Wheels Auto-Lift Expressway Set for $34.99
18. A toy keyboard to nurture their natural rhythm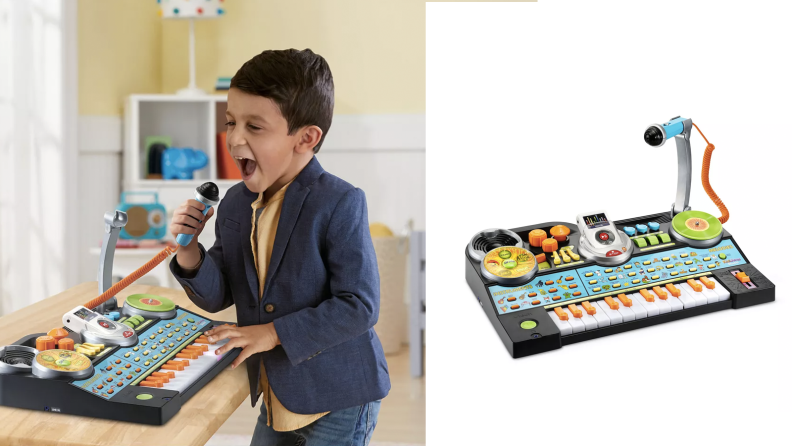 This kids' keyboard usually goes for just over $50, but it's currently on clearance—and if the reviews are anything to go by, it's a steal. The keyboard comes loaded with sounds from 10 different instruments and 20 prerecorded songs. Kids will get to play DJ by remixing the songs or making their own. Reviewers say it melds well with other music, too—just turn on some of your kiddo's favorite songs and let them jam along.
Get the VTech KidiJamz Studio for $38.59
19. A baking sheet for perfect cookies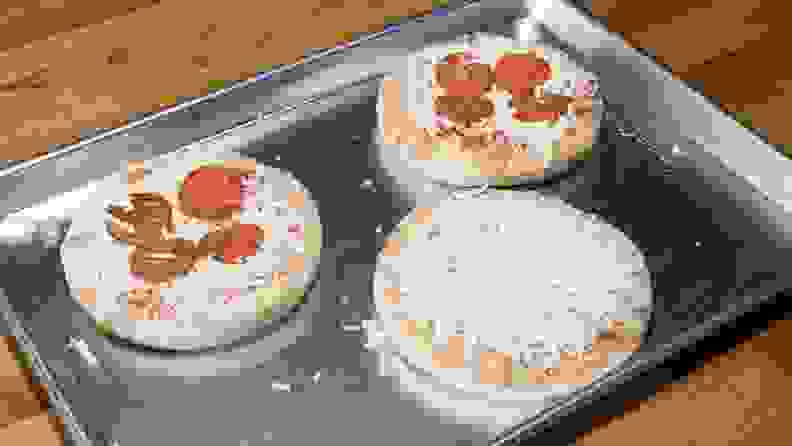 After buying an emergency backup baking sheet for Thanksgiving this year, I am just about done with spending money on cheaply made kitchen supplies. This half sheet by Nordic Ware is the best baking sheet we've ever tested. It has even heating, which is ideal for cookies, and it's large enough for a whole sheet pan dinner. To maximize the lifespan of this baking sheet, we recommend hand-washing and making sure it's good and dry before putting it away.
Get the Nordic Ware Naturals Baker's Half Sheet Baking Pan for $24.99
20. Over-ear headphones that won't break the bank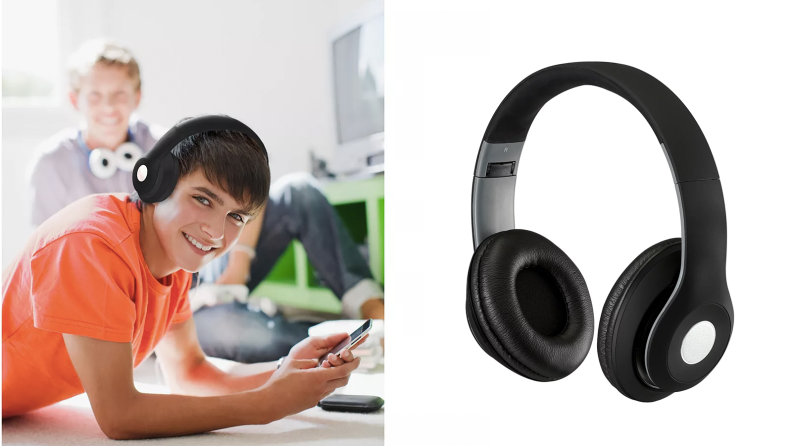 On- or over-ear wireless headphones can run you hundreds of dollars—but not everyone wants or needs the bells and whistles that come with more expensive brands. If you're looking for a pair of affordable Bluetooth headphones with reliable performance and good sound, buyers say this iLive set will absolutely do the trick. Reviewers say that the Bluetooth pairing works seamlessly, and the audio itself is crisp and even. The most common complaint is that the volume doesn't rise as high as some competitors, but if you're just looking for some casual listening, these might be a good affordable option.
Get the iLive Premium Over-Ear WL Headphones for $39.99
21. A slow cooker that's one of the best in the game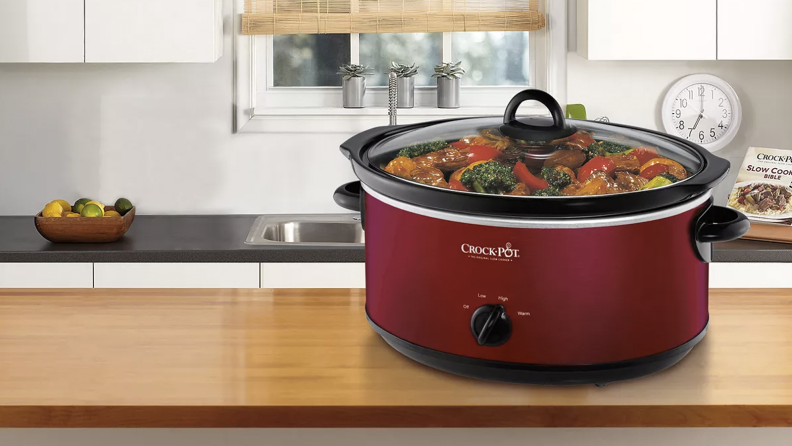 Crock-Pots have been in the game for a long time, and they're still around for good reason. Crock-Pots turn out tender, flavorful meats, stews, and more—and they're one of our favorite slow cooker brands for both performance and value. We've found that slow cookers outshine Instant Pots when it comes to cooking juicy chicken, and they're versatile enough to handle a whole host of meals. With a 7-quart capacity, this Crock-Pot can manage a whole roast. For what you're getting, this is pretty amazing value.
Get the Crock-Pot Design To Shine 7-qt. Slow Cooker for $23.99
22. A set of luxury towels for everyday pampering
Do you need luxury towels? Not really, but there does come a time in life when you have to decide if your old threadbare bath towels are really going to make the move with you. Nice towels are one of those little luxuries that can make your everyday life just that much more comfortable and enjoyable. According to reviewers, these towels might shed for the first wash or two, but after that, you're left with soft, fluffy, and oversized towels that you'll actually want to wrap around your body.
Get the Simply Vera Vera Wang Signature Bath Towel for $25.99
The product experts at Reviewed have all your shopping needs covered. Follow Reviewed on Facebook, Twitter, and Instagram for the latest deals, product reviews, and more.
Prices were accurate at the time this article was published but may change over time.