Home & Garden
The best fitness products of 2020
These are sure to help you succeed with your 2020 fitness goals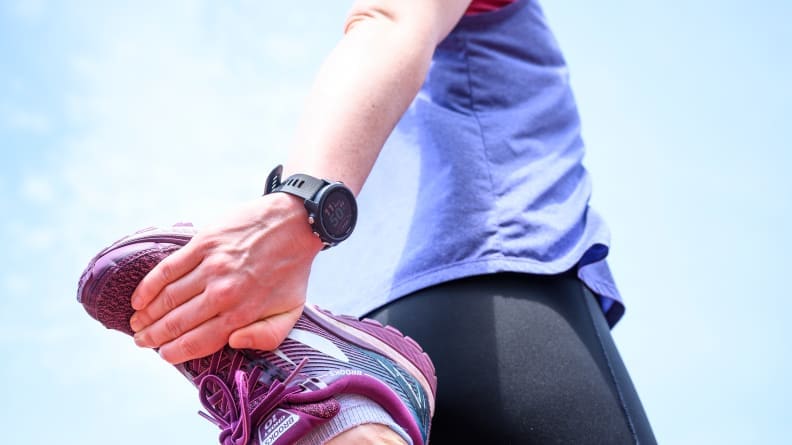 Credit: Reviewed / Betsey Goldwasser
1. The best running watch: Garmin Forerunner 245 Music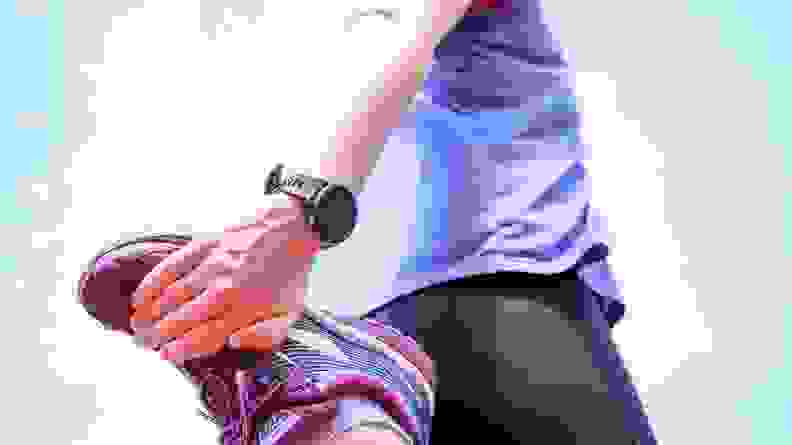 We spent months testing the most popular running watches on the market. Our favorite ended up being the Garmin Forerunner 245 because of the ease of use during long runs and extra bonus features like being able to download music. Setup is relatively easy via the Garmin Connect app or on a computer using the Garmin Express software The watch takes less than two hours to charge, and the battery claims to last for 24 hours with normal usage and six hours if you use the music function. We found that it lived up to the claim and didn't drain faster than expected. Like most running watches, the 245 tracks steps, sleep, and other workouts such as bike rides and swims. It also has some smartwatch features, including a weather report, and calendar, text, and phone alerts. Bonus: it's quite comfortable, too.
Get the Garmin Forerunner 245 Music on Amazon for $319
Read the full running watch review on Reviewed.com
2. The best Fitbit and the best fitness tracker: Fitbit Charge 3
All of our testers chose the Charge 3 as their hands-down favorite fitness tracker and favorite Fitbit for its mix of good looks, easy-to-navigate device menus and companion app, and plethora of activity- and sleep-tracking info. The setup was super-easy for getting the device and app up and running. Some bonus health features include a breathing activity for stress reduction, menstrual cycle tracking, a hydration log, a food log with a searchable database of common foods, as well as pay-to-play workout, meditation, and other wellness programs. The Charge 3 has some smartphone features, including notifications, which you can customize or turn off entirely if all that buzzing gets on your nerves. You may reply to texts from the watch using preset canned replies and emojis and quick-view your local weather.
Get the Fitbit Charge 3 on Amazon for $99.95
Read the full Fitbit review and full fitness tracker review on Reviewed.com
3. The best foam roller: LuxFit Premium High Density Foam Roller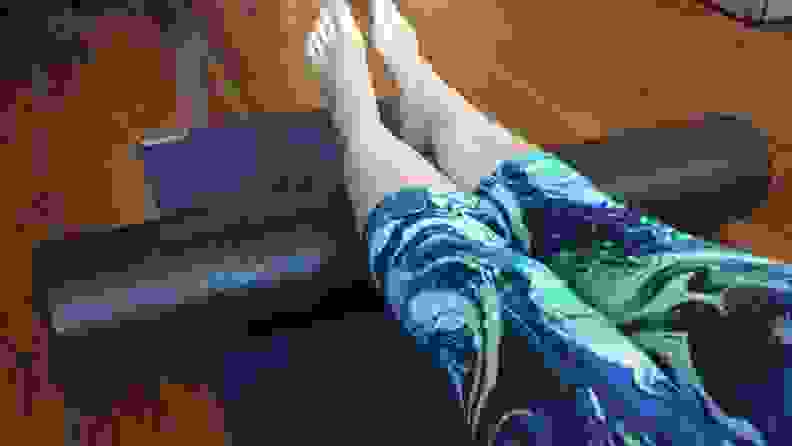 If you're looking for something simple and easy-to-use, we'd recommend the LuxFit Premium High Density Foam Roller. Not only is it incredibly simple to use, it works exceptionally well to massage out my sore muscles, as it's hard enough to be effective without being painful. The roller also offers a great stabilizer for planks and an effective aid for pushups and yoga moves (for those who are interested in multi-purposing their roller). The LuxFit gives a worthy massage without inducing further pain, and I can see myself reaching for this one time and time again.
Get the LuxFit Premium High Density Foam Roller on Amazon for $26.10
Read the full foam roller review on Reviewed.com
4. The best yoga mat: Lululemon Reversible Mat
The surface may seem hard at first, but it actually has just the right amount of softness for comfort without any wobbling on my part. It also boasts a completely flat, non-stick surface. I can firmly plant my hands and feet on the mat without slipping while switching poses or trying to hold a plank. It's easy to wipe down after a workout, too, though it does take some time to fully dry. And while it's a bit on the heavy side, it rolls small, which is great for portability. The price is steep, but worth it for passionate yoga-goers.
Get the Lululemon Reversible Mat from Lululemon for $78
Read the full yoga mat review on Reviewed.com
5. The best water bottle: Brita Stainless Steel Filtering Water Bottle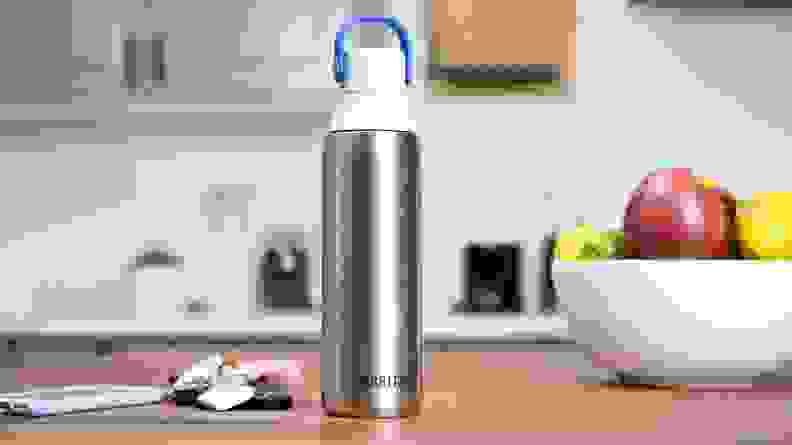 After extensive testing, the Brita Stainless Steel Filtering Water Bottle is the best water bottle for everyday life. This 20-oz bottle will help make meeting your hydration goals a cinch. A wide-mouth easily accommodates ice cubes, a slim build allows it to fit in car coffee holders or the pockets of bags, and a securely locking lid (topped with a handy loop for comfy carrying) guards against accidents or spills. We love that it opens with a one-handed push of a button, and is affixed with a straw, so there's no danger of the contents of the bottle embarrassing you, by rushing out of the mouth and landing straight in your lap. And then there's the fact that the body is stainless steel (the lid is still BPA-free plastic). That premium insulation means that water stays cold up to 24-hours straight.
Get the Brita Stainless Steel Filtering Water Bottle on Amazon for $29.99
Read the full water bottle review on Reviewed.com
6. The best bathroom scale: Renpho Bluetooth Body Fat Scale
The Renpho delivered consistent weight and body composition measurements throughout my week of weigh-ins, and quickly, too. It can be used as a basic scale for daily use with ease, while providing next-level data in keeping track of all of your weigh-ins. The data is accessible if and when you want it with a simple app. The moment I opened the app on my Android phone, the Renpho connected via Bluetooth with lightning speed to upload the data. The data it records goes beyond the usual fat and lean mass percentages, and includes an estimate of basal metabolic rate (or the minimum number of calories your body requires to exist at rest) and the percentages of subcutaneous (beneath skin) fat versus visceral (around the organs) fat. The Renpho does it all and quite well—and is an exceptional value for its price.
Get the Renpho Bluetooth Body Fat Scale on Amazon for $27.99
Read the full bathroom scale review on Reviewed.com
7. The best padlock: Stanley Shrouded Hardened Steel Padlock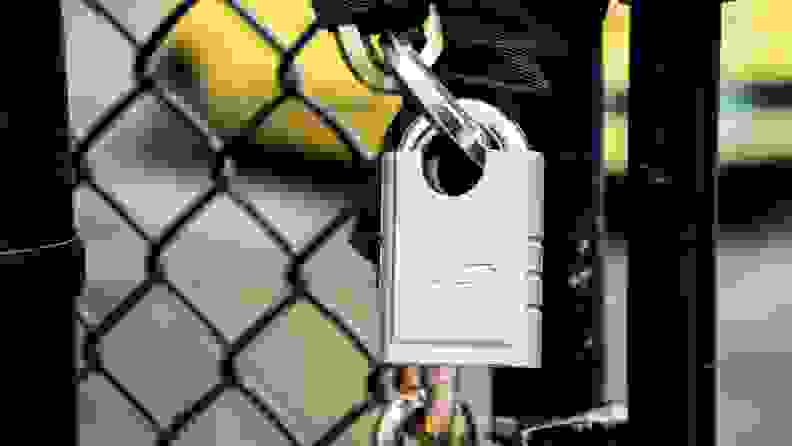 If you're looking for protection for all of your belongings at the gym, the Stanley Shrouded Hardened Steel Padlock is the answer. Keyed padlocks, such as this, are the easiest to use: There's no memorizing passwords or fumbling with numbers on a keypad—just don't lose the key!
Get the Stanley Shrouded Hardened Steel Padlock on Amazon for $21.46
Read the full padlock review on Reviewed.com
8. The best wireless earbuds for running and the best headphones for the gym: JLab Audio Epic Sport Wireless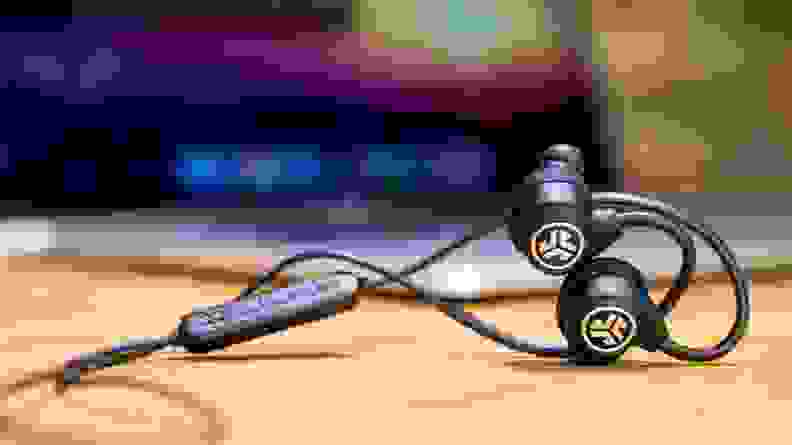 The Epic Sport comes with JLab's signature bendable ear hooks, multiple ear tip sizes, and three types of cush fins to help the buds actually stay in place. The inline controls consist of a streamlined remote with three buttons. The audio can still sound a bit tinny and lacking in bass, especially if the fit isn't perfect, but JLab Audio has really gone the extra mile by building in three sound profiles that help fix that. The Epic Sport should be able to withstand rigorous workouts and has a satisfyingly long battery life which, in our experience, clocks in at over 12 hours.
Get the JLab Audio Epic Sport Wireless on Amazon for $49.98
Read the full wireless earbuds for running review and full headphones for the gym review on Reviewed.com
The product experts at Reviewed have all your shopping needs covered. Follow Reviewed on Facebook, Twitter, and Instagram for the latest deals, product reviews, and more.
Prices were accurate at the time this article was published but may change over time.