Laptops
The Best 32-inch Gaming Monitors of 2019
These are the best ultra wide-screen monitors you can buy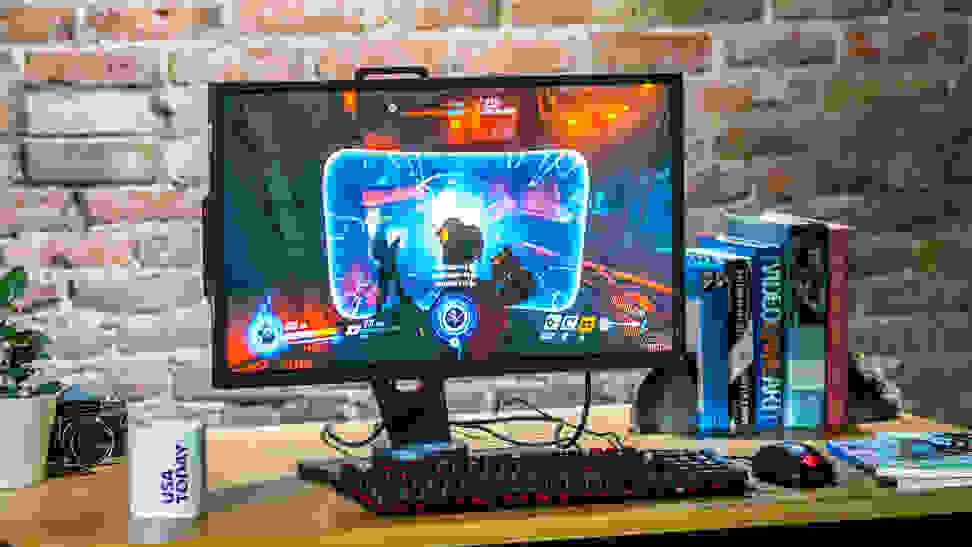 Credit: TJ Donegan
Maybe you love the 21:9 aspect ratio, or maybe you just want to up the graphical fidelity of your gaming rig. Upgrading from a smaller monitor (or, gasp, a laptop screen) to a 30+ inch curved screen can be night and day. These gargantuan, widescreen displays boast high refresh rates and pixel-packed resolutions, often bringing out new cinematic and immersive details in your games.
While they tend to be expensive no matter which way you slice it, they aren't all created equal. If you just want the best 30+ inch widescreen monitor around, look no further than the Asus ROG Strix XG32VQ (available at Amazon for $469.99). It gives you the feel of an extra big, extra fast gaming monitor for hundreds less than the average ultra wide-screen display. However, if you want something even speedier, or with a flashier picture overall, there are plenty of great options out there.
These are the best 32-inch gaming monitors we tested ranked, in order:
Asus ROG Strix XG32VQ
Acer Predator X34P
Dell Alienware AW3418DW
Asus ROG Swift PG348Q
Asus ROG Strix XG35VQ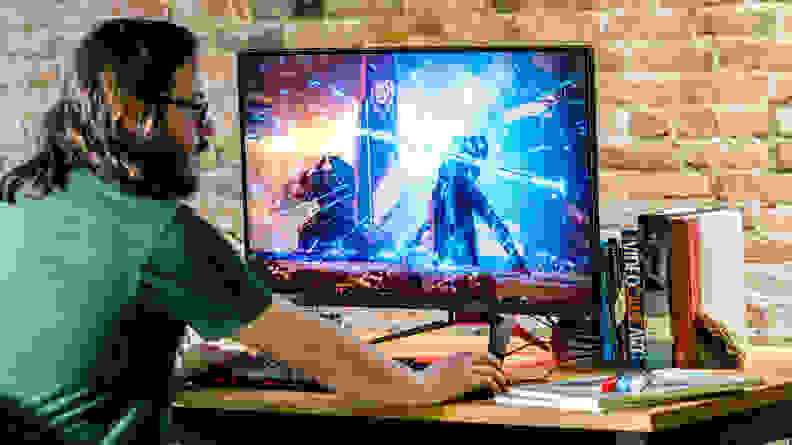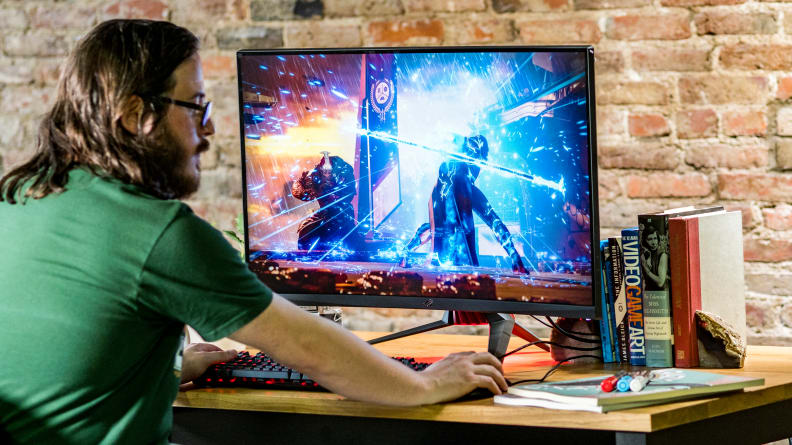 Best Overall
Asus ROG Strix XG32VQ
32-inch sxreen
2,560 x 1,440
144 Hz refresh rate
FreeSync compatible
Curved screen
VA panel
The 32-inch Asus ROG Strix XG32VQ is a study in interesting compromises and box checking. I was initially concerned that combining an ultra wide-screen monitor with a VA panel would lead to some unfortunate head-on viewing angle issues—a major no-no—but as it turns out, Asus' has done some smart engineering here. The curved screen and higher-than-average resolution (2,560 x 1,440) add similar immersive viewing compared to the other 30+ inch monitors, but the VA panel is what makes the XG32VQ really stand out.
Essentially, you're sacrificing the brightness, better viewing angles, and color fidelity you'd get with an IPS panel, but you're shaving a lot off the price. Most IPS-equipped 30+ inch monitors retail for around $1,000, but the XG32VQ—while starting at an already much cheaper $699—can be found online around $650. Considering that you're still getting a 144 Hz refresh rate, FreeSync compatibility, and perfectly satisfactory picture quality, that's a pretty solid value.
The XG32VQ is the value-hunter's answer to getting a reliable widescreen gaming display equipped with Asus' familiar aesthetics and polish. You won't attain quite the majesty of the IPS-paneled 30+ inch gaming monitors, but it'll get you a heck of a lot closer than a 24- or 27-inch option.
Best Performance
Acer Predator X34P
34-inch screen
3,440 x 1,440
100 Hz native/120 Hz OC refresh rate
G-sync compatible
Curved screen
IPS panel
At a starting price of just about a grand, the 34-inch, curved, IPS-equipped Pedator X34P is one of the more affordable ultra wide-screen monitors in our roundup. This is the feather in Acer's gaming display hat, delivering good resolution for this screen size (3,440 x 1,440), a 100 Hz native refresh rate with the option to overclock to 120 Hz, G-sync compatibility, and a curved screen.
Like the Alienware AW3418DW, the curved X34P delivers an immersive and cinematic experience that lends itself well to graphically focused/environmentally massive games like Skyrim, EVE Online, and so on. Like with any 30+ inch monitor—gaming or otherwise—adjusting to the huge screen can take a bit, but the IPS panel used here at least delivers solid off-angle viewing and ample brightness/color saturation.
While the X34P's native 100 Hz refresh rate and OC capabilities give it plenty of punching power, it will feel like a downgrade if you're coming from a more eSports-focused monitor with a 144 or 240 Hz refresh rate. However, if you've never ventured above 60 Hz before or are upgrading from a TV, the X34P's high resolution, immersive screen, and high-end features (like G-Sync, a carrying handle, and height/tilt adjustment) may feel like gaming bliss.
At $400 less than the otherwise almost identical Alienware (and generally more affordable than many 34-inch monitors with similar specs), the Predator X34P does offer notable value if you're hunting for a monitor like this one. It may not have the same laundry list of specs, but it shines in its core categories.
How We Tested
The Tester
Lee Neikirk is Reviewed's TV and display expert. He's been an ISF Certified display calibrator since 2014, and has loved video games since 1992, so it only made sense to have him deep dive into the expensive, colorful, and sometimes confusing array of gaming monitors available to gamers right now.
The Tests
We tested each monitor on the same PC (a Lenovo tower with an Intel i5-7400 card, 8G of RAM, a 1T HDD, and a 128GB SSD) and played roughly the same broad selection of games (Civilization VI, EVE Online, Overwatch, PUBG, and a few others in special cases). We used refresh rate testing patterns from Blur Busters (https://www.blurbusters.com/) and our own in-house pattern generation and light measurement equipment to test basic luminance specs and color fidelity where necessary.
A good portion of the testing/rating of the monitors was also based on the ease of their UIs, the effectiveness (or lack thereof) of different manufacturers' proprietary features, and overall design/build attractiveness. However, performance and value winners were primarily selected on a combination of their price and appeal to the widest variety of gamers.
---
Other Monitors We Tested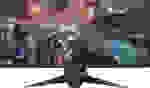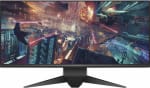 Dell Alienware AW3418DW
34-inch screen
3,440 x 1,440 resolution
100 Hz native/120 Hz OC refresh rates
G-sync compatible
Curved screen
IPS panel
Like with its RGB-inflected, high-end PC towers and laptops, Alienware's monitors are highly polished pieces of hardware, and the AW3418DW is no exception. Starting at $1,500—though you can find it cheaper online—this massive monitor may not be budget friendly, but it is a huge success where immersion is concerned. Unless you're already using a huge, curved-screen monitor like this one, that's going to be the first thing you notice: the wide, partially encircling screen really draws you into certain games.
Despite being famed more for its in-game corporate espionage and spreadsheet management than its graphics, EVE Online still looked incredible on this monitor. The IPS panel used here is not the most impressive from a contrast (black level and brightness) perspective, but its color range is wider and more accurate than comparable TN paneled monitors. The huge screen's 21:9 aspect ratio (3,440 x 1,440) adds a lot to the immersion factor, though if you're interested in an "ultra-wide" monitor like this one, you may want to make sure your games support the setting (check something like WSGF's list of ultra-wide games).
It should be noted that while this Alienware monitor excels in terms of "cinematic" presentation, hardware aesthetic, and bright, vivid colors, it isn't the hyper-fast, eSports-ready choice some gamers may be looking for. The 100 Hz/120 Hz over-clocked refresh rates here are fine for less twitchy games, but hyper-competitive gamers may want to find something closer to 144 or even 240 Hz. That said, 100 Hz/120 Hz OC refresh rates are still way better than what you'll get from, say, a TV.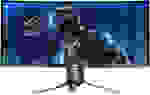 Asus ROG Swift PG348Q
34-inch screen
3,440 x 1,440
60 Hz native/100 Hz OC refresh rate
G-sync compatible
Curved screen
IPS panel
The ROG Swift PG348Q is a big 34-inch option from Asus, a company that makes a huge array of gaming monitors across many sizes and specifications. Like a couple of the other 34-inch monitors I tried, the PG348Q—with its ample 3,440 x 1,440 resolution, 60/100 Hz refresh speeds, G-sync compatibility, and curved IPS screen—is most notable for the sense of immersion it brings on via its huge curved screen.
In terms of features and value, the PG348Q lands between the Acer Predator and Alienware models. You aren't getting quite the same flashy, RGB experience as with Alienware's "AlienFX" programmable effects, but neither is it as (relatively) bare-bones as the Predator. The PG348Q is the top-of-the-line option in Asus' considerable gaming monitor lineup, and this shined through during use. The built-in LEDs and IPS panel made for a rich and eye-strain free experience while I was gaming, and with the option for G-Sync, I felt confident that the graphically impressive screen would also remain responsive and tear-free.
Like the other 30+ inch monitors in the list, the PG348Q is a great choice for sheer immersion and beautiful images, but you'll need a pretty hefty video card to operate it comfortably. Overall, though, the extra features and bits and bobs, like blue light filtering and the monitor's lovely titanium/copper finish, feel like icing on an already well-baked cake.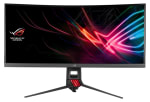 Asus ROG Strix XG35VQ
35-inch screen
3,440 x 1,440
100 Hz refresh rate
FreeSync compatible
Curved screen
VA panel
One of the downright biggest monitors I've ever gone hands-on with, the Asus ROG Strix XG35VQ is almost alarmingly affordable for its size. Many 32/34-inch monitors retail for a grand a more, so getting this one (a 35-inch) at its MSRP of $799 (or sometimes less online) is definitely a value proposition if you're looking for a big, curved, TV replacement of a thing.
Transitioning from some of the faster refresh rates during my time with this one, I definitely noticed the shift from 144/240 Hz to 100 Hz at first. Like most 30+ inch monitors, the XG35VQ is better suited for cinematic, immersive gaming experiences than hyper-twitchy ones. Its resolution (3,440 x 1,440) is high enough to keep games on the huge screen looking crisp, but like with the smaller XG32VQ, it also uses a VA-style LCD panel. This more affordable panel type explains, in part, the XG35VQ's lower price. And like with other VA-equipped displays (most TVs use this panel type), viewing angles aren't stellar, and color fidelity/overall brightness won't blow you away. But the image is still reliably good for most games.
While you're also getting FreeSync here—and base-mounted LED lighting—the XG35VQ's major draw is how affordable it is for such an absolutely massive monitor. While you could get better picture quality from an IPS-equipped option, finding a 35-inch variant with the same high resolution and higher-than-average refresh rate would mean spending way, way more money—and we think plenty of gamers will be satisfied by the XG35VQ's performance.
More Articles You Might Enjoy
Up next
Get Reviewed email alerts.
Sign up for our newsletter to get real advice from real experts.