UPDATE: May 2, 2019
We're currently updating this round-up to include the latest models possible.
Gas may be the pros' choice, and induction may be the (magnetic) wave of the future, but there's still plenty to be said for cooking with radiant electric heat. You can expect burners with an impressively wide temperature range, consistently excellent convection, and even heating across the board—great things to have if you enjoy spending time in your kitchen.
While the decision of which fuel to cook with might be out of your hands thanks to your choice of home, you still have some tough choices to make. There are dozens of electric ranges to choose from, but lucky for you, we've put enough of these cookers through their paces to make some strong recommendations.
If you're in the market for a new electric range, check out our top picks, starting with the Frigidaire Professional FPEH3077RF (available at Abt for $1,959.00). And for more information on any specific range, simply click through to read the full review.
Advertisement - Continue Reading Below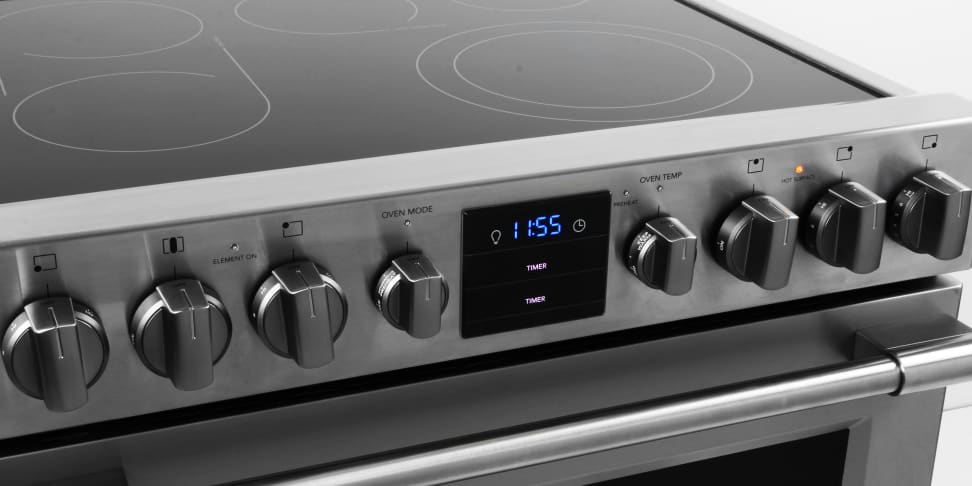 Frigidaire Professional FPEH3077RF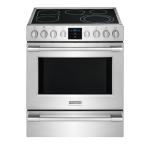 Where To Buy
$1,959.00
Abt
Buy
Frigidaire Professional FPEH3077RF
Best Overall
This freestanding Frigidaire Professional has the look of a slide-in and the performance of a much pricier range. The 30-inch rangetop can get both screaming-hot yet can be mild enough to melt chocolate, while the 5.1-cu.-ft. oven bakes absolutely evenly. We also appreciated extras like a storage drawer, bridge burner, griddle, and temperature probe. Visually, the stainless-steel finish is beautiful and smudge-proof. Read full review.
How We Tested
The ranges in this roundup were tested over a period of years, all adhering to the same careful procedures in a lab environment. We consider set-up and ease of use, cooking performance, and fit, finish & feel.
The cooking tests are, as you might expect, the most involved and the most heavily weighted part of the process. We use cake, cookies, toast, and pork roast as the food samples—always from the same source and prepared in exactly the same way. If an oven has a convection fan, we usually test with convection on and off. If it's a double oven, we usually test both upper and lower.
Read the super-detailed version of how we test ovens here.
---
Other Electric Ranges We Tested
Bosch HEI8054U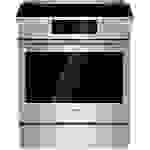 Bosch HEI8054U
This 30-inch, all stainless range from Bosch feels sturdy and looks great, and we also enjoyed cooking on it. A $1,799 sale price may be high, but you're getting a lot of range. Since it looks like an upscale slide-in model but fits in the same cutout as a freestanding range, it's a great way to get more value out of a kitchen renovation. Read full review.
Electrolux EI30EF45QS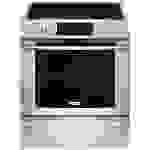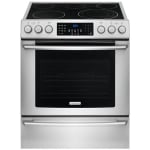 Electrolux EI30EF45QS
At a glance, the Electrolux EI30EF45QS electric freestanding range has a lot going for it: The design is clean and transitional, mimicking a slide-in look, and the electric rangetop has an array of great burners with a broad range of temperatures. Read full review.
Frigidaire Professional FPEF3077QF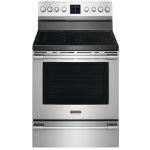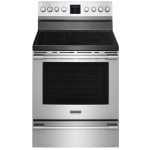 Where To Buy
$959.00
Abt
Buy
Frigidaire Professional FPEF3077QF
The FPEF3077QF Professional electric range has the genuine and classic look of a high-end oven at a substantially lower price. But it's quite capable in the cooking department too: The 6.1-cu.-ft. oven offers rapid preheat speeds and excellent overall cooking evenness. Whatever it may lack in ability, it makes up for in versatility. Read full review.
Samsung NE59J7650WS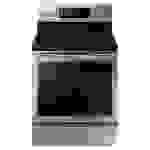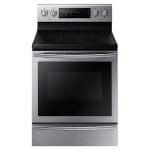 Samsung NE59J7650WS
This Samsung range not only has a triple burner, but it has a bridge burner for larger stockpots and griddles, too. Couple that with a warming center, and this is a cooktop that gives you options! The choices don't stop with the cooktop, though, as this convection oven also has easy cook settings (including dehydrate and bread proof settings).
When it comes to performance, the Samsung runs middle of the pack in all of our tests. There's nothing that stands out one way or the other. If we consider the design and aesthetics alongside its performance, we really can't find anything to complain about this model.
Kenmore 95053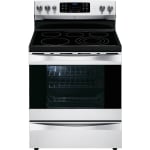 Kenmore 95053
This Kenmore 95053 electric range (MSRP $1,599) can be found on sale for $990, which is a little expensive for this middle-of-the-road performer—even though it has true, dual fan convection. Its burners are impressive, reaching both high and low temperatures with ease and boiling water in as little as four and a half minutes. The oven isn't stellar, churning out mediocre baked goods, poorly roasted pork, with a truly terrible broiler. Read full review.
Samsung NE59M6850SS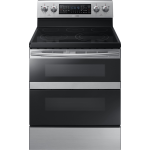 Samsung NE59M6850SS
We love the Samsung NE59M6850SS/AA electric range with convection. Its Flex Duo divider means it's three ovens in one package: It can function as a large, single oven, or you can simply slide in the divider to convert it into two smaller ovens for baking two things at once. This model also offers WiFi for remote preheat, two powerful burners, great low-heat simmering, and some of the best roasting we've ever tested. Read full review.
Samsung NE59J7850WS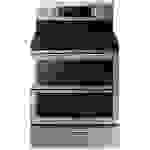 Samsung NE59J7850WS
Unlike a typical dual-oven range, the Samsung NE59J7850WS allows you to divide the 5.9-cu.-ft. oven cavity in two on demand, offering a new level of adaptability. You can also bisect the door, but only when and if you choose. Along with the oven(s), the rangetop easily reaches searing heats or simmering lows. Whether you want to cook a Thanksgiving turkey or cook multiple meals at once, this range can fit your needs. Read full review.
GE JB655SKSS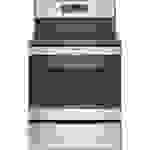 Where To Buy
$767.00
AppliancesConnection
Buy
$637.20
Home Depot
Buy
$634.00
Abt
Buy
$639.99
Best Buy
Buy
GE JB655SKSS
There's a reason why GE is the most popular brand for cooking appliances in the U.S.: It makes a solid product. The JB655SKSS is no exception. It does an excellent job at roasting and broiling, but may not be the best bet for serious bakers: Our cakes came out pretty uneven. On average, it takes the burners about 9-10 minutes to boil 6 cups of water, but the right front burner was able to boil that amount of water in under 4 minutes, which is pretty speedy. Overall, this range is a good deal for what it does and consumers agree. Read full review.
LG LDE4415ST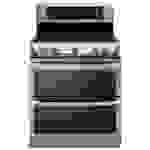 Where To Buy
$1,615.10
AppliancesConnection
Buy
$1,397.70
Home Depot
Buy
$1,399.00
Abt
Buy
$1,399.99
Best Buy
Buy
LG LDE4415ST
The LG LDE4415ST is a fairly expensive double oven range with a great performing cooktop and two lackluster ovens. Each one turns out burnt and unevenly cooked baked goods (even on convection mode), but its rangetop can reach high and low temperatures with ease and boil water in a snap. Read full review.
Kenmore Elite 95223
Kenmore Elite 95223
This upgraded Kenmore model really doesn't disappoint. It has a ton of value-added features, like a triple burner, a warming drawer with 5 different heat settings, and a luxury-glide oven rack. Add that to the ability to bake on convection and steam baking settings and you really have a great package.
It might be a little slow to preheat, but once it gets up to temperature it bakes and roasts really nicely, scoring on the top end of our baking tests. The burners not only heat up to high temperatures but they can also simmer at nice low ones. Overall, you could do much worse than this Kenmore model.
If you're shopping for ovens, check out our guide, The Best Double Oven Ranges.
Advertisement - Continue Reading Below