The Best Smart Smoke / Carbon Monoxide Detectors and Monitors of 2019
By Camryn Rabideau, December 12, 2018, Updated January 02, 2019
Editor's Note (Dec. 13, 2018): Since we put this roundup together, some of our favorite smart smoke detectors and carbon monoxide monitors are no longer on the market or might be difficult to find. We'll be testing more of these devices soon and will update this story when we have some new recommendations.
Have you ever had to play hide-and-seek with a smoke alarm chirping a low-battery alert in the dead of night? We have, and while we know that smoke alarms are a necessary (and potentially live-saving) part of every home, we can't say that we enjoy pausing beneath each smoke alarm, waiting to see if this is the poor device that needs replacement batteries.
(Want to see more smart monitors for your home? Check out our article on the Best Smart Water Leak Detectors.)
Smart smoke and CO alarms, on the other hand, provide notifications to your phone, and we think that's a development worth celebrating. We put the top smoke detectors and monitors on the market through their paces to find the best model you can buy, and we found the Halo+ Smart Smoke & CO Alarm (available at Amazon) to be the top choice. For more of our top picks, read on.
Updated January 02, 2019
Advertisement - Continue Reading Below
Why does it make sense for smoke alarms be "smart"?
Smoke detectors are a perfect example of a device that benefits from smart functionality. Why? Standard smoke detectors have a few major shortcomings, mainly that they're not all that useful when you're not home. If your detectors aren't connected to the local fire department (which most are not) and a fire starts when no one is home, the alarms simply beep away to no avail. Plus, that's not to mention the dreaded 3 a.m. low-battery chirps—we could all live without those.
Smart smoke detectors solve both these issues, as they will send you smartphone notifications when the alarm goes off, as well as give you a heads up when the battery is low. Some models also add unusual features like weather updates, voice alerts, and night lights. The "smart" functionality can not only give you peace of mind while you're away from home, but it can also save you time and energy when it comes to replacing those pesky smoke alarm batteries.
---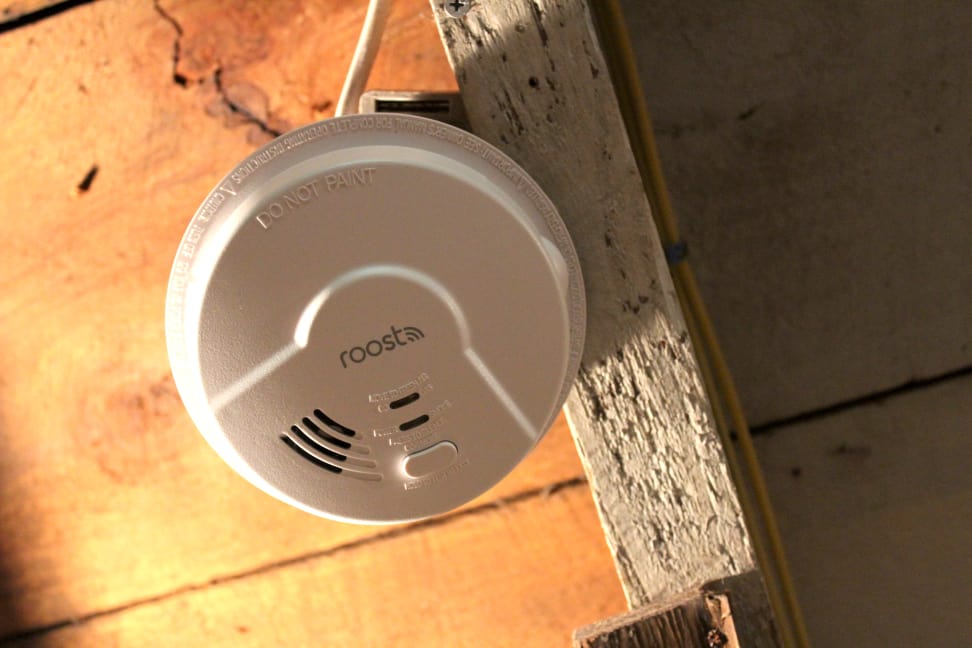 How We Tested
To test these smoke detectors, we first installed and synced each device with its app. After the initial setup, we ran a "self-test" on each model and navigated around both the iOS and Android versions of the apps to assess usability.
Finally, we used aerosol-sprayed smoke to set each alarm off. We did this twice for every model—once while the phone was connected to WiFi and once when it was not—to see if there was a difference in how quickly notifications were delivered. During these tests, we also evaluated the quality/volume of the alarm, quality of the smartphone notifications, and ease of silencing the detector. Other factors we took into account were interconnectivity, app connectivity, and perceived reliability.
---
Related articles
• The Best Smart Water Leak Detectors
Advertisement - Continue Reading Below