The Best Smart Smoke / Carbon Monoxide Detectors and Monitors of 2019
By Camryn Rabideau, December 12, 2018, Updated April 16, 2019
Smoke alarms generally have one purpose and that's to alert you of a fire. But did you know that you can make your humble abode even safer thanks to smart smoke and carbon monoxide (CO) alarms? Not only do they send notifications to your phone, but most of them are pretty easy to install too. Whether it's smart water leak decetors or smart thermostats, turning your "dumb" home into a smart one is both safe and convenient.
We put the best smoke detectors and monitors on the market through their paces to find which one you should buy, and we found the Nest Protect (available at Amazon) to be the top choice. Between the easy installation and intuitive app, there's a lot to love. But if you're looking for something a little more barebones, don't worry, we've got plenty of other options.
These are the best smart smoke and carbon monoxide detectors we tested ranked, in order:
Nest Protect
Abode Smoke Alarm Monitor
First Alert 2-in-1 Z-Wave Smoke Detector & Carbon Monoxide Alarm
Onelink Safe & Sound by First Alert
Leeo Smart Alert Smoke/CO Remote Alarm Monitor
Roost Smart 9V Battery
Onelink Wi-Fi Smoke + Carbon Monoxide Alarm (Gen 1)
Onelink Smoke Detector and Carbon Monoxide Detector (Gen 2)
Kidde RemoteLync Monitor
Advertisement - Continue Reading Below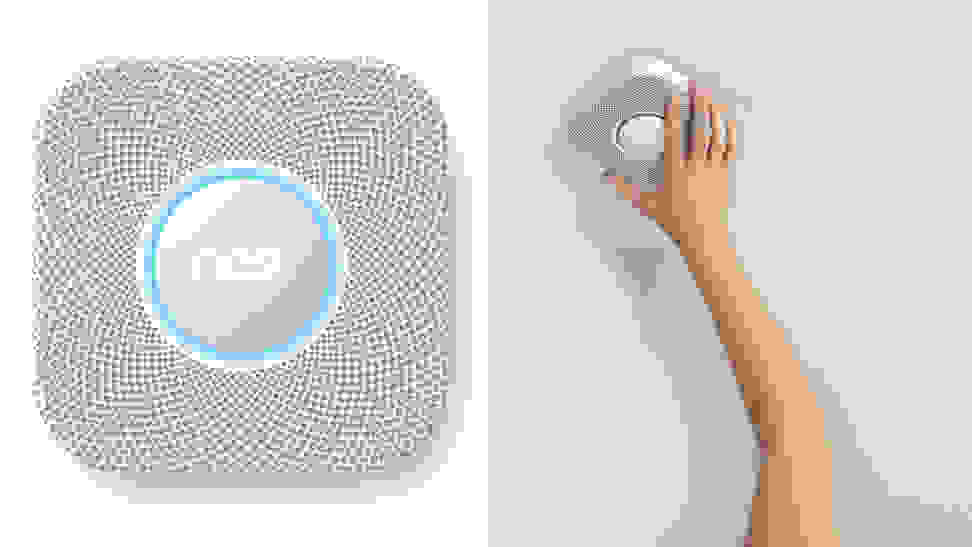 How We Tested
The Tester
I'm Camryn Rabideau, a freelance contributor for Reviewed. From household linens to smart home gadgets, I've been doing product testing for a number of years. And, like most people, I want to keep my humble abode as safe as possible. That's why I dived back into the world of smart home to test the best smart smoke and carbon monoxide detectors available today.
The Tests
To test these smoke detectors, we first installed and synced each device with its app. After the initial setup, we ran a "self-test" on each model and navigated around both the iOS and Android versions of the apps to assess usability.
Finally, we used aerosol-sprayed smoke to set each alarm off. We did this twice for every model—once while the phone was connected to WiFi and once when it was not—to see if there was a difference in how quickly notifications were delivered. During these tests, we also evaluated the quality/volume of the alarm, quality of the smartphone notifications, and ease of silencing the detector. Other factors we took into account were interconnectivity, app connectivity, and perceived reliability.
What is a smart smoke alarm?
Like most smart home devices, smart smoke and carbon monoxide detectors connect to your home's Wi-Fi and, subsequently, your smartphone. In other words, they go a step further than your traditional smoke alarm. This is the main appeal of smart smoke detectors, but some high-end models include additional "smart" features like voice controls via Alexa, weather updates, voice alerts, customizable night lights, and more.
What is a monitor?
Monitors essentially "listen" for your smoke and carbon monoxide alarm, and if they hear it going off, they send a smartphone notification to let you know. They're typically installed in proximity to your existing smoke detectors—some plug into an electrical outlet while others are battery-powered—and they're connected to your home Wi-Fi network. However, they don't allow you to silence your smoke alarms and they won't save you from 2 a.m. low-battery chirps.
Why does it make sense for smoke alarms be "smart"?
Smoke detectors are a perfect example of a device that benefits from smart functionality. Why? Standard detectors have a few major shortcomings, mainly that they're not all that useful when you're not home. If your detectors aren't connected to the local fire department (which most are not) and a fire starts when no one is home, the alarms simply beep away to no avail. Plus, that's not to mention the dreaded 3 a.m. low-battery chirps—we could all live without those.
Smart smoke detectors solve both these issues, as they send you smartphone notifications when the alarm goes off and give you a heads up when the battery is low. The "smart" functionality can not only give you peace of mind while you're away from home, but it can also save you time and energy when it comes to replacing those pesky smoke alarm batteries. Plus, if you ever burn popcorn and accidentally set off your smart alarm, you can quickly silence the detector from its app, saving you from having to grab a chair and climb up there to manually silence it.
Photoelectric vs. Ionization Smoke Detectors
There are three types of smoke detectors you can buy: photoelectric, ionization, and dual-sensor. These terms refer to the technology used to sense smoke.
Photoelectric smoke detectors have a light source that's pointed into a sensing chamber, and when smoke particles enter the chamber, they reflect light onto the sensor, triggering the alarm. This type of smoke detector is more efficient at sensing fires that begin with a long period of smoldering, according to the U.S. Fire Administration.
On the other hand, ionization smoke detectors have a small amount of radioactive material between two electrically charged plates. This ionizes the air (hence their name) and creates a current that flows between the plates. If smoke particles enter the chamber, it will disrupt the current and activate the alarm. This style of smoke detector will typically sense flaming fires more quickly.
There are also dual-sensor smoke detectors, which use both photoelectric and ionization technology. For comprehensive protection in your home, the U.S. Fire Administration actually recommends dual-sensor detectors, which efficiently sense both types of fires.
---
Other Smoke and Carbon Monoxide Detectors We Tested
Other Articles You Might Enjoy
Advertisement - Continue Reading Below