Smart Home
10 ways Google Assistant can help prep for Thanksgiving
Set reminders, find recipes, and more for an easy turkey day.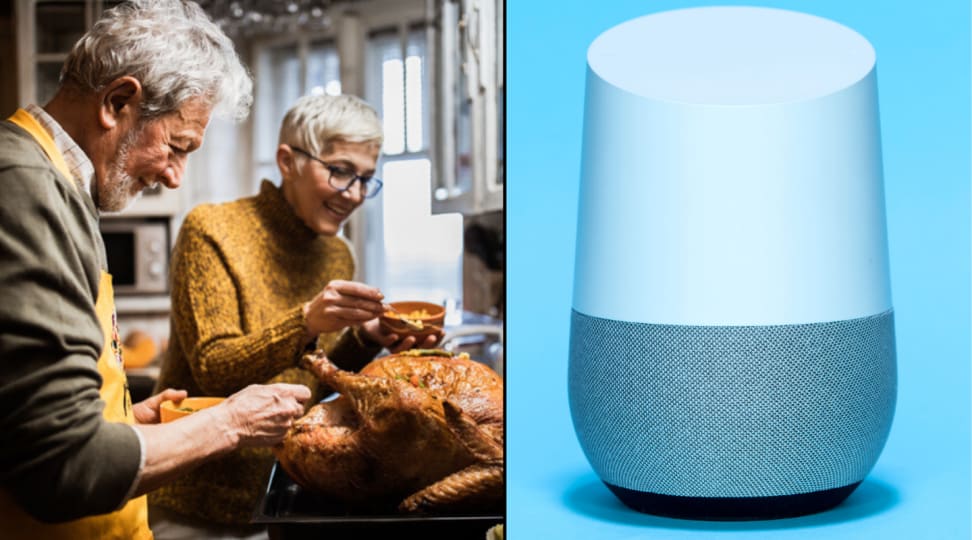 Credit: Getty / skynesher / Reviewed / Jackson Ruckar
Whether you're hosting family and friends or traveling for Thanksgiving, prepping for the big day requires some advanced planning.
To help you stay on top of your turkey day responsibilities, you can rely on Google Assistant for some extra help. Google Home speakers like the Google Nest Hub or the Google Nest Mini (second generation) can order groceries, find recipes, and more leading up to the holiday. Here are 10 ways Google Assistant can help you get ready for Thanksgiving.
1. Set reminders leading up to the big day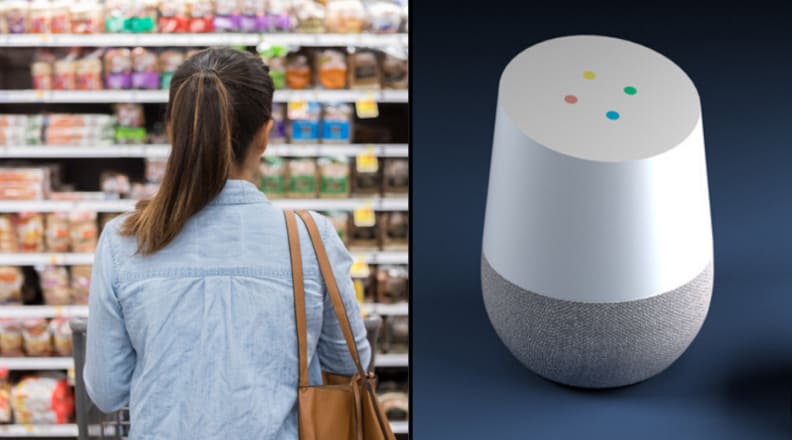 From ordering pies to making sure you've included every last ingredient on your shopping list, making a traditional Thanksgiving meal requires some serious prep well before the guests arrive. Google Assistant can help you stay on track and manage your turkey day expectations when you create a reminder.
Using a Google Assistant-enabled device, like the Google Home Mini, say, "Hey Google, remind me on [day and time] to [task that needs to be completed]." You can use this feature to remind yourself to pick up the turkey, launder the sheets for any guests that are staying with you, and more. To check on your list of upcoming tasks, ask Google, "What are my reminders?"
2. Discover new recipes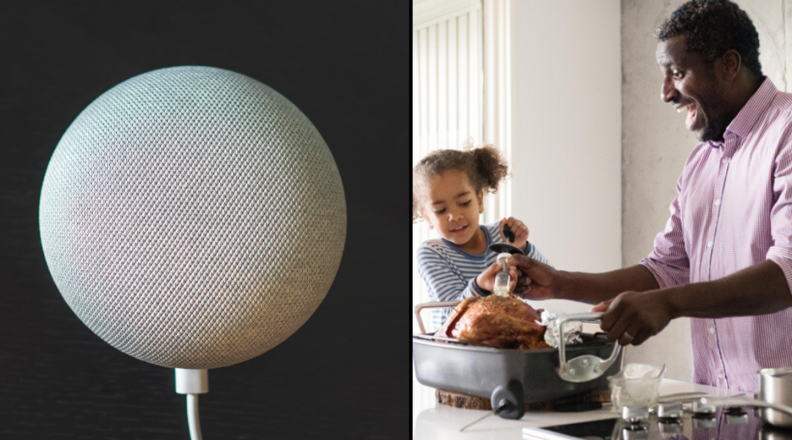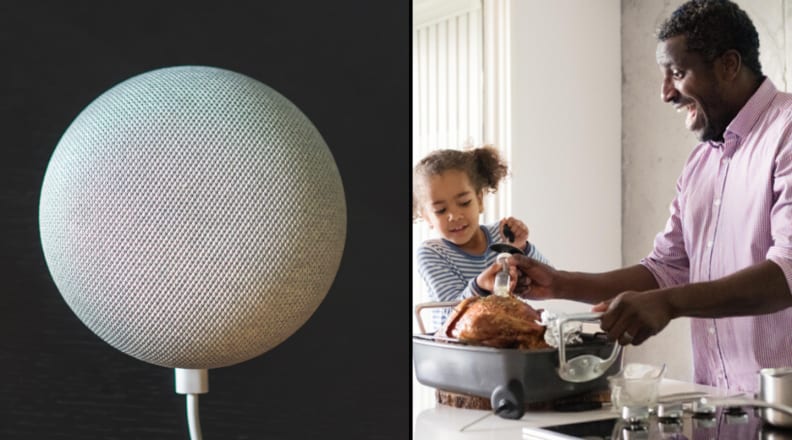 Turkey, stuffing, and mashed potatoes are all popular Thanksgiving food you'll likely find on your table this turkey day. However, if you're looking for a new twist on these recipes, or need a quick refresher on how to make some of your favorite Thanksgiving foods, Google Assistant is here to be your sous chef.
If you have a screen-enabled Google Home device like the Google Nest Hub Max, you can view recipes and watch how-to cooking videos to make your favorite Thanksgiving side dishes and more. Just tell Google to "show me Thanksgiving recipes," and you'll be able to choose from a robust list of tasty Thanksgiving foods.
No screen? No problem. Google Home's smart speakers, such as the Google Home or Google Home Mini, can still help you prepare tasty Thanksgiving recipes.
To find a recipe, say, "Hey Google, find me a [type of food] recipe." Google Assistant will give you a brief overview of the recipe, like how long it takes to make and what temperature to cook it at. You can ask Google to "prepare the ingredients" as you shop your kitchen for all the fixings. Once you've got the goods in hand, ask Google to "skip to instructions" to begin baking your feast.
3. Make a list of ingredients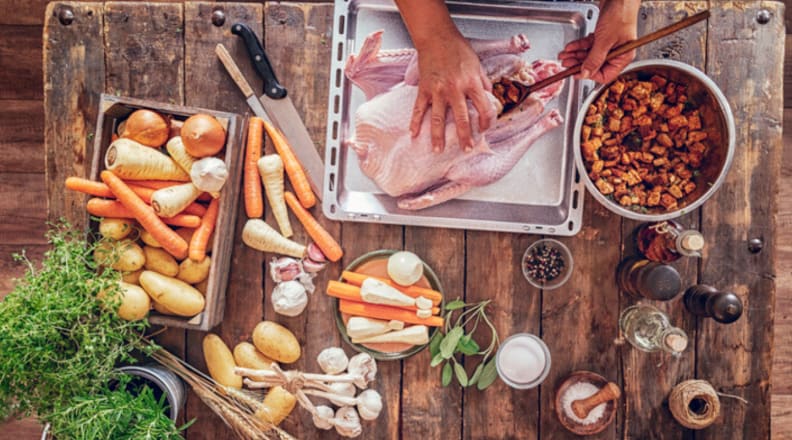 Cooking for a big crew? Bringing a dish to a potluck? Whatever you're planning to make on Thanksgiving Day, you can use Google Assistant as your personal grocery list. To start your list, say, "Hey Google, create a grocery list." From there, you can ask Google to add ingredients to the list by saying, "Hey Google, add butter to my grocery list."
Adding multiple items at once can be done by adding the word "and" in between each ingredient. If you want to add cherry pie filling, crushed pineapple, and yellow cake mix to the shopping list, for example, you'd say, "Hey Google, add cherry pie filling and crushed pineapple and yellow cake mix to my grocery list." Otherwise, if you forget to enunciate the "and," you'll end up with one very long entry.
There are a few ways to see what's on your grocery list. With the Google Nest Hub Max, just say, "Hey Google, show me my grocery list." To remove ingredients, tap on each one and this will check it off your list. Google Home speakers like the Google Home or Google Home Mini can also tell you what's on your list when you say, "Hey Google, what's on my grocery list?"
To view items on your grocery list, open the Google Assistant app, available for download on iOS and Android devices, and say, "Hey Google, show me my lists." When you select your grocery list, you'll be directed to a new screen where you can add and remove items, as well as view the ingredients you've already checked off from your list.
4. Take care of the grocery shopping for you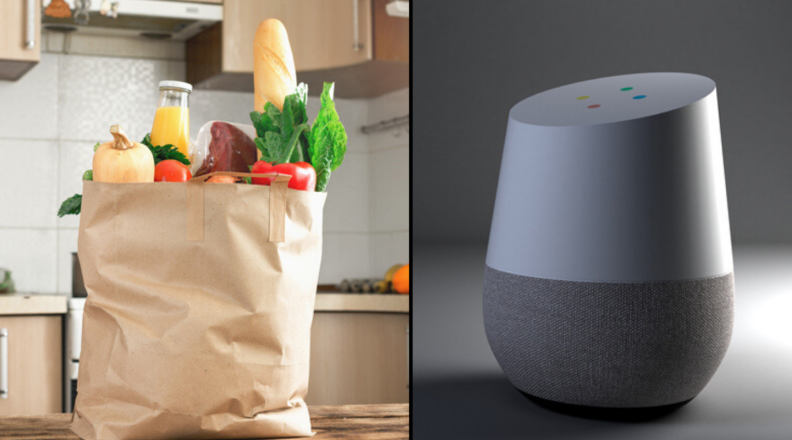 In April, Walmart announced that Google Assistant users would be able to order groceries using their Google Home speakers. Grocery stores are typically packed with shoppers in the days leading up to Thanksgiving, so why not give yourself a break from the holiday madness? You can shop from over 100,000 fresh grocery items at Walmart by using Google Assistant.
In order to access the service, you'll need to link your Walmart account to Google. Then you can say, "OK Google, talk to Walmart," and then you can add items to your cart by replying, "Ask Walmart to add bananas to my cart."
5. Set a timer so you don't burn the turkey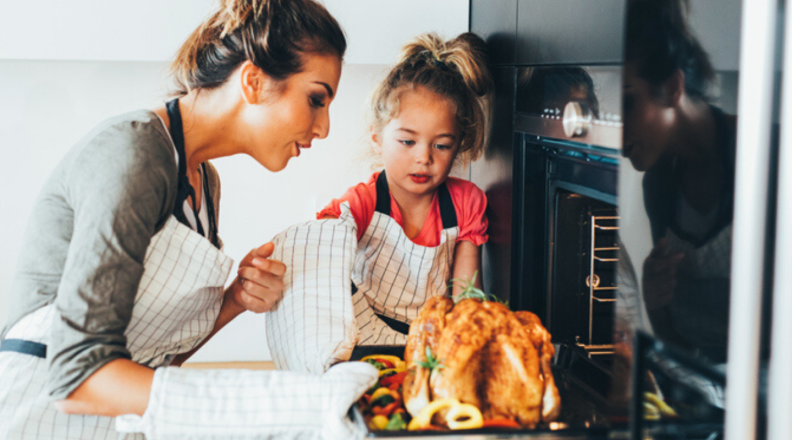 Juggling multiple recipes can be hectic. Setting timers using Google Assistant is an easy way to keep track of how long the rolls need to bake or when the turkey will be done. To set a timer, say, "Hey Google, set a timer for [number] minutes," or, "Hey Google, remind me to take the pumpkin pie out of then oven in 30 minutes."
(Make sure you have a our favorite roasting pan and our favorite probe thermometer on hand to help you with your holiday cooking.)
6. Check the traffic before you go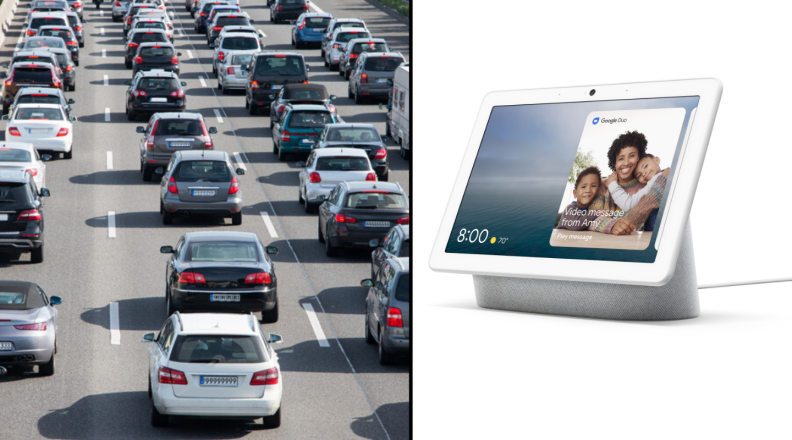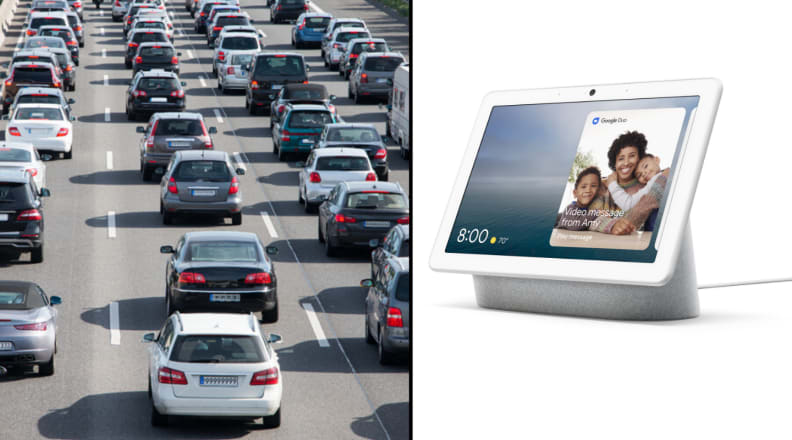 If you're heading over to a friend or family member's house to celebrate Thanksgiving, you can use your Google Assistant-enabled speaker to check the traffic before you go. You don't want to miss any tasty appetizers—or worse—show up late for the meal itself. While traffic usually isn't too bad on Thanksgiving Day, it never hurts to check on your commute.
7. Get the forecast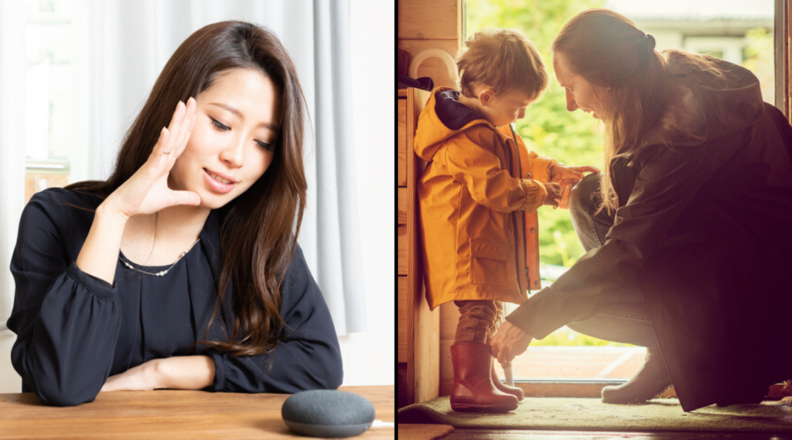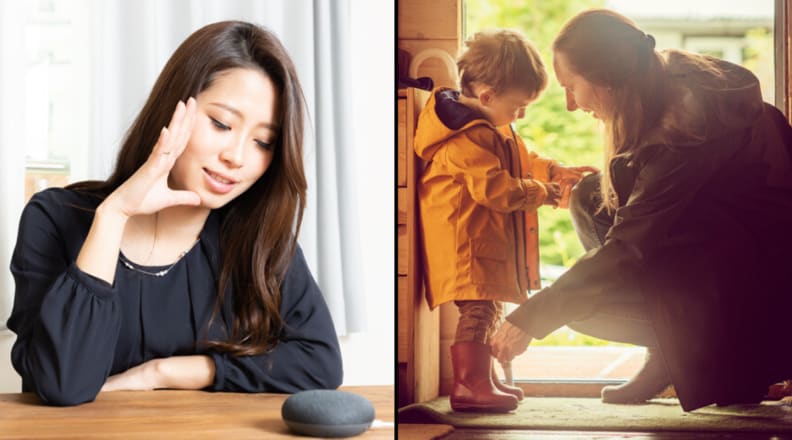 Thanksgiving Day is less than one month from the official start of winter on Dec. 21, but that doesn't mean cooler weather won't show up on Nov. 28. Do you need a heavy coat? Or will a light sweater be OK? What about an umbrella? Before the day gets underway, ask your Google Home speaker, "Hey Google, what's the forecast today?" to help you plan accordingly.
8. Find out what time the game is on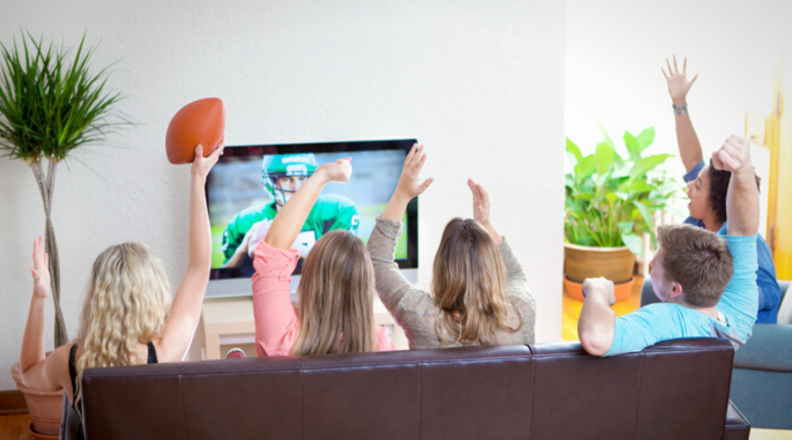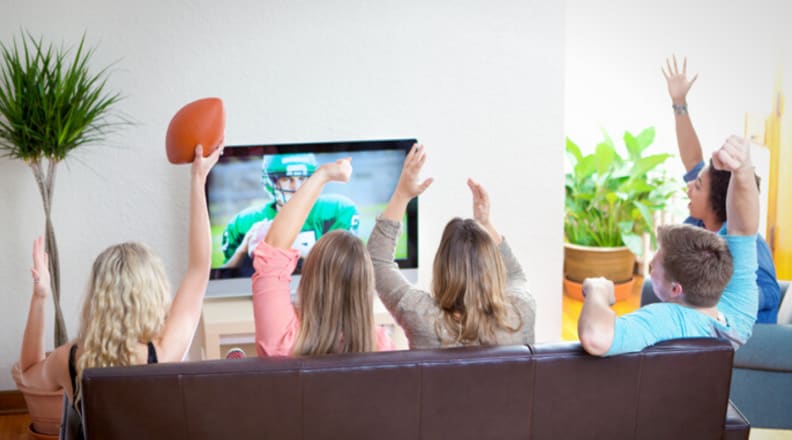 Football and Thanksgiving Day go hand-in-hand in many American households. Just a few years after President Abraham Lincoln made Thanksgiving a national holiday in 1863, football teams began playing on turkey day, according to The History Channel.
Find out what time the Thanksgiving Day games take place, as well as the matchups, by asking your Google Assistant-enabled device, "Hey Google, what football games are happening on Thanksgiving Day?" Throughout the day, Google Assistant can also check the score of the game, provide you with the latest stats, and more.
9. Create the perfect Thanksgiving Day playlist
Company coming over? Set the tone for the day by creating an extra special Thanksgiving Day playlist using Google Assistant. Or, if you're feeling overwhelmed by all of the Thanksgiving Day prep, fill a playlist with your favorite tunes that might help you relax when you're busy cooking or cleaning your home for guests.
A valid subscription to a music streaming service such as Spotify, YouTube Music, Pandora, Deezer, or Google Play Music is required to get started. Once you've linked your music streaming account to your Google Home speaker, you can start adding up to 1,000 songs per playlist.
10. Learn how to carve a turkey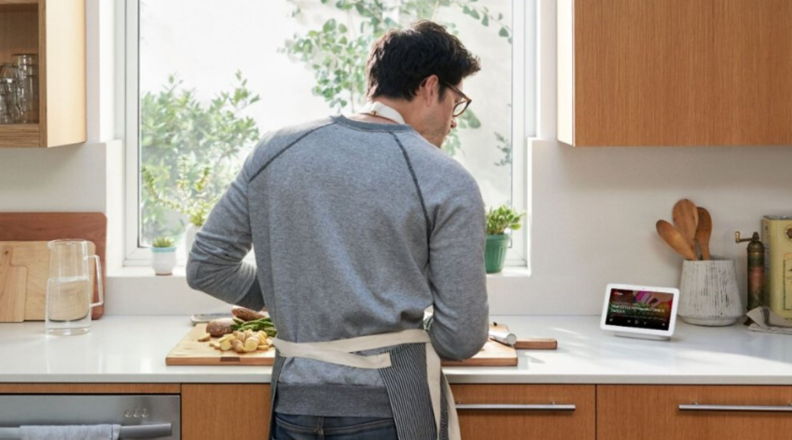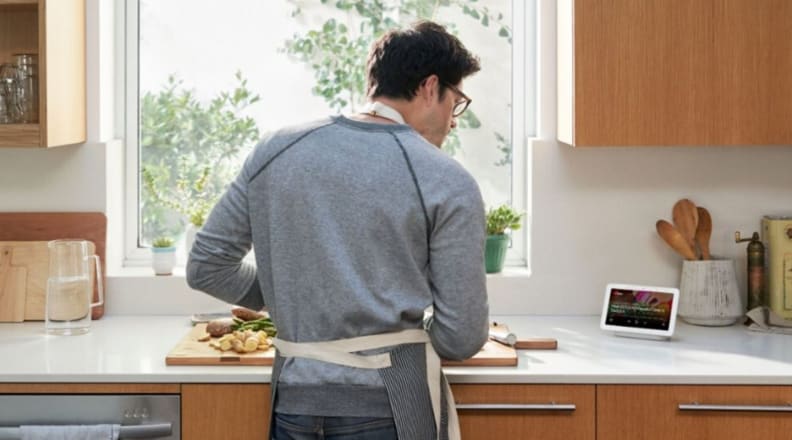 When it comes to the ideal Thanksgiving feast, turkey is usually involved. In fact, roughly 88% of U.S. households eat turkey on Thanksgiving, according to the National Turkey Federation. But preparing a delicious Thanksgiving turkey requires more than just cooking it to perfection—you also need to know how to carve it.
When using the Google Nest Hub or the Google Nest Hub Max, you can watch instructional videos to carve your turkey like a pro by saying, "Hey Google, show me videos of how to carve a turkey." Or, if you prefer voice-only instructions, say, "Hey Google, how do I carve a turkey?"
Whether you're traveling for Thanksgiving or hosting friends and family, there is a lot of prep work and energy that goes into the holiday. However, by using your Google Assistant-enabled device, you might be able to avoid some of the turkey day chaos with a helping hand from your smart assistant.