Lifestyle
25 thoughtful gifts for every type of mom
Meaningful ideas she'll love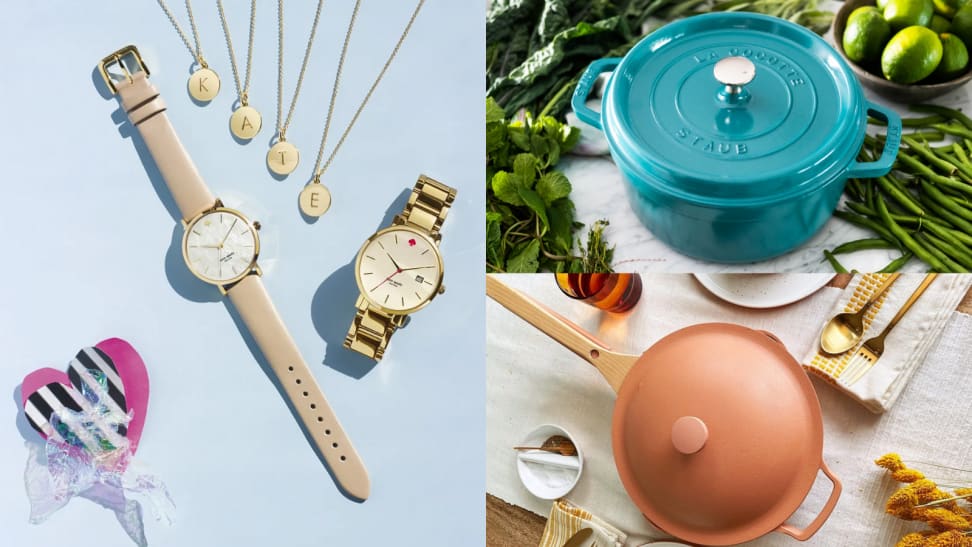 Credit: Kate Spade/Staub/Our Place
What do you get for the woman who has already given you so much? If your mother will actually look you in the eye and tell you exactly what she wants, you're one of the lucky ones. For the rest of us, there's a wide sea of standing mixers, bubble baths, and fancy cardigans to swim through in order to find the perfect gift for Mom. 
Luckily, we've tested hundreds of mom-approved products that happen to make perfect gifts, from the weighted blanket everyone's obsessed with to the hair dryer the internet exploded over. Here are our recommendations for the 60 best gifts for mom she's guaranteed to love. 
1. For the mom with great hair: The Revlon dryer everyone is obsessed with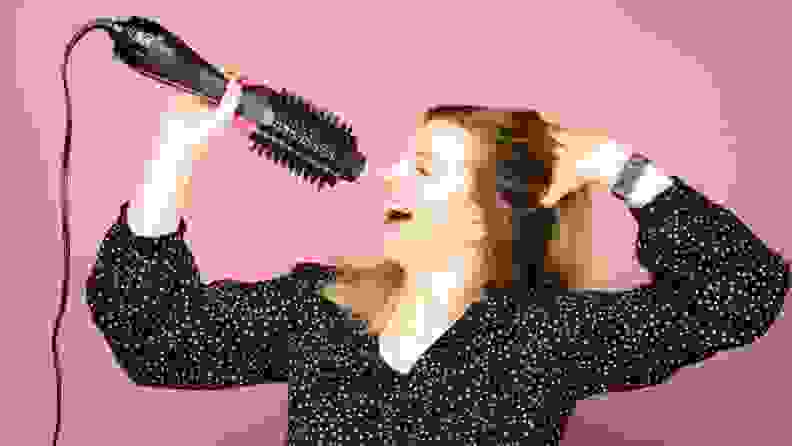 There's something special about products the whole Internet can agree on—like the Revlon One-Step Hair Dryer and Volumizer. This cult-favorite product has more than 75,000 reviews on Amazon, a staggering 60,000 of which are 5-star ratings. We tested the Revlon for ourselves and were as obsessed with it as the rest of the Internet was. If your mother loves her hair as much as she loves you (and saving time), she needs the Revlon One-Step Hair Dryer in her life. Bonus: The Revlon works on natural hair, too.


Get the Revlon One-Step Hair Dryer and Volumizer from Amazon for $41.99
2. For the mom who stands on her feet all day: Minnetonka Women's Chesney Slippers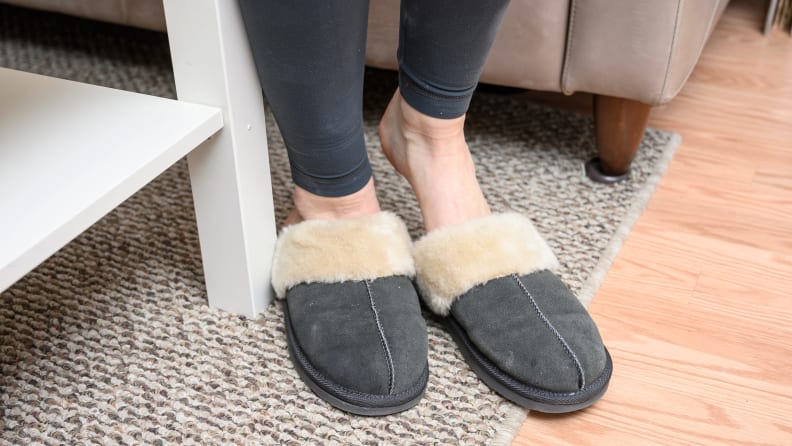 Slippers are a gift straight from the heavens. We tested the best slippers for women and crowned the Minnetonka Chesney Slippers the winners. Our tester found them to be comfortable, durable, and attractive, which is an important consideration since we're at home all day now. They're the perfect gift for the mom who spends all day on her feet and just wants to relax.
Get the Minnetonka Women's Chesney Slippers from Minnetonka for $44.95
3. For the mom who loves flowers: Bouqs subscription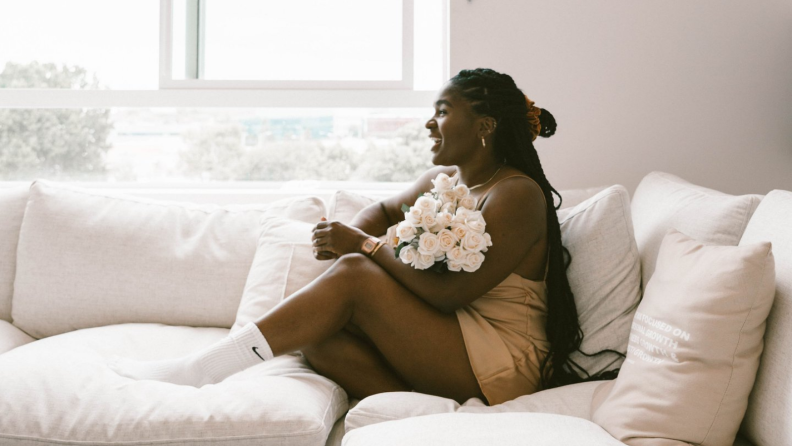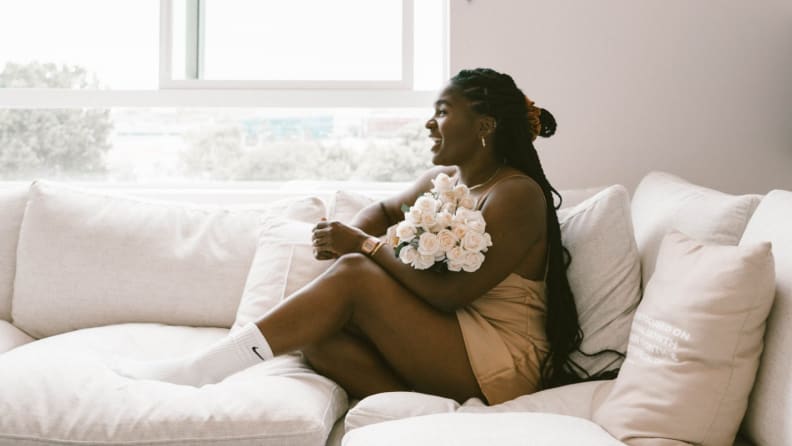 For Mother's Day this year, I got my mother a subscription to Bouqs, a flower-delivery service that sends a fresh bouquet of flowers every month. It is, hands down, the best gift I've ever gotten her. She adorably texts me a picture of her bouquet every time it arrives, and reminds me every month that I'm not allowed to cancel it. If mom loves flowers, it doesn't get better than Bouqs.
Get a monthly subscription to Bouqs starting at $36/month
4. For the mom who loves looking at old photos: A personalized calendar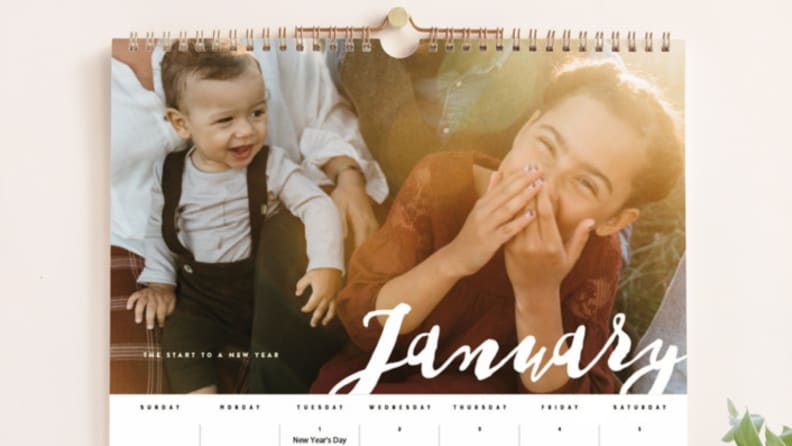 There are few gifts better than personalized ones, especially when it comes to mom, who pretty much already has everything she wants. With services like Minted, you can upload your own photos for a calendar and arrange them on colorful backgrounds, then customize your creation for each month. Most calendars also allow you to enter birthdays and important events, so you can help mom actually remember her mother-in-law's birthday this year.
Get a personalized calendar from Minted starting at $39
5. For the mom who loves happy hour: Winc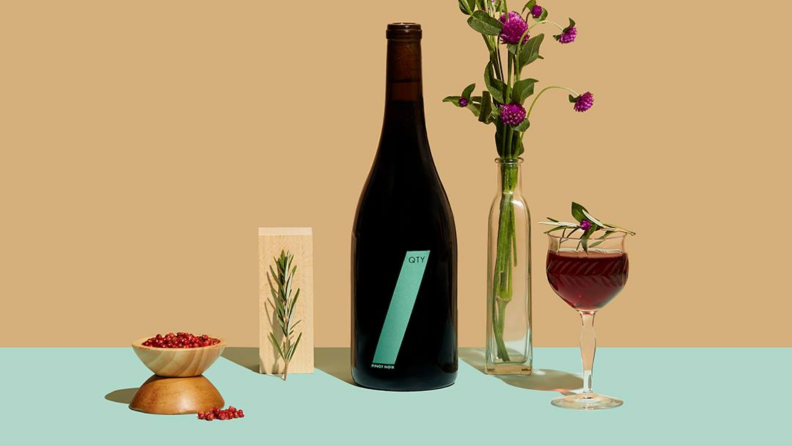 You could get mom a nice bottle of wine, or you could give her a wine subscription service that will keep the vino flowing all month long. We tried Winc and quickly became obsessed with the service, finding that it consistently delivered high-quality wines and recommendations throughout the months.
Get your first Winc box for $40
6. For the mom who loves her kitchen tech: ThermoWorks Thermapen Mk4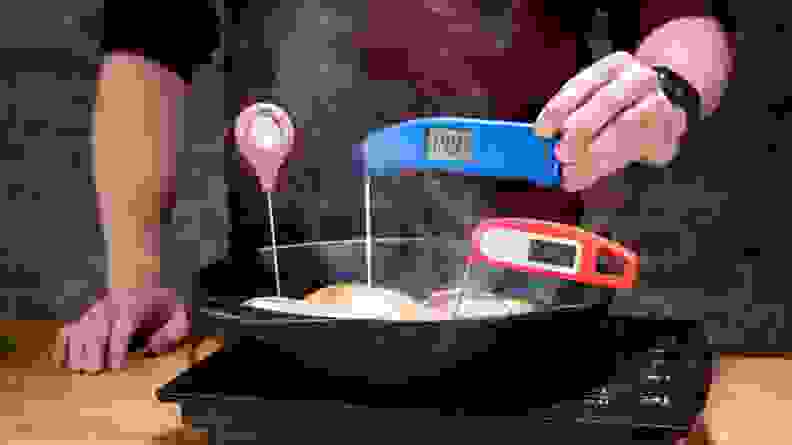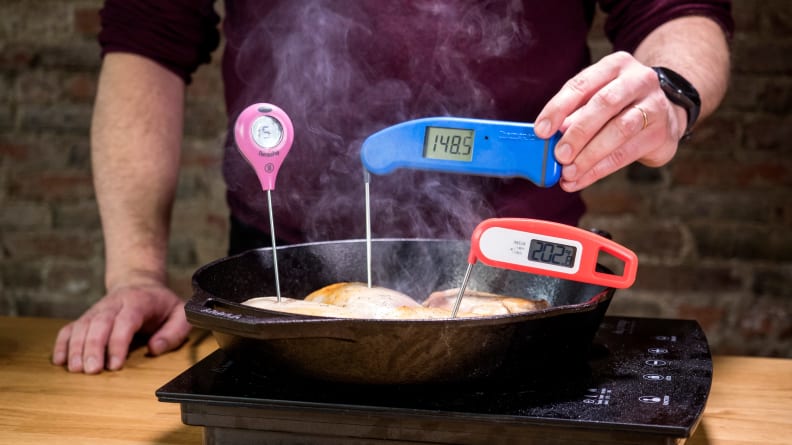 When it comes to the best digital meat thermometers, it doesn't get better than ThermoWorks. The thermometers from this company are incredibly high-quality, providing near-instant temperature readings, ideal for meat-loving moms who rely heavily on their kitchen tech.
Our favorite is the ThermoPop, which could read temperatures accurately in just three seconds. It's cute, it's accurate, and it's just $34. But if you're looking to splurge, we highly recommend the Thermapen MK4, which was the fastest and most accurate thermometer we tested and would have been our top pick if it wasn't so expensive. It's more than double the price of the ThermoPop, but it's waterproof, precise, and fast-acting.
Get the Thermapen MK4 from Thermoworks for $99
7. For the mom with a green thumb: A plant from The Sill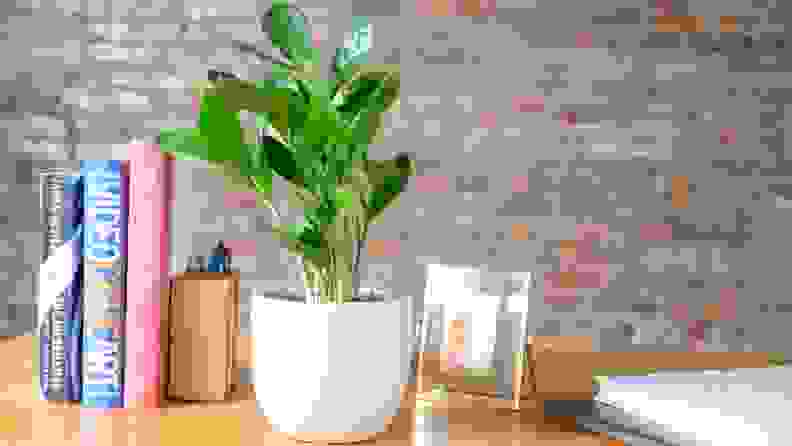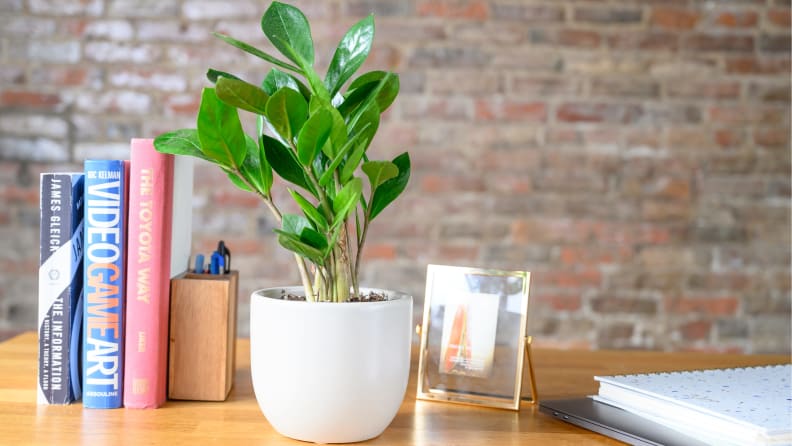 Here at Reviewed, we are obsessed with The Sill, an online plant retailer that sells gorgeous potted plants and hosts virtual plant workshops. We've tried out The Sill numerous times, finding that it exceeds our expectations with each order. If your mom loves new plants, you can't go wrong with a customized pot and vibrant plant from The Sill.
Shop plants from The Sill starting at $28
8. For the foodie mom: An iconic Dutch oven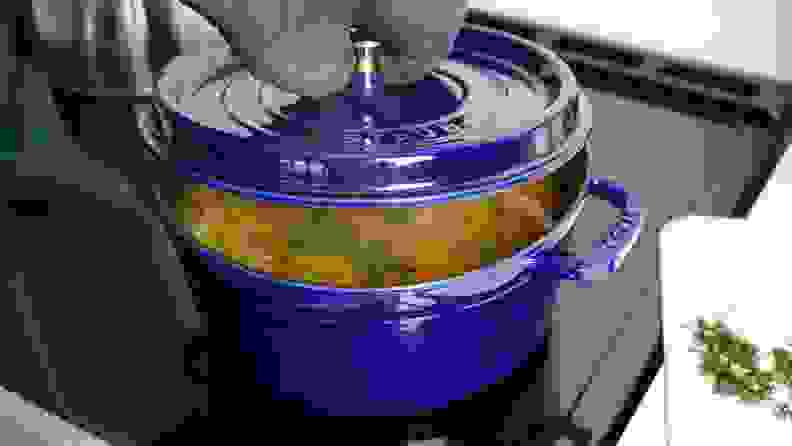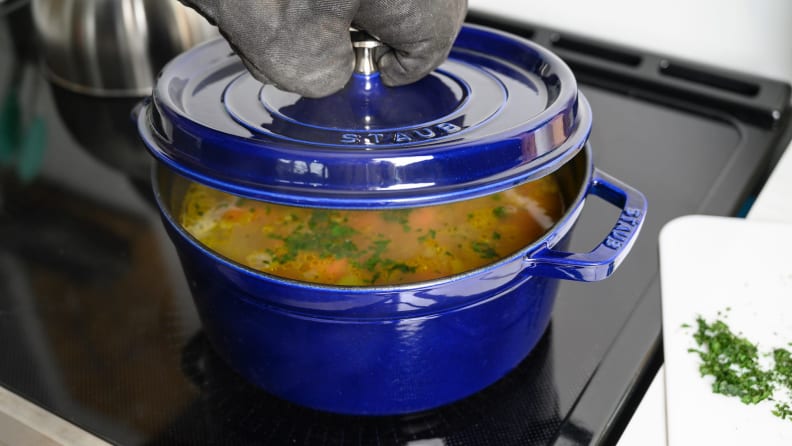 There is no kitchen tool more versatile than the Dutch oven. Mom can use it to prepare soups, simmer sauces, fry foods, saute vegetables, and so much more. If she doesn't already own this kitchen staple, it's time to get her our favorite model—the Staub (yes, it beat the coveted Le Creuset).
We found the Staub Round Cocotte performed equally (if not better) than the Le Creuset Dutch Oven, but cost nearly half as much as the popular brand and we found it fits better on the stovetop. The Staub is easy to clean, colorful, powerful, and shaped perfectly for the stove and pantry.
Get the 5.5-qt Staub Round Cocotte for $259.99
9. For the mom curious about her roots: AncestryDNA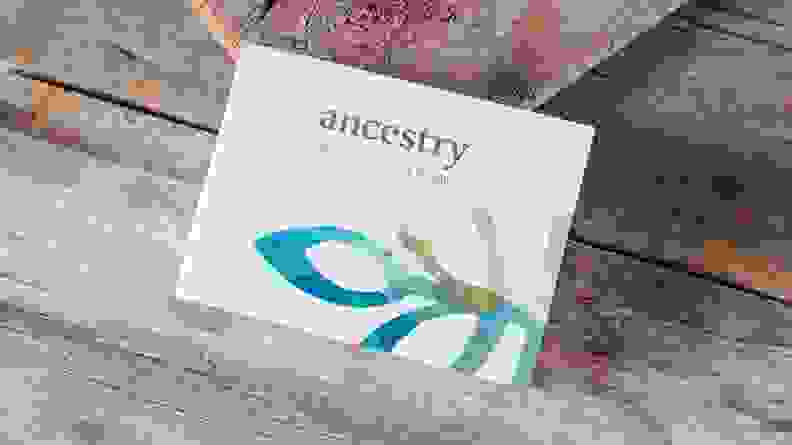 Mom frequently regales you with stories of your ancestors—like that you're related to Abraham Lincoln or your second cousin was a British spy—but help her discern fact from fiction by treating her to one of our favorite DNA kits, AncestryDNA. All mom needs to do is spit in a tube, ship off her DNA, and in six to eight weeks she'll unlock the mysteries of her past, allowing her to view her ancestral roots in the easy-to-use Ancestry interface and potentially find a long lost cousin.
Get AncestryDNA from Ancestry for $99
10. For the mom who loves to cuddle: A plush weighted blanket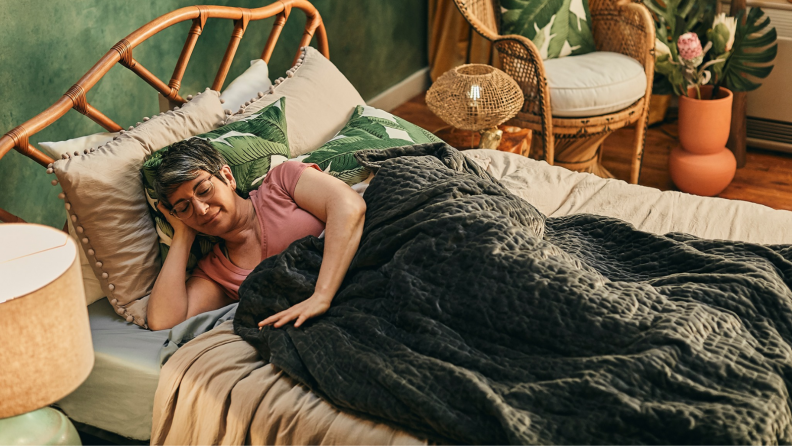 Wrap mom in the same comfort she gave you when you were a child (and let's be honest, the same comfort she gives you to this day). A weighted blanket can be great for reducing stress and anxiety, but honestly it's just comfortable to snuggle under while laying on the couch. Our favorite weighted blanket is the Gravity Blanket. We recommend it for all moms, as they won't get too hot while sleeping, but they'll stay comfortable all night long.
Get the Gravity Blanket for $189
11. For the mom who needs to upgrade her bag: A Michael Kors bag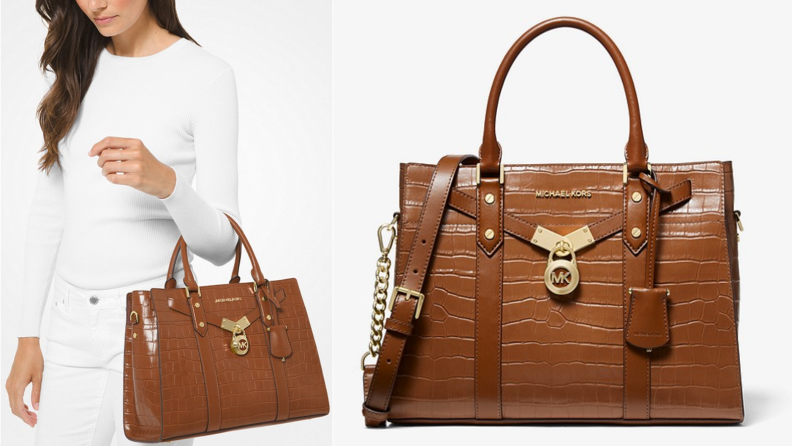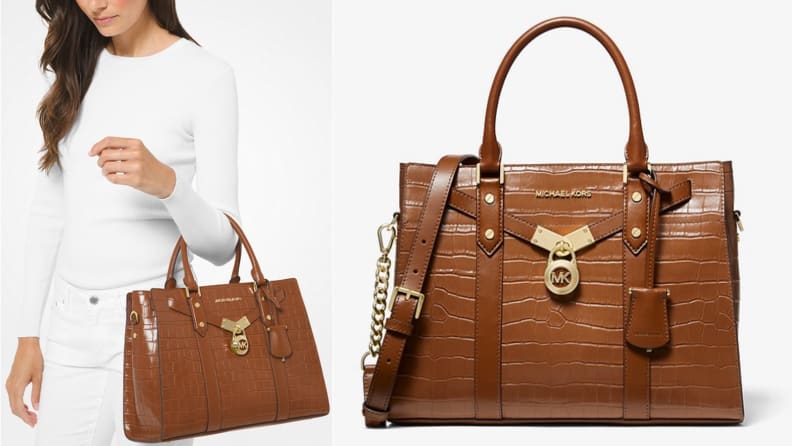 There are a few safe gifts you can buy Mom every year without having to panic: A designer bag is one of them. This gorgeous bag from Michael Kors is a reviewer favorite that comes in three colors. It's made from crocodile embossed leather and looks great with just about every outfit—so basically, it's the perfect purse.
Get the Noveau Hamilton large Crocodile Embossed Leather Satchel from Michael Kors for $378
12. For the mom who's over having a purse: A Coach wristlet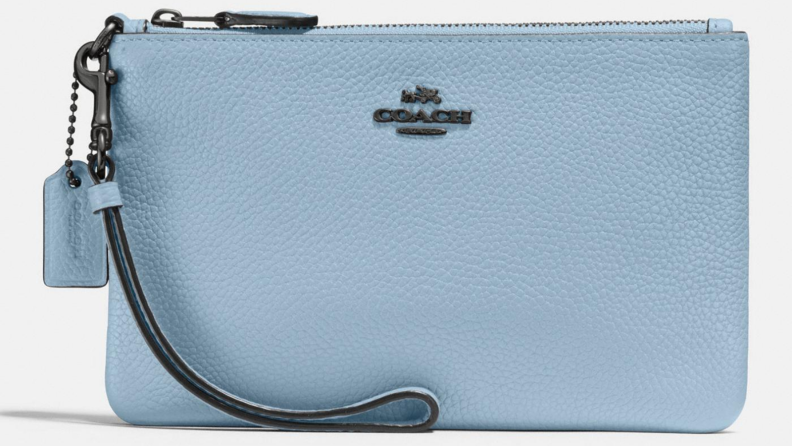 Sometimes she needs a full purse to hit the town, but others, mom just needs to carry a few things with her, so bringing a full purse is more work than it's worth. Get mom a classy wristlet for those days where she's just not in the mood for the whole shebang. You can get this bag from Coach in four colors, and it comes highly recommended by hundreds of reviewers.
Get the Small Wristlet from Coach for $75
13. For the mom who needs a new vacuum: The Dyson Ball Animal 2
The Dyson Ball Animal 2 isn't the cheapest thing you'll find on this list, but it is among the best cleaning products we've ever tested in our labs. It's the best upright vacuum you can buy, providing an immense amount of power and impressive corner-cutting abilities. If mom's been begging for an upgrade, you can't get better than Dyson.
Get the Dyson Ball Animal 2 for $299.99
14. For the mom who needs new lipstick: Anything from Mented Cosmetics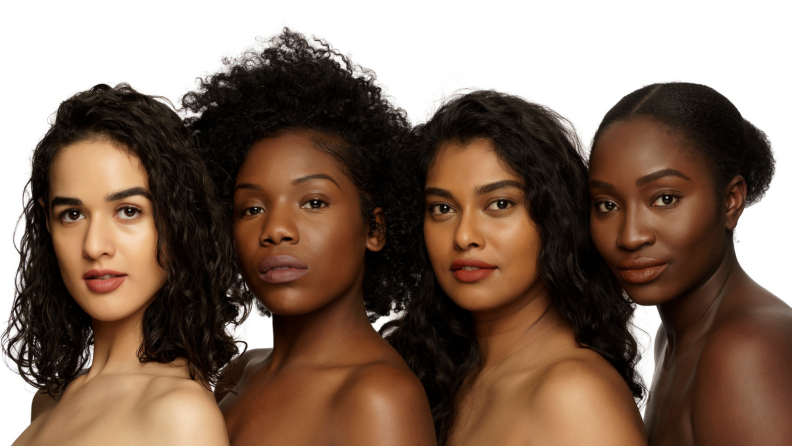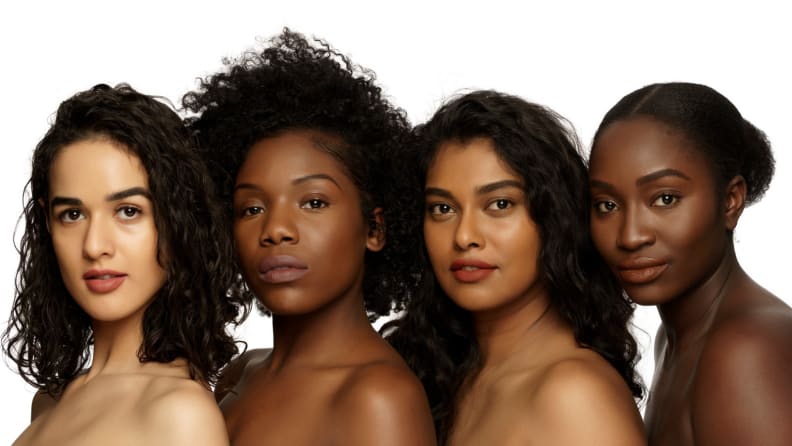 Makeup makes the best stocking stuffers, but if mom's cosmetic lineup needs a serious upgrade, pick up a few of the bestsellers from Mented Cosmetics. This cosmetic line sells a range of lipsticks, eyeshadows, and foundations, and is regarded as one of the best makeup lines for women of color, due to its expansive range of shades. The Semi-Matte Lipsticks line has nearly 2,000 reviews and a solid 5-star rating, meaning you can rest easy knowing you've picked a high-quality makeup line for mom in exactly the shade she wants.
Shop makeup from Mented Cosmetics
15. For the mom who swears she's eating healthier this year: An air fryer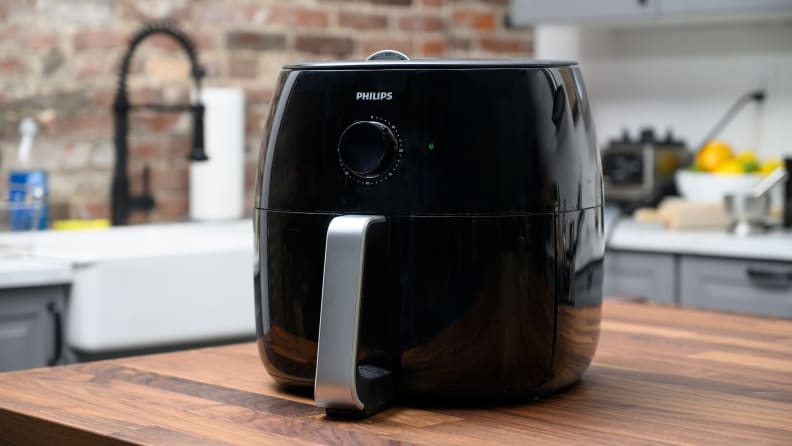 Fried foods without the guilt? Sign us up. And sign mom up too. She'll love this kitchen appliance, which our readers continue to buy year after year. Our favorite air fryer is the Philips Airfryer XXL, which was the most user-friendly model that we tested. It made fries that tasted light and crispy, producing some of the best air-frying results in our testing.
Get the Philips Airfryer XXL from QVC for $299.99
16. For the yogi mom: Lululemon Reversible Mat
If mom loves her daily yoga routine, get her the best yoga mat on the market—the Lululemon Reversible Mat. It's sturdy, reliable, and it'll stay in place while she's doing downward dog, which is all you can really ask for in a yoga mat. We loved it so much, one of our writers wrote a love letter explaining just why it's worth every penny.
Get the Lululemon Reversible Mat for $78
17. For the music-loving mom: Apple AirPods Pro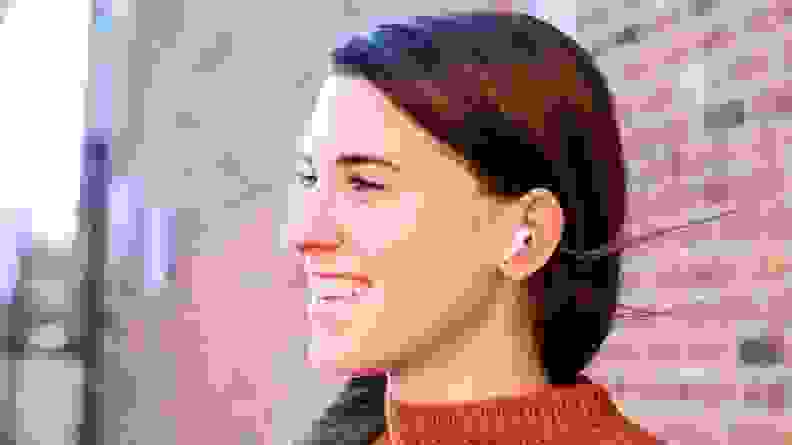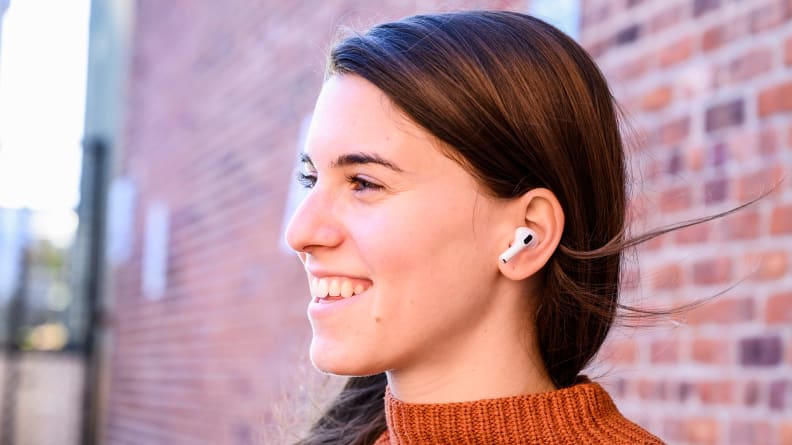 Headphones make a great gift for mom, and you can't get better than the beloved Apple AirPods Pro. These upgraded AirPods consistently ranks highly in our testing, providing active noise cancellation, a comfortable fit, and easy setup. Whether mom loves listening to her music or she loves talking to her sister on the phone for hours, these headphones will make a big difference in her daily life.
Get Apple AirPods Pro from Amazon for $219
18. For the Millennial mom: The shampoo made by Topanga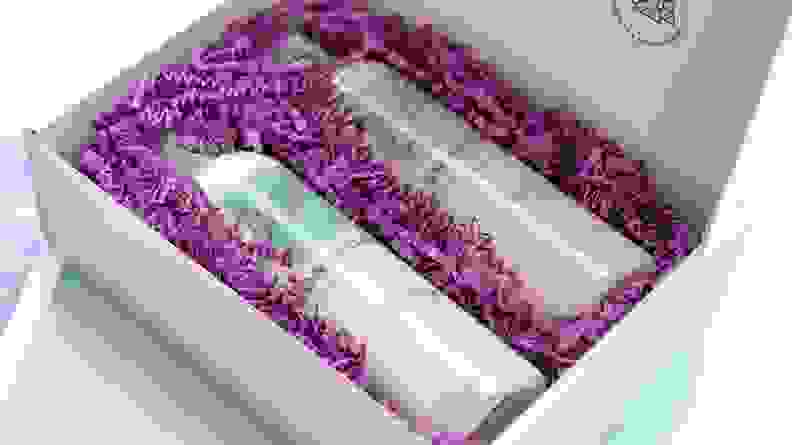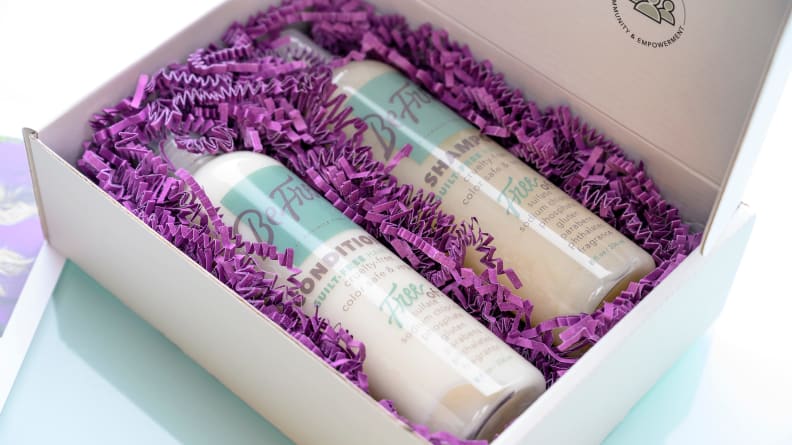 That's right, Topanga made a shampoo—and it's actually really good. This sulfate-, paraben-, and cruelty-free beauty line left our tester with silky smooth hair and impressive volume. Your mom will love showering with high-quality shampoo that smells amazing and doesn't harm her hair. Plus, she'll love to brag that she's wearing Topanga's shampoo.
Shop hair care products from Be Free by Danielle Fishel
19. For the mom who loves kitchen decor: Framed vintage Pyrex prints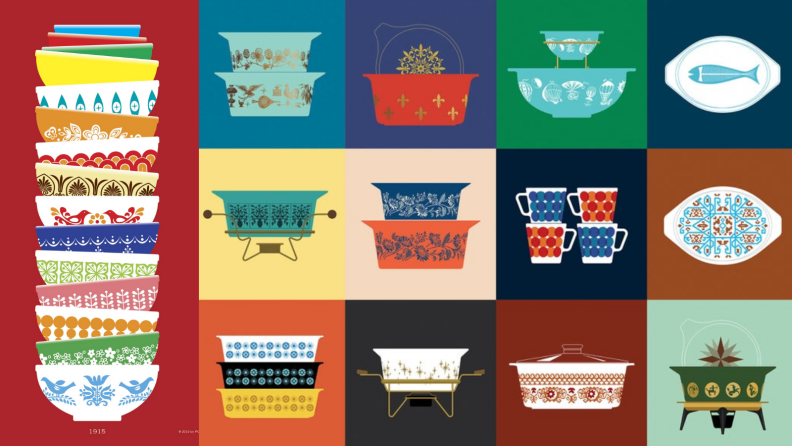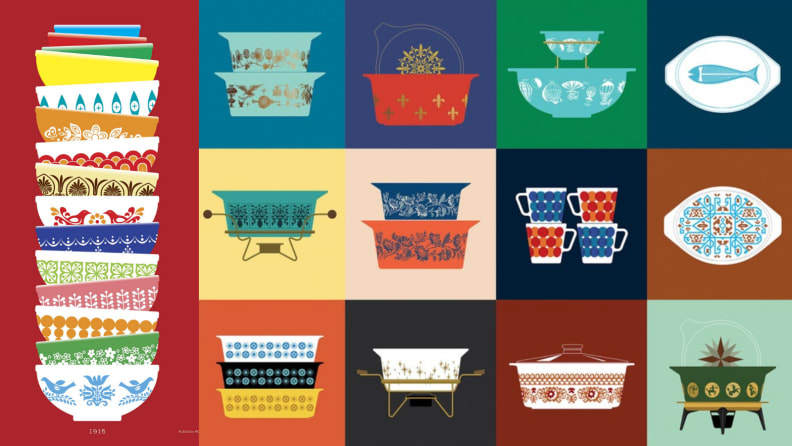 Decorating your kitchen is nearly as important as outfitting it. If mom loves picking up kitchen knick knacks, search Etsy for the perfect present to adorn her kitchen. We're big fans of these Vintage Pyrex Prints from Pocono Modern. They're colorful, adorable, and make fantastic presents for moms who love their kitchen as much as their kids.
Get the Vintage Pyrex Prints by Pocono Modern from Etsy for $45
20. For the really busy mom: iRobot Roomba i7+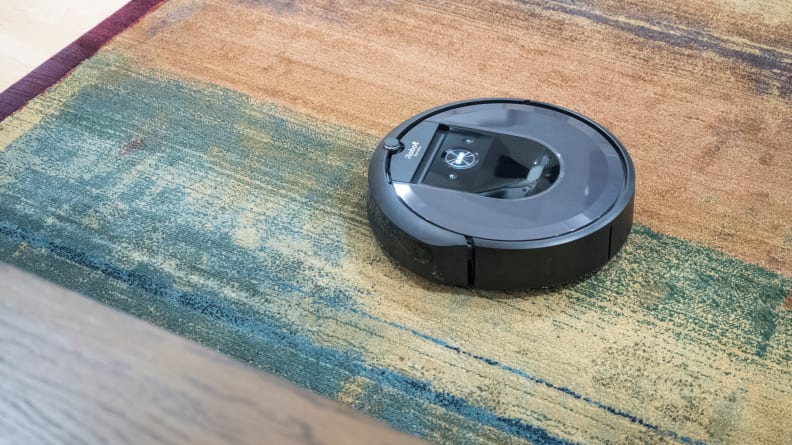 You know what's fun? Celebrating mom. You know what's not fun? Cleaning. Help mom save her time (and sanity) by picking up the best robot vacuum on the market—the iRobot Roomba i7+. The i7+ is hands down the greatest robot vacuum we tested, outperforming all its competitors in nearly every category. It can easily map her home, be controlled from her smartphone, and empty itself, which is frankly, magical.
Get the iRobot Roomba i7+ from Amazon for $699
21. For the mom who loves jewelry: A Kate Spade pendant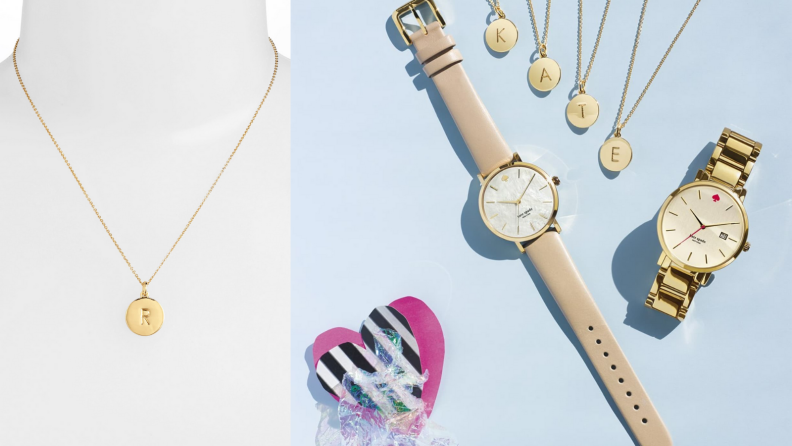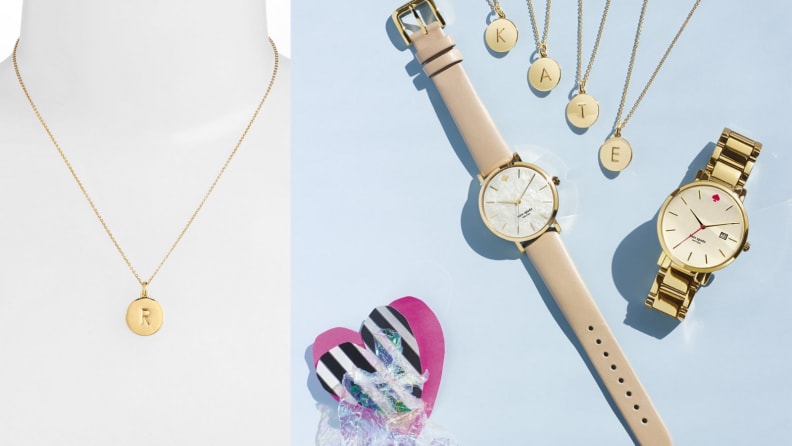 Is it really a gift guide for your mother if there's no jewelry? If Mom's expecting a traditional gift, opt for the Kate Spade letter pendant from Nordstrom, which features a gold token engraved with a letter for her namesake. This is one of our readers' favorite items to buy at Nordstrom, which isn't surprising, since it has nearly 1,000 positive reviews on the site.
Get the Kate Spade pendant from Nordstrom for $58
22. For the mom who's always reading a new book: Kindle Paperwhite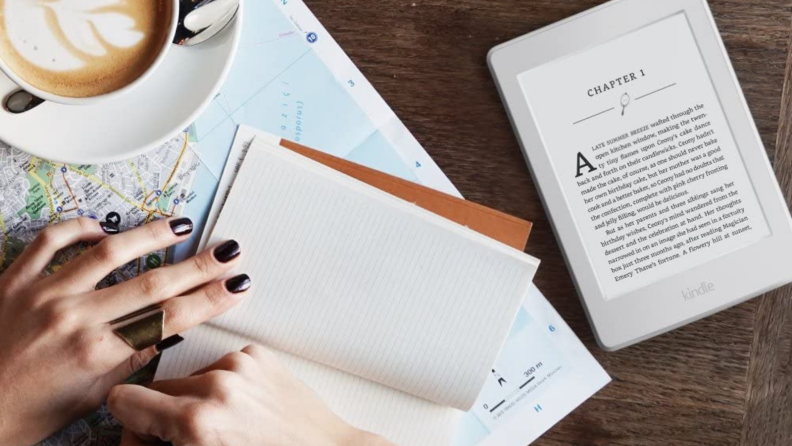 Whether she sits at home and reads every night or attends a monthly book club with her ladies, getting mom an e-reader is a great way to ensure she can always keep her book-of-the-month handy. The Kindle Paperwhite is a great gift for the mom who wants to get an e-reader, but doesn't want to give up her paperbacks quite yet—it's specifically designed to look and read like a physical book (so she won't get screen fatigue). Plus, it's waterproof, so she can keep bringing her books to the pool, beach, or bath.
Get the Kindle Paperwhite at Amazon for $149.99
23. For the mom who loves to learn new things: MasterClass subscription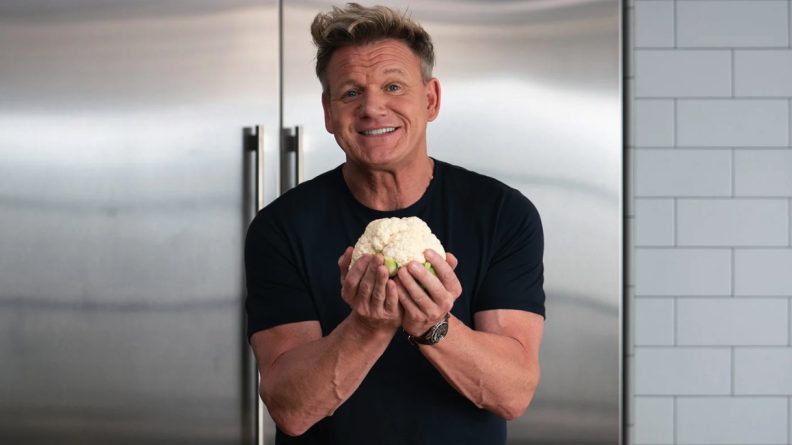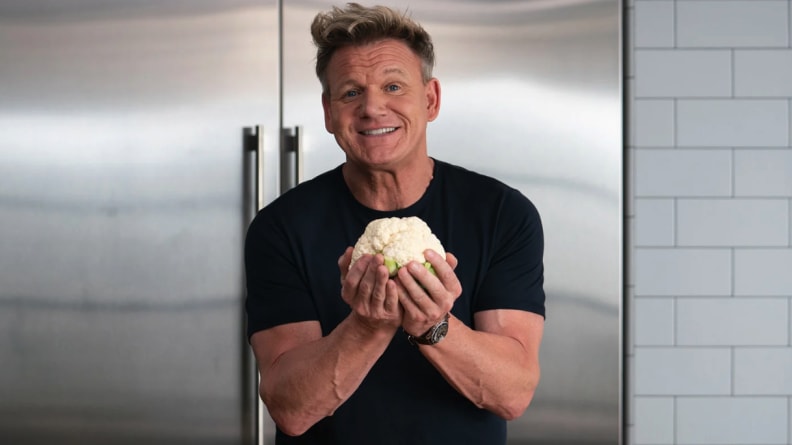 Can you imagine the look on your mother's face when you tell her you got her a cooking lesson from Gordon Ramsay? You don't have to imagine it if you get her a subscription to MasterClass, a service that offers online celebrity-taught courses on a variety of topics, from cooking to writing. Find mom's passion (or favorite celebrity) and give her the gift of a lifetime of learning.
Get a MasterClass subscription for $15 a month
24. For the mom who loves to bake: KitchenAid StandMixer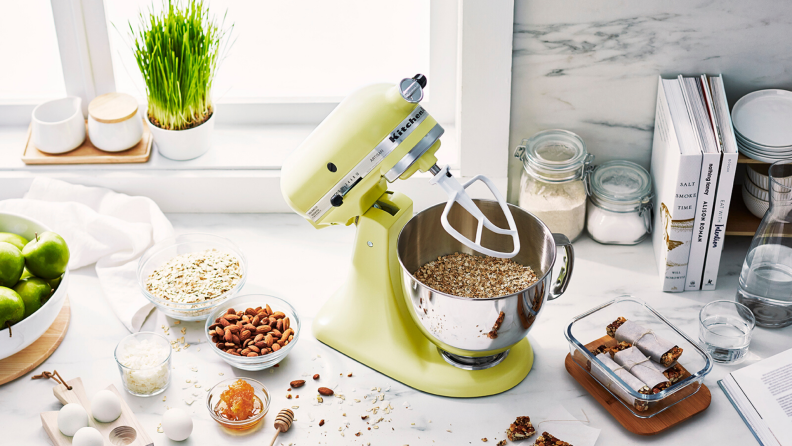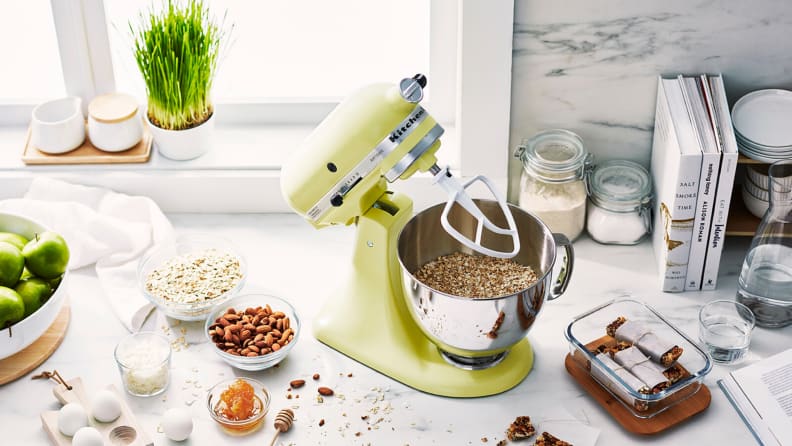 There's a reason everyone wants the KitchenAid standing mixer: It's the best, period. If mom doesn't own this iconic mixer yet, it's time to get her one. She can combine baking ingredients, knead bread dough, whisk meringue, and even make her own pasta at home. Plus, there's a wide range of useful attachments that can accompany her mixer, meaning you've got the next five years of gifts planned out for you.
Get the KitchenAid Artisan 5-Quart Stand Mixer from QVC for $263.61
25. For the mom who already has a KitchenAid: Accessories for her stand mixer
From slicers and dicers to scales and even food processors, mom can pick up a KitchenAid stand mixer accessory for just about any use. If she already owns the iconic kitchen gadget, pick up a new accessory she can attach to her mixer and use while cooking. The slicer and shredder attachment is affordable, effective, and incredibly useful, especially considering that it's powered by the motor in your mixer, allowing mom to leverage that power for quick shredding. It'll be her new sous chef.
Get the Slicer and Shredder Attachment for KitchenAid Stand Mixers from Amazon for $35.99
The product experts at Reviewed have all your shopping needs covered this holiday season. Follow Reviewed on Facebook, Twitter and Instagram.
Prices are accurate at the time of publication but may change over time.