Ovens & Ranges
Cooking a St. Patrick's Day feast? All you need is a cast iron pan and these recipes
Cast iron pans make the best St. Patrick's Day dishes!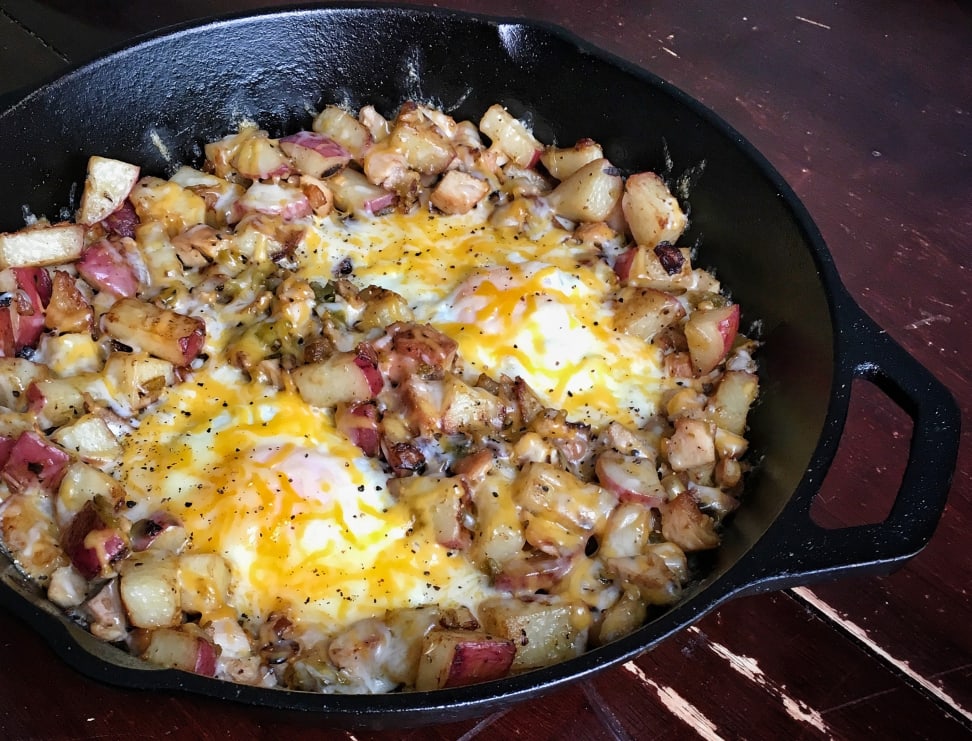 Credit: Reviewed.com / Lindsay D. Mattison
I love St. Patrick's Day. What's not to love about celebrating the luck of the Irish with some of my favorite foods? I recently expressed my adoration for cast iron cookware and claimed it could be used for "anything and everything." Today is the perfect opportunity to put that claim to the test, so let's pull out our trusty cast irons and make an incredible meal for our friends and family.
Irish Soda Bread
I'll start with Irish Soda bread, a sweet-and-savory bread that tastes like a mix between biscuits and cornbread. This quick bread is incredibly easy to make. Because the bread is leavened using baking soda, it doesn't require any kneading or resting for the dough to rise. The lactic acid in the buttermilk reacts with the sodium bicarbonate in the baking soda to create carbon dioxide and make the bread rise. It's as easy as that, although you don't need to understand the science to make a great loaf!
Two things make the cast iron pan perfect for soda bread: First, the cast iron's seasoning makes it non-stick so you don't need to grease the pan (although I usually do, because who doesn't love a buttery crust?). Second, the pan gets nice and hot in the oven, making the outside crusty and textured while keeping the inside moist and fluffy.
The classic recipe calls for flour, salt, baking soda, and buttermilk, but I usually add eggs and butter, and sometimes raisins or caraway seeds. For the best soda bread, mix the dough as briefly as possible and use high quality butter. I love Kerrygold Pure Irish butter (and what a great day to put that ingredient to use!).
Check out this Irish soda bread recipe on Epicurious to make a loaf of your own.
Corned Beef
Incredibly juicy, fall-apart-tender slices of vibrantly colored beef.
Then there's corned beef. Corned beef with cabbage is the traditional centerpiece to any Irish-American St. Patrick's Day celebration. And if you're looking around for the corn, you can stop because "corned" refers to the large "corns" of salt that this dish was traditionally prepared with. You think I'm joking, but when I worked as a chef I once had a customer return their corned beef hash because they were expecting the dish to contain corn!
Cooking corned beef in a cast iron Dutch oven is definitely the way to go. A low-temperature oven combined with cast iron cookware creates the perfect environment for the tough meat to slowly break down, resulting in incredibly juicy, fall-apart-tender slices of beef. The day before St. Patrick's, I like to cook my corned beef in a 200° F oven for 10 hours. I let it cool in its juices and heat it up with carrots and cabbage an hour or so before my guests arrive. Perfect every time!
With any leftovers, break out the cast iron for corned beef hash. The food in contact with the pan will sear nicely, giving you crispy potatoes, while the food above it will continue to cook by the cast iron's radiant heat. Make small pockets in the hash and crack the eggs directly into them, cover the pan, and toss it in a 350° F oven to create creamy baked eggs.
Serious Eats has a great corned beef and cabbage recipe if you're eager to make your own.
Potatoes Colcannon
Finally, let's talk about buttery mashed potatoes. This dish is all about simplicity. Potatoes colcannon can be made by mashing potatoes with cabbage or kale, the latter sautéed in bacon if you wish or simply simmered in garlic butter and milk. Once it's mashed and seasoned to your liking, into the cast iron it goes to bake for 10-20 minutes, giving it a twice-baked potato flavor without much fuss. If you have leftovers, fire up the cast iron in the morning to make deliciously crispy potato pancakes.
Make your own potatoes colcannon with this recipe from Bon Appetit.
The greatest thing about these recipes? One pan!
The greatest thing about these recipes? One pan! You can even bring it to the table and serve family style, making cleanup a breeze. That means less time washing dishes and more time sitting around the table, enjoying a glass of homemade Irish Cream.