Kitchen & Cooking
The Best Grilling Essentials for a Perfect Barbecue
Just add burgers and 'dogs.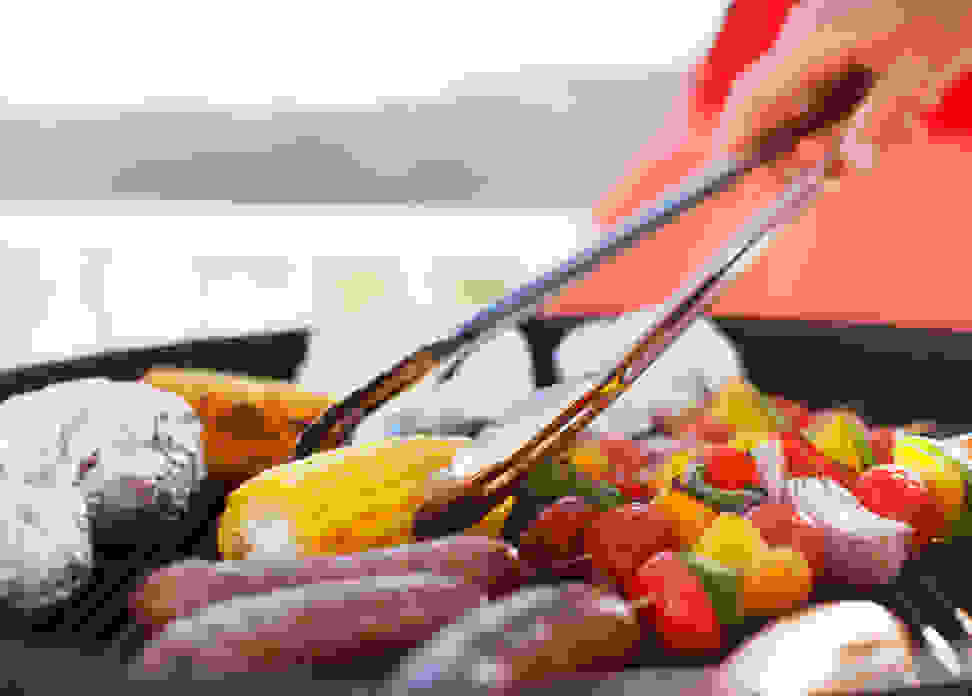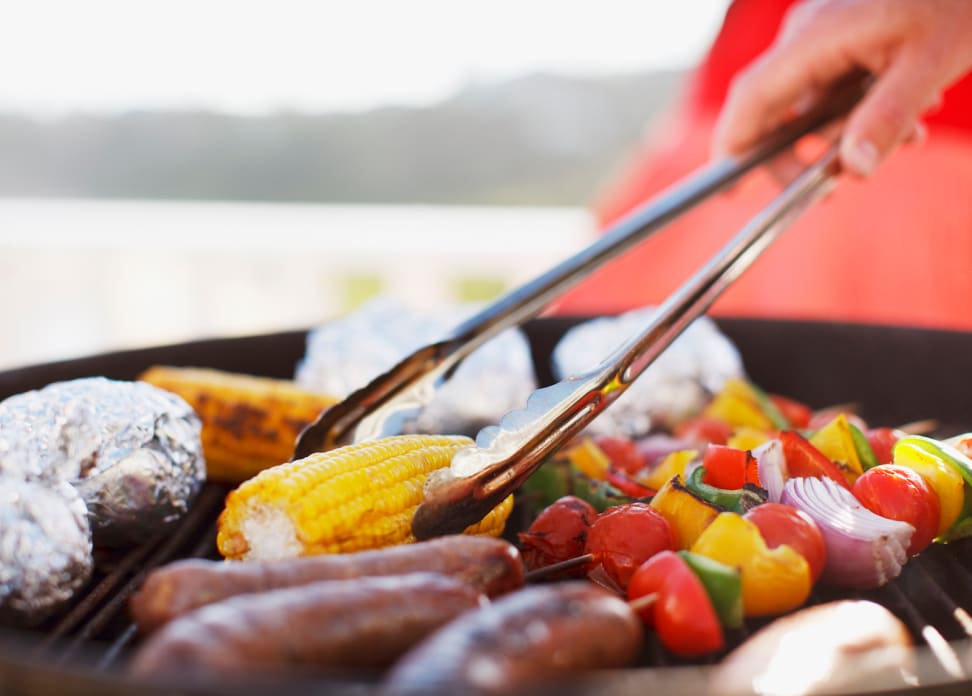 Credit: Getty Images
Here's how to ruin a summer barbecue: Don't buy enough ice, refuse to move indoors when a thunderstorm rolls in, or serve up burnt, messy food. We can't help you with the first two, but if you're looking for the essential tools every backyard grill master should own, we've got your back.
From the best-performing grills to the grippiest tongs and most accurate meat thermometers, we've spent hours cooking burgers, turning corn on the cob, and smoking pork loin to see which equipment will make your cookouts the stuff of neighborhood legend. And after hours of testing, we can recommend everything you need to throw the perfect barbecue.
If you're finally ready to ditch your dusty old grill and spatula in favor of something better, the Editor's Choice award winners we've included in this roundup are an ideal upgrade.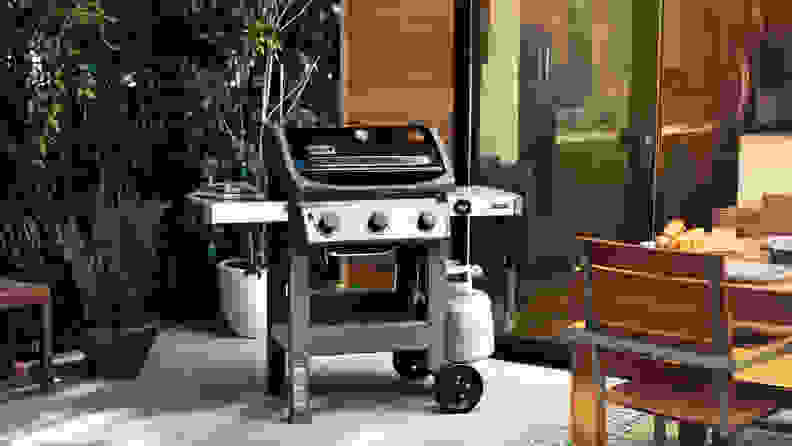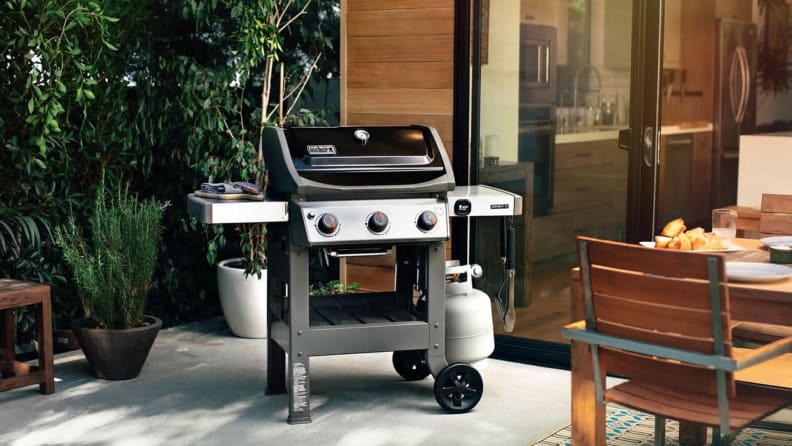 Best Gas Grill
Weber Spirit II E-310
The Weber Spirit II E-310 may be the brand's entry-level grill, but it didn't act like a lesser product when it came to performance. It was our favorite grill to use on every test, producing perfect sear marks on burgers, evenly cooked chicken, and picture-perfect asparagus. It can't hold quite as many burgers as our upgrade pick, the Weber Genesis II E-310, but the 18 or so burgers that do fit will be cooked evenly to perfection.
This grill is proof that BTUs are not the end-all-be-all in grill choice. Its 30,000 BTUs (or, 71 per square foot) cranks out an impressive amount of heat—we created indirect heat by turning a single burner on high heat, then heating the grill to 300 degrees; and when we turned all the burners on low, it hit an impressive 400° F (which was 25 to 50 degrees hotter than some of the higher BTU grills we tested).
We also loved some of the aesthetic features, and the grill itself felt well put together and built to last. They really thought of everything with this grill: a side-mounted propane tank with a gas meter, sturdy side tables, and grill grates that fit together perfectly. It was also one of the few grills that had hooks on the side for hanging your grilling tools, and the Weber lids were the only ones designed to vent smoke away from tunneling into your face. As a bonus, this grill is also iGrill3 (a Bluetooth enabled thermometer that mounts permanently to the grill table and can send grilling alerts and data right to your smartphone) compatible. As compared to some of the other grills, the Weber was significantly easier to build, too. Although there were a lot of little parts to put together, the instruction manual was clear-cut and easy to understand.
The Weber Spirit II E-310 isn't the cheapest grill on the market, but it's absolutely worth the price. When you take all the factors into account—performance, ease of use, and aesthetic appearance—this grill was a no-brainer for our choice as Best Overall.
Pros
Cooks evenly and perfectly sears meat and veggies

Produces impressive heat for 30,000 BTUs

Sturdy, well-built design and features
Cons
Only holds about 18 burgers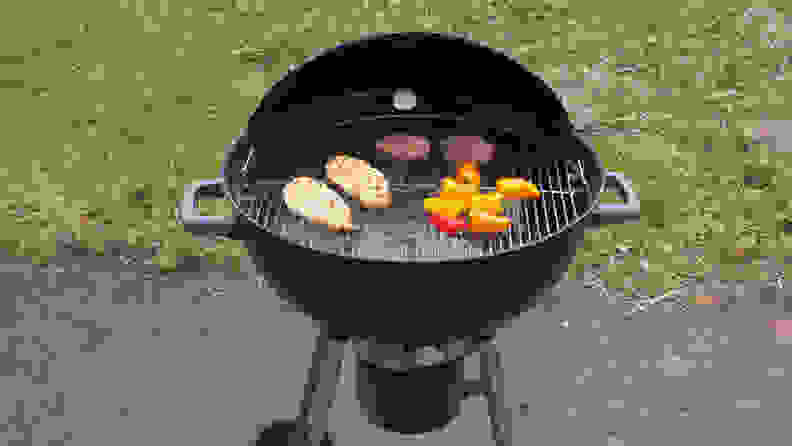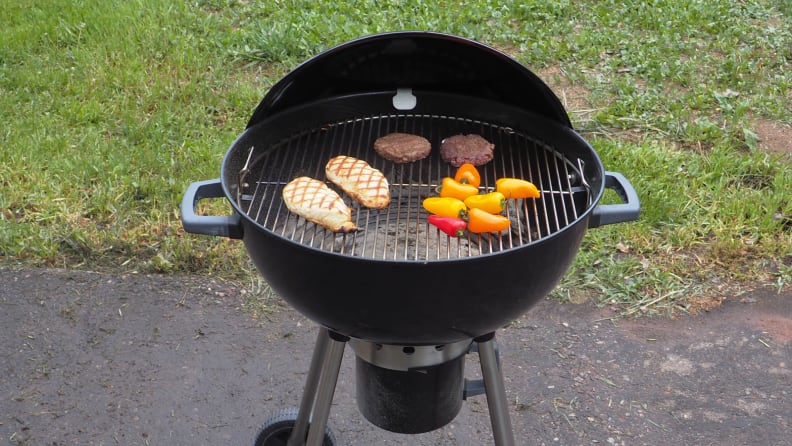 Best Charcoal Grill
Napoleon NK22CK-L-1 Charcoal Kettle Grill
The Napoleon Charcoal Kettle Grill was our favorite charcoal grill to use out of hardware in our test group. It aced our cooking tests and its design features set it apart from the competition. For starters, it sits on four legs instead of the standard three that most kettle grills come with; making it both sturdy and stable. Its ash bucket is larger than most and has a wide-grip handle that keeps your hands nice and clean as you remove the ashes. Clipping the ash bucket into place was a bit tricky at first, but once we figured it out it stayed put without problem. Finally, there's the grill's wide, round rim that rests in the middle of the coal bed while you're cooking. Initially, we thought this rim was designed to keep the briquettes out of the center of the grill. However, we quickly realized that the rim's metal heated up along with the coals, distributing the heat evenly throughout the grill.
When it came to cooking on the Napoleon, we had no complaints. It proved capable of holding 12 to 13 burgers at a time and created a gorgeous overall char when we cooked over direct heat. Raking the coals for indirect heat was nearly effortless; its wire cooking grate had hinges on each side that allowed us access to the briquettes underneath. Additionally, the vents on the top and bottom of the grill were easy to open and close. All of this worked together to create an ideal heat distribution for indirect heat cooking. Being able to control the airflow is important when cooking over charcoal; the bottom vents control the heat of the fire, while the top exhausts hot air and smoke out of the grill.
This grill may cost a bit more than other kettle-style grills, but we think it's totally worth it. It really has it all–performance, sturdy construction, and solid design features–making it our pick as Best Overall.
See more of the best charcoal grills we tested and reviewed.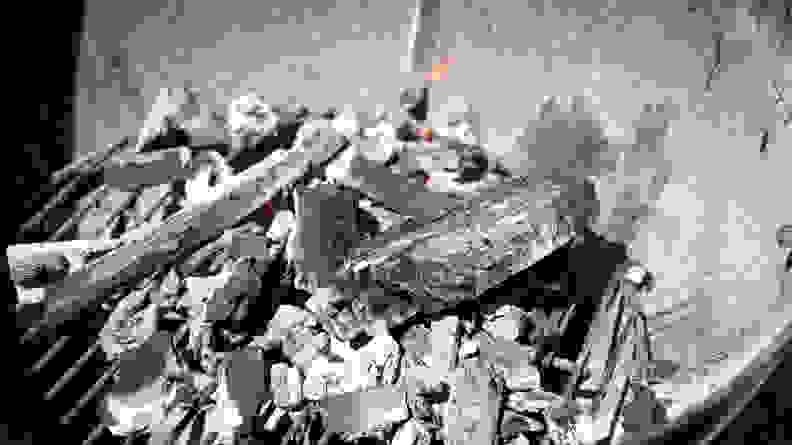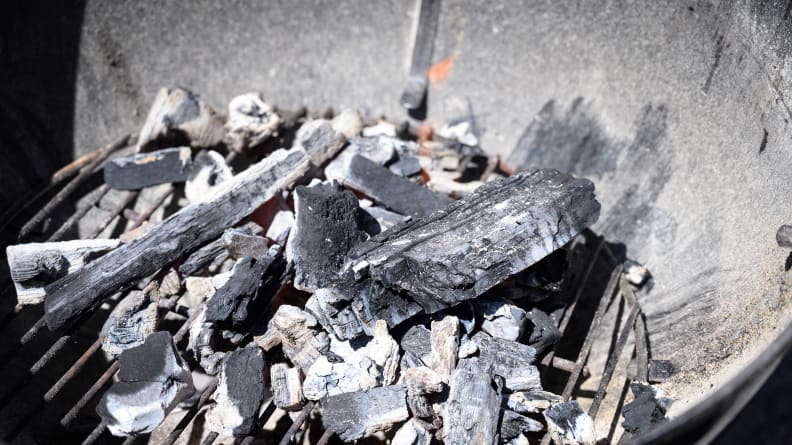 Best Charcoal
Royal Oak Hardwood Lump Charcoal
Royal Oak Lump Charcoal was our favorite charcoal overall. While it didn't win hands-down in every category, we think it's the best for the average griller. When you open the bag, you'll find a fine assortment of chunks. For casual grillers, this is a good thing because you want a mixture of easy-to-light pieces and ones that burn for a long time. Royal Oak Lumps strike a balance between being easy to light and longevity in the kettle.
After lighting the Royal Oak, a sweet and smoky scent greeted us. It was strong enough to be distinct but subtle enough not to overwhelm what we were cooking. From the time of placing the burger on the grill, it took seven minutes until the center burger reached 130°F. That's on point for only using two pounds of charcoal.
Compared to other lump charcoals, the Royal Oak burned an average amount of time. We found a lower percentage of large chunks, so as time goes, you may find that it burns up real quick, which isn't a problem if you're making a meal for your family. Also of note, Royal Oak Lump Charcoal is designed for smokers, so it imparts food with a smoky sweetness that we liked. If you're planning on grilling for more than a few hours at a time, there are better options.
Overall, the price, the well-distributed chunks, and pleasant smell impressed us enough to pick Royal Oak Charcoal Lumps as what we'd want in our grills.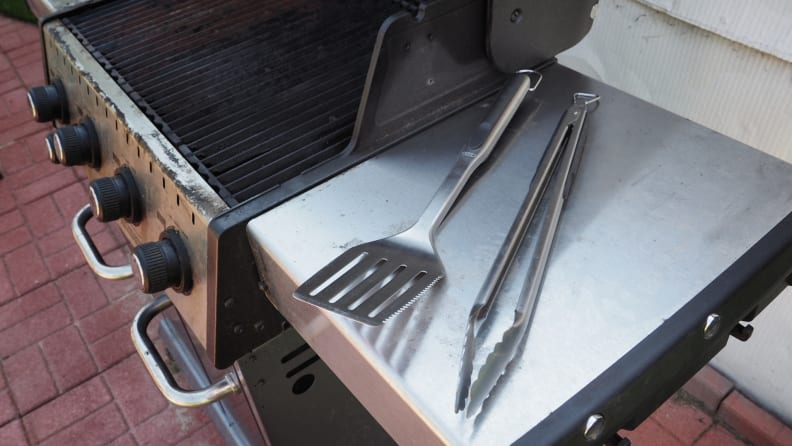 Best Grill Tongs
OXO Good Grips 16" Grilling Tongs
The OXO Good Grips 16-Inch Grilling Tongs are the best on the market. The scalloped pincers—a design that aligns the edges all the way around—creates the perfect surface area for gripping a variety of foods and textures. During testing, it flipped heavy, saucy chicken with ease and was able to grip even the tiniest sprig of asparagus. OXO's signature non-slip grip makes the handle extremely comfortable, and the tongs have the perfect amount of springiness and tension that won't tire your hands.
Between the comfort-forward design, the versatility, and its grip, this model will feel like an extension of your arm—and the price is definitely right.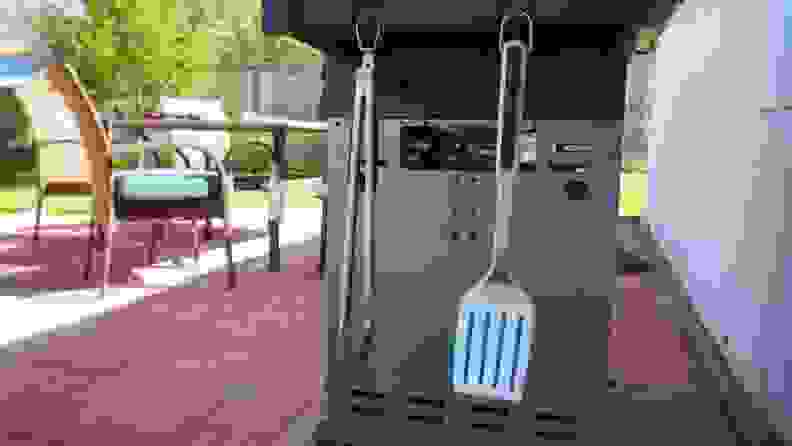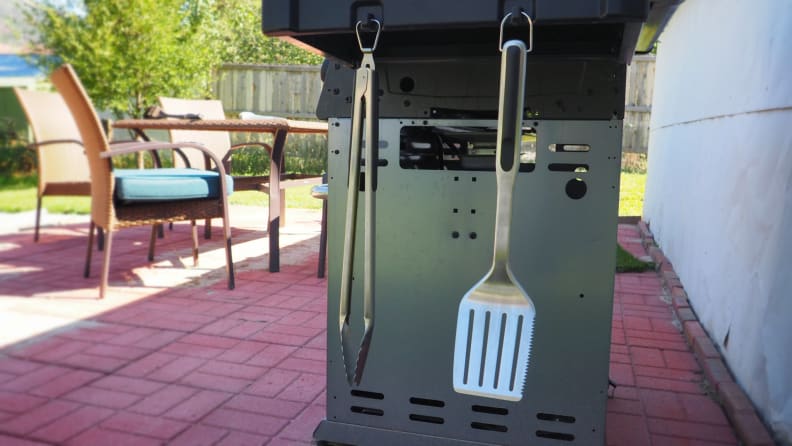 Best Grill Spatula
OXO Good Grips 16" Grilling Turner with Serrated Edge
With a lightweight feel and comfortable, soft-grip handle, it's easy to like the OXO Good Grips 16-Inch Grilling Turner with Serrated Edge. The spatula's sharp top edge makes quick work of separating the burgers from the grill, while the long handle keeps your hands a safe distance from the flames. During testing, it was one of our favorite spatulas to use for pizza, giving us the perfect amount of control as we deftly flipped the awkward piece of dough. Also nice: this spatula has a serrated edge that's sharp enough to cut into meat if you so desire.
Versatile, comfortable to use, and cleverly designed, this spatula also won us over with its affordable price tag.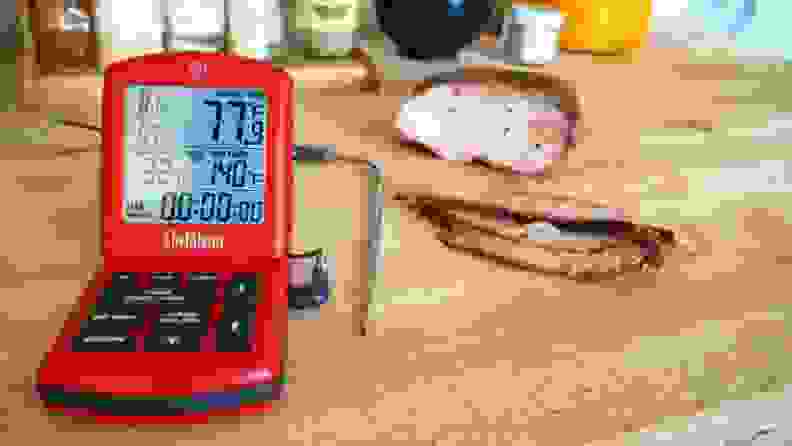 Best Probe Thermometer
ThermoWorks ChefAlarm
It really doesn't get much better than the ThermoWorks ChefAlarm. It's the most accurate probe we've tried and you can even calibrate it to ensure it displays the correct temperature. Its backlit display can appear a little crowded, but thankfully the "current temp" reading is large and easy to read. You can use this item as a timer and adjust the volume of the alarm, plus it keeps track of the minimum and maximum readings. It even has a high- and low-temperature alarm. We especially love that it has a hinged, tilting screen for easy viewing on the countertop, but it also has a magnet and a clip if you'd prefer to place it elsewhere.
Spending $60 on a thermometer might not be for everyone, but it's well worth it if you're serious about your barbecue. The cable is heat resistant to over 700° F so there's no reason to think that this model won't last a lifetime. It's the best probe thermometer on the market.
See more of the best probe thermometers we tested and reviewed.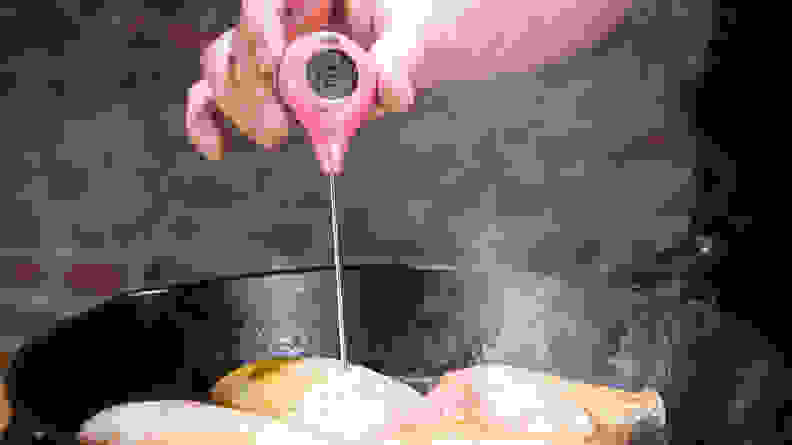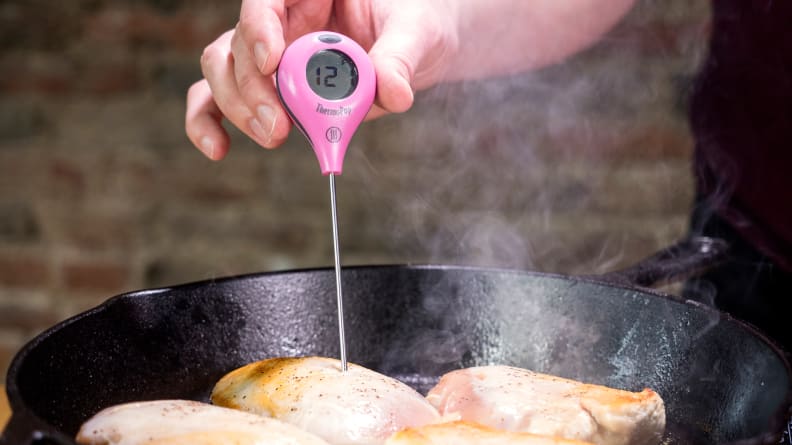 Best Digital Meat Thermometer
ThermoWorks ThermoPop
The ThermoPop offers super quick, accurate readings in a nice-looking package. It averages a mere 3 seconds to reach final temperatures. The probe is long enough to reach the center of a roast while keeping your hands safely away from the hot steam, yet the super thin tip won't cause too much chicken juice to escape after probing.
Fast and precise, the ThermoPop's aesthetic features are also a slam dunk. With a click of a super soft button, the display rotates 360 degrees for ease of viewing. Another click and the backlight illuminates the large numbers. Simple and convenient.
See more of the best digital meat thermometers we tested and reviewed.
Up next
Get Reviewed email alerts.
Sign up for our newsletter to get real advice from real experts.