Kitchen & Cooking
18 essentials for setting up your first kitchen
Spoiler alert: You can probably skip the 12-piece cookware set.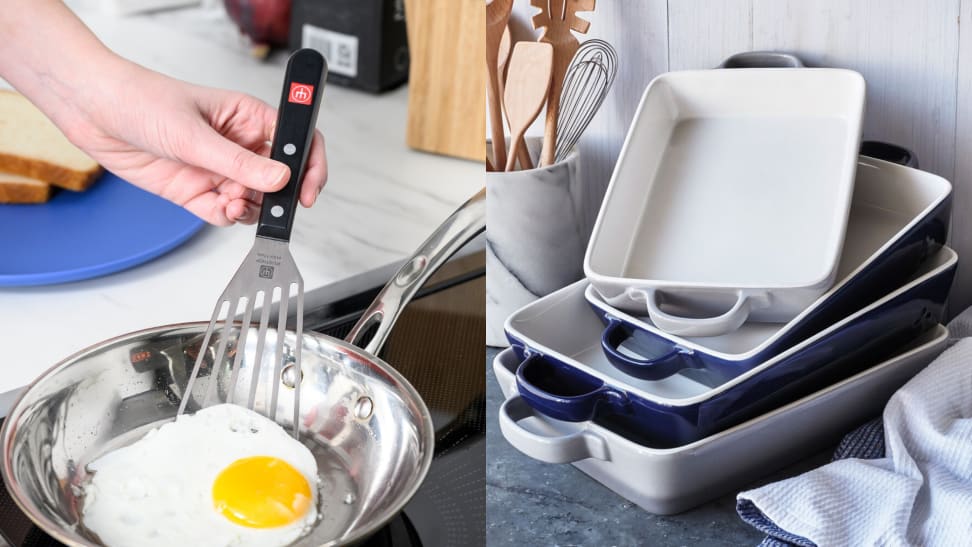 Credit: Reviewed / Betsey Goldwasser / Sur La Table
Setting up your first "adult" kitchen can be daunting. Do I buy that 12-piece cookware set? How many knives do I need? What are all those utensils for?! The options are limitless, and it's easy to get confused and wind up with a bunch of stuff you don't actually need.
We're here to help, narrowing down the list to these must-haves that will cover all your cooking projects, big and small. To keep things simple, we've left out appliances for now. Depending on your cooking needs, a microwave is probably the most essential. Otherwise, here's everything you need.
1. 8-inch chef's knife (+ bonus: a paring knife)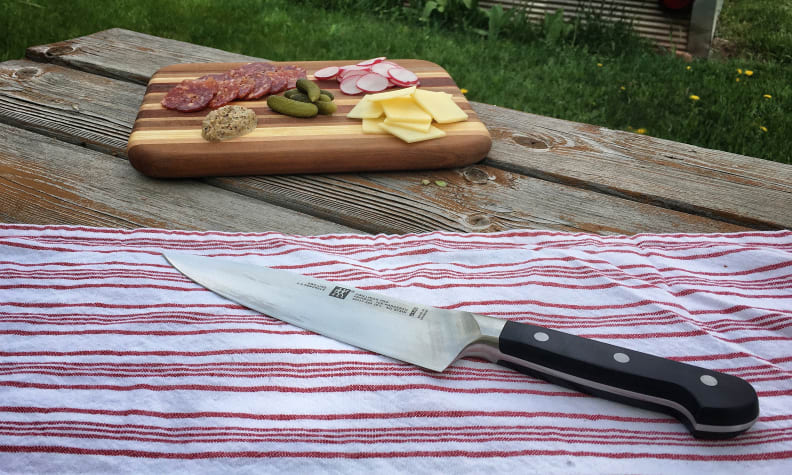 A high-quality chef's knife will completely change your cooking prep. Chopping onions, mincing garlic, even slicing tomatoes—a sharp chef's knife can tackle them all. If there's one investment you're able to make in the kitchen, we'd recommend it here, as a good chef's knife can even help those of us with mediocre-at-best knife skills get through prep quickly and safely (I speak from experience!).
Our testers loved the Zwilling Pro 8" Chef's Knife for its weight and sharp edge. I also like this set from Wüsthof's Classic line, which includes an 8" chef's knife plus a 3.5" paring knife (also a top pick from our editors!), which can be handy for small slicing and peeling projects.
2. Cutting board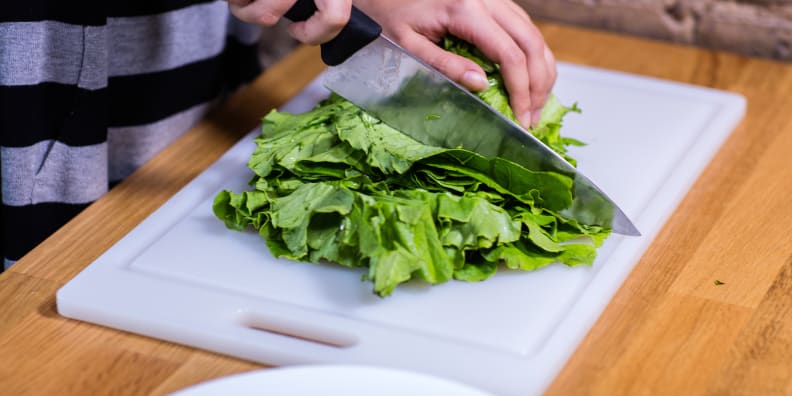 OK, so you've got a good chef's knife. Next up: a cutting board, preferably one that's large enough to handle big chopping tasks (winter squash, pineapples, watermelon), and a decent weight—heavy enough that it's stable while you're chopping, but not so weighty that it's difficult to clean. Bamboo is a good bet, and I love this very affordable board from Ikea.
I also like to keep a separate plastic board specifically for handling raw meat and fish. Our testers recommend the Prepworks by Progressive Cutting Board for its textured surface, which keeps food from slipping around.
3. 12" cast-iron skillet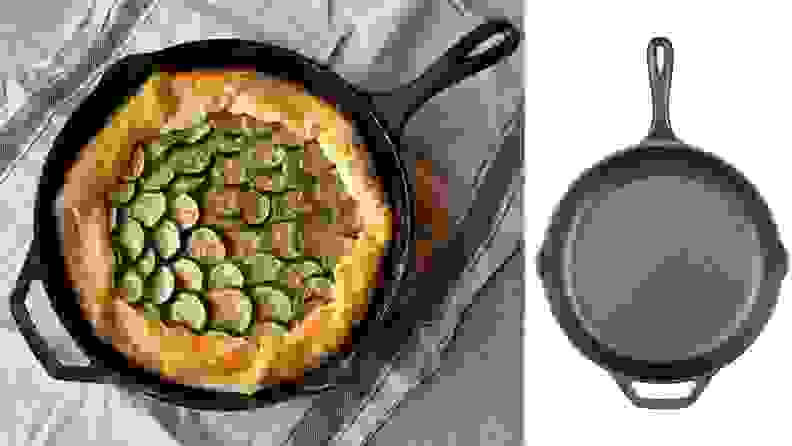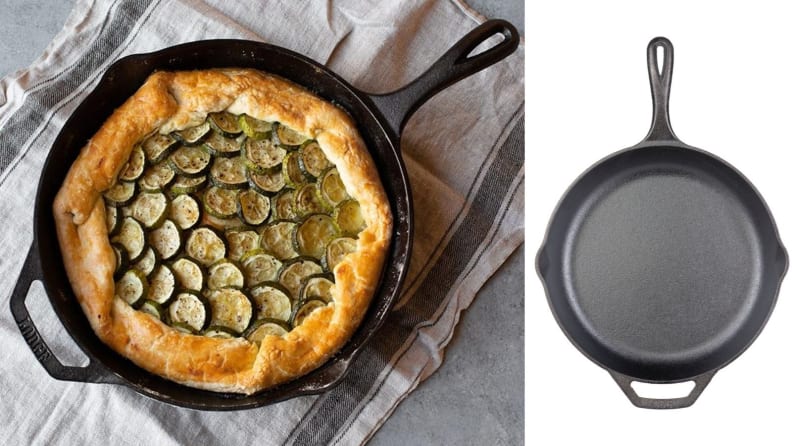 If there's one pan that I personally could not do without, it would be the cast-iron skillet. I use it for everything: searing meat or fish, pan-frying, I even use it as a roasting pan for roast chicken.
Best of all, they can last forever if you follow a few basic maintenance rules. Lodge's 12" skillet is a classic for a reason (and a top pick in our testing—it's affordable, roomy and has handles on both ends for easier lifting.
Get the Lodge 12" Pre-Seasoned Cast-Iron Skillet at Amazon for $43.73
4. 10" nonstick skillet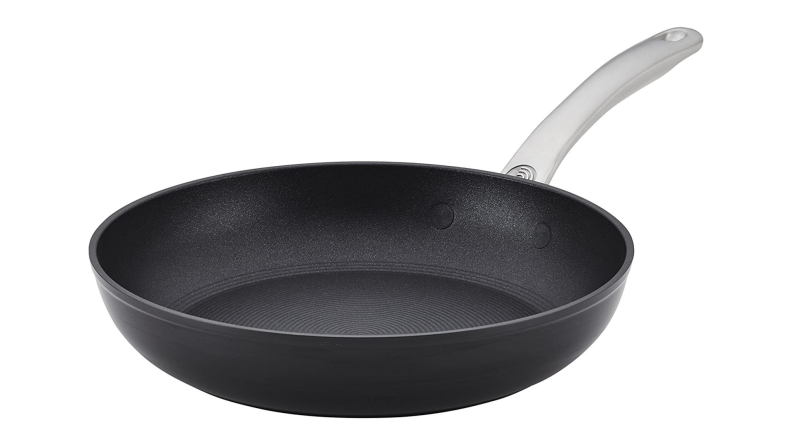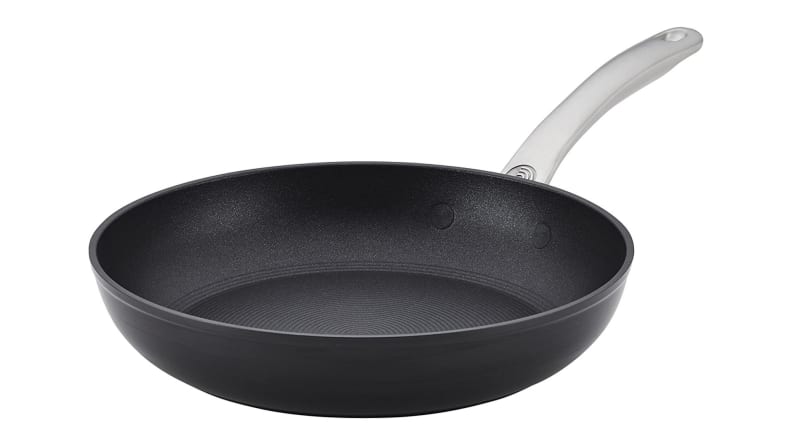 If you're like me, you probably make a lot of eggs—for breakfast, for dinner, for every moment in between. This skillet is safe to use with metal utensils, is PFOA-free, and is oven-safe to 400°F, making it perfect for frittatas.
Get the Circulon Forged Aluminum Nonstick Skillet/Fry Pan at Amazon for $39.99
5. Dutch oven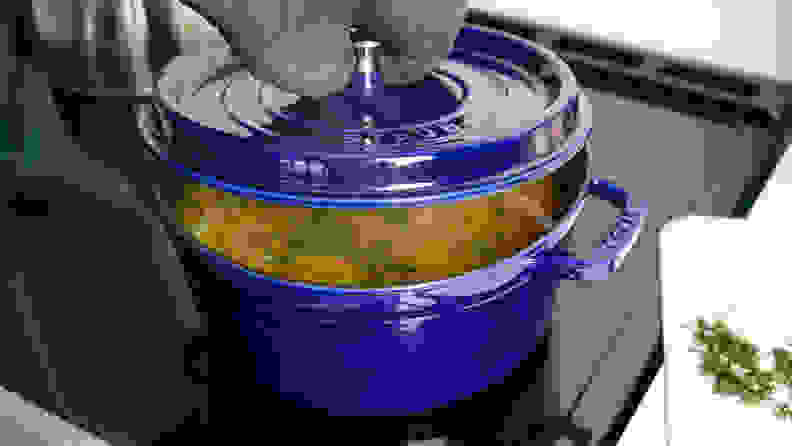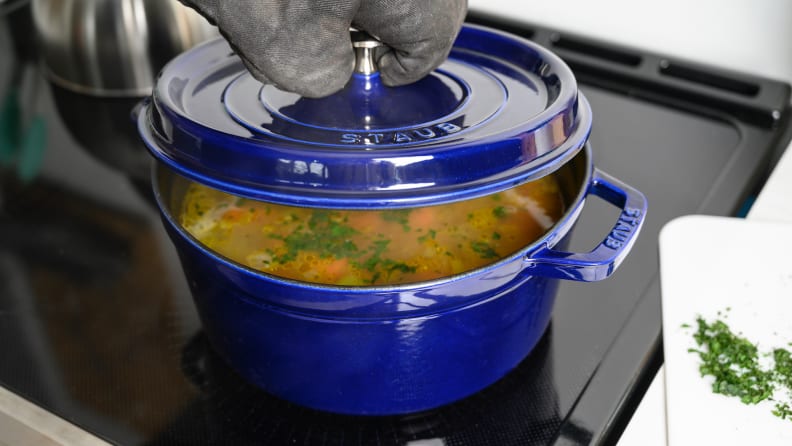 The Dutch oven is truly a kitchen superstar. You can use them for braises, soups, stews, crusty bread, making pasta, or blanching greens. A 5.5-quart Dutch oven is big enough for family cooking, without being too unwieldy for smaller batches of food.
If you're able to invest, I love my Staub, and we named it Best Overall in testing. We found the Lodge 4.6-quart round Dutch oven is a great value, so there are options at every price point.
6. Saucepan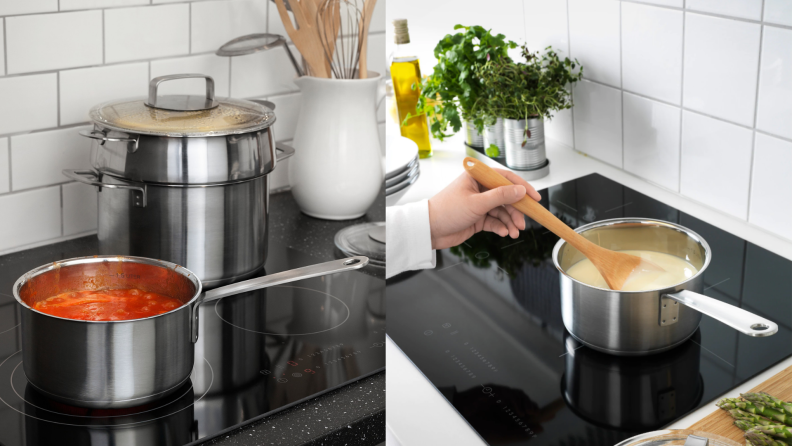 I went back and forth on including a saucepan on this list, but then I realized I reach for it all the time: to hard-boil eggs, make small batches of pasta or grains or oatmeal, when I'm double-boiling, or yes, heating up the occasional packet of ramen.
As it turns out, a saucepan is pretty useful. There's no need for anything fancy here—this 2.1-quart version from Ikea has a glass lid so you can keep an eye on things, handy interior cup measurements, and an affordable price.
Get the Ikea 365+ 2.1-Quart Saucepan with Lid at Ikea for $24.99
7. Tongs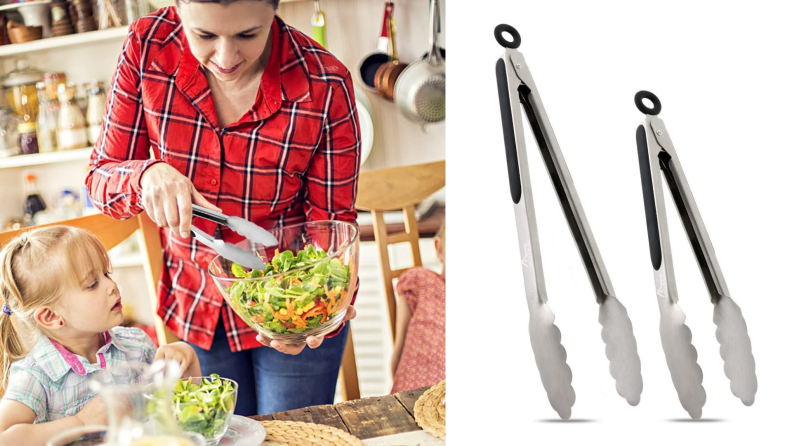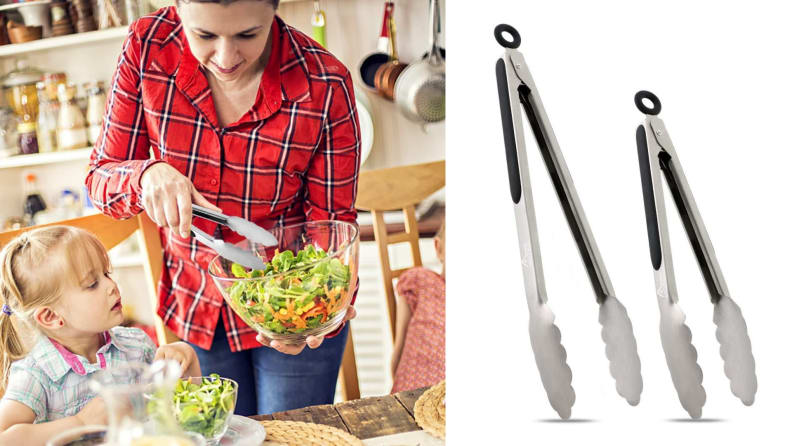 Tongs should be your #1 kitchen tool—you can use them for tossing, flipping, lifting, even stirring. Pairs that lock are even better, since they're easier to store. This affordable set comes with two pairs of tongs, and I promise you'll be reaching for them all the time.
Get the Hotec Stainless Steel Locking Tongs, Set of 2 at Amazon for $8.99
8. Flexible (fish) spatula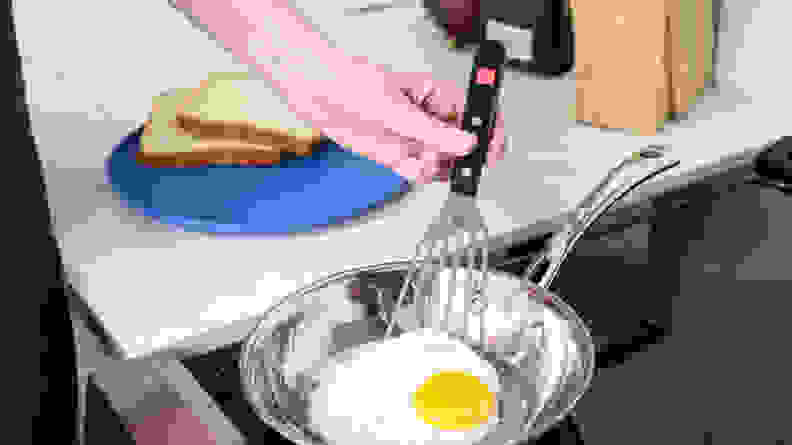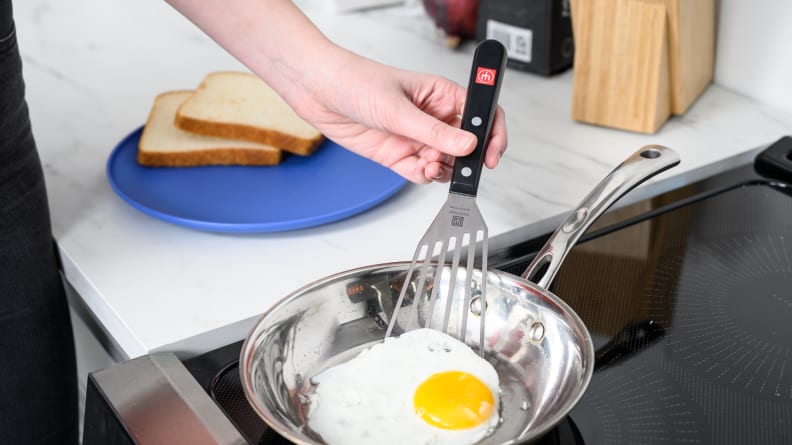 If tongs are the #1 kitchen utensil, a flexible spatula is #1A. In addition to fish, they're ideal for lifting and flipping delicate items like fried eggs, cookies, and pancakes.
No need to splurge on something fancy here—I bought mine ages ago and it's doing the job just fine. But if you do want more of an investment, our testers found the Wüsthof Gourmet Offset Slotted Spatula to be a top pick.
9. Angled wooden spoon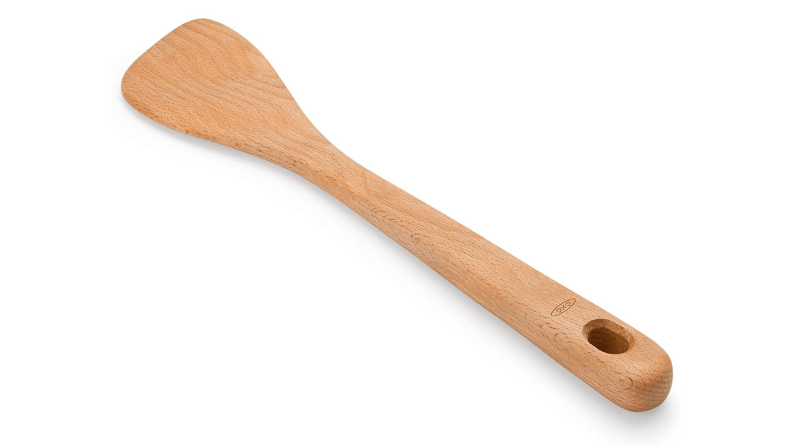 If you're cooking on a regular basis, you're going to need some wooden spoons. I am firmly in the camp of flat angled spoons. They can get in corners better than traditional rounded spoons, they can flip and scrape with ease, and I've found they offer better control while cooking. And ultimately, what is cooking, if not about control?
Get the OXO Good Grips Saute Paddle at Amazon for $10.55
10. Box grater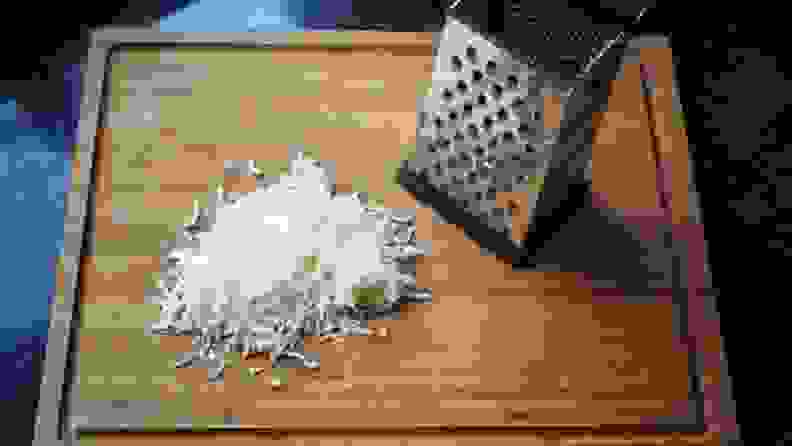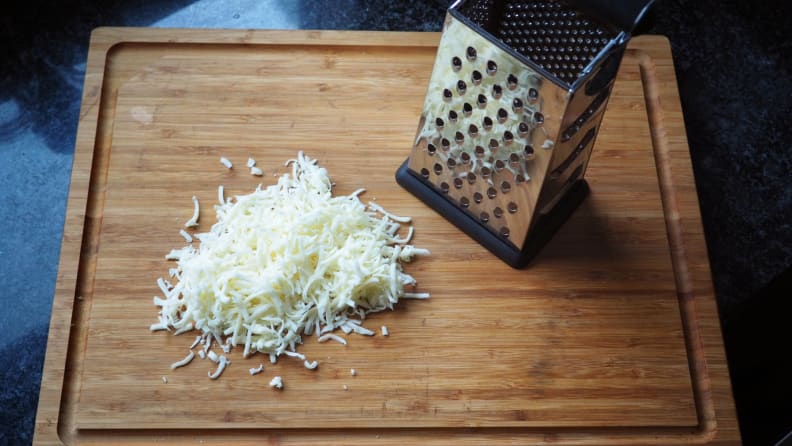 You can splurge on a more expensive box grater to make shredded cheese at home, but we've found that a fairly basic one, like the Cuisinart we tested and awarded Best Value, will cover all of your grating and zesting needs.
You want something sturdy enough to stand up to potatoes, carrots, and ginger, with a comfortable-enough handle so that you can feel your fingers afterward. I've hand-shredded 2 pounds of cheese using this one and lived to tell the tale.
Get the Cuisinart Box Grater at Amazon for $12.76
11. Kitchen towels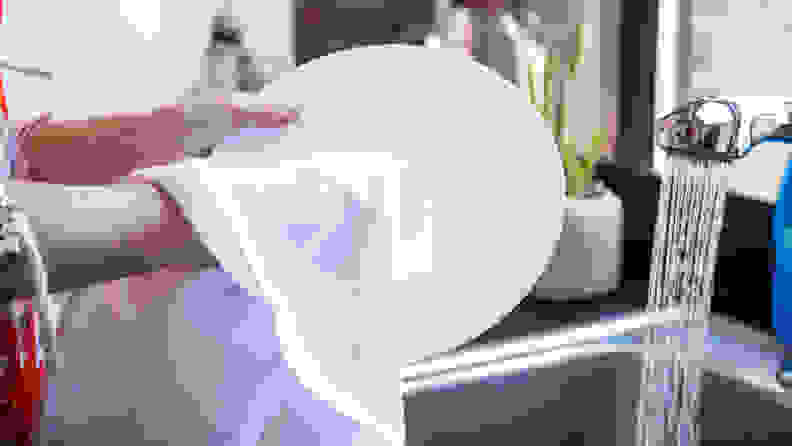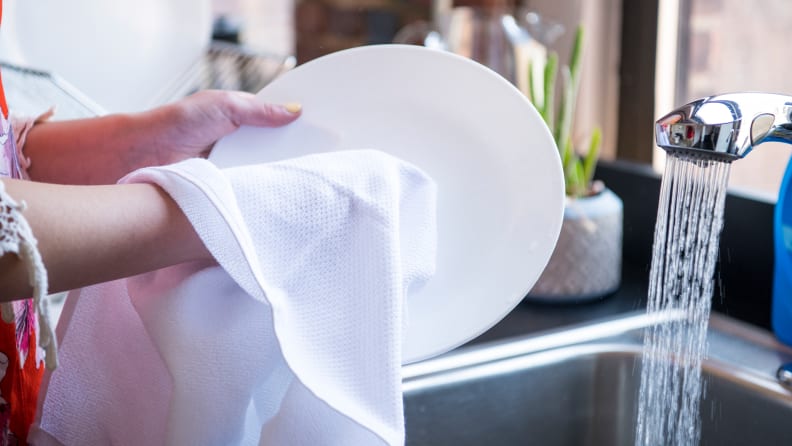 Our testers love these dish towels from Williams Sonoma. They're super absorbent, thick enough that they can double as potholders in a pinch, and come with a handy loop for hanging. Plus, they're available in a variety of colors to brighten up your kitchen.
Get Williams Sonoma Classic Stripe Towels, Set of 4 at Williams Sonooma for $19.95
12. Dish rack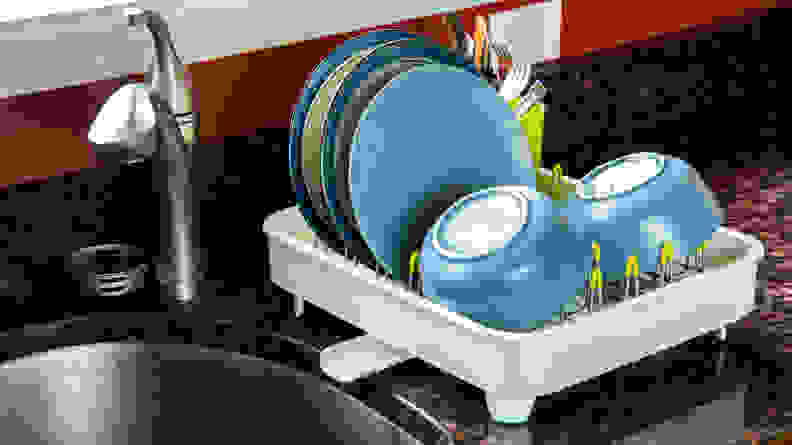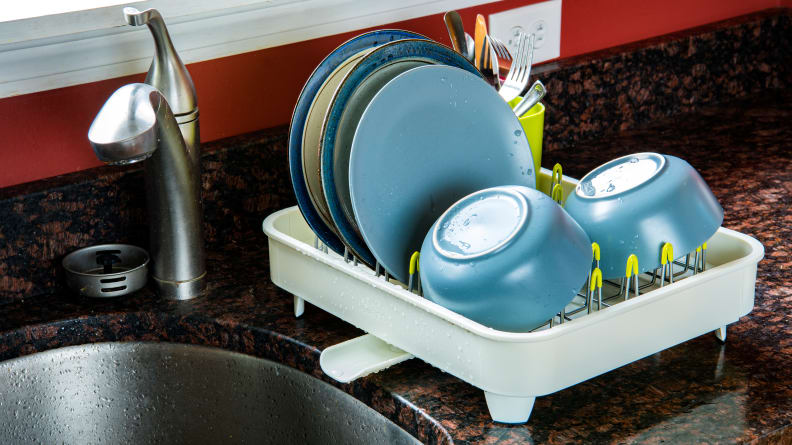 Even if you're lucky enough to have a dishwasher, you should hand-wash some of your new high-quality knives and cookware to extend their longevity. A good dish rack keeps your counter organized and makes cleanup much easier. Our testers loved this Joseph Joseph Extend Drying Rack for its small countertop footprint. The best part: It expands for those nights when you've tackled a big cooking project.
Get the Joseph Joseph Extend Drying Rack at Amazon for $42.99
13. Kitchen shears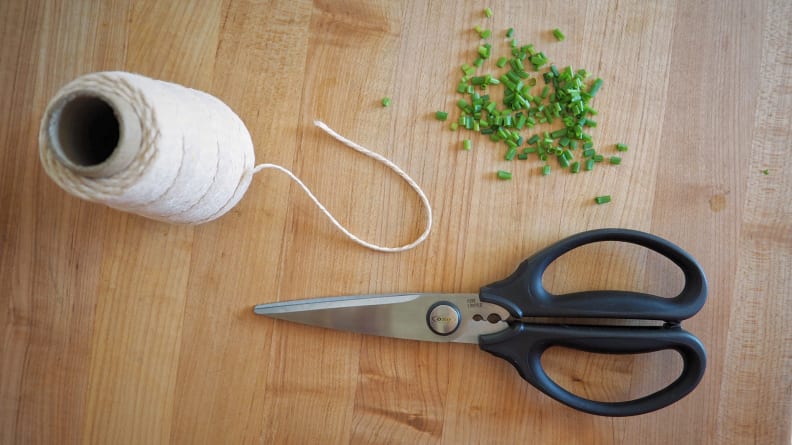 A good set of kitchen shears should be sharp and sturdy, with comfortable handles. This pair from OXO is affordable, and according to our testers, can cut through kitchen twine, chicken pieces, and plastic clamshell containers with ease.
Get the OXO Good Grips Kitchen and Herbs Scissors at Amazon for $17.95
14. Mixing bowls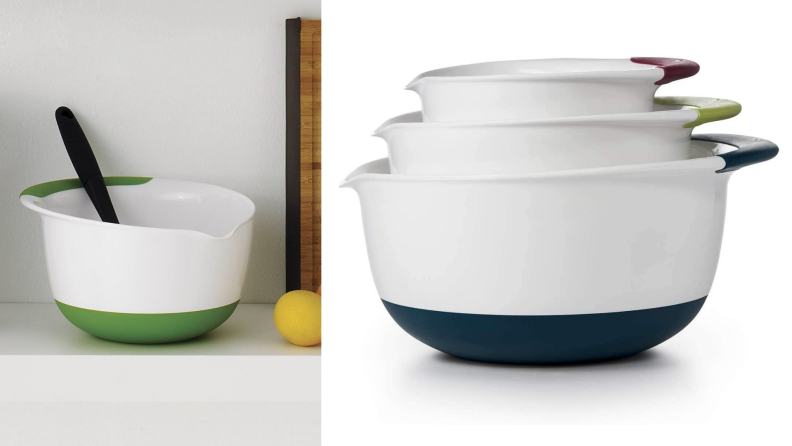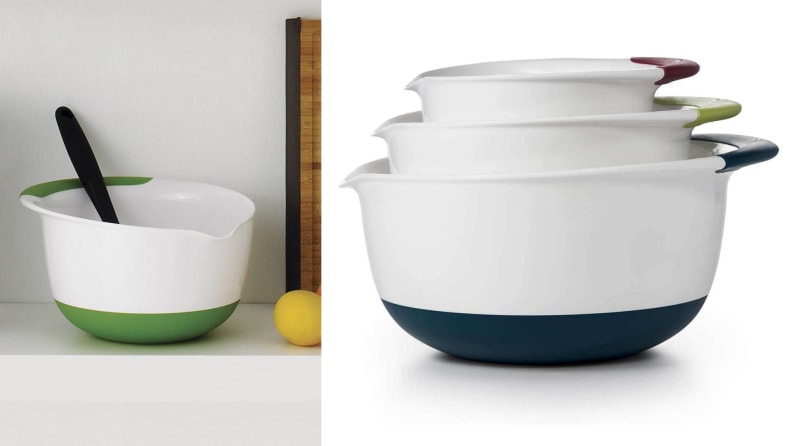 There's not much you really need from a mixing bowl, beyond a bit of space to, well, mix things. But there are a whole lot of nice-to-have features that can make your life easier: a spout for easier pouring, a rubber bottom to make sure the bowl doesn't slide on the counter, high sides to avoid splatter when you use an electric mixer, and ideally a light-enough weight so that you're not straining your wrists to pour batter out. This three-piece set from OXO has all of those features, and comes in cute colors to boot.
Get the OXO Good Grips 3-Piece Mixing Bowl Set at Amazon for $27.99
15. Measuring cups/spoons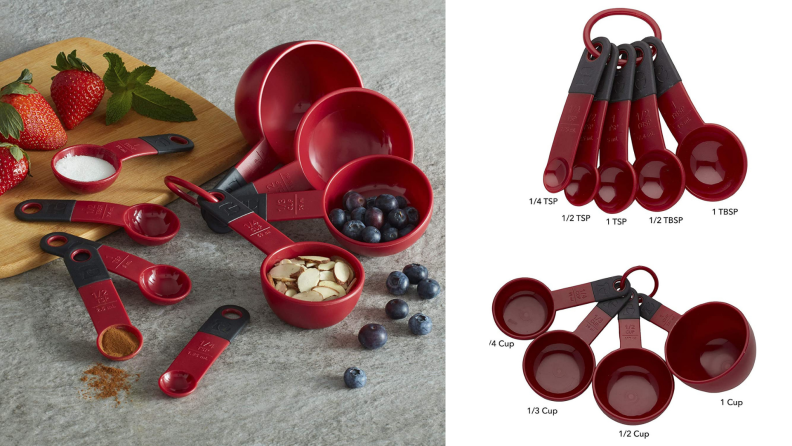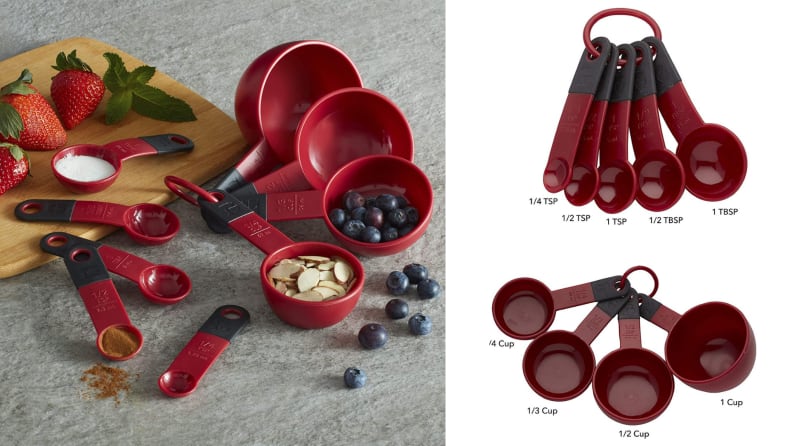 Unless you live on the wild side, you'll need a set of measuring cups and spoons. No need for anything fancy here—this highly rated set from KitchenAid will do.
For your liquid measuring cups, think big since they can double as small mixing bowls. This 4-cup version from Anchor Hocking is microwave-safe and extremely durable.
16. Oven thermometer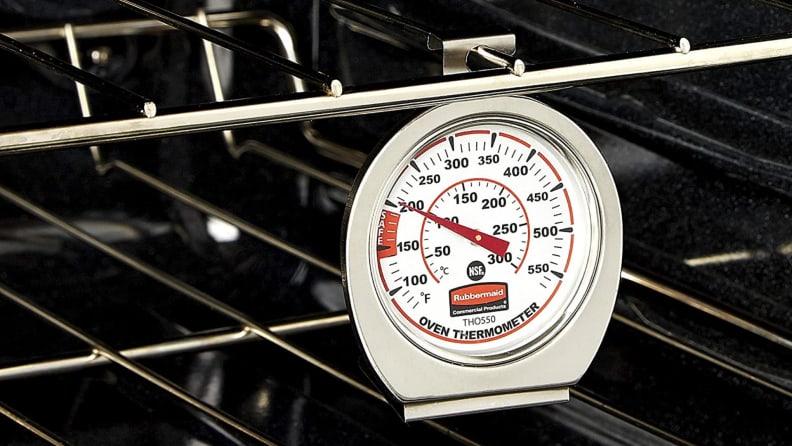 My first apartment came with an oven whose temperature markings had rubbed off the knob. I was annoyed when the landlord directed me toward oven thermometers instead of a fix, but now I thank them now as oven thermometers have changed my cooking game.
Chances are high that your first apartment oven will also be old and unreliable (though hopefully with temperature markings!), and an oven thermometer will save you from many an underbaked cake or burnt lasagna.
Get the Rubbermaid Instant Read Thermometer at Amazon for $7
17. Baking sheets
Sheet-pan dinners are a staple in my kitchen, so I feel very strongly about high-quality sheet pans. This Chicago Metallic set comes with three different-sized pans, which is especially handy for baking large batches of cookies (also a staple in my kitchen).
The pans are also sturdy (no warping!) and have high sides, which makes grabbing them while wearing awkward oven mitts much easier.
Get the Chicago Metallic 3-Piece Nonstick Jelly Roll Pan Set at Bed Bath & Beyond for $19.99
18. Casserole dishes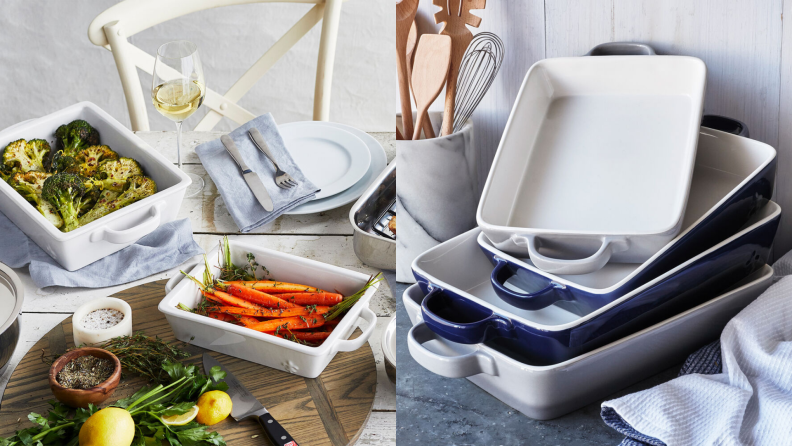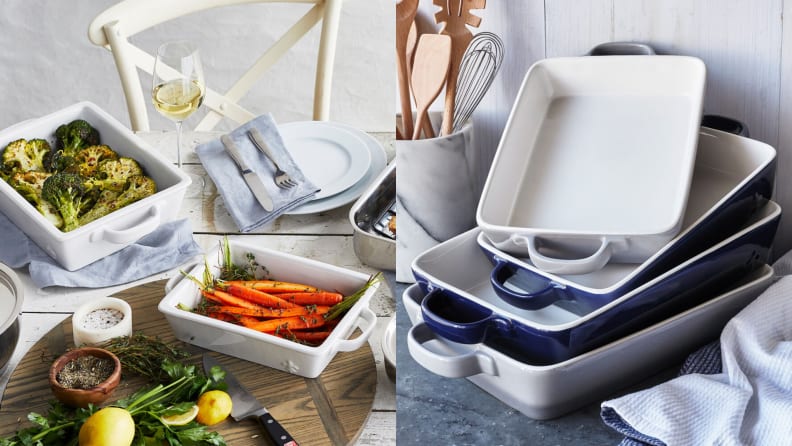 If you plan to bake a lot, by all means buy a metal cake pan or two. (I like the handy handles on these from Wilton.) But if you're more of the occasional baker type, this two-piece set of ceramic bakeware comes with an 7x11-inch pan for when a brownie craving strikes, as well as a 9x13-inch pan for lasagnas and casseroles.
They're dishwasher-, oven-, freezer- and microwave-safe, and come in a range of colors that will brighten up your table.
Get the Sur La Table La Marque 84 Stoneware Bakers, Set of 2, at Sur La Table for $40
The product experts at Reviewed have all your shopping needs covered. Follow Reviewed on Facebook, Twitter, and Instagram for the latest deals, product reviews, and more.
Prices were accurate at the time this article was published but may change over time.