Home & Garden
23 products that will instantly upgrade your kitchen and bathroom
The best way to give your home a makeover.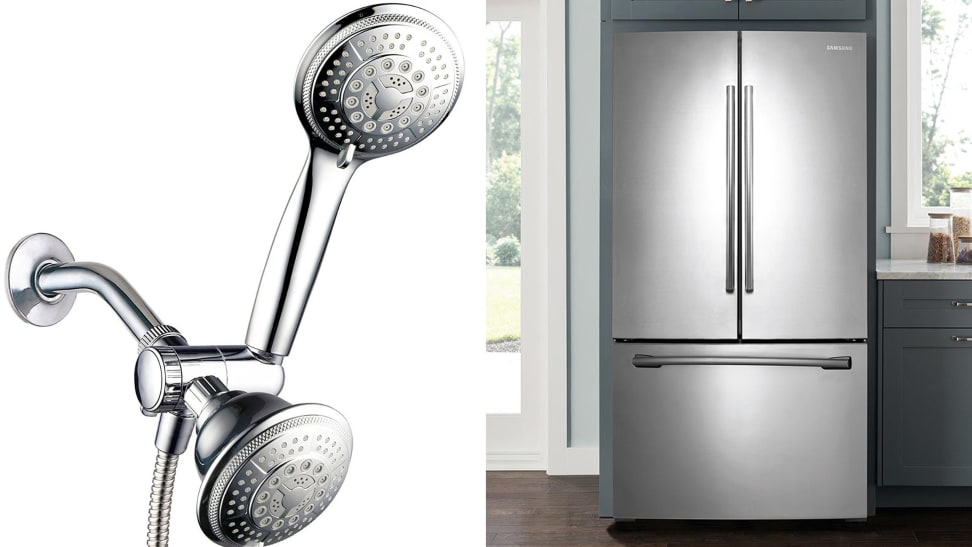 Credit: Hydrolux / Samsung
Few things are more pleasing—aesthetically and emotionally—than a clean, well-stocked kitchen and bathroom. Getting the right appliances and accessories can mean the difference between domestic bliss and a housework headache. We scouted some items with our friends at This Old House, from a stunning-but-affordable French-door fridge to a bathroom wastebasket you won't mind emptying, that fall into that first category. They're a joy to use, and give your kitchen and bathroom spaces a real upgrade. You'll be proud to have them in your home!
1. A cutting board that won't wear out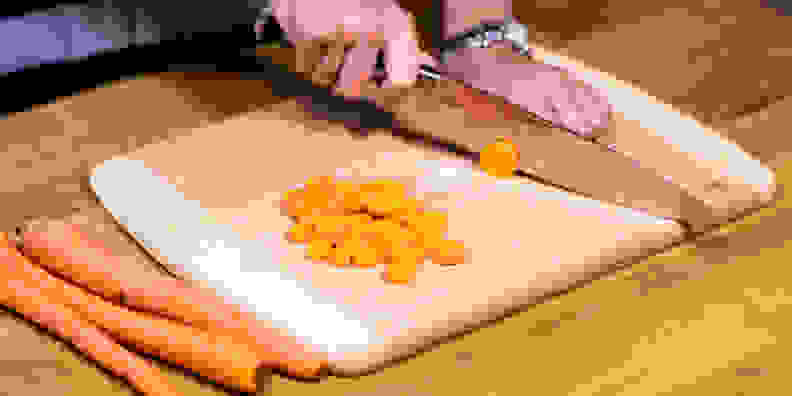 No kitchen is complete without a sturdy, durable cutting board. And the Totally Bamboo Kauai Cutting Board—Reviewed's pick for best cutting board—is about as sturdy and durable as it gets. It's made of bamboo, which is less susceptible to nicks and scratches than wood. When cared for properly (e.g., treated regularly with food-grade mineral oil and kept out of water for extended periods of time), this cutting board should last a decade or more.
Get the Totally Bamboo Kauai Cutting Board from Amazon for $19.95
2. Kitchen knives that make you feel like a top chef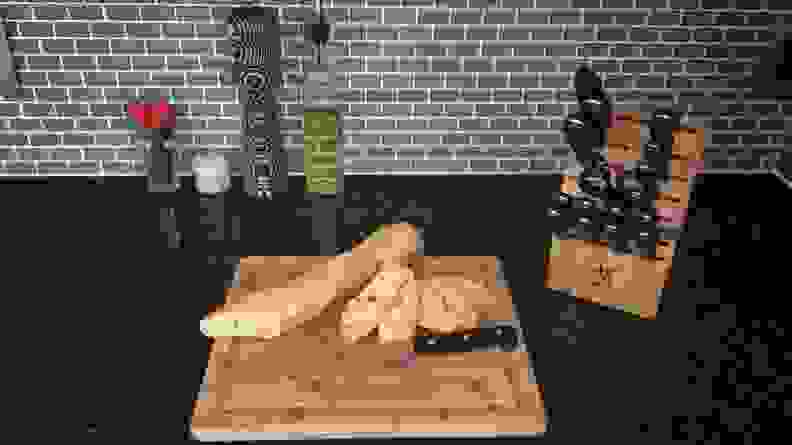 Ask any chef and they'll tell you that the most important piece of kitchen equipment you should invest in is a good set of knives. Reviewed's kitchen experts recommend the Zwilling J.A. Henckels International Statement 15-Piece Knife Block Set, which offers a selection of seven stellar knives that outperform the competition for all your slicing, dicing, chopping, and sawing needs, including a chef's knife, paring knife, and a serrated bread knife.
Get the Zwilling J.A. Henckels International Statement 15-Piece Knife Block Set from Walmart for $279.95
3. A toaster for perfect toast every time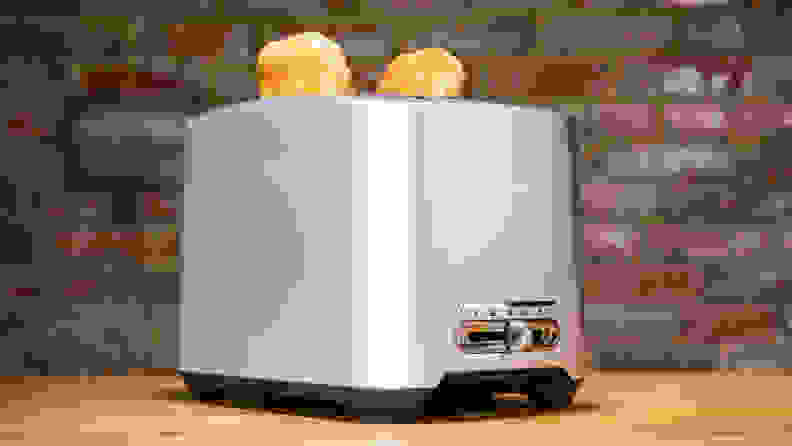 Not everyone thinks a toaster is necessary. But if you do, you want the best, which is the Breville Die-Cast 2-Slice Toaster. At over $100, it's pricier than most, but Reviewed's kitchen experts think it's worth it. Its easy-to-use buttons like "Lift And Lock" (which lets you take a peek at your toast mid-cycle) and "A Bit More" (which gives the bread a smidge more of a browning) allow you to create toast browned to your personal perfect shade. You won't realize what you were missing until you use it for the first time.
Get the Breville Die-Cast 2-Slice Toaster from Amazon for $124
4. A toaster oven that's top of the line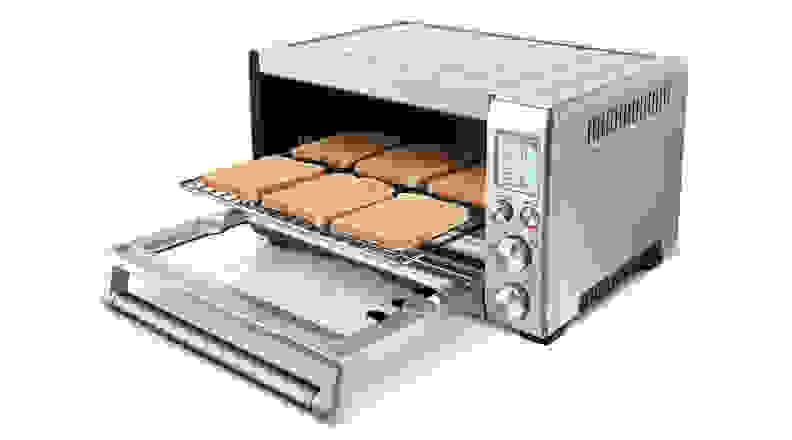 When it comes to cooking versatility and ease of use, few kitchen appliances rival Reviewed's pick for best toaster oven, the Breville Smart Oven Pro. With its six-slice capacity and an LED screen that allows you to choose among broiling, baking, roasting, reheating, and, yes, toasting, you may even find that the Smart Oven Pro ends up replacing your regular oven.
Get the Breville Smart Oven Pro for $268 from Amazon
5. The must-have mixer
The KitchenAid Artisan Stand Mixer is as much a status-y piece of decor as it is a functional kitchen appliance. As it turns out, there's a good reason for that: It really is that good. This stand mixer is easy to set up and comes with several accessories including a splash guard, dough hook, and flat beater and, according to our review, is a genuine pleasure to use for kneading bread dough, blending cake batter, and fluffing egg whites.
Get the KitchenAid Artisan 5-Quart Stand Mixer for $379.99 from Home Depot
6. A sleek-looking garbage can that turns trash into treasure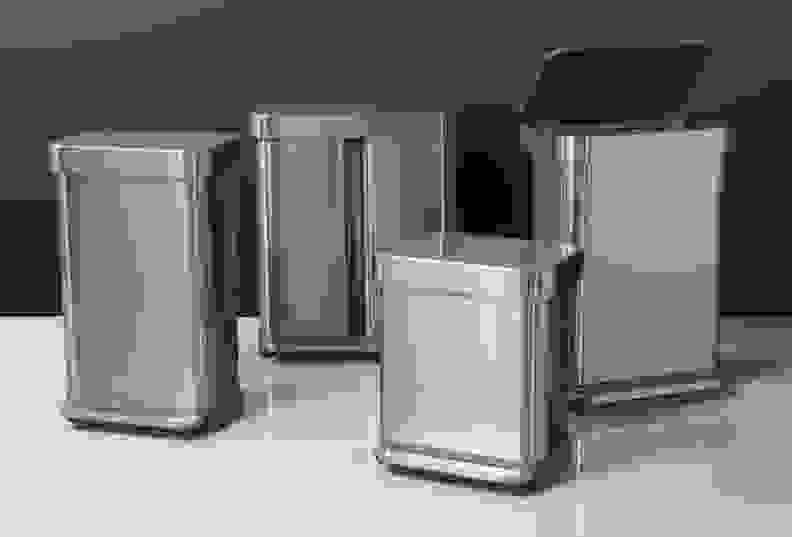 Dealing with the garbage isn't always a glamorous chore. But Simplehuman's 45L trash can works so well, you may find your family fighting over who gets to take out the trash (well, maybe). The lid easily opens with a light step, which is great when you have your hands full. It doesn't hurt that it looks really good, too: The stainless steel unit comes in silver, gold, black, white, dark bronze, and rose gold, and has a proprietary coating that helps repel fingerprint smudges and germs.
Get the Simplehuman 45L Rectangular Step Can from Amazon for $113
7. An air fryer to get healthier fried snacks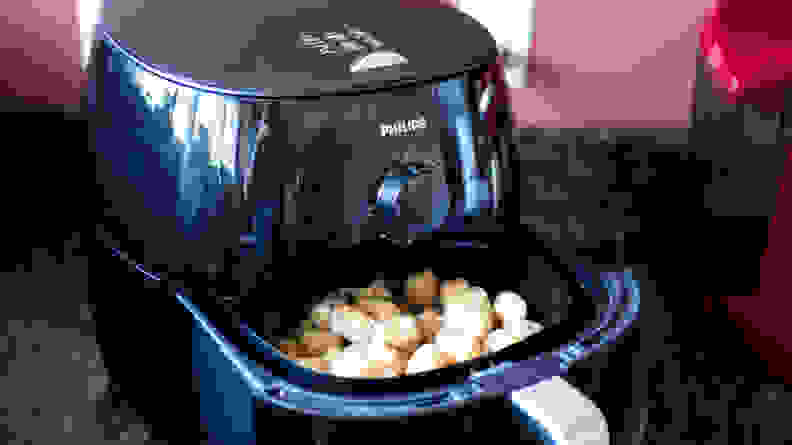 Using an air fryer is a great way to enjoy healthy (well, healthy-ish) versions of the fried foods you love at home. And the best air fryer, according to Reviewed's tests, is the Philips Airfryer XXL, which has the ability to cook large quantities of fries, chicken, and burgers to perfection.
Get the Philips Airfryer XXL from Amazon for $249
8. An upscale-looking fridge to keep your food fresh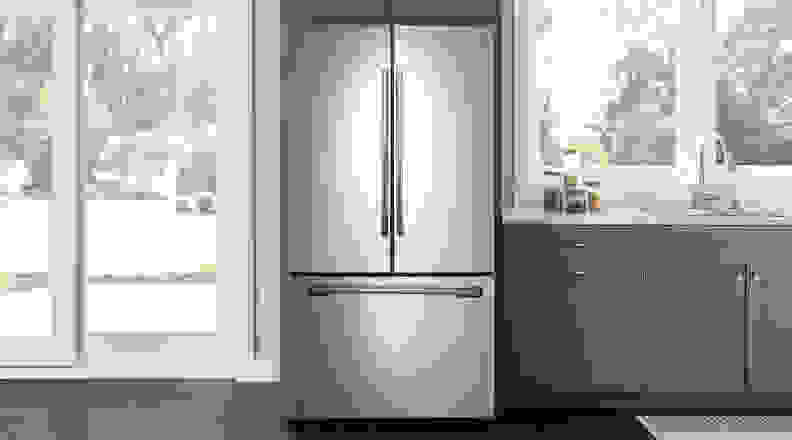 This Samsung French-door fridge has features you might expect in a much pricier model, such as a stainless steel finish, LED lights, a digital thermostat, and a pantry drawer with individual temperature settings. It also has consistent temperatures in both the fridge and freezer, ample storage space, and a simple but aesthetically appealing exterior, making it one of our favorite refrigerators right now.
Get the Samsung RF260BEAESR from Home Depot for $1,596
9. A kitchen cart that serves up function and style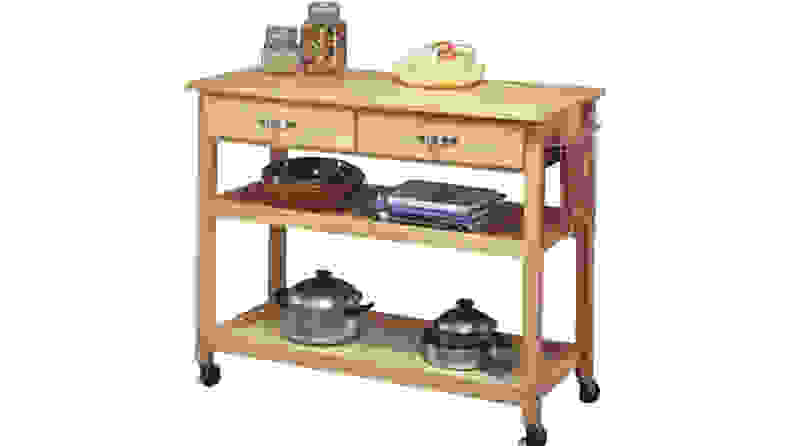 Almost every kitchen needs some more storage and counter space. This Old House has a guide to help you build your own kitchen cart, but if you're looking for a quick fix, this natural wood rack is a real problem-solver. It adds one surface, two storage shelves, two towel racks, and two more drawers to your kitchen and has a farmhouse-appropriate look that Home Depot reviewers love. They also found the cart sturdy, high quality, and easy to put together.
Get the Home Styles Natural Kitchen Cart from Home Depot for $200.46
10. A space-saving pot rack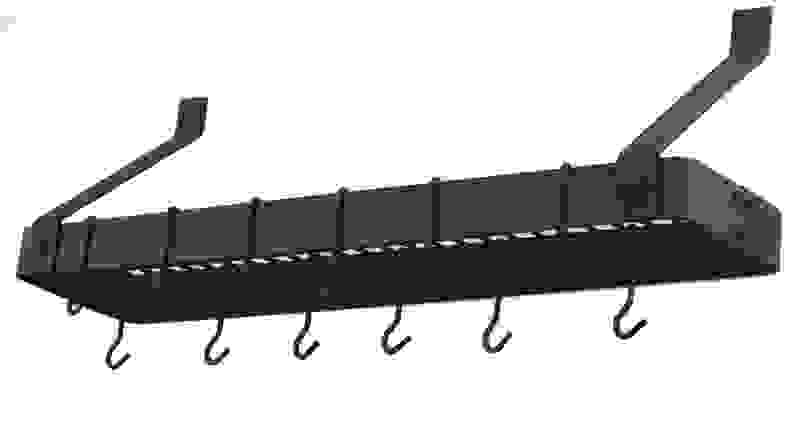 This Old House can help you turn a window guard into a pot rack and free up valuable cabinet space. If you don't have a window guard handy, you can always buy a dedicated pot rack to store pots and pans up above your head, easily within reach when you're ready to cook. This one from Home Depot can hold up to 80 pounds and has a handy shelf above the hooks that can be used for even more storage. Home Depot reviewers say the rack is sturdy, relatively easy to install, and can sustain even the heaviest of cast iron pans.
Get the Graphite Bookshelf Pot Rack from Home Depot for $83.61
11. A fast-cooking electric stovetop that outperforms gas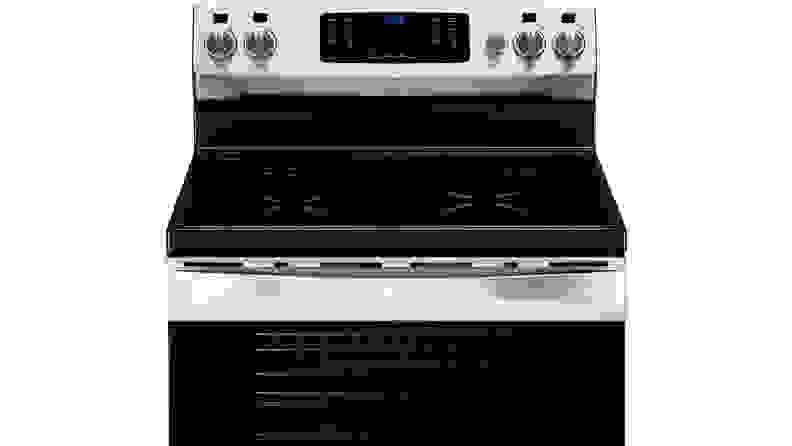 Induction ranges have been slow to catch on in the States, but that may not be the case much longer. The cooking method is the fastest growing trend in cooking, according to the National Kitchen + Bath Association's 2018 Design Trends study. Now's the time to get onboard with this cooking method, which uses electromagnetic energy to heat cookware directly and makes cooking quicker and more efficient, in houses old and new. One of the best ways to do this is with this Reviewed-tested-and-approved Kenmore Elite induction range, which offers excellent heat distribution, a wide option of temperatures, and incredibly fast preheat times.
Get the Kenmore Elite 95073 from Sears for $1,689.99
12. A dishwasher that leaves your dishes sparkling and drip-free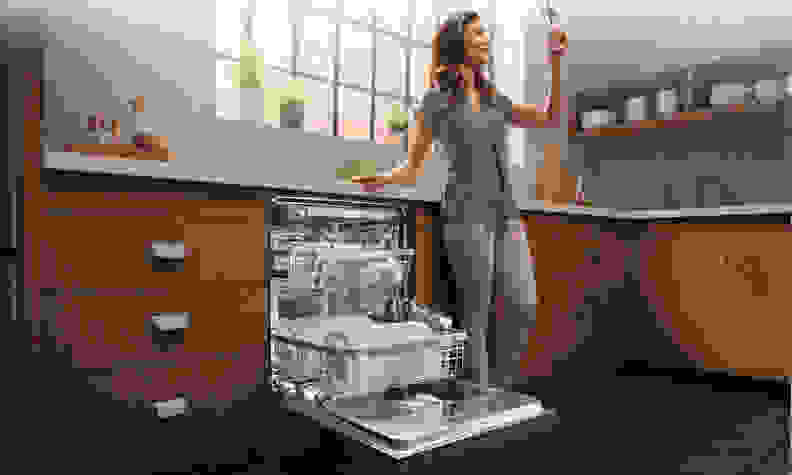 This LG dishwasher has exceptional cleaning power. In Reviewed's testing, it removed 100 percent of stains from every dish in each load and didn't fall prey to redeposit, which is what happens when food gets removed from one dish and ends up on another. But what makes this model truly stand out: it was the only machine in our tests to fully dry each and every dish. This eliminates the (minor) trauma that can come from opening a freshly-washed batch of dishes and realizing you have to dry them all by hand.
Get the LG LDF5545ST from Home Depot for $548.10
13. A coffee maker for high-quality in-house java
Bring your local coffee shop to your home with the Technivorm Moccavaster KB, a coffee maker that brewed stunningly smooth, complex cups of coffee in each of Reviewed's tests. In addition to making great coffee, it has an artful, handcrafted design, which instantly adds some sophisticated decor to your kitchen counter, too.
Get the Technivorm Moccavaster KB from Amazon for $299
14. A multi-cooker that makes preparing dinner a breeze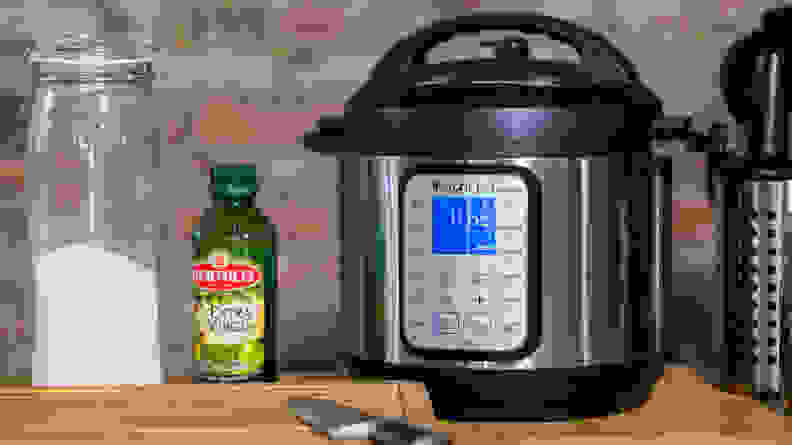 Not sure what to make for dinner? If so, you might want to get the Instant Pot Smart WiFi multicooker. It won't help you decide what to make for dinner (though we have a few ideas in mind) but it will make cooking it much easier. In addition to being a precise, easy-to-use 8-functions-in-1 multicooker, it comes with the added bonus of an app that allows you to control it from anywhere.
Get the Instant Pot Smart Wifi from Amazon for $149.95
15. A scratch-free cleaner for tough stains
This scrubbing cleanser, a favorite of This Old House and Reviewed alike (our reviewer described it as "magic") is safe to use on most surfaces in your home, from ceramic tiles to charred cookware. (Just keep it away from stone and reflective surfaces as it could scratch.) It's ideal for scrubbing away burnt-on food residue from cookware or mysterious rust rings around drains, keeping everything in your kitchen and bathroom sparkling-clean.
Get Bar Keeper's Friend from Amazon for $10.99
16. A water filter to keep you hydrated all day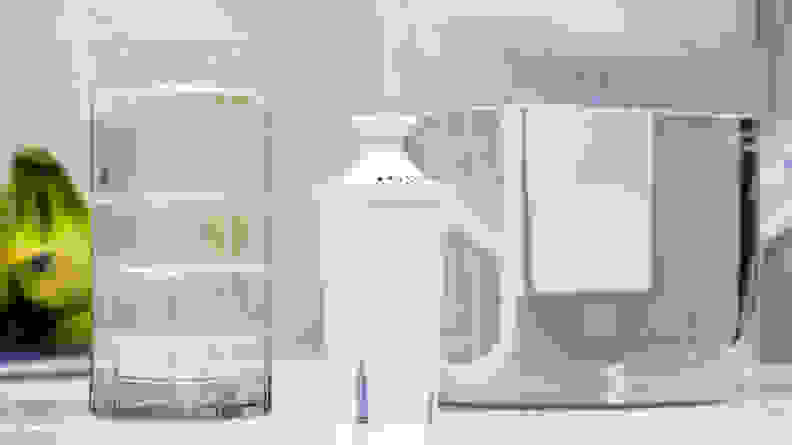 If you're going to be drinking eight-ish glasses of water a day, you'll want to make sure it's clean, great-tasting water. The best way to achieve that is with the Brita Everyday 10-cup pitcher, Reviewed's pick for best water filter. In tests, the water earned accolades like "most clean," "pure," and "most neutral," and the pitcher also gained points for its simplicity and ease of use.
Get the Brita Everyday 10-cup pitcher from Amazon for $26.99
17. A no-fuss can opener to make all canned goods accessible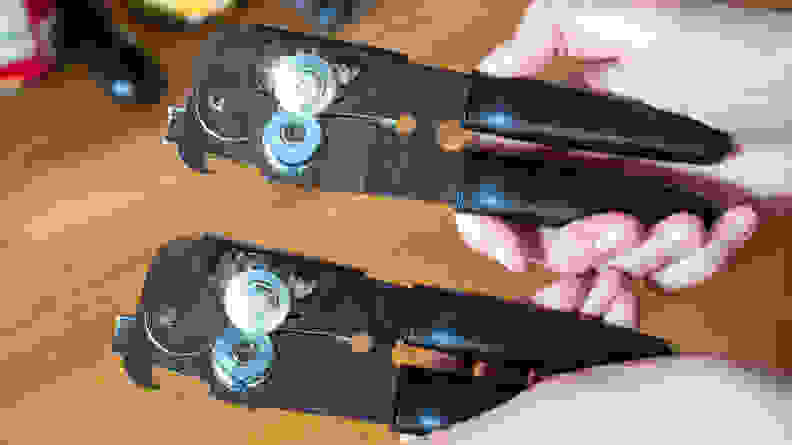 The EZ-DUZ-IT can opener doesn't look fancy—and, in many ways, that's where its appeal lies. Its simple, straightforward design allows it to easily pierce lids and make its way around the edges without causing hand fatigue or strain. It's also remarkably durable, with a solid metal design that's sure to be with you for the long haul.
Get the EZ-DUZ-IT can opener from Amazon for $12.80
18. A robot vacuum to keep your house clean with minimal effort
Looking to simplify your house cleaning? One way to do this is with iRobot Roomba i7+, a robot vacuum that cleans up well (in tests, it picked up 10 grams of debris) and can empty itself. It's also Alexa and Google Home compatible, allowing you to control it from a variety of sources.
Get the iRobot Roomba i7+ from Amazon for $949
19. A smart scale that measures more than your weight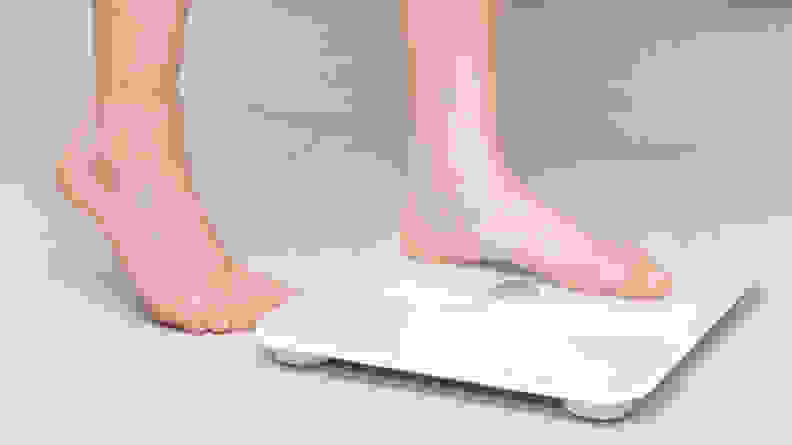 The Eufy BodySense Smart Scale tell you things about your body beyond your weight that a regular scale can't, including your body fat percentage, BMI, bone mass, and muscle mass, and it pairs with an app so you can keep an electronic log of your data. It's also significantly cheaper than many other smart scales, making it a great choice for those considering replacing their "dumb" scale with a "smart" one without making a huge investement.
Get the Eufy Bodysense Bluetoooth Scale from Amazon for $44.99
20. A showerhead that massages as you bathe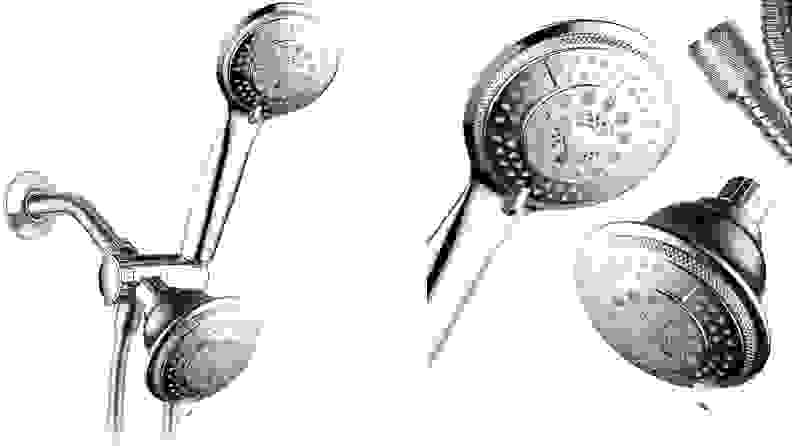 You could just shower with any old showerhead. Or, you could upgrade to Reviewed's favorite Hydroluxe 24 Function Ultra-Luxury Showerhead, which offers spray and massaging options including Power Rain, Massage, Stay-Warm Mist, and Water-saving Economy Rain, all of which can be used separately and a few at the same time. It also has a pause feature, which can be useful if you want to take a break to let conditioner soak in, shave your legs, or stop the stream to save water for any other reason.
Get the Hydroluxe Full-Chrome 24 Function Ultra-Luxury 3-Way All In One from Amazon for $24.99
21. A shower liner that banishes mildew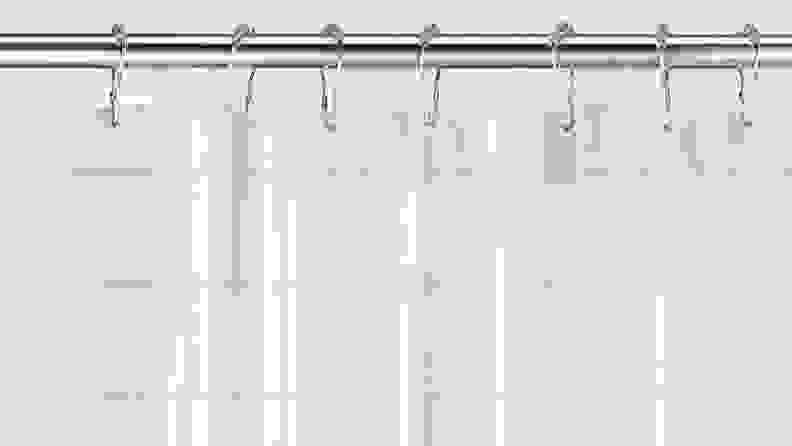 The job of a shower liner is to near-invisibly contain splashes within the shower while keeping your pretty outer curtain looking nice and clean. If your liner has started to gain notice, chances are good that something is wrong with it—or something is growing on it. This simple PEVA shower liner has attained cult status for its long-lasting mildew resistance and antibacterial properties. One reviewer wrote they were "extremely pleased (surprised, even!) with the quality received for the price I paid!"
Get the mDesign Mildew Resistant Shower Liner from Amazon for $9.99
22. Smooth-gliding shower curtain hooks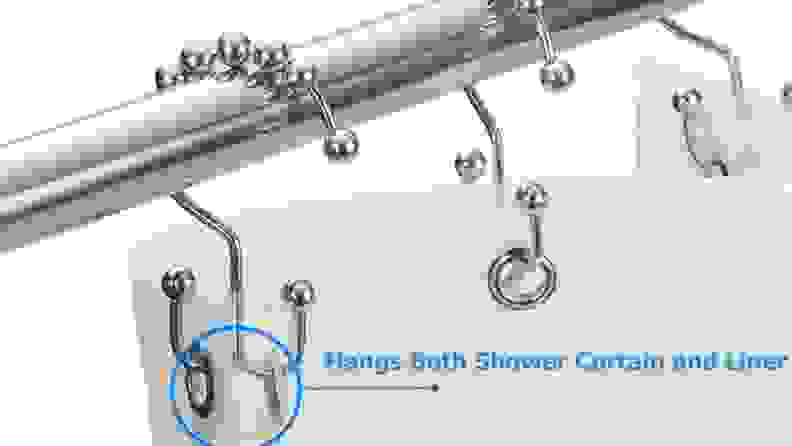 These Amazer shower curtain hooks have a lot of fans. Why? They just work well (not to mention look a whole lot nicer than those molded plastic loops). Made of polished stainless steel, the hooks have tiny casters that line the top, which glide along the curtain rod and prevent snagging. The two-sided hook design allows you to hang your curtain and liner separately, so you can take one down at a time for cleaning or replacement.
Get the Amazer Shower Curtain Rings from Amazon for $8.99
23. A compact bin that keeps trash in its place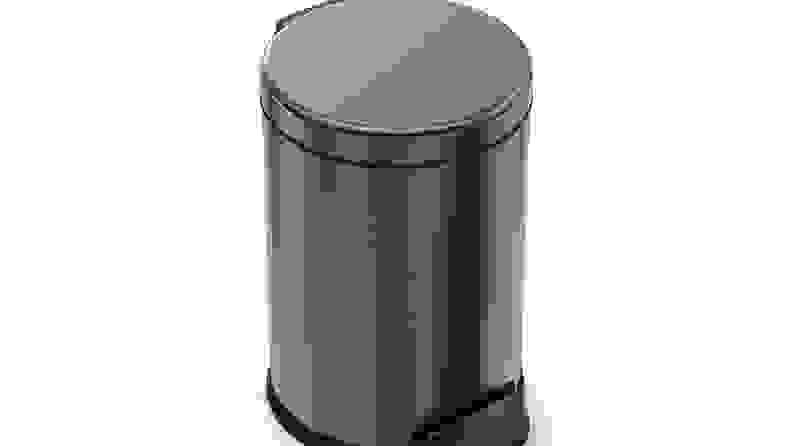 A wastebasket is a vital part of your bathroom—and this push pedal-controlled one from Simplehuman is about as user-friendly as they come. It's sleek and stylish, comes in a wide range of colors, and is easy to place anywhere, no matter how tiny your bathroom is. The removable inner bucket makes emptying a breeze, and the lid keeps your trash private. No wonder it's an Amazon bestseller.
Get the Simplehuman 1.2 Gallon Trash Can from Amazon for $21.99
The product experts at Reviewed have all your shopping needs covered. Follow Reviewed on Facebook, Twitter, and Instagram for the latest deals, reviews, and more.
Prices are accurate at the time this article was published, but may change over time.