Great cooking comes from the heart, but the right tools are also important. Speedy and accurate equipment can make all the difference when you're putting dinner on the table after a long day. The cooking team here at Reviewed has tested hundreds of appliances and kitchen gadgets—here's the best of what we tried in 2018.
Best Dishwasher: Bosch 800 Series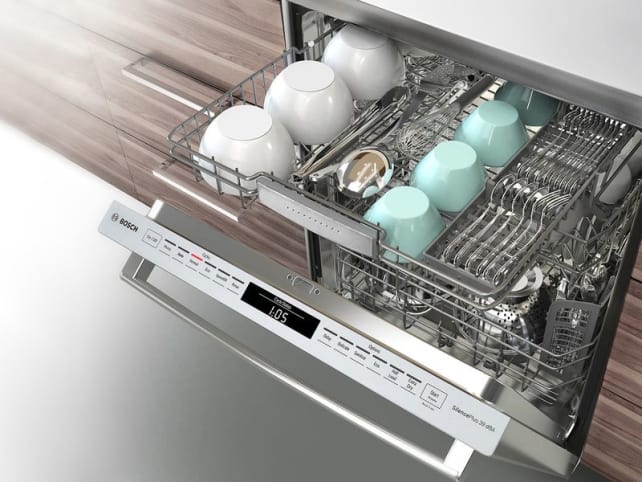 We love all the Bosch 800 Series, which is why they're our top-ranked dishwashers. No matter which one you pick, our tests show you'll get excellent cleaning performance, good drying, sleek looks, and a highly desirable set of features. With easy-gliding racks and an optional "MyWay" third rack that fits soup bowls, you can choose the look you like best and configure the racks to make room for your dishes and pans. Best of all, they're as quiet as 39 db.
Buy the Bosch 800 Series Dishwasher
---
Best Dishwasher for the Money: LG LDF5545ST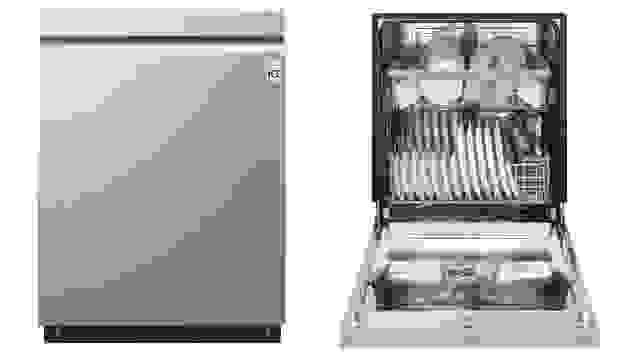 The LG LDF5545ST may look futuristic, but behind its unique integrated handle is a quiet, efficient, stainless steel dishwasher with a plethora of cycles and features. More importantly, it did a great job cleaning and drying dishes in our performance tests. With a solid warranty and sale prices that drop below $600, we think it's one of the best dishwasher values you can buy—even better than some Bosch machines.
Buy the LG LDF5545ST Dishwasher
---
Best Affordable Dishwasher: Whirlpool WDT710PAHZ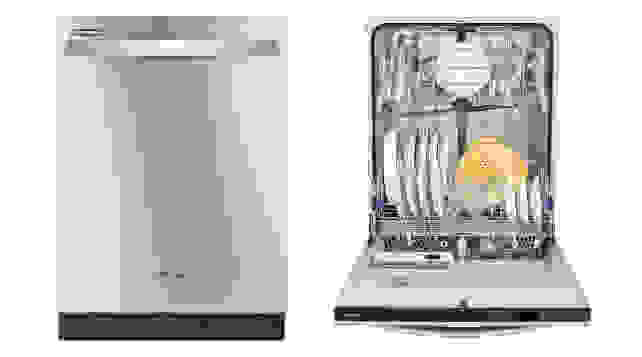 The Whirlpool WDT710PAHZ has a sleek look at a budget price, making it our top pick among the many great affordable dishwashers on the market. It's a quiet, efficient, stainless steel dishwasher that does a standout job cleaning and has true heated drying. With a sleek, bar-style handle, it looks like it costs hundreds more, too—so it's ideal for a renovation. Our only complaint is its sometimes-frustrating cutlery basket.
Buy the Whirlpool WDT710PAHZ Dishwasher
---
Best Refrigerator: GE Café CFE28TSHSS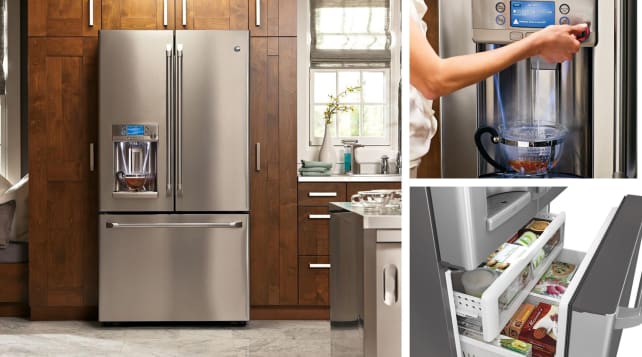 This GE Café French door has been our top-ranked refrigerator for several years running—and there still seems to be nothing better. Its 27.8-cubic foot interior is easy to organize, it has an adjustable-temperature deli drawer, and it did a great job preserving fresh and frozen food in our lab tests. It can even dispense hot water!
Whether you've got a big family or just want the best fridge out there, the American-made CFE28TSHSS has everything you're looking for—and more.
Buy the GE Café CFE28TSHSS Refrigerator
---
Best Affordable French Door Refrigerator: Samsung RF260BEAESR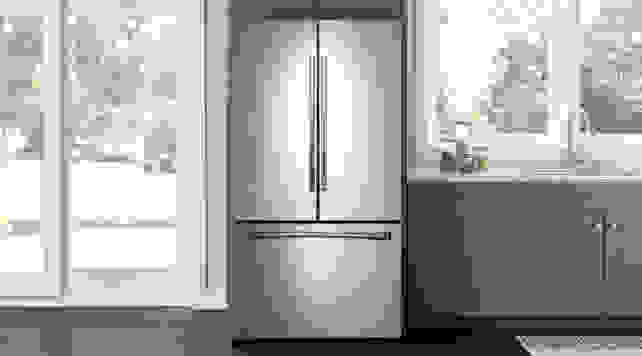 If you like the idea of a French door fridge but aren't keen on spending $2,000 to get one, the Samsung RF260BEAESR has you covered. This entry-level, 25-cubic foot affordable French door fridge has most of the design perks of models twice the cost—LED lights, a stainless steel finish, a digital thermostat, and even a pantry drawer with independent temperature settings. All it lacks is a through-the-door ice and water dispenser, which offers a clean exterior look that some users prefer. Why spend an extra $500 or more on a glorified water faucet?
If you love the look and feel of a sleek French door fridge, care about food preservation, and don't mind scooping ice out of the freezer bucket, save your money and snatch up this excellent Samsung.
Buy the Samsung RF260BEAESR Refrigerator
---
Best Basic Refrigerator: Samsung RT18M6215SG/AA
If you're just looking for a fridge to get the job done, consider the Samsung RT18M6215SG/AA. This 18-cubic foot fridge with a top freezer offers functionality, versatility, and high style at a better-than-average value. Plus, its freezer can convert to additional fridge space with the press of a button. It's one of the best fridges under $1,000 we tested and one of our favorite top freezer models, so for a small kitchen—or as an extra fridge in another part of the home—it's strong contender.
Buy the Samsung RT18M6215SG/AA Refrigerator
---
Best Gas Range: Samsung NX58K9500WG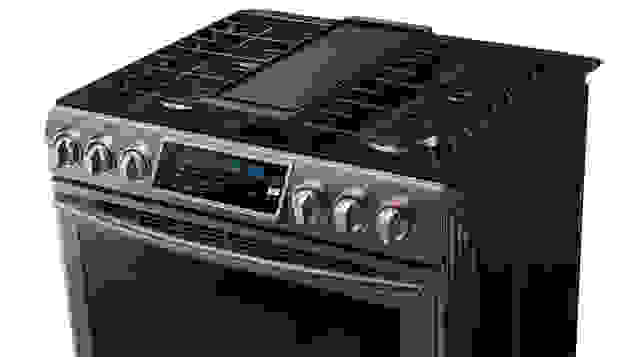 Samsung continues to impress with their NX58K9500WG range, the latest in the design-oriented Chef Collection series. Its premium look isn't all that's captured our attention—its performance is as good or better than that of the best gas ranges we've ever tested. This slide-in range has five sealed burners on top, ranging from 5,000 to 18,000 BTUs, and an included griddle rests neatly on top of the oval-shaped burner in the center when you need it.
Thanks to a wonderful oven packed with useful features, the Samsung is also a baker's delight. A true convection fan for even bakes, a faster pre-heat, and a warming drawer for proving bread, pre-heating plates, or keeping side dishes warm all are all standout features that help put this range on the top of our list.
Buy the Samsung NX58K9500WG Gas Range
---
Best Electric Range: Frigidaire Professional FPEH3077RF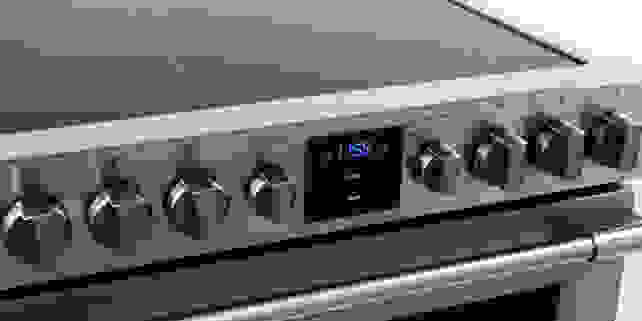 This freestanding Frigidaire Professional has the look of a slide-in and the performance of a much pricier range. The 30-inch rangetop can get screaming-hot or stay mild enough to melt chocolate, and the 5.1-cubic foot oven bakes evenly each time. In testing, we also appreciated extras like a storage drawer, bridge burner, griddle, and temperature probe—and the stainless-steel finish is beautiful and smudge-proof. This Frigidaire won't disappoint those who want a serious kitchen upgrade, making it our top electric range.
Buy the Frigidaire Professional FPEH3077RF Electric Range
---
Best Induction Range: Kenmore Elite 95073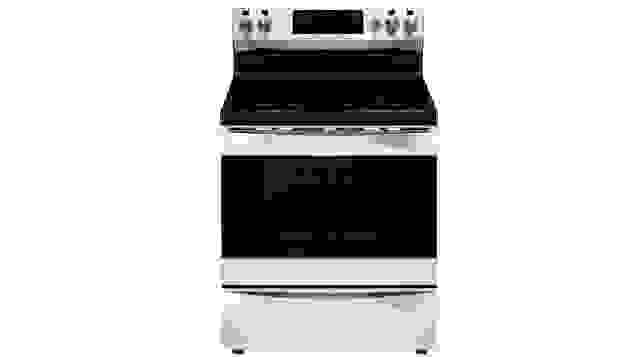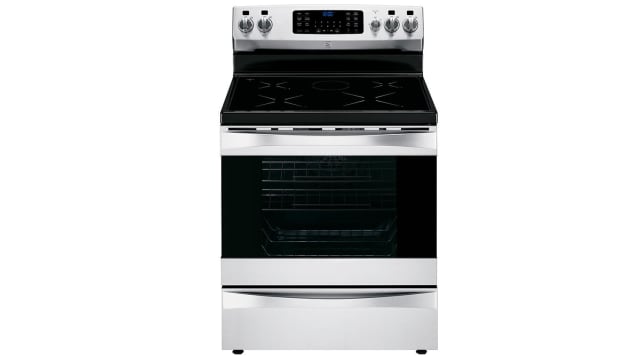 This Kenmore is an above-average range designed to introduce induction ranges to a market looking for something simple and affordable. There are a few quirks that will need getting used to, but the numerous benefits of induction far outweigh the downsides.
For the everyday cook trying to get dinner on the table, this is a faster, safer stove than most, and it's hyper-responsive temperature control will impress any cooking enthusiast used to gas or electric. The oven has some problems, but it should still do the trick for most meals as long as you're comfortable with convection—or aren't afraid to learn.
Buy the Kenmore Elite 95073 Induction Range
---
Best Affordable Gas Range: Samsung NX58H5600SS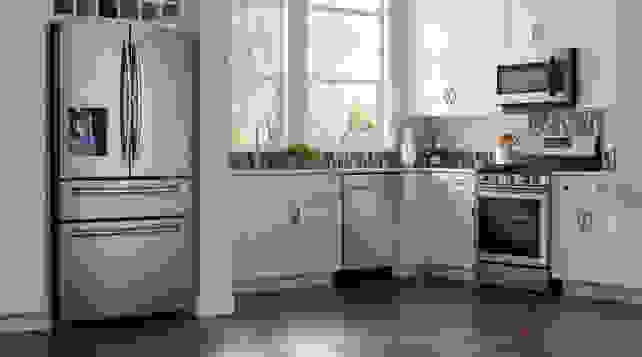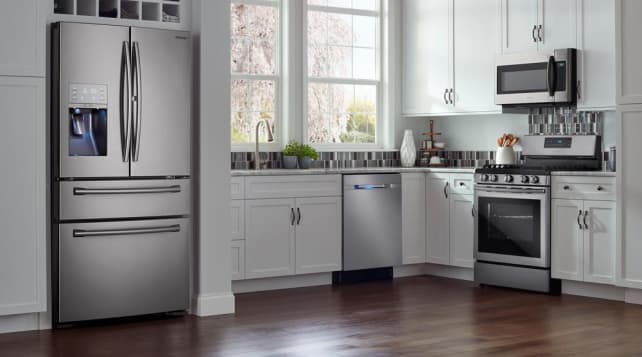 This 5-burner, 5.8-cubic foot range is simply the best under-$800 gas range we tested. It has nicely designed, stainless steel dials that create a super smooth turning experience, and the large digital display panel makes it easy to enter your precise oven temperature. The grates are also easy to clean—you can remove the middle grate to place the custom griddle directly over the griddle burner.
Aesthetics aside, the Samsung NX58H5600SS is built to perform. It preheats exceptionally fast and excelled in both baking and roasting tasks during our testing. While the burners didn't heat our cast iron pan as evenly as some of the other ovens, it was quick to boil water. It comes in at a nice budget price for a convection oven, but it looks and performs much more like a high-end range.
Buy the Samsung NX58H5600SS Gas Range
---
Best Affordable Electric Range: GE JB655SKSS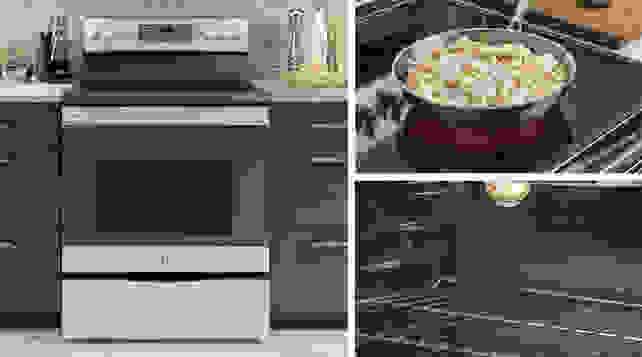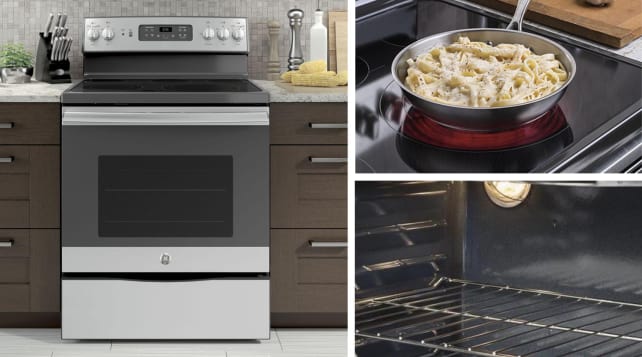 There's a reason why GE is the most popular brand for cooking appliances in the U.S.—it makes a solid product. The JB655SKSS is no exception, which is why it's our favorite affordable electric range on the market. We were impressed by its 4-burner ceramic glass cooktop, which boils 6 cups of water in a speedy 9 minutes. It also sports a fifth warming element to keep your meal on track.
The range's 5.3-cubic foot oven with convection does an excellent job at roasting and broiling, but may not be the best bet for serious bakers—our cakes came out pretty uneven. Overall, this range is a good deal for what it does, and consumers agree.
Buy the GE JB655SKSS Electric Range
---
Best Affordable Induction Range: Frigidaire FFIF3054TS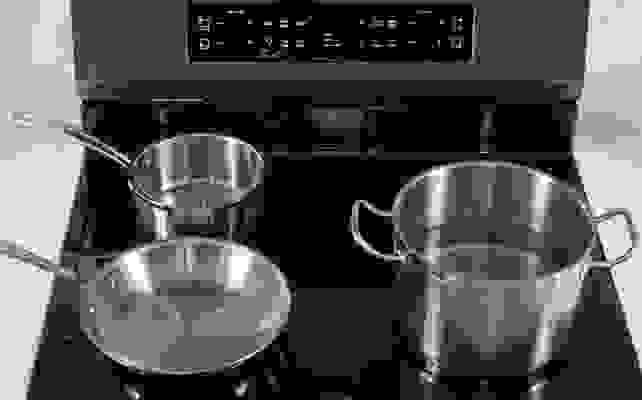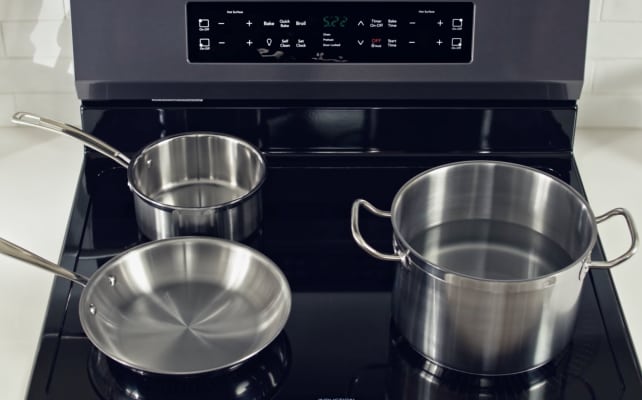 We loved our time with the Frigidaire FFIF3054TS. It's not the fanciest range you can buy by any means, but the induction cooktop is simply too good to ignore, especially since the price has dropped below $1,000. With that price barrier breached, it may convince some people who've been on the fence to finally give induction a try.
The FFIF3054TS is a great value, but it's not hard to find where some corners were cut when you compare it to a more premium range—there's no convection bake mode, and the fit and finish isn't perfect. But you're still likely to end up as happy as—or even happier than—you were with your old gas or electric cooktop.
Buy the Frigidaire FFIF3054TS Induction Range
---
Best Immersion Circulator: Anova Bluetooth Precision Cooker (800 watts)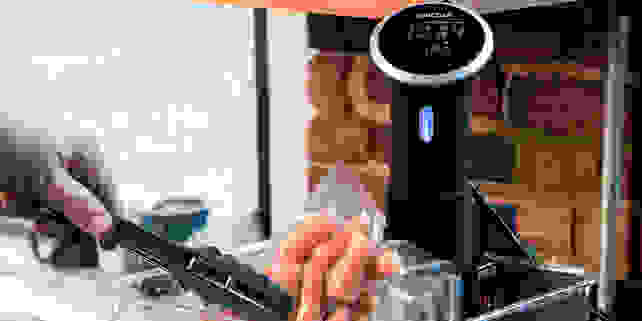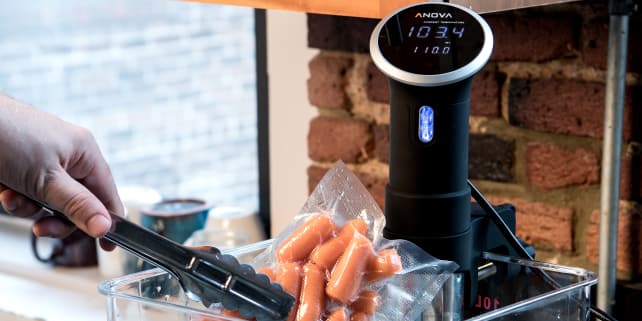 Once the provision of foodies and chefs, immersion circulators have become a must-have kitchen gadget. They allow home chefs to cook sous vide, a style of cooking where food is vacuum sealed and submerged in a temperature-controlled water bath. We're big fans of this Anova's design, which is polished but not overly hefty. The black plastic and contrasting stainless steel of its design should match most kitchens, and the digital display is both easy-to-read and intuitive.
Where the Anova really shines, however, is its ability to accurately stick to your desired temperature, which is what sous vide cooking is all about. It might take a little longer to get up to temperature than some of the other machines we tested, but let us be clear—it's worth the wait. And with a retail price of $149, the Bluetooth Anova isn't just our top performer—it's also the best value you'll find.
Buy the Anova Bluetooth Precision Cooker
---
Best Cookware Set: Cuisinart Stainless Steel 12-Piece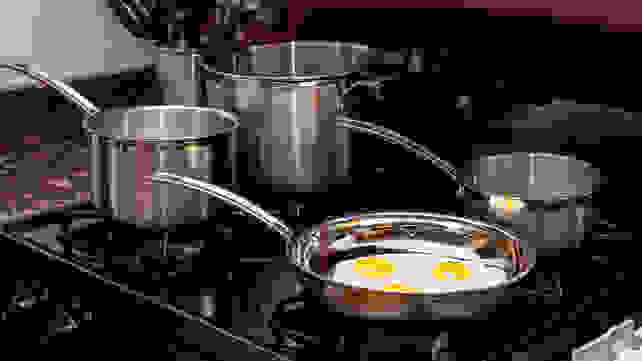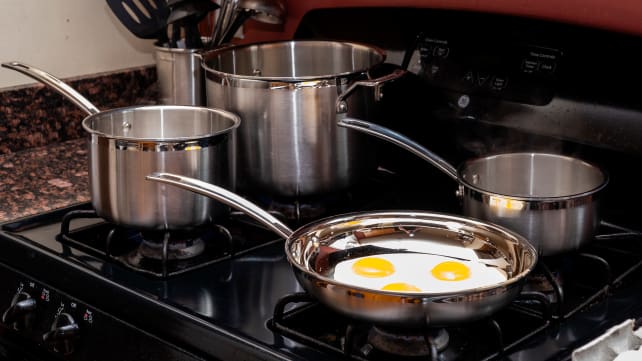 It was easy to name this Cuisinart 12-piece as our best cookware set. It has everything you need for a starter kitchen—including two saucepans, an 8-quart stockpot, a medium-sized sauté pan, two skillets, and a steamer insert—and it's a great choice for those looking to upgrade their old sets, too.
Throughout testing, we had no complaints with the medium-sized sauté pan, which not only comfortably fit four chicken thighs, but also seared each one to perfection. The large stockpot is well-sized for making soup, cooking pasta, or blanching vegetables. The triple-ply construction also gives the pans the benefit of heat conductivity, but the aluminum core ensures they're not too heavy to handle. Every piece has comfortable handles and a design that creates a nice balance.
Buy the Cuisinart Stainless Steel 12-Piece Cookware Set
---
Best Food Processor: Cuisinart DFP-14BCNY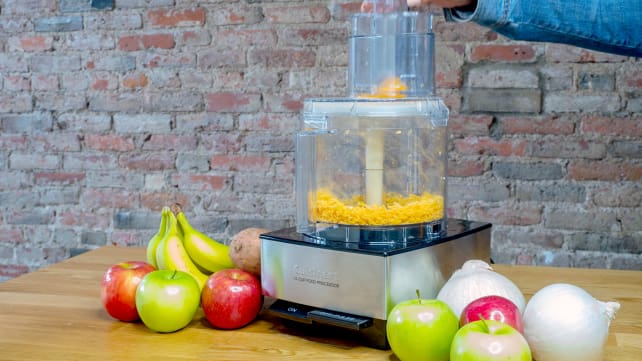 When you're cooking up a storm, a large food processor can reduce your prep work drastically and make you wonder how you ever lived without one. Cuisinart was the first food processor sold in the US and, in our opinion, their "Custom 14" processor is the best one on the market today.
It excelled at almost every task, chopping onions and slicing tomatoes as well as any razor sharp chef's knife, and kneading pizza dough into a smooth elastic ball. Clean up is also a cinch, as Cuisinart is the only manufacturer that actually encourages you to wash the parts in the dishwasher.
Buy the Cuisinart DFP-14BCNY Food Processor
---
Best Stand Mixer: KitchenAid Artisan 5-Quart Stand Mixer
When it comes to stand mixers, the iconic KitchenAid stands alone—and for good reason. Easy to set up and with the quietest motor we tested, the KitchenAid's 5-quart Artisan mixer was a pleasure to use and passed all our tests with aplomb, whipping up egg whites and mixing cookie dough quickly and evenly. Despite its many competitors, our testing prove that it is still the best stand mixer you can buy after all these years.
Its merits are many—attachments are easy to put on, remove, and clean, the tilt lever lock works well, the bowl installs smoothly, and the splash guard, though not really necessary (for this class of mixer, none of them are), fits the bowl well and can be slid on when needed without taking apart the mixer. The classic KitchenAid aesthetic doesn't hurt, either—and the mixer comes in 20 stunning colors.
Buy the KitchenAid Artisan 5-Quart Stand Mixer
---
Best Coffee Maker: Technivorm Moccamaster KB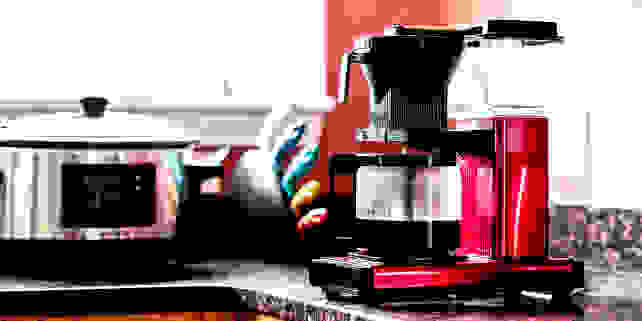 With its mid-century design and exposed reservoir, you'll want to leave the Moccamaster out on the counter even when it's not in use. But it doesn't just look great—the Moccamaster quickly brews a complex and smooth pot of coffee that ranked highest in our taste test, making it the best drip coffee maker on the market.
However, the Moccamaster isn't right for every kitchen or budget. Handmade in the Netherlands, it costs around $300—and would never win an award for value. It lacks a programmable timer, and it was also bit more difficult to set up than the rest of the coffee makers we tested. But a quick look at the instruction diagram should clear up any confusion, and the end result is well worth the effort.
Buy the Technivorm Moccamaster KB Coffee Maker
---
Our editors review and recommend products to help you buy the stuff you need. If you make a purchase by clicking one of our links, we may earn a small share of the revenue. Our picks and opinions are independent from any business incentives.