Home & Garden
These are the best major appliances of 2020
Reviewed's 2020 Best of Year awards
Credit: Bosch
Between disinfecting our face masks, allowing us to cook more than ever, and helping us manage the seemingly never-ending pile of dirty dishes, home appliances have been the unsung heroes of 2020. That's why, throughout the pandemic, our labs have continued to operate safely, helping readers find quality products can can truly handle everyday use in homes that are doubling as schools and offices.
After testing dozens of refrigerators, ranges, dishwashers, washing machines, dryers, and more, we can confidently say that these models are the best of the best. They prove that the right tools can make household tasks feel like less of a chore.
Here are our favorite home appliances, or jump to all the 2020 Best of Year awards.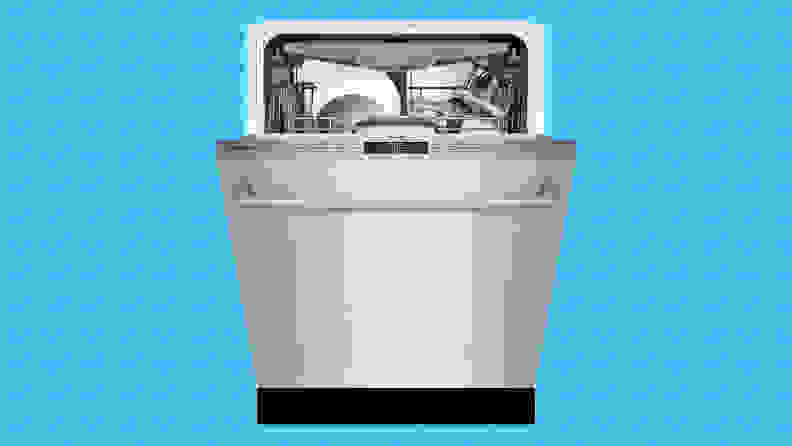 Best Dishwasher
Bosch 800 Series SHPM88Z75N
The Bosch SHPM88Z75N is one of the reasons that when you type "best dishwasher" into Google, the results return with Bosch after Bosch after Bosch. This dishwasher is a part of the 800 series, a group that contains the best dishwashers we've ever tested. Just like other 800 models, the SHPM88Z75N provides excellent cleaning prowess, well-machined racks, and features that only Bosch can provide—the ability to dry plastics well. Read the full review.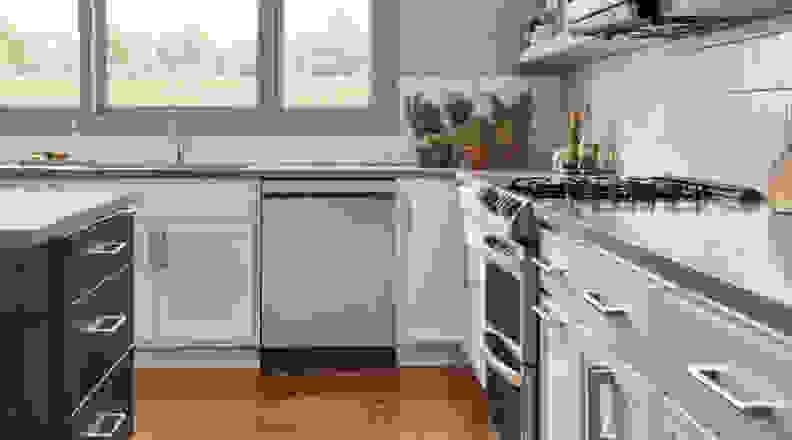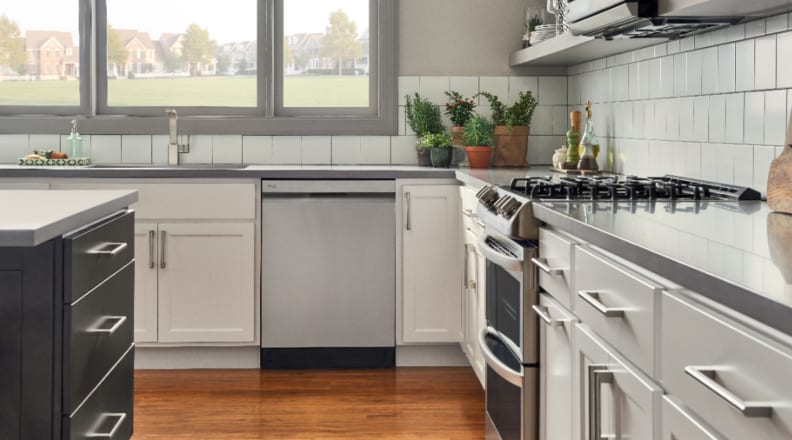 Best Affordable Dishwasher
LG LDF5545ST
The LG LDF5545ST is a quiet, efficient, stainless steel dishwasher with a plethora of cycles and features. Its cleaning performance is comparable to that of our highest-rated Bosch dishwashers, but it costs half as much. Plus, the LDF5545ST has the best Heavy cycle that's ever come through our labs—it removed 100% of the stains on every single dish, and showed no evidence of redeposit. Read the full review.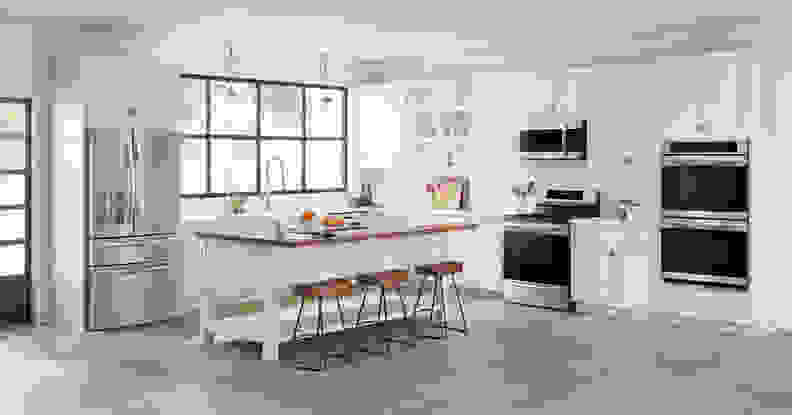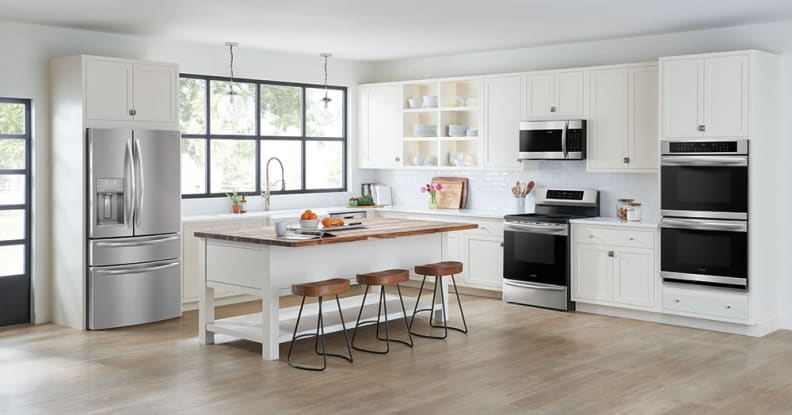 Best Refrigerator
Frigidaire Gallery FG4H2272UF
The Frigidaire Gallery FG4H2272UF has it all: beauty, brawn, and value. As a French-door model, it is quite affordable while still offering superior storage space and nifty features like an adjustable deli drawer that can also double as a wine chiller or freezer. The best refrigerator we've tested, the FG4H2272UF showed us it's a workhorse as well, boasting above-average performance in keeping a consistent temperature and humidity retention. Read the full review.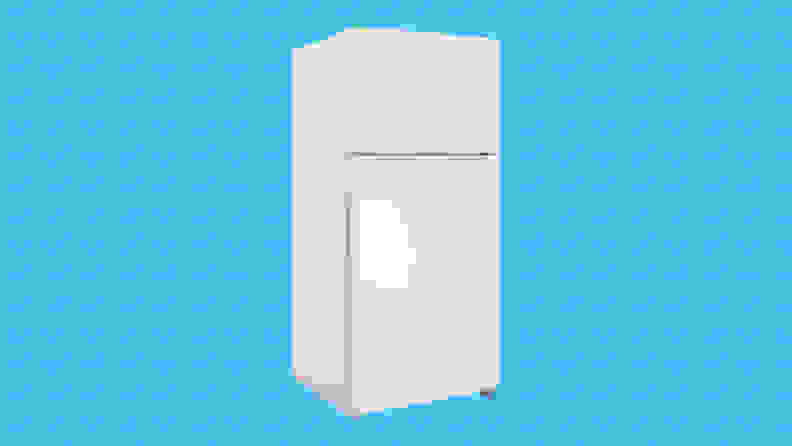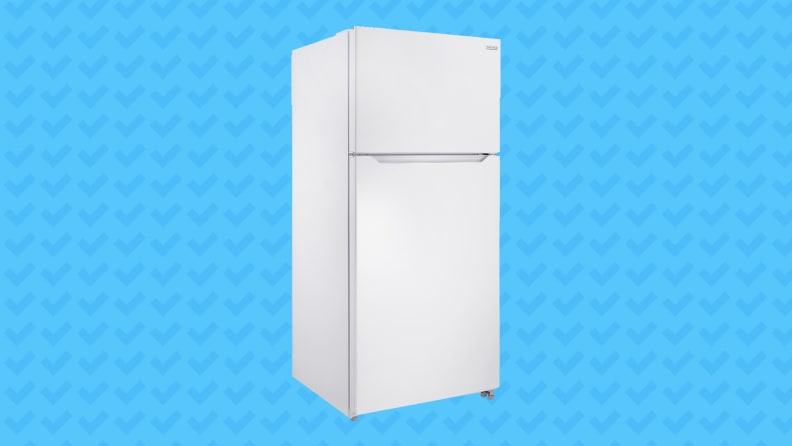 Best Basic Refrigerator
Insignia NS-RTM18WH7
The Insignia NS–RTM18WH7 refrigerator has one big thing going for it: a low, low price that's cheaper than almost any other full-size fridge you can buy. The 18-cubic-foot top-freezer was one of the most efficient fridges (in terms of electricity usage) that's ever come through our labs. There's also plenty of storage space, with no hidden extras (like water filters or air filters) to take up valuable real estate that you need for a pizza box or a Thanksgiving turkey. It's worth a look if you need a second fridge, or if your budget is tight. Read the full review.
Best Affordable French-Door Refrigerator
Haier HRF15N3AGS
For those who love the look and functionality of French-door refrigerators, but don't have the space to actually fit one in their kitchen, the Haier HRF15N3AGS is a perfect pick. This affordable fridge is counter-depth, making it considerably narrower and shallower than most other French-door fridges—and the cooling functionality is top-notch. Read the full review.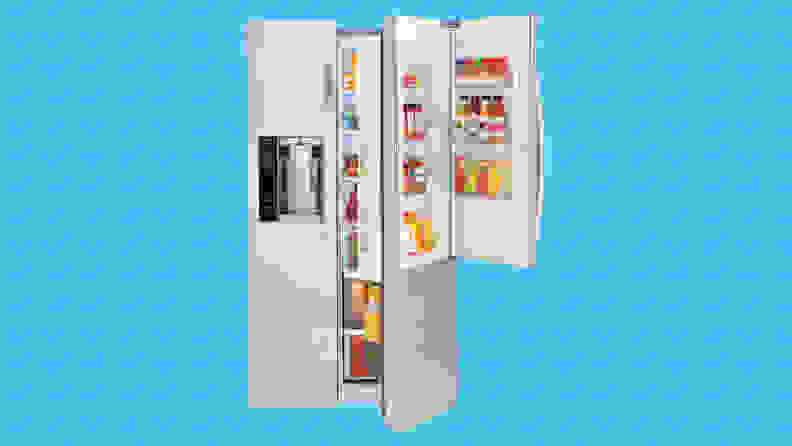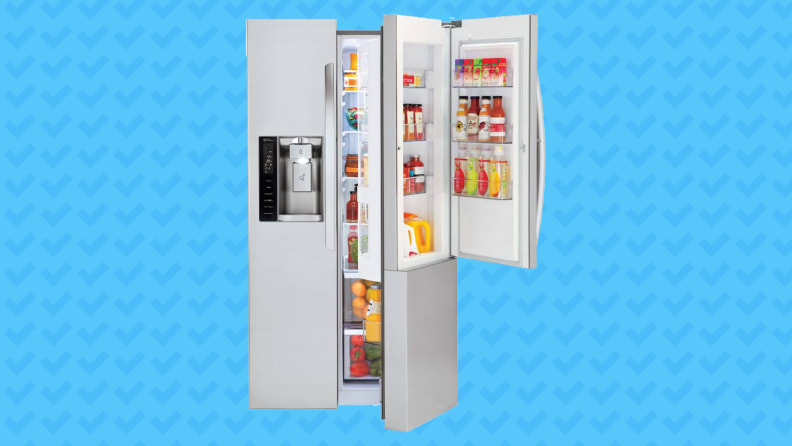 Best Side-by-Side Refrigerator
LG LSXS26366S
If you want a fridge that is capable of both high-quality food preservation and of being a conversation starter, look no further than the LG LSXS26366S three-door, side-by-side refrigerator. With a press of a button, you can access the door-in-door storage on the upper right side of the fridge, which allows you to easily grab the items you need frequently without disrupting the cooling of the rest of the fridge. Read the full review.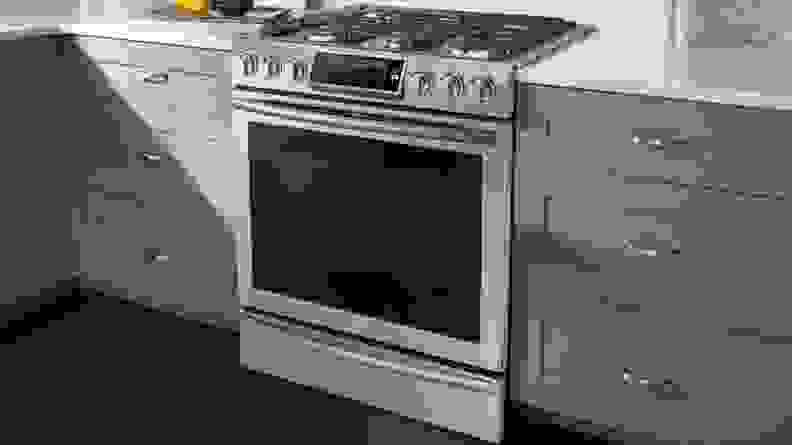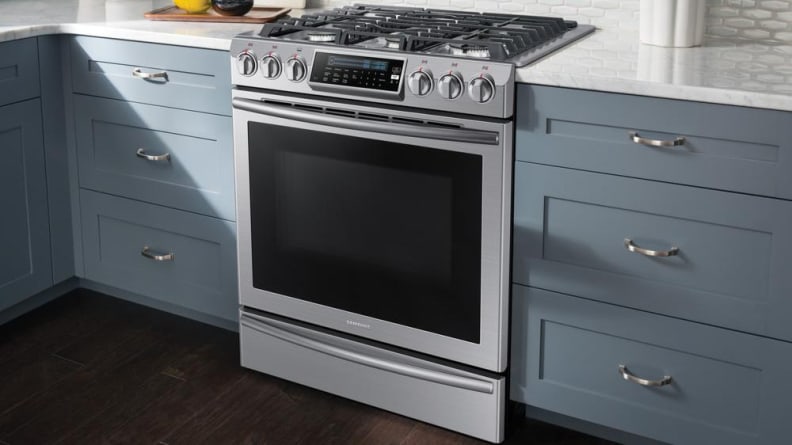 Best Gas Range
Samsung NX58K9500WG
The 30-inch, 5-burner Samsung NX58K9500WG impresses with its premium look and performance that was as good or better than the best gas ranges we've ever tested. It tops our list because it offers flexible cooking on notched cast-iron grates and a stellar oven experience with its true convection heating system. It also preheats fast and is packed with useful features, like a warming drawer for proving bread, pre-heating plates, or keeping side dishes warm. Read the full review.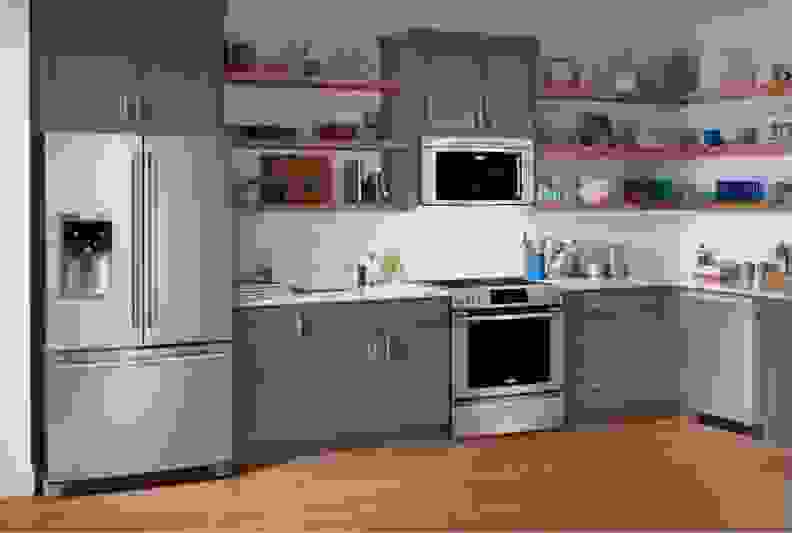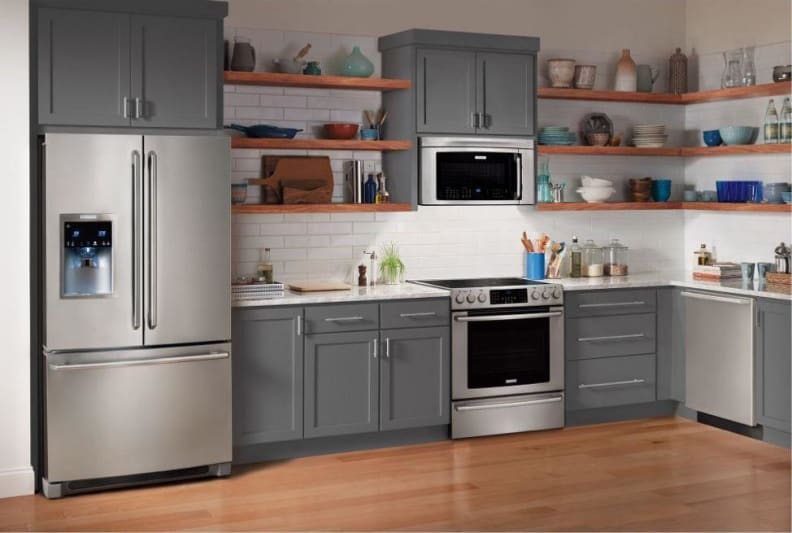 Best Electric Range
Electrolux EI30EF45QS
The freestanding Electrolux EI30EF45QS electric range has a lot going for it. Its sleek looks and versatile cooktop are definite crowd pleasers. The five-cooktop burners include two simmer burners, a warming zone burner, one normal burner, and one tri-ring burner that features very tight temperature controls. Plus, the oven has a built-in meat probe and hosts a number of useful cooking/baking modes. Read the full review.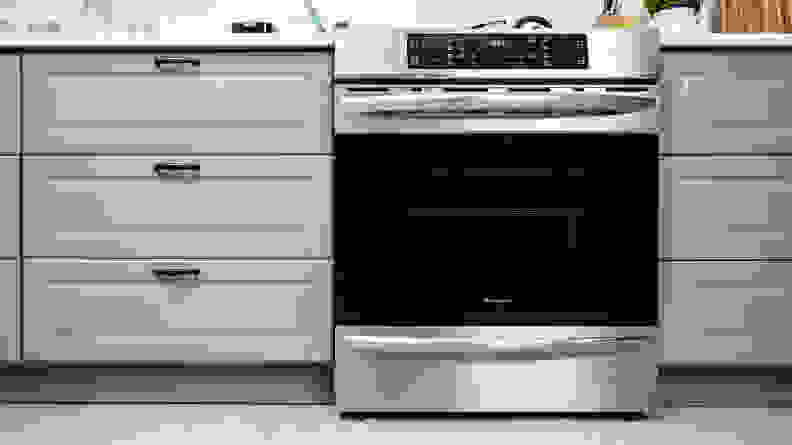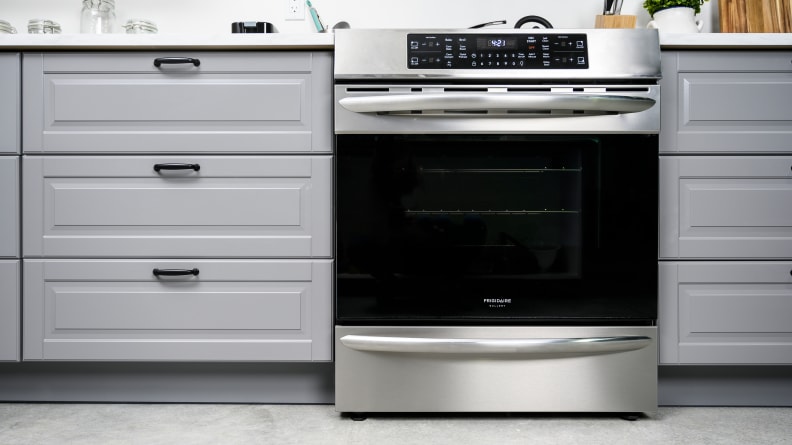 Best Induction Range
Frigidaire Gallery FGIH3047VF
The single-oven Frigidaire FGIH3047VF range is the best induction range we've tested thanks to its quick boil times, great temperature control, and useful settings. It covers all your basic cooking needs, as well as some not-so-basic ones—special features like true convection and air fry add something extra. Read the full review.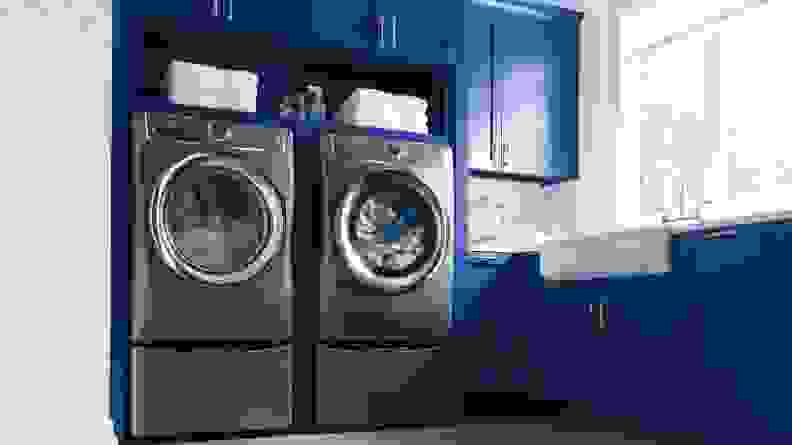 Best Front-Load Washer
Electrolux EFLS627UTT
The Electrolux EFLS627UTT front-load washer stands as one of the best front-load washers on the market. One reason? It is the world's first washer to have a special place for detergent pods in the drawer, allowing for even distribution of soap. However, this washer also is powerfully competent at removing stains and efficient cycles; it managed to do a solid stain-removal job in both the 46-minute-long Normal cycle as well as a quick 15-minute-long wash time. Read the full review.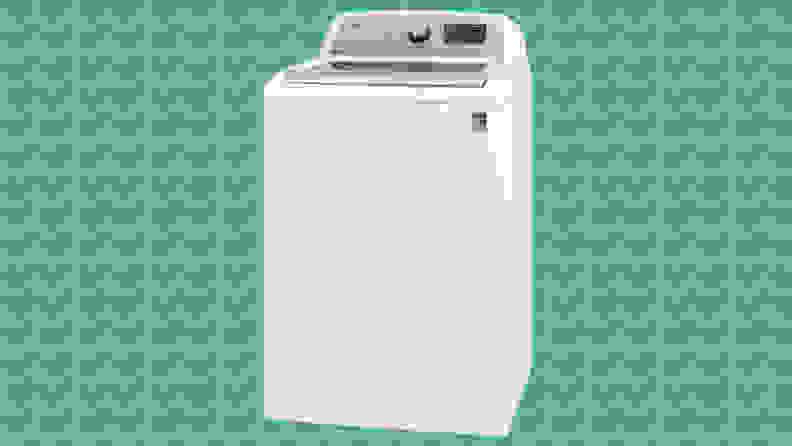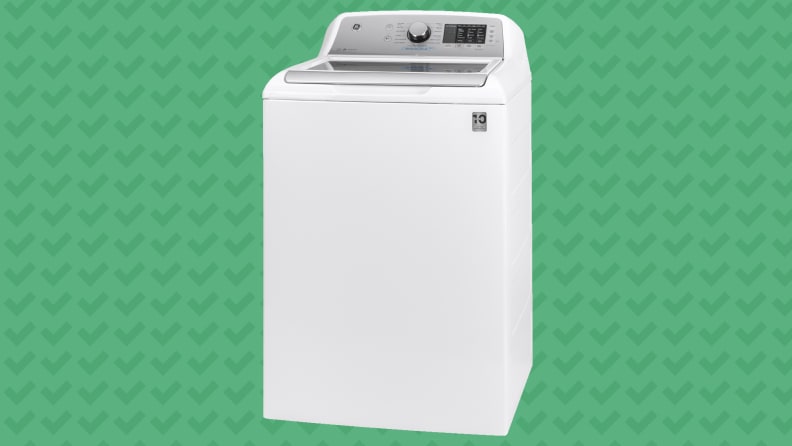 Best Top-Load Washer
GE GTW720BSNWS
If you're looking for a modern top-load washer, the GE GTW720BSNWS fits the bill. With its Tide Pod dispenser, a stain removal guide, and a Sanitize with Oxi cycle, this washer is ready to tackle any laundry load. Despite its many customization options (including the coveted Deep Rinse option, which adds more water to each load), the interface is streamlined and easy to use. Read the full review.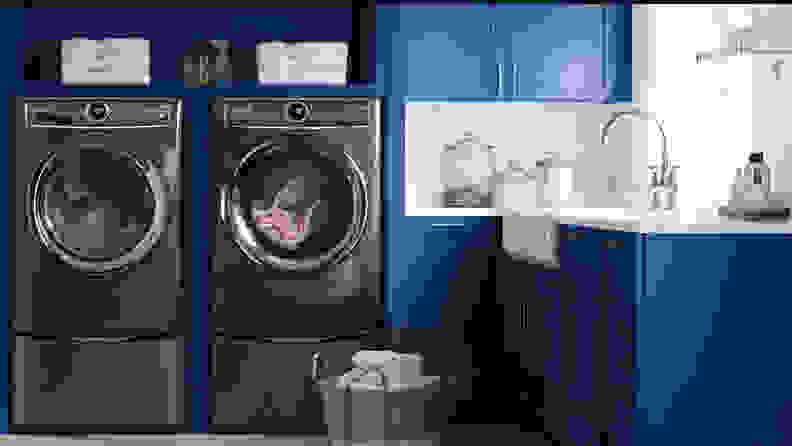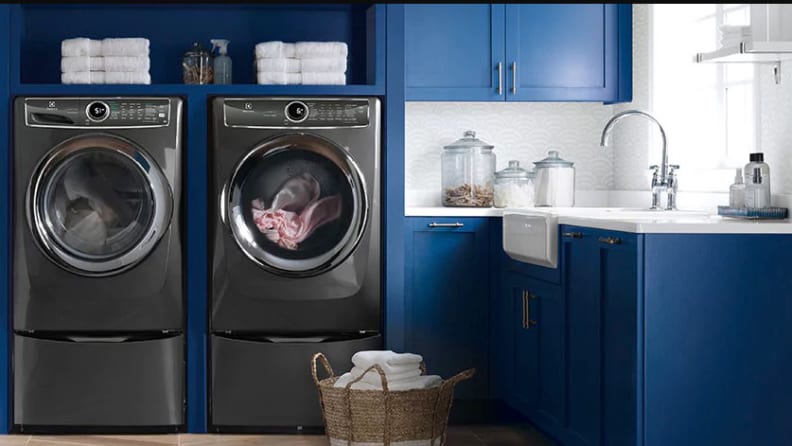 Best Dryer
Electrolux EFME627UTT
The Electrolux EFME627UTT represents the perfect balance between cycle times and cycle temperatures, getting clothes dry in as little as 15 minutes with temperatures that never got hot enough to damage clothes. This dryer is great-looking, has simple controls, and is rich with cycles and options, including Perfect Steam, which can help to relax any wrinkles away. . Read the full review.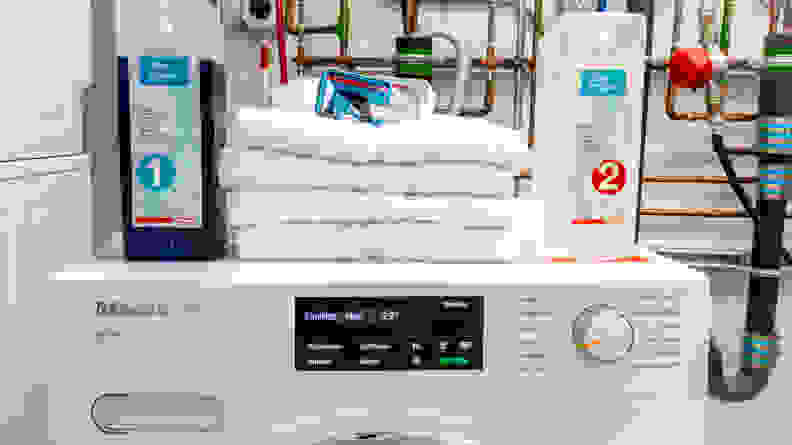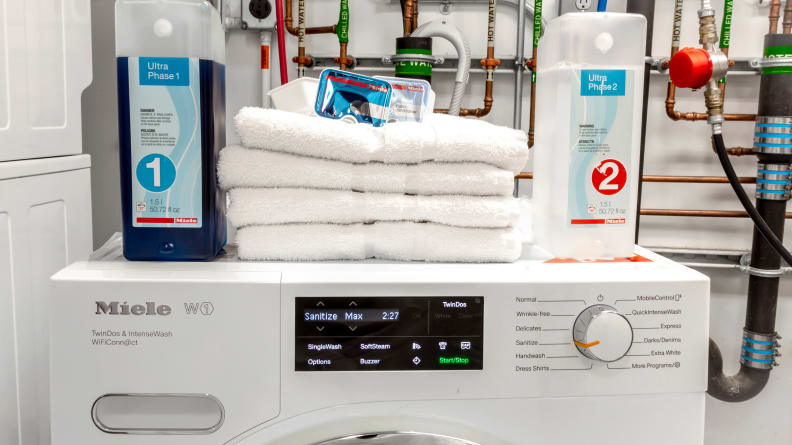 Best Compact Washer
Miele W1 WWH860
The Miele W1 WWH860 blows most compact washers out of the water. Not only does it satisfy the needs to fit in a laundry closet or tiny home, but it also has innovations that we'd normally see on a full-sized flagship model, like automatic detergent dispensers. Most importantly, it cleans well: Its Normal cycle performed one of the best in its class, and we found that the honeycomb textured drum lifts stains from clothes without fraying them. Read the full review.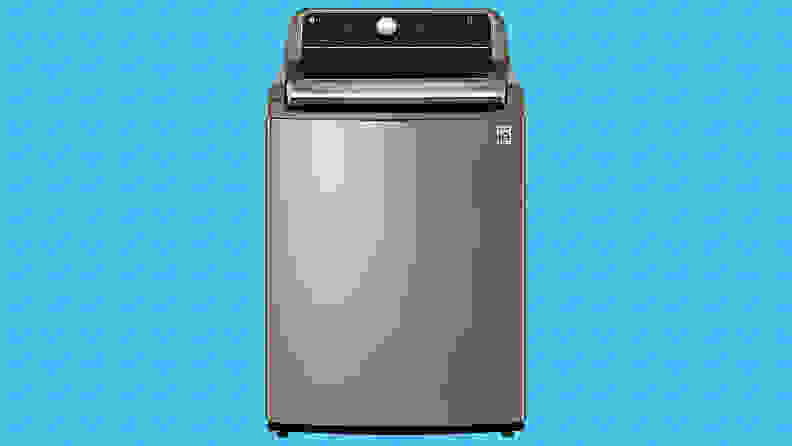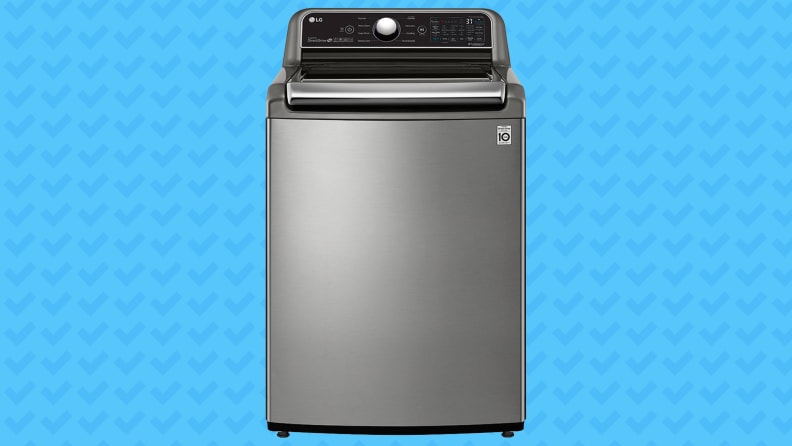 Best Traditional Washer
LG WT7305CV
LG's WT7305CV is a solid top-loader with a pole agitator. It has cleaning capabilities that work great for the majority of your laundry needs, as well as some special features like its SmartThinQ app that allows you to operate the machine remotely, and the ProActive Care program, which uses AI to diagnose and troubleshoot problems. You can also indulge in a bit of luxury in the steam cycle, and not take off a finger thanks to its practical, slam-proof lid. Read the full review.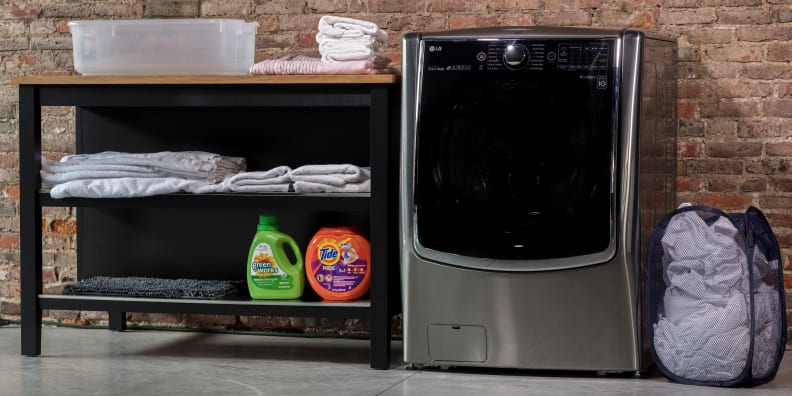 Best Washer for Large Families
LG WM9000HVA
With a steam cycle, a sanitizing wash, and a large 5.2-cubic-foot capacity, the giant LG WM9000HVA has a unique, sleek look that will elevate any laundry room. Despite knowing that its 29-inch width is 2 inches wider than most other washers, we were impressed by how much this front-load washer could fit—and how well it cleaned. The Heavy cycle removed about 81% of the stains in our test, which makes it one of the highest performing washers we've ever tested when it comes to stain removal. Read the full review.
The product experts at Reviewed have all your shopping needs covered. Follow Reviewed on Facebook, Twitter, and Instagram for the latest deals, product reviews, and more.
Prices were accurate at the time this article was published but may change over time.